(From BMW Press release)
On July 27, 2007, the 100,000th BMW R 1200 GS rolled off the conveyer belt in Berlin, Germany. So far, 84,373 units of the classical GS have been produced, while 15,627 units of the Adventure have been made. No other BMW motorcycle has ever been built so often within such a short span of time. Hence, the BMW R 1200 GS is the most successful BMW motorcycle of all time.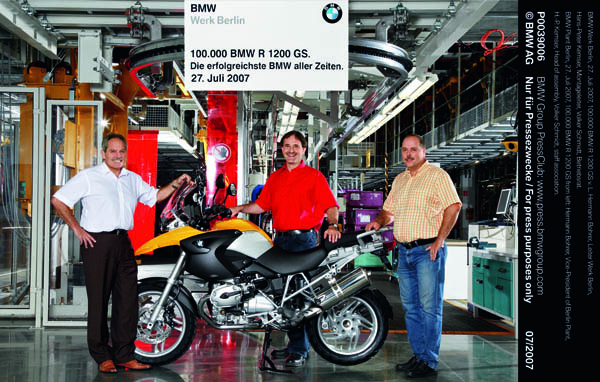 From 1999 until 2003, 58,023 of the predecessor model, the R 1150 GS, was built. In addition to this, 17,828 units of the model variant Adventure were produced (until 2005). Since 1994 to this day, a total of 219,468 GS models of the boxer engine generation with four valves per cylinder have been built, a figure that proves the popularity, supremacy and unique universality of the GS concept.