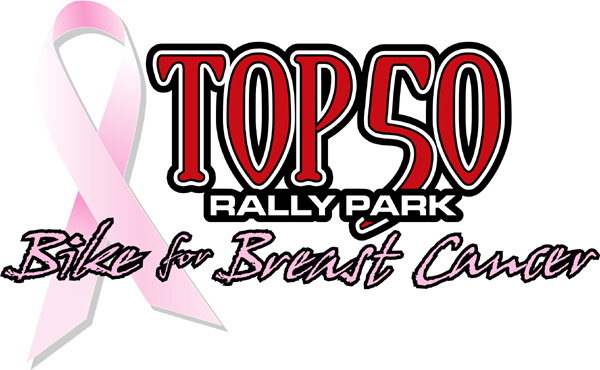 The Top 50 Rally Park venue in Sturgis will hold a Womens Day on Friday, August 10, 2007 to celebrate the adrenaline, freedom and independence motorcycling brings to a woman rider. Along with showcasing women leaders in the motorcycle industry, the days events are dedicated to awareness, safety, and fun.
The events planned so far are as follows:
10 a.m. – 12 p.m.: Registration begins for the "Bike for Breast Cancer" charity ride to benefit American Cancer Society. $15 per person to participate. Seminars are also scheduled to begin.
12 p.m.: "Bike for Breast Cancer" charity ride begins taking riders through the beautiful Black Hills region.
6 p.m. – 8 p.m.: Ride-In Bike Show/ Awards/ Reception
The Ride-In Show, at this point, will be simple: Best of Show and Best Paint. There will also be two awards presented this year. One will be the Sandy Leone Memorial Award. The second will be a female leader in the industry award. The reception will include more speakers, and possibly a raffle-give away for a Legend Air Suspension and/or other prizes.
Those scheduled to speak are: Laura Ellifson – land speed record holder; Jody Perewitz of Perewitz Custom Fabrications (daughter of Dave Perewitz); artist Sara Liberte; Gina Woods, creator of the XX Chromes All Womens Bike Build and host of the motorcycle-themed radio talk show Open Road Radio; Harley-Davidsons direct of outreach to women, Leslie Prevish; Vagabond Chopper Companys Athena Ransom; bike fabricator Jessi Combs; and Lisa Baker, co-owner of Baker Drivetrain.
The Top 50 Rally Park is located off I-90 at exit 46, 9 miles from Rapid City and 15 miles from Sturgis at the Piedmont exit. For more info, visit the sponsors Web site, Top50rallypark.com.