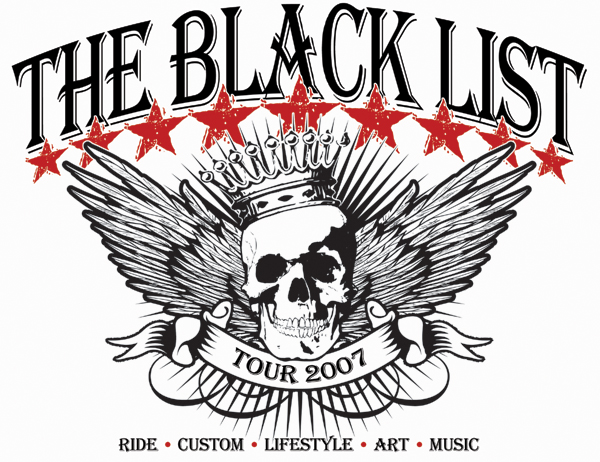 An all-star roster of the nations top custom builders and athletes called the The Black List Tour is coming to the Sturgis Motorcycle Rally August 5-11, 2007. The Black List Tour is a hard-core fusion of skateboarding, Moto X, hot rods, custom bikes, music and art, designed to redefine and revolutionize rally entertainment, and provide the ultimate platform for cross generational expression.
"Our goal for the tour is to showcase the custom lifestyle on a whole new level," said Black List Tour Coordinator Chad Petit. "We all like bikes, cars, moto-cross, skateboarding, snowboarding and a good mix of music from punk to rock-a-billy, to hard-core rock, you name it. The Black List Tour will allow people to experience custom culture on a new level." The Black List Tour 2007 Sturgis participants are:
-Twisted Choppers, defined by their metalworking mastery, were winners on Discovery Channels Biker Build-Off, featured in Michael Lichters coffee table book, Choppers-Heavy Metal Art, and have been in more than 30 national and international magazine features.
-Sucker Punch Sallys, leaders in the charge to bring the bobber back into style and bring custom to the average guy, are making head-spinning, one-off projects.
-Leroy-Thompson Choppers, winners on the last episode of the new season of The Learning Channels Biker Build-Off and featured in the book, The Art Of The Bobber, as well as in every major motorcycle publication.
-Led Sled Customs, a rising star in the industry, creating one-off masterpieces out of Sportsters and other unlikely sources, most likely stirring things up with flaming burnouts.
These talented builders will collaborate and build a complete bike on stage during Sturgis Bike Week that will be given away at the Black List Area in front of the Full Throttle Saloon to one lucky individual on August 10th.
The Black List Tour entertainment will be laden with modern metal and punk rock music, high-flying skateboard and motocross athletes, hot rods, tattoo competitions, all taking place in front of the Full Throttle Saloon during Sturgis Bike Week, August 4th-11th, 2007. More information visit BlackListTour.com.