A year in the making, direct from Edinburgh, Scotland, glass artist Joe Stanaways The Glass Ride exhibit will open to the public at 10:00 a.m. on Saturday, July 29 at the Sturgis Motorcycle Museum amp; Hall of Fame. The Glass Ride is a full scale glass sculptor replica of a "chopper" motorcycle with kiln cast and blown glass components.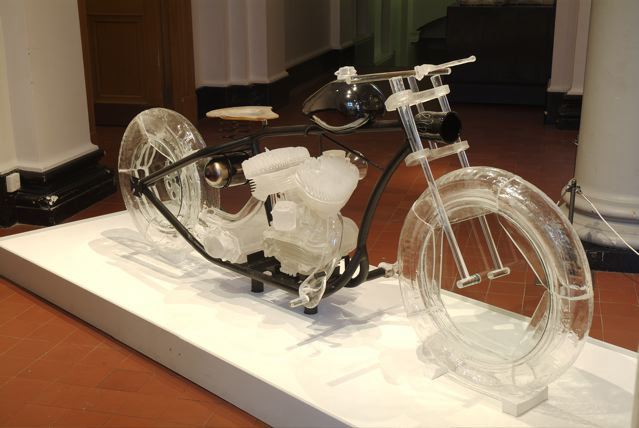 Artist Joe Stanaway, a Helena, Montana, native, has just completed his Masters in glass and architecture glass design from the Edinburgh College of Art, where he unveiled The Glass Ride in December 2006. Joe says of his work and himself "I find it easy to be drawn into the look of custom motorcycles. They are very much like glass; the extraordinary use of sculpted chrome polished to a mirror finish, the heavy clear coating over a beautiful buffed petrol tank giving it a transparent glass -like quality. In life we have a tendency to feel better in groups. The group I ran with chose to express themselves on iron horses; I was the black sheep that chose the road of hot glass." Joe will follow that road of hot glass to Dillon, Montana, where he has accepted a professorship in the Glass Department at the University of Montana Western.
The Glass Ride will be on exhibit through the month of August and into September with a closing date that has yet to be determined. The Sturgis Motorcycle Museum amp; Hall of Fame is located at 999 Main Street in Sturgis, South Dakota. Further information about the artist is available at JoeStanaway.com, and about the museum at SturgisMotorcycleMuseum.com.