Lehman Trikes unveiled its newest trike, the CrossBow, at the annual Victory Dealer Meeting in Wyoming, Minnesota. The CrossBow, is designed to be a modern American luxury touring trike, providing riders and couples with a preeminent three-wheel experience.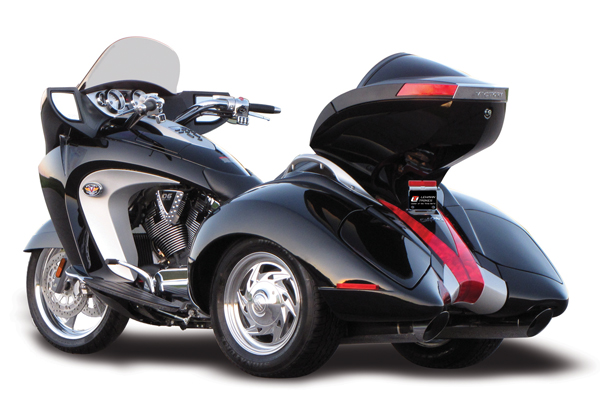 Factory-assembled in Spearfish, South Dakota, the CrossBow was designed by Lehman Trikes with engineering participation from Victory Motorcycles, utilizing state-of-the-art technology and testing to meet NHTSA and D.O.T. standards. The CrossBow marks the second collaboration between the two companies since the first concept trikes were shown at the Polaris 50th Anniversary celebration in 2004. The new trike is powered by the Victory Vision 106 cubic inch Freedom V-Twin engine and features the genuine Lehman "No Lean" suspension, providing powerful V-Twin performance paired with a smooth, comfortable ride.
"This is an exciting breakthrough in the motorcycle industry," said Dan Patterson, President and CEO of Lehman Trikes. "The CrossBow is a cutting edge machine giving the rider a controlled, precise ride with impressive horsepower and torque. There is no doubt that riders will appreciate the exceptional handling and seamless styling of the CrossBow."
The brand new 2010 CrossBow will arrive at selected Lehman dealerships in the fall of 2009. CrossBow retail prices starts at $33,995 and will feature a three year, unlimited mileage warranty on Lehman Trikes components and assembly. The Standard Victory one year, unlimited mileage warranty will cover the Victory Vision motorcycle.
For more information on the CrossBow, contact Lehman Trikes at 888.3WHEELS, or visit LehmanTrikes.com.