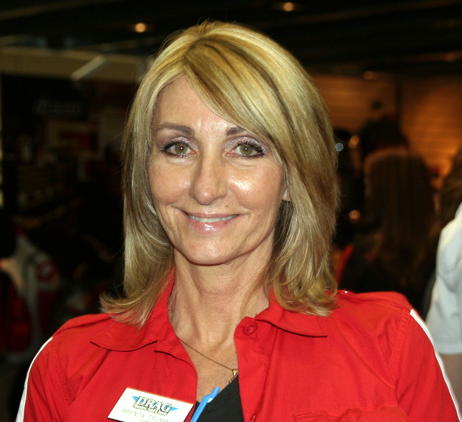 Brenda Trumbo is one of a few women working to develop and bring to market womens motorcycling apparel. Over the course of her career, she has been instrumental in promoting and supporting lines of womens gear at several top motorcycle manufacturers. She has previously held positions as National Sales Manager for Hein Gericke, National Sales Manager for Teknic Leather Apparel, and Brand Manager for Z1R Helmets. In her current position, Brenda is the Sales and Marketing Manager for ICON Motosports V-Twin. ICON makes protective apparel for male and female riders, and has quickly become a leader in womens apparel.
Outside of work Brenda is devoted to her family. She enjoys riding motorcycles with her husband and children and relaxing at the beach. She also enjoys dirt bike riding with her family saying its a great way to spend time together. "One of my sons started riding dirt bikes before he even learned how to ride a bicycle." Although she has her motorcycle license, she enjoys being a passenger on rides with her husband, Nick. Nick and son Trevor are also involved in the motorcycle industry.
What does your job entail?
As the Sales and Marketing Manager for ICON V-Twin I am responsible for teaching and training both dealers and reps about how to sell merchandise to female riders and passengers and maintain customer loyalty. This includes merchandising, and communicating with dealers about what type of products their customers are looking for and passing that information on to our design team. I also work closely with the media, providing press releases and products to industry magazines. Somehow, I end up being the "voice behind the scenes" for women motorcycle enthusiasts and I enjoy that.
How did you get involved in the motorcycling industry?
I have been involved in this industry for almost 20 years. V-Twin is my first love, but anything to do with motorcycling excites me! While working in sales I have always been intrigued by motorcycles. My first time ever on a motorcycle was when I was in high school. I had the chance to hop on the back of a friends motorcycle and experience the wind blowing in my face as we rode down the highway. I cant begin to describe the rush that came over me and have been hooked on motorcycles ever since.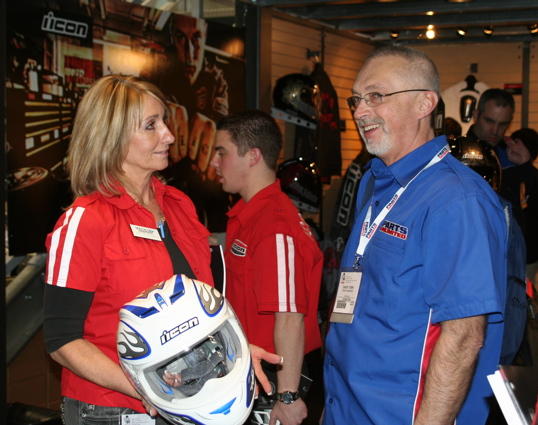 I used to tag along with my husband when he worked motorcycle and boat shows. I worked alongside him at these shows and dreamed of somehow being involved in the industry myself. Although I waited until my children were in school, there was never any question in my mind that I would achieve my dream. It was a natural progression for me. I started as an independent sales rep selling several lines of products to motorcycle dealers. I progressed to my current position today with Drag Specialties as the Sales and Marketing Manager for ICON apparel line for the V-Twin side of things. I love working for Drag Specialties. They are my second family. How great is it that my job is also my passion. I love it!
What would you say have been some of your biggest career challenges?
In the beginning, it was difficult being taken seriously in a male-dominated industry. You have to work 10 times harder just to prove you know what you are talking about. Its not as stereotypical anymore. There are still challenges, but I enjoy overcoming them.
Whats the biggest change youve seen with womens apparel over the last 5-10-20 years and what do you expect for the future?
The color PINK! Seriously, the addition of female colors to motorcycle apparel and helmets along with other feminine colors, such as lavender really speak to women and say, "Hey, its OK to be a girl and ride!"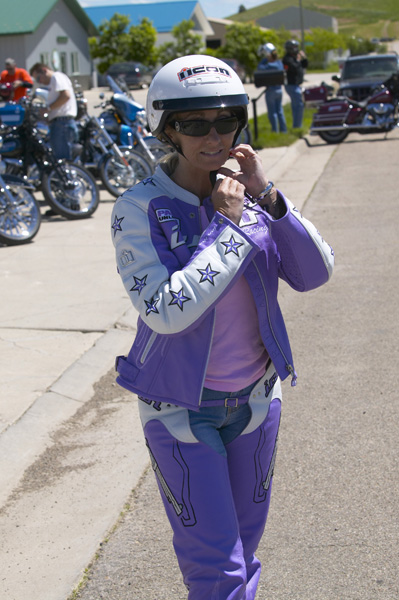 Id also have to say that one of the biggest changes Ive seen over the last few years is the number of women getting involved in motorcycling whether as a rider, passenger, or in some aspect of the industry. I know for myself when I first got involved, I was literally one of a handful of women in the industry. I remember working shows where I was the only woman at the show working with all men. Now, I see the womens segment growing at a fairly steady pace. Motorcycle manufacturers are taking this into consideration by offering more female-friendly bikes, and the apparel industry has taken notice as well by offering apparel that is specifically made for women.
What are you working on now that will have a direct impact on the women and motorcycling market, either current riders, or helping attract new riders to the sport?
At ICON, we are always looking to bring more to the womens market by offering a variety of styles of protective apparel that not only looks fashionable, but will protect someone in the event of an impact. We are all about safety, first and foremost. We will continue to offer more womens products in wider ranges of sizes, and colors. Our goal in doing that is to get those women out of their designer apparel that offers little to no protection and into "designer" styled protective apparel. One only has to look at the new womens riding boot ICON introduced this past fall to see how we can blend fashion with protection.
What one or two things would you like to see improve for women in motorcycling?
I would like to see more focus groups for women. Thats the only true way to find out exactly what women are looking for in motorcycling. Many major brands outside of the motorcycle industry do this to improve their products. Id also like to see more magazine articles geared for women riders, trips and tours for women, where to stay, where to eat, simple motorcycle maintenance, etc. Also, more "how to" articles for the novice rider, as well as the more experienced rider and possibly more articles related to safety in motorcycling. All in all, I think womens voices are being heard now more than ever, not only as passengers, but as riders, too.
For more information on ICON products, visit rideicon.com.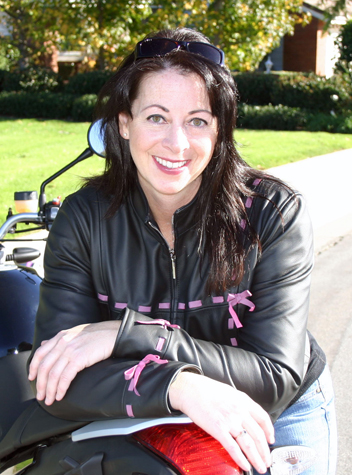 Teri Conrad is a freelance writer and photographer based in Southern California. Some of her publishing credits include: Iron Horse, Ride Texas, Women Riders Now, Biker Ally, Friction Zone, Adventure Sports Outdoors, Portrait of Achievement, and Accelerate magazines. She can be reached at celebritywriter@cox.net.