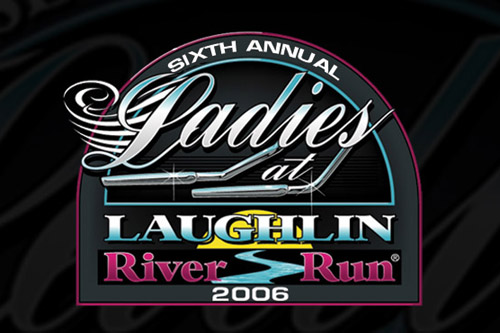 Ladies at Laughlin, a gathering of women riders that has been going on during the annual Laughlin River Run for the last five years, has announced a format change during this years upcoming River Run rally taking place April 26 to 30. Normally, the Ladies at Laughlin event occured as an afternoon event consisting of lunch, speakers, a fashion show and a ride. The new format is an ongoing continuous rotation of activities right in the River Run nerve center.
According to Ladies at Laughlin founder Randy Twells, the 2006 womens event has been provided with space directly in the main official registration area for River Run, up in the Starview Room at the Riverside Resort. A schedule will be posted for Wednesday April 26 1:00 to 8:00 p.m. and Thursday April 27 10:00 a.m. to 8:00 p.m. for ongoing seminars, silent auction, demos and special appearances by Joy Medved of Joy of Motorcycling Traffic School, Sasha Mullins, author of "Bikerlady, Living and Riding Free," and other guests and activities.
Friday April 28th at 10 a.m. the ladies will join the Southern California Harley-Davdison Dealers Association Ride/Poker Run from the Ramada Express to the big party at Mother Road Harley-Davidson at Kingman, Arizona.
In the past five years the Ladies at Laughlin has donated about $92,000 to the Susan G. Komen Breast Cancer Foundation. In 2006, they hope to break $100,000. For more information, visit www.laughlinriverrun.com.