Update Nov., 27, 2015: Harley-Davidson just announced it is offering its free Riding Academy motorcycle training now to first responders as well. The Ride Free offer is limited to current and retired United States police officers, firefighters and certified EMS/EMT, 18+, 50 United States amp; D.C. only; dealer participation varies. Class availability is first come, first serve. Those who register but fail to attend course may be charged the normal course fee. Additional terms and conditions apply.Must complete course between January 1, 2016 and December 31, 2016.
Original story date: November 10, 2015
Harley-Davidson is extending its free Riding Academy motorcycle training to all current and former U.S. military. The program is now available to active duty, retired, reservists and veterans from January 1 through December 31, 2016.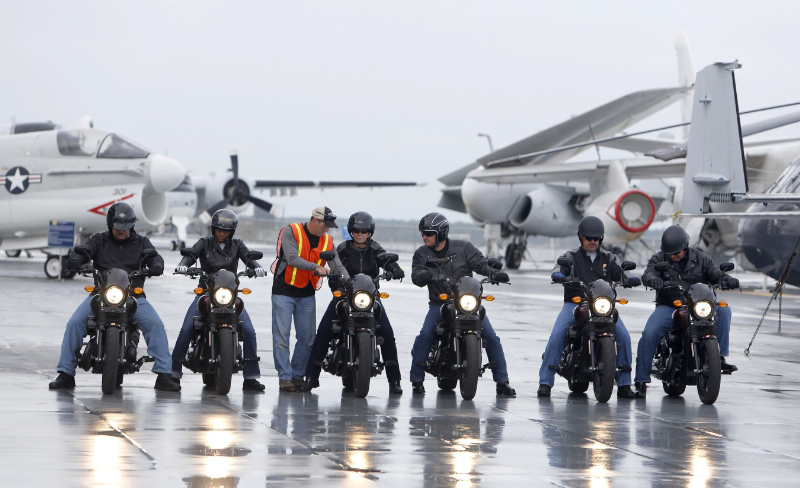 To continue its salute to the military, Harley-Davidson Managing Director and former U.S. Army Officer Christian Walters will escort fellow veterans, including Dorsey Fyffe, a former U.S. Air Force Flight Engineer and Wounded Warrior Project Peer Mentor, to Americas Parade in New York City aboard a Bell 407 U.S. Army helicopter November 11.
The original offer of free Harley-Davidson Riding Academy kicked off on Armed Forces Day, May 16, aboard the USS Yorktown aircraft carrier in Charleston, S.C., making it only fitting to take to the air to announce the free training extension. That offer expired on September 13.
"One of our objectives is to grow the sport of motorcycling in the U.S.," said Walters. "Thousands of members of the military have learned to ride through the program so far. Were proud to extend this opportunity in 2016 so even more military personnel can enjoy the very freedom they protect."
All stateside military can take advantage of the offer by visiting a local Harley-Davidson dealer or going to h-d.com/AmericanHeroes. If the Riding Academy is not available in a particular area, Harley-Davidson will reimburse the expense of attending a certified motorcycle safety program. Those currently deployed outside the U.S. also can submit the form by December 31, 2016, and will receive a voucher for free motorcycle safety training, good through 2017 when they return home.
Related Articles
Harley-Davidson Riding Academy New Rider Course
Harley-Davidson Street 500 and 750 Motorcycles