Update May 28, 2012: About a year after this story posted, Fox Racing, the parent company of Shift Racing, decided to discontinue manufacturing the Shift Racing line. These products are no longer available. You may be able to find closeouts from an online retailer or eBay.
I use to wear armored gloves just when riding a sportbike and more casual non-armored ones, like deerskins, when riding a cruiser. These days, Im find myself wearing more protection riding my cruiser and that means looking to the sport market for armored gloves.
I tested two pair of gloves from Shift, the womens Empire (long gauntlet) and the womens Dynasty (short cuff). Armored gloves have come a long way. I remember testing a pair years ago by a well-known sportbike apparel company and getting blisters from the seams inside. Armored gloves have come far since then and Shift makes some top-notch gloves for women.
Both styles are made from soft leather with pre-curved sleeves so theyre soft and pliable the first time you put them on. The Empire gloves have an injection-molded polycarbonite knuckle for impact and abrasion resistance. The Dynasty, the short ones, have knuckle armor. Both types feel tough to withstand scrapes with the pavement and neither restricts movement when grabbing the motorcycle handgrips.
Theres a lot going on with the high-end Empire gloves. On the palms, soft suede adds an extra layer of protection, as well as padding for holding onto the grips, not too much to affect thickness on the grab of the grip. Strips of padding on tops of all fingers add a layer of protection there. Small accordion panels on the thumb and first two fingers add flexibility when pulling in the levers. The inside is completely lined with a soft stretchy neoprene material.
| | |
| --- | --- |
| You can see the padding on the fingertips and palm, and as well as the knuckle armor on the Empire gloves. Inside of fingers have small holes in leather—perforation for breathe-ability. | The gauntlets are adjustable by opening or closing the zipper, and a hook and loop closure secures it for a snug fit on the wrist. |
These are sturdy and very comfortable, and because of all the padding can be worn in cooler weather, although in really cold temperatures hands will get cold. Ive started wearing thin silk glove liners underneath my gloves if I dont have a winter pair with me, and it really helps.
Womens motorcycle glove sizing seems to be all over the map but generally, Im a large and the large Dynasty and Empires fit just right. The Empire gloves are available in sizes XS to L. Size large equals a 10 and so on as listed on Shifts Web site. They come in two colors: black and white. Price is $79.95 and worth it.
For hot weather riding protection, the Dynasty gloves are ideal. I wore them in 90-degree heat and never felt hot. The leather on the top of the thumb and inside fingers is perforated. The top of the hand (not the palm side) on the inside is lined with that soft stretchy neoprene, but the inside of the hand is not. Your palm and inside of fingers are against the suede, the inside of the leather. It is soft, but I wonder if they got wet if the black from the leather would get onto your hand.
| | |
| --- | --- |
| You can see extra padding on the top of the fingers on the Dynasty as well as the perforation on the the thumb area. | Soft suede padding on the palm and outer hand area add extra protection. |
The inside of the wrist cuff is soft and comfortable on the wrist. A hook and loop closure lets you adjust the fit on the stretchy material there. Same sizes are offered and the large fit me well. Price is $49.95 and comes only in black.
I really like both these gloves and find myself grabbing them a lot for my rides…and I have a large selection of gloves. The more I wear them the more they break in and get even more comfortable than they already are. These are high quality, well made gloves with strong seams that can withstand some serious riding. Im going to put some waterproofing spray on them so I can wear them in the rain too. You can order them online at ShiftRacing.com.
Wheelie Gearbag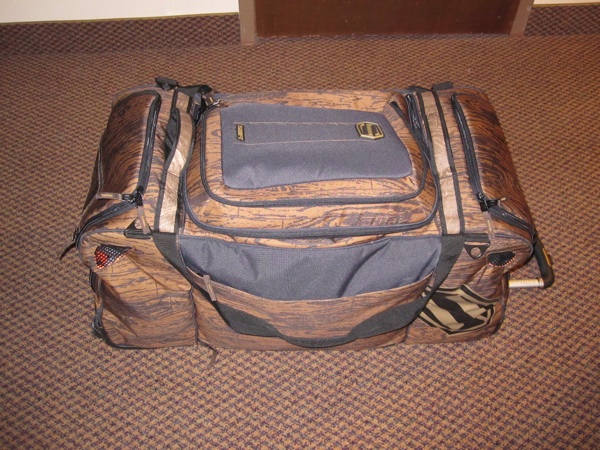 When perusing Shifts Web site, I couldnt resist getting the Wheelie Gearbag because it is brown with the print on the tough outer fabric resembling the grain of wood. I love wood! I live in a log home. I had to have this bag.The Wheelie Gearbag is aimed at motocross and sportbike riders who haul their riding gear to the track. I travel a lot for work so I thought the bag would be great to carry my motorcycle gear on trips I take all around the country. My gear fits perfectly in the three generous compartments. I discovered one problem for me though. The overall size of this bag exceeds airlines baggage size limit of 62 total inches (total length+width+height). This Wheelies total inches equals 65.5 inches, and I was alerted to this by an airline ticket agent who let me slide that one time. I can certainly fly with this bag but Ill have to pay the additional $175 fee for an oversized bag (Deltas fee).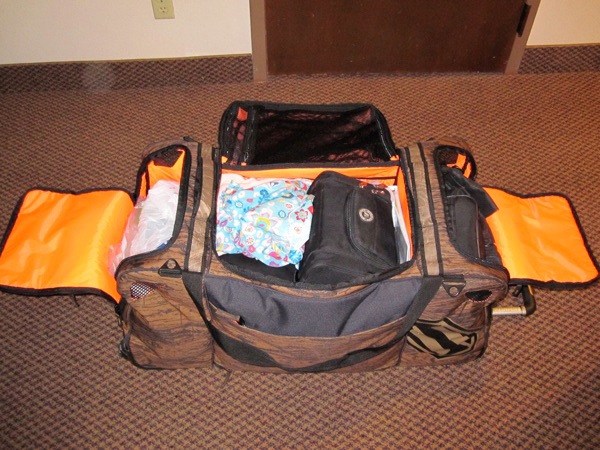 If you dont care about paying the additional airline fees, or you wont use this bag when flying, this is a superb piece of luggage.
| | |
| --- | --- |
| I love the side compartments that are each big enough to easily fit a full-face helmet and much more stuff around it. The bag is extra high to accommodate knee high boots with a lot of room to spare. | A ventilated zippered pocket at the top can be used for a myriad of things. I put my business folders in there so they'd stay flat. |
| | |
| --- | --- |
| A handle slides out for wheeling it. You can also see a zippered panel shown open with the orange inside fabric. There are three of these. | Built-in handles and straps let you carry the bag two ways. |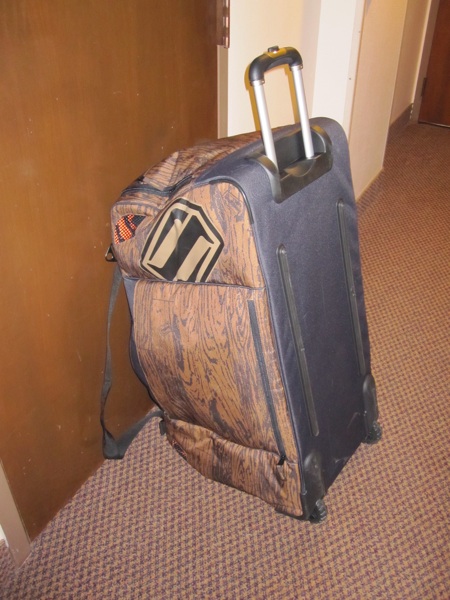 The Wheelie Gearbag is selling right now for the discounted price of $115.99, down from $150, great price for a bag this big. Wonderful piece of luggage for those who travel with a lot of larger items. Order online at ShiftRacing.com.
Related Articles