Do you have a story to share? Please send it to us, but follow these submission guidelines.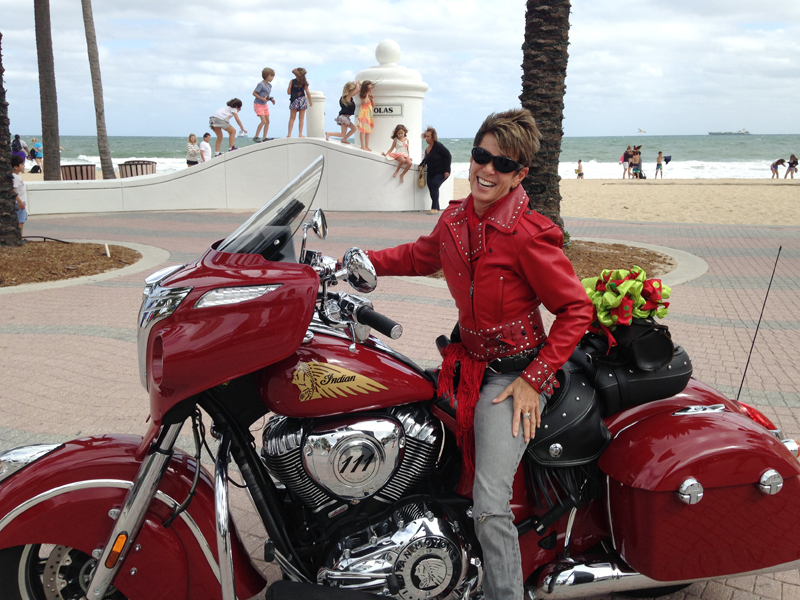 As a "Harley Biker Chick," I rode the bike, wore the clothes, belonged to HOG (Harley-Davidson Owner's Group) and bought into the brand. I loved black leather, the rumble of pipes, and the chortle of a carbureted engine. After a black 1969 Shovelhead named Norma Jean as my first bike, I wanted more of the same—a big bagger.
Women Riders Now E-Newsletter
Stay up-to-date on all things motorcycle! Latest gear, bikes, and product reviews. Travel ideas, great product giveaways, and more.
"Pearl" and I put on a lot of miles. After 111,000 I started to worry about breakdowns and expensive repairs, then started to experience them. It was time for a new bike. Though it felt like giving up my kid for adoption, after 10 years and more than 100,000 miles, I had to be practical.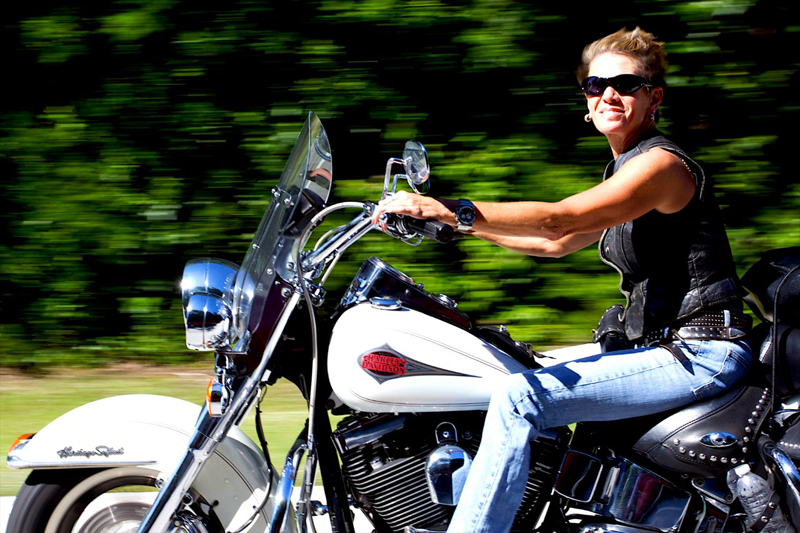 I had a brief dalliance with a Ducati Diavel. Feeling the power of technology that was so far beyond Harley-Davidson I fell in love with the bike, but it was really an infatuation. It would not sustain my kind of riding—no bags or saddle seat. The Diavel was built to entice and perform, not to travel.
My introduction to Indian Motorcycles came when a client loaned me a Chief Vintage for the Sturgis rally. I was overwhelmed by its beauty and nimble feel. Though it's a big bike, it felt lighter and easy to ride. At every stop on our rides, surrounded by high-priced, big name choppers, everyone was drawn to the Indian—they wanted to know how it rode and admired its lines and profile.
The Indian lurked in the back of my mind while I racked up miles on my Heritage. When it broke down on a charity ride, I was loaned a brand new bright yellow Street Glide. The advances of 15 years of technology blew me away! The sound system, great breaking, and fluid feel was unlike anything I had ridden in my black and white Harley career. After 200 miles on the Street Glide, it was like having an affair with a younger man. I was refreshed and enthralled—I was hell on wheels!
Thinking seriously about my replacement bike, I recalled the thrill of the Street Glide, but was intrigued by the Road Glide's faring and handling. I thought about the Indian Vintage but didn't think the beige leather bags would last in Florida sun. I wanted hard bags—and tunes! I was tired of singing to myself, and don't like wearing earbuds.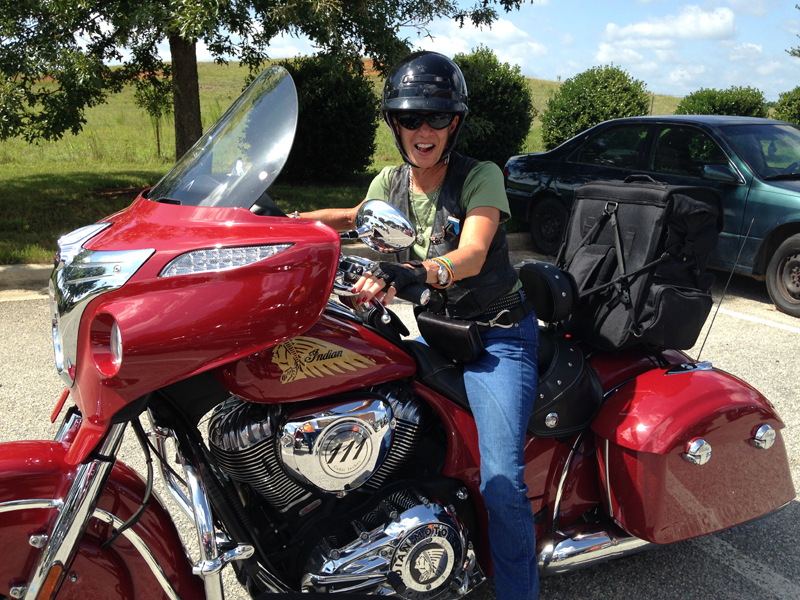 While attending Daytona Biketoberfest, I went to test ride more Indian Motorcycles at the Speedway. I chose the Chieftain, and as the only woman in the test-riding group, I took off, a little nervous at the bike's size. The Chieftain is big, but quick and responsive. "Nimble" best describes all Indian Motorcycles—and I've ridden each. I became Pocahontas in search of my Indian Chieftain.
At the South Florida dealer, I found my Chieftain. But it was red. I wanted a black bike—reverting back to my original concept that a motorcycle should be black. I only went to white because Pearl was so beautiful and I had to have her in all her luminescent glory.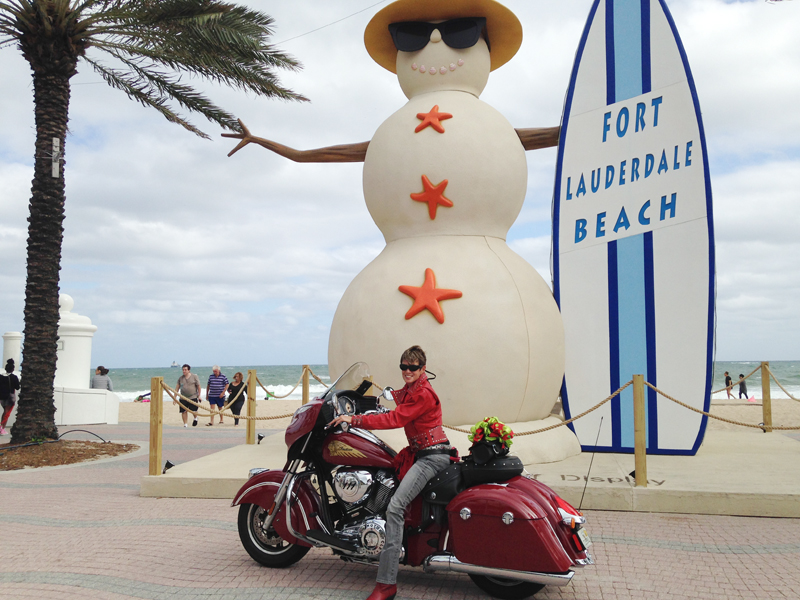 But red? Indian Red is more of a deep burgundy, reminding me of Chianti wine. I couldn't resist the deal on my trade-in and I left my allegiance to Harley in my exhaust as I pulled out of the dealership.
At a light, an old one-percenter pulled up beside me on a Road King and asked, "How do you like that thing?"
I replied, "I just traded one of those and love it!" He started telling old bike stories, but the light changed and I let him ride ahead—respecting my elder.
At the next light, a couple guys in a pickup truck pulled alongside and asked, "What do you know about that bike?" Rather than enlighten them about its Thunder Stroke 111 inch, air-cooled engine and split dual crossover exhaust, I kept it simple. "Enough to ride it like the wind!" I called over my shoulder, leaving the truck in the dust.
Having ridden my Chieftain for more than a year, the bike continues to be a conversation piece and I'm happy to share my elation with it. My bikes have always had female nicknames such as "Norma Jean" and "Pearl." As I toyed with "Chianti," for the Chieftain, it seemed almost irreverent. I'm thinking Cha'Tima, a Hopi Indian name that means "the caller."
This Chieftain called my name, and we are now one. I am a romantic, but still a bagger chick—call me Meoquanee – Cheyenne and Chippewa for "wears red." I can now officially be the Woman on Red.
Do you have a story to share? Please send it to us, but follow these submission guidelines.
Related Articles
Review: 2017 Indian Motorcycle Chieftain Limited and Elite
Review: 2018 Harley-Davidson Heritage Softail Classic
More Reader Stories