Canadian roadracer and California Superbike School coach Misti Hurst is ecstatic about her outstanding debut race at Daytona International Speedway during the AMA 600 Supersport race in early March.
According to the AMA Pro Racings results archive, Hurst made history racing aboard her Kawasaki ZX6, by becoming the first woman to actually race in an AMA 600 Supersport at Daytona. In 1999 both Melissa Berkoff and Anna Garrison qualified for the 1999 AMA 600cc Supersport race at Daytona though neither woman started the race.
Hurst arrived at Daytona Feb 26th in order to get some practice time on the unfamiliar Daytona speedway during the local CCS races. Unfortunately, after only three sessions her connecting rod broke, pierced the starter, and destroyed her motor. She was on the banking doing approximately 160 mph.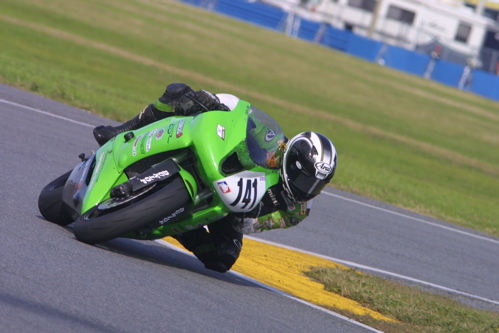 With her spare bike still in Portland, Hurst called motor builder EDR Performance. "Within 4 hours they had the motor dropped, drained, wrapped, secured, delivered to Forward Air and en route to Daytona for me, complete with a "GO MISTI GO" note attached. Those guys rock!" said Hurst.
Her spare EDR motor arrived Tuesday morning. Fianc#233;e/mechanic John Parker and Slednecks Racing teammate Josh Galster worked all day to prepare the bike and have it ready for Wednesdays qualifying session. After only an hour of practice on the track Hurst qualified 44th out of 51 riders with a time of 1:48.93.
The 22-lap AMA 600 Supersport race on Thursday saw her move up from 44th position to finish a strong 41st.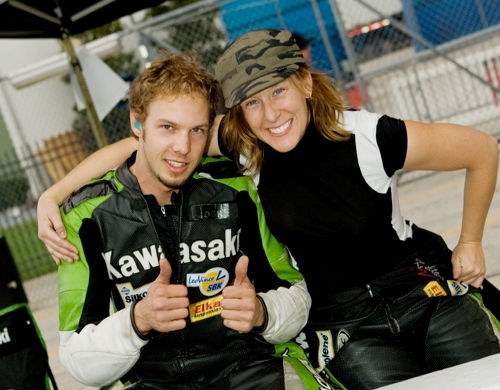 See Misti and teammate Josh Galster race at the next AMA Supersport Race at Barber Motorsports Park April 18th-20th. For more information, results, and race reports visit MistiHurst.com.