Low seats for big motorcycles, durable and bendable eyewear, and motorcycle-themed luggage—weve got a selection of motorcycle products to accessorize your bike (and you) this fall.
Reduced Reach Foot Controls for Sportsters and Dynas
This one's for the shorties! Harley-Davidson is offering a Reduced Reach Forward Control Conversion Kit for 2004 and later Sportsters models and 2006 and later Dyna models (except Switchback) to help bring forward-mounted foot controls closer to the rider. The kit repositions forward-mounted footpegs and foot controls up and back by two inches for added rider comfort and confidence.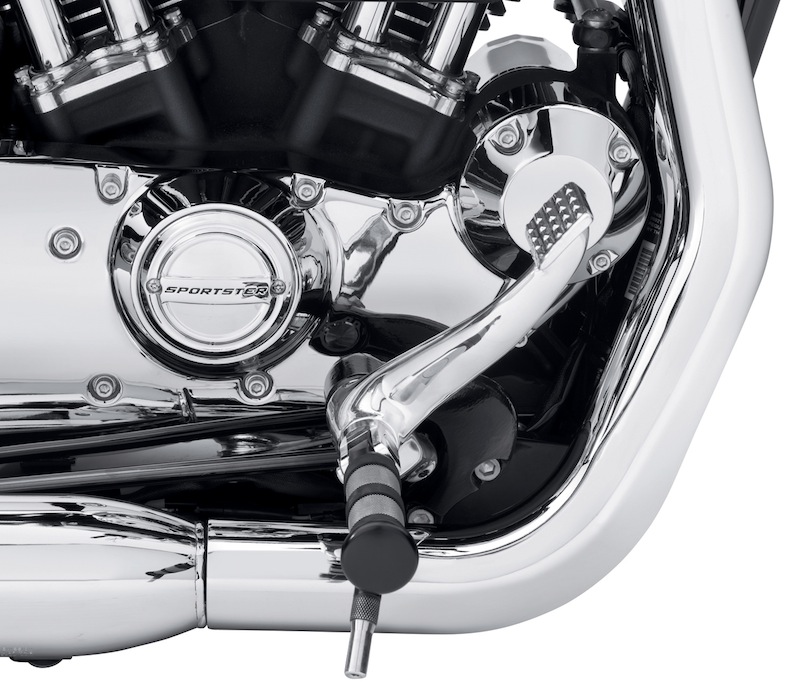 The reduced reach maintains the "foot-forward" riding profile while placing the riders boot at the proper pivot point for improved leverage. This kit also provides additional leg clearance around the chassis and air cleaner by moving the footpegs outward 1.5 inches (left side) and 0.5 inch (right side). The part number for Sportster models is 50700010, while the part number for Dynas is 50700005. For more information, stop by your local Harley-Davidson dealer or visit Harley-Davidson.com.
Tough Stuff Sunglasses
No more sitting on your sunglasses and breaking them. Harley-Davidsons new Performance Eyewear sunglasses with ForceFlex technology are nearly indestructible. The sunglasses, backed by a lifetime warranty, feature a soft, bendable rubber frame that flexes to fit nearly any face size inside any helmet.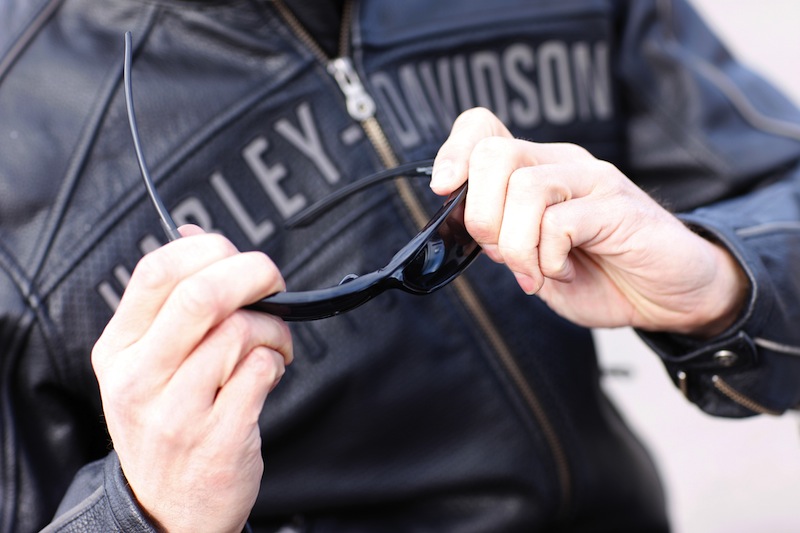 The women's Affinity Performance Eyewear with ForceFlex Technology and smoke lenses retail for $45. NXT day/night lenses, which quickly transition between light and dark, are available for $75. The men's version, the Switchflex Performance Eyewear with ForceFlex Technology, retails for $45 ($70 for NXT lenses) and features removable arms that can be swapped with the included back strap, enabling two wearable options.
Performance Eyewear with ForceFlex Technology is available now at most Harley-Davidson dealerships. For more information and to find a dealer, visit Harley-Davidson.com.

Show Off Your Passion at the Airport
You may not be able to check your bike at the gate, but now you can transport your love for motorcycles from the terminal to the overhead compartment. Ducati has partnered up with Tumi, a leading international brand, to launch a newcollection of travel and lifestyle accessories.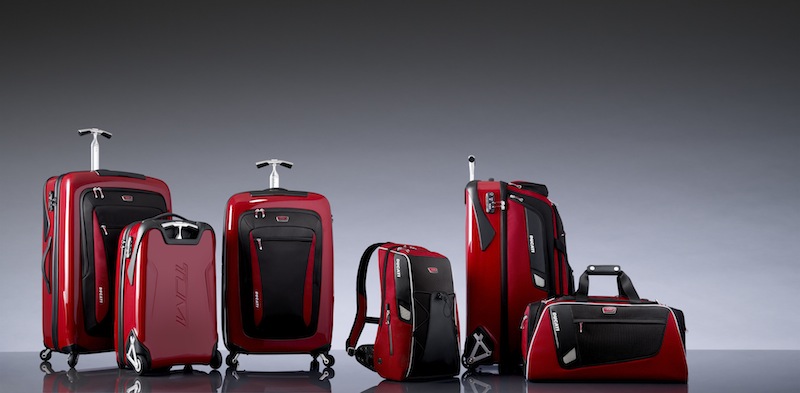 The new collection includes three sporty red travel cases, two duffels, a backpack and a cross-body bag. Designed with Tumis signature multi-layered ABS polycarbonate blend, the cases feature commodious nylon front panels, add-a-bag straps and aircraft-grade aluminum handles. The travel cases are available in three sizes: international carry-on, a medium trip case and an extended trip case.
The new Tumi Ducati collection is available for purchase at Tumi stories and at Tumi.com.

Low Seat for Touring Bikes
One of the ways a woman is able to ride a big touring motorcycle is by putting on a lower, narrower seat. Saddlemen, maker of motorcycle seats and luggage, enlisted custom bike builder Todd Silicato of Todds Cycles to create a low-profile bagger seat thats comfortable enough for touring. Keeping Saddlemen technology and quality at the center of this new saddle, Todd sculpted the seat to drop down into the bike for a low riding position.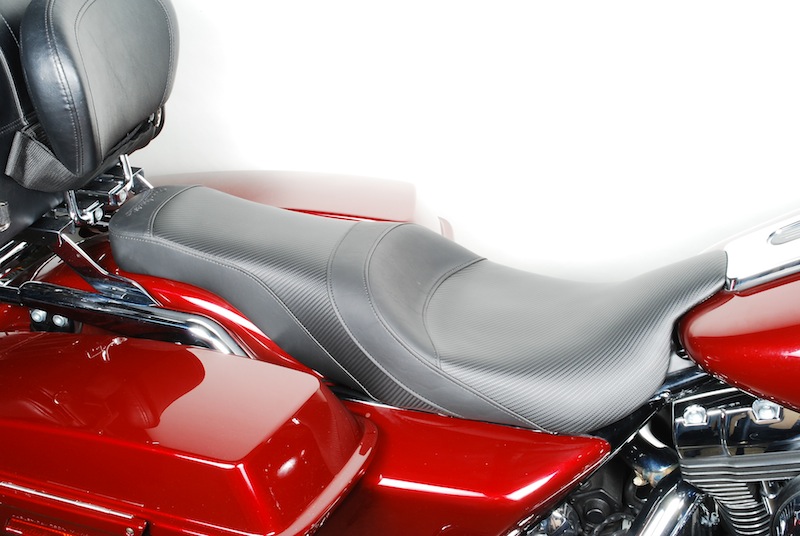 In addition to its low profile, the new seat features a slim, supportive bucket seat, a contoured passenger section with contrasting carbon fiber and a SaddleHyde cover, and a progressive density foam and SaddleGel interior to ease tailbone pressure and increase comfort.
For more information, visit Saddlemen.com.

Turn Your Metric Cruiser into a Tourer
This new Willie amp; Max Full Touring Upgrade Kit helps riders take their cruisers to full dress tourers in no time. The kit features a full fairing with or without radio cutouts, a 9-inch clear windshield, hard-sided saddlebags, and mounting hardware and bracketry. A marine-grade radio upgrade kit is available as an add-on feature.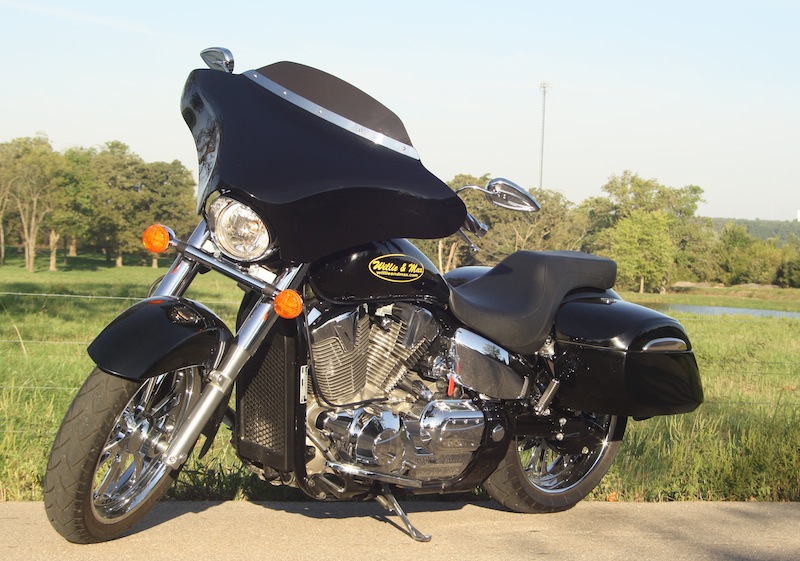 | | |
| --- | --- |
| The hard saddlebags that complete the kit are lockable. | The full fairing mounts to existing mounting points with no additional drilling required. |
First rounds of fitments for the kit include the Honda VTX1300 (all models), Honda Stateline, Kawasaki Vulcan 900, Yamaha V Star 950 and 1300, and the Yamaha RoadStar. Willie amp; Max is working on the next round of fitments based on its online feedback from riders.
The price for a full kit (full fairing, saddlebags, windshield and mounting hardware) starts at $1,504.99 in a primer finish and $1,794.99 for a gloss black finish. For more information, visit WillieAndMax.com.
Add Some Oomph and Rumble to the Star Stryker
Cobra Engineering is introducing four aftermarket exhaust systems and a new slip-on muffler for the Star Stryker, a motorcycle Star/Yamaha believes will attract a lot of women because of its favorable ergonomics. Click here to read the WRN review of the 2011 Star Stryker.
Cobra's new exhaust systems allow the Stryker's 1300cc engine to come alive with the right V-twin sound. The four systems include the Tri-Pro 2-into-1, designed to increase the overall performance of the bike; the Swept Speedster, made for those looking for a custom look; the Speedster Slashdown, designed with traditional looks and outstanding performance; and the Dragster, with straight lines, simple installation, and a crisp, clean sound.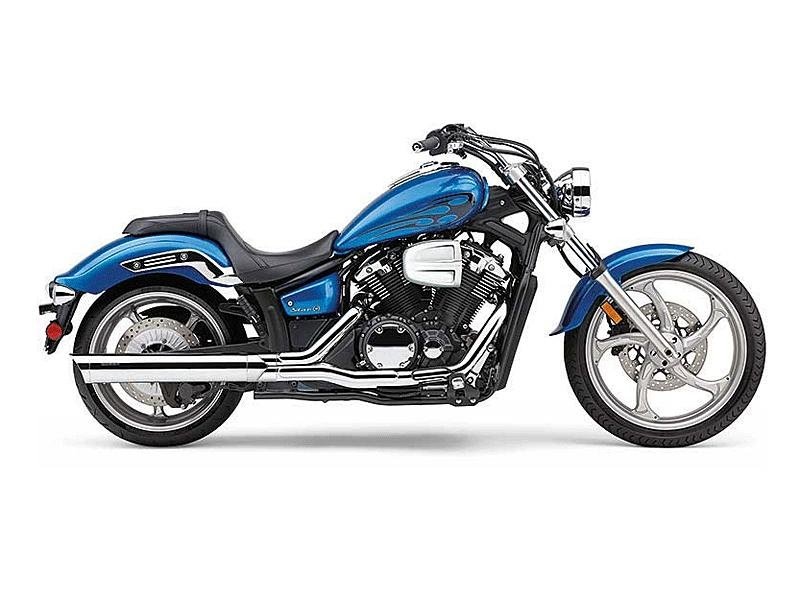 "This bike has a lot of potential, and we felt it deserved a large offering of exhaust systems that looked great but also enhanced the performance of the bike, and each one of these Cobra systems does just that," said Tim McCool, president of Cobra Engineering.
Also newly available for the Stryker is Cobra's four-inch slip-on muffler, made for those looking for better sound and great style for their bike. The new muffler is easy to install and has a low entry price of $239.95.
For more information, visit CobraUSA.com.

Riding Luggage for Touring Riders
Adventure touring riders now have a new option for outfitting their dual-sport motorcycles. Black Dog Cycle Works, a leader in parts for the adventure touring market, is excited about two waterproof luggage pieces, going so far as to say about the new Sandstorm tank bag is "by far the best tank bag design we have ever seen or used."
| | |
| --- | --- |
| The Enduristan Monsoon saddlebag is priced at $299. Both bags are compatible with various adventure and dual-sport bikes. | The Enduristan Sandstorm tank bag retails for $195. |
The Sandstorm tank bag is waterproof and expandable and features a removable map case and two external pockets. Integrated straps keep the bag secure on the bike, even on the toughest of terrain. The Monsoon soft saddlebags are throw-over bags that are some of the lightest on the market—they're also 100 percent waterproof.
Black Dog Cycle Works is owned by husband/wife team Martha and Ken Forgét. As one of the few women in the adventure touring industry, Martha gave a recent interview to Dealernews Magazine in which she offered this advice to women interested in the sport: "Get on your bike and ride. Take a class in the dirt. Don't be intimated by the lack of females in this market segment. It will grow. Remember, you can lower many bikes to fit."
To learn more about Black Dog Cycle Works and the new waterproof luggage set, visit BlackDogCW.com.
Related Articles
New Motorcycle Products Roundup
Motorcycle Review: 2011 Star Stryker