I wrapped up four days riding the Grand Teton Loop two weeks ago with 11 other female motorcycle journalists. The Idaho Tourism folks sponsored the ride so that we women rider scribes will spread the word about this incredible riding that borders Idaho, Montana and Wyoming. I got great pictures as we had a break in the rainy weather. A high pressure system hovered over the area creating lots of sunshine, but still temps were quite cool. My Powerlet heated jacket liner came in handy.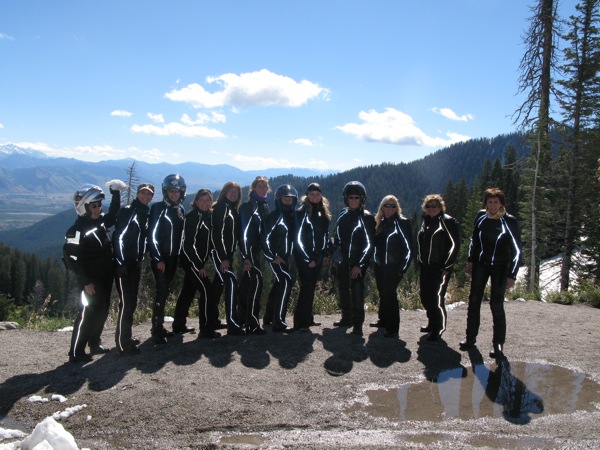 Start now thinking about heading to Idaho Falls and making it the launching off point for a scenic ride of the Grand Teton Loop which takes you into Yellowstone National Park into Montana for a bit and back into Idaho. One of the best rides I#8217;ve ever been on#8230;and it#8217;s in my backyard.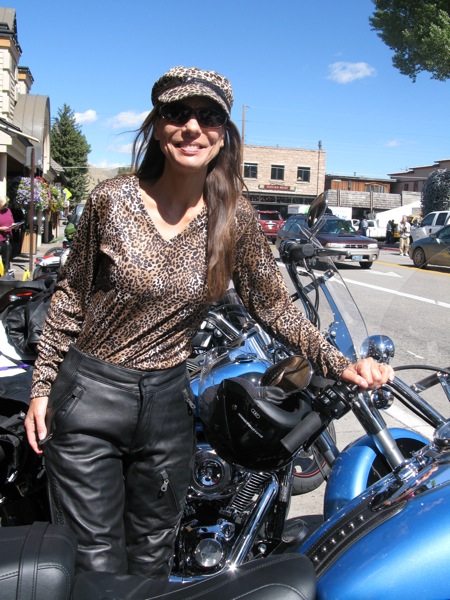 My review will post in a few months so you have time to plan your next summer vacation. It was a beautiful easy ride, and because I did it with all women I#8217;m thinking about more all-girl rides. Here are a few photos from the trip to tease you to what is to come on Women Riders Now.
| | |
| --- | --- |
| There was no testosterone present on this ride, except these tourists from Mexico who tried to bug in our photo by the Yellowstone Park sign. You can see were all really paying attention to them. | Donya Carlson from Rider Magazine is shooting Amanda Lee from Harley-Davidson who is talking about the 2011 motorcycles the Motor Company supplied for us to ride. |
| Me (left) with Diane Norton, our tour leader, from Idaho Tourism, who organized the ride. Diane helped me test Cardos G4 headset communication system. She led while I talked to her from the back to help keep the group together. | Riding through the Tetons. Incredible views. More photos in my story to post in a few months. |
| With my new best friend, Anne Tattersall, who works for EagleRider in the Netherlands. Some of the incredible sites we saw. This waterfall is the prettiest Ive ever seen. Watch out for my article to learn where it is. | Love her! |
Other quickie news blog items:
Free Handlebars
Helibars, manufacturer of custom ergonomic handlebar systems, is looking for a Honda VFR1200DCT in the Northeast area to do Ramp;D on. Owner of bike gets a free set of the handlebars. Contact Jennifer Pettengill at 207.625.3642.
New California Exhaust Law
A new California law just passed requires street motorcycles registered in the state and built on or after Jan. 1, 2013, to have an exhaust system label certifying the motorcycles meet federal sound limits, the American Motorcyclist Association (AMA) reports. More info here.
New Logo for Daytona Bike Week
In preparation for the 70th anniversary of Bike Week in Daytona Beach, the Daytona Regional Chamber#8217;s Bike Week Festival Task Force has selected the official logo design for Bike Week 2011 to be held March 4-13, 2011.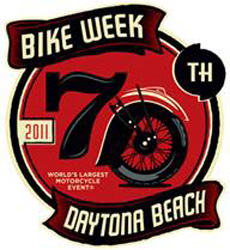 An integral component of the 70th anniversary event, the official 2011 logo celebrates the historic occasion with a 1940s-era look and feel. #8220;We needed a logo that will appeal to the hundreds of thousands of bikers who will help us mark the milestone, but that also honors Bike Week#8217;s history, and that#8217;s exactly what we got,#8221; said Sean Belgrade, chair of the Chamber#8217;s Bike Week licensing committee. #8220;I think this year#8217;s logo is one of the best and most versatile designs we#8217;ve seen, and ideal for our 70th anniversary.#8221;
New Motorcycle Roads Web Site
Metzeler Moto has released MetzelerMaps.com, a new Web site allowing users to search, share and upload the best touring routes for motorcyclists. They can create a profile, save trips, maps, videos and photos and share adventures with other users who will be able to submit their own comments, reviews and suggestions.
Win a Sportster
Historic Downtown Lebanon, a group celebrating the historic nature of Lebanon, Ohio, my husband#8217;s former home town, is raising money through a raffle that awards a 2009 Sportster 1200 Custom. Raffle tickets are $20 and only 1000 will be sold. Raffle extended through October 31. To purchase a ticket call Candace at 513.228.2322.
Way to go to WRNs Stacey Swanson!
WRN ad sales rep, Stacey Swanson, is walking in the Susan G. Komen 3-Day For the Cure. It#8217;s a 60-mile walk over three days, Oct 1-3. She did the walking in San Francisco. Net proceeds from the Susan G. Komen 3-Day for the Cure are invested in breast cancer research and community programs. Her mom was affected by breast cancer. Help Stacey reach her fundraising goal by clicking here.
Good News for Motorcyclists
Despite the rising number of motorcycle miles traveled, fatalities decreased 16 percent and injuries declined 6.3 percent last year, according to the National Highway Traffic Safety Administration#8217;s 2009 Fatality Analysis Reporting System. Among all types of motorists, motorcyclists had the second-largest reduction in fatalities, behind large-truck occupants, and the largest drop in alcohol-impaired fatalities #8211; also a 16 percent reduction.
Way To Go Big Apple!
Starting this past August 13, Big Apple Motorcycle School, owned by our friend and WRN contributor Diane Ortiz, started the New York State Motorcycle SafetyBasic Rider Courseat the Oakdale campus of Dowling College, a private university on the Great South Bay of Long Island that used to be the Vanderbilt Estate.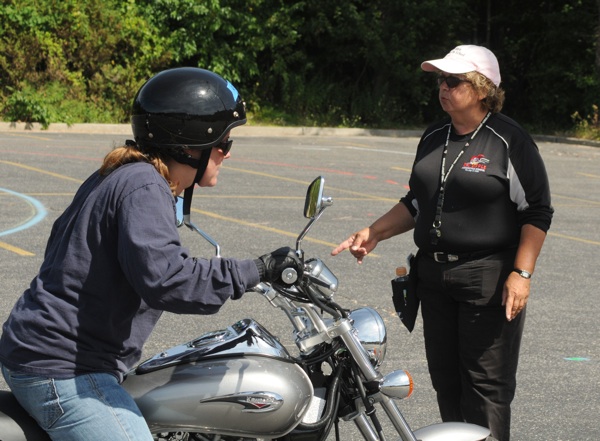 Diane said, #8220;As aLatina woman business owner(I started the school in 2006 after taking a buyout from Newsday) its been a challenge to expand in this economy. We at Big Apple feel it isvery important though toprovide quality motorcycle training opportunities to the public and that is why we have added the MSF curriculum.#8221; Visit BigAppleMotorcycleSchool.com.
Lucky Guys
Cardo Systems, maker of Bluetooth communication systems for motorcycles, presented the racers competing in August#8217;s exciting MotoGP in Indianapolis with its industry-leading scala rider G4 PowerSet motorcycle intercom communication system for bikers. Cardo Systems was happy to provide them with the industry#8217;s pre-eminent Bluetooth communication device in recognition of their world-class status in competing in the Indianapolis event.
Deals on Moto Guzzis
Moto Guzzi USA is offering $2,100 worth of free touring accessories with the purchase of a 2009 Stelvio1200 4V as well as special discounts on touring suits. Now through October, purchasers of a 2009 Stelvio 1200 4V are eligible to receive a Moto Guzzi touring kit that includes side bags, hand guards, engine guards, an anti-theft alarm system complete with two remote controls, as well as a durable black bike cover to protect their bike when they#8217;re not touring. For more information about Moto Guzzi or to locate an authorized dealer, visit motoguzzi-us.com.