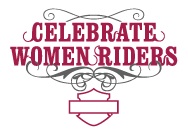 EXCLUSIVE: New Harley-Davidson Promotion for Women Riders
I am proud to share with you that Women Riders Now is the first media outlet to learn about and report on a new promotion from Harley-Davidson designed to attract more women to motorcycling.
Called "My Time," the Motor Company is asking women to answer a few questions and submit a short essay on why they want to learn to ride a motorcycle and how they feel they inspire others. The grand prize is a brand-new Harley-Davidson 1200 Custom, plus $1,000 worth of Harley-Davidson MotorClothes, a Riders Edge New Rider Coursein Milwaukee, and the VIP Harley-Davidson experience. Harley is picking four winners who each gets to take a friend to accompany them to Milwaukee. Wow! Harley sure is offering a lot of loot to attract women to its brand. Way to go, Harley-Davidson!
You can be one of the first to enter this contest by clicking here. If youre a regular reader of Women Riders Now, you probably already ride a motorcycle, so this is your chance to get a friend involved. Be sure to spread the word about this exciting contest.
Garage-Girls Contest Winners Announced!
Back in March,we announced the launch of this year#8217;s Garage-Girls Ultimate Biker Makeover, a contest that rewards two deserving riders with an assortment of motorcycle components and accessories. Now, after a month of public voting, we#8217;re excited to congratulate this year#8217;s winners#8212;who both happen to be women riders!
This year#8217;s grand-prize winner is Pat Henderson, who shared her story of continually making sacrifices, including giving up her motorcycle, to provide her children with all she could. With her children grown, she asked voters to help fulfill her dream of getting back out on the road. Runner-up Mary Pinkerton#8217;s entry essay focused on the loss of her mother and then Mary#8217;s subsequent diagnosis of diabetes. After making many changes and focusing on her health, Mary found herself many pounds lighter but with riding gear that no longer fit properly.
| | |
| --- | --- |
| Grand-prize winner Pat Henderson. | Runner-up Mary Pinkerton. |
Pat and Mary will receive all-new motorcycle gear and accessories. Both women will be at the Carlisle Bike Fest in Pennsylvania on July 23 to collect their prizes.For more information about Garage-Girls#8217; annual contest, visit
Garage-Girls.com
.
Related Articles