Fueled by the growth of everything motorcycle related from museum exhibitions, feature films and TV shows to club racing and collecting, interest in motorcycle art is growing in giant leaps. To meet that demand, for the first time ever, Ducati is opening up its archives of photography and advertising art, making select limited edition prints of iconographic images available online at www.ducatiartprints.com.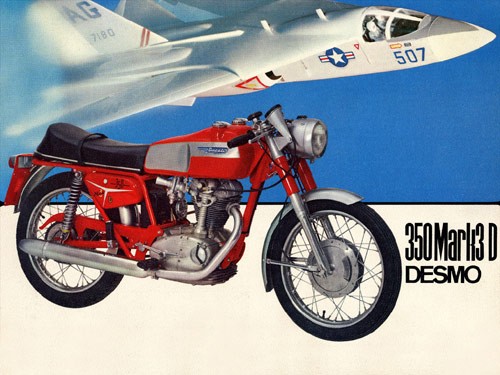 The exclusive Ducati prints, which are being produced in numbered editions of 750, are being made available thanks to a licensing agreement between Ducati Motor Spa and ArteHouse, LLC. "These are more than simply pictures of motorcycles," said Richard Weedn, ArteHouses co-founder and a self-described Ducati fanatic. "They tell the story of what started the Ducati culture. In fact, they also tell the story of how I started ArteHouse after participating in the return of the MotoGiro DItalia. I was so inspired by the rich history of the MotoGiro, beautiful Italian graphics and what I saw being built at the Ducati Museum, I decided to build a business upon that very foundation. As a Ducati owner since 1995 and an art publisher since 1975 I knew I could combine both loves and share my Ducati passion with the world. My business partner and I agreed over dinner and ArteHouse was born."
"ArteHouse is a perfect partner for us," says Stefania Clapci, Licensing Director for Ducati Motors. "Richard is not only a Ducatisti and seasoned art publisher but someone who shares in the celebration and advocacy of our history. "Weedn adds, "At ArteHouse we make prints the way Ducati makes bikes, one at a time, with great care and respect for the history of what has come before us.
"Ducati art prints are made using a high quality process called Giclee printing. Archival inks and archival paper or museum quality canvas is used as a basis for each print. Even giant murals and custom sizes are available for your living room, garage or showroom. We carefully number each print and pack it for worldwide shipping, framed or unframed.
"The ArteHouse factory is blocks from the ocean in Santa Barbara, California, where Richard Weedn and his team work each day surrounded by two of Weedns prized Ducati motorcycles – an ex Milano-Taranto Mach I and a 1961 twin spark, rigid framed 250 Flat Tracker. To see currently available prints, go to www.ducatiartprints.com.