October is Breast Cancer Awareness Month, an event organized to increase awareness and raise funds for research. At Women Riders Now we know many women who've been afflicted with breast cancer, which is why we like to feature companies doing their part to help eradicate this terrible disease and support those affected by it. Below are a few products you can buy to support breast cancer research.
To honor this special month, were giving away two of these products to WRN readers who enter our special Breast Cancer Awareness Month Giveaway, running now through October 31, 2012. Details on how to enter are at the end of the article.
Wraps of Hope and Save the Ta-Tas
Wraps of Hope are fashionable, jeweled headwraps that are not only perfect for women motorcyclists—they're also perfect for women who've lost their hair after undergoing chemotherapy. For every purchase of Wraps of Hope, parent company DesignWraps donates a free wrap to a woman or child who's experienced hair loss due to illness.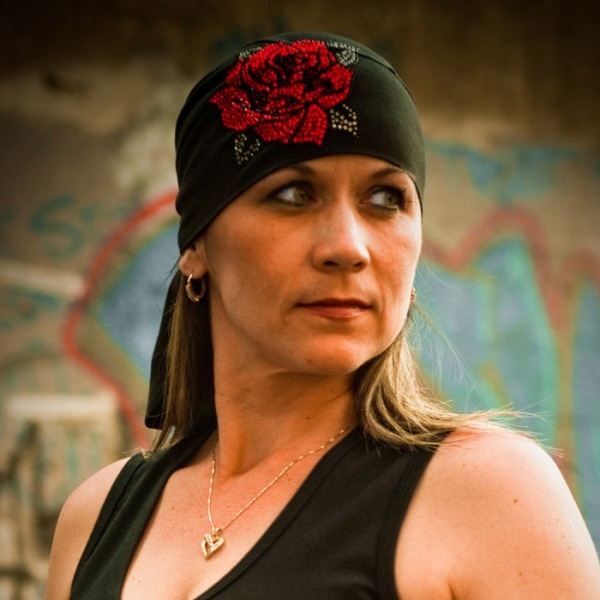 DesignWraps also offers a line called Save the Ta-Tas, featuring headbands, beanies, wraps, and tees with the glittery "Save the Ta-Tas" message emblazened on the fabric. The Pink Ribbon Collection features the same merchandise but with a simple pink ribbon on it.
| | |
| --- | --- |
| The Black Diamond Save the Ta Tas w/Pink Ribbon White Sleeveless Tank Top ($64) and Black Diamond Save the Ta-Tas w/Pink Ribbon White Stretch HeadBand ($29.95). | The Rhinestone Tri-Pink Ribbon Black Stretch HeadBand and Tee are the second prize in our Breast Cancer Awareness Month Giveaway. See the bottom of the article for details. |
DesignWraps donates 10 percent of every purchase of Save the Ta-Tas merchandise to the Save the Tatas Foundation, while 5 percent of every purchase from the Pink Ribbon Collection goes to the Wraps of Hope Foundation. There are lots more designs and styles to browse. Check them out online at DesignWraps.com.
Harley-Davidson's First "Pink Label" Boot
Harley-Davidson is introducing the first boot to be part of its Pink Label Collection, the Motor Companys apparel and footwear line supporting breast cancer advocacy and support organizations. The Morgan is a simple and stylish performance riding boot, and a portion of the proceeds from each sale will be donated to help fund breast cancer support groups.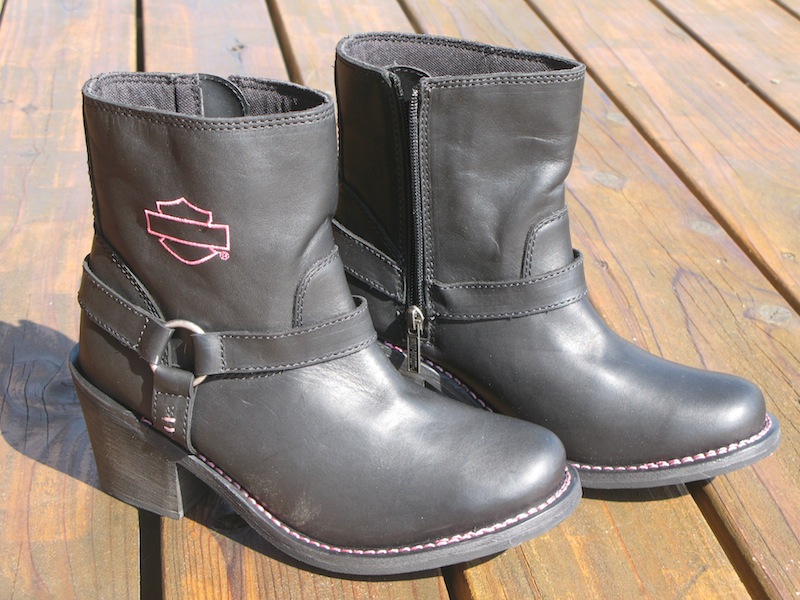 "These boots are a subtle way to show off your support for breast cancer research, with the understated pink accents," said WRN Editor Genevieve Schmitt. "Id never wear a bright-pink leather boot, but wearing these sturdy black riding boots with delicate pink accents makes me feel that Im doing my part in supporting the cause."
The boot features a simple pink stitched Harley-Davidson logo on one side and a stamped logo on the sole.
The boots feature a just-high-enough 2.5-inch heel and a 7-inch shaft that covers the ankle. The thick sole will keep you steady on your feet when moving your motorcycle around. For more information and to find a dealer near you, visit
Harley-DavidsonFootwear.com
.
WRN Breast Cancer Awareness Month Giveaway
Download the WRN Contest Rules(will open a PDF)
First prize: A pair of Harley-Davidson Morgan Pink Label Boots (the pair featured above!) in either size 8 or size 9. Sorry, but all the rest are in dealerships, so we have just two pairs for one lucky winner to pick from. If you dont wear a size 8 or 9, you can pick from several other styles of Harley-Davidson boots.
Second prize:One of the headwraps or headbands from DesignWraps shown in the photos above, and one of the tanks shown in the photos, in your size.
Dates: The contest runs from October 1 through October 31.
How to Enter: First "Like" our page on Facebook (if you havent already), then fill out the form below. Two winners will be picked at random. Well announce the winners in November.
Related Articles