In the fall of 2010, Cris Sommer Simmons set out with her 1915 Harley-Davidson to cover 3,294 miles on a 16-day ride from North Carolina to California. Her goal was to complete the Cannonball Cross-Country Endurance Run for pre-1916 motorcycles.
Cris's new book, "The American Motorcycle Girl's Cannonball Diary," is a fun, fascinating and inspiring account of that ride, compiled in coffee-table-book format and illustrated from cover to cover with 275 color photographs from renowned motorcycle photographer Michael Lichter.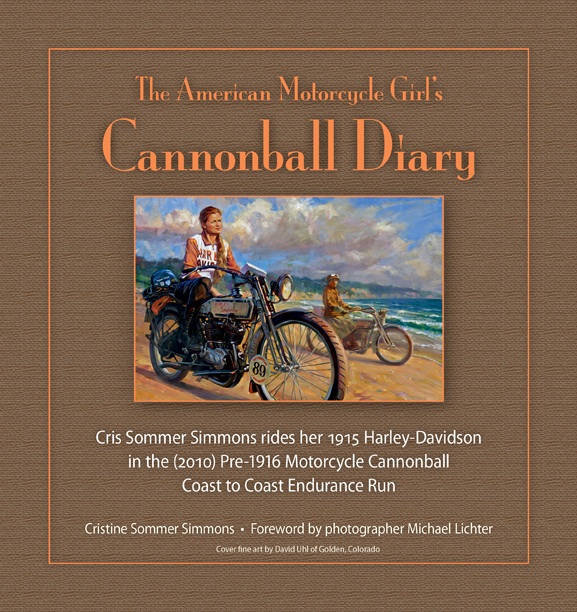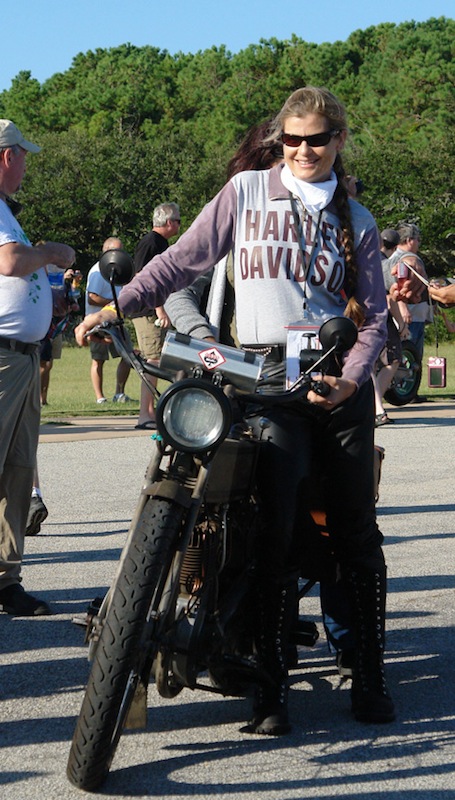 The 2010 Cannonball Cross-Country Endurance Run was a rare chance for vintage motorcycles—usually reserved for museums and private collections—to roar down the road as they had nearly 100 years ago. Cris's book chronicles every step of that journey, from how she came to sign up for the run—she'd initially encouraged her husband, Doobie Brothers guitarist Pat Simmons, to participate but decided to sign up herself after learning he'd be on tour—to the process of fixing up and maintaining "Effie," the 1915 Harley that carried her across the country. She named the bike in honor of Effie Hotchkiss, who in 1915, along with her mother, Avis, became the first woman to ride across the United States on a motorcycle.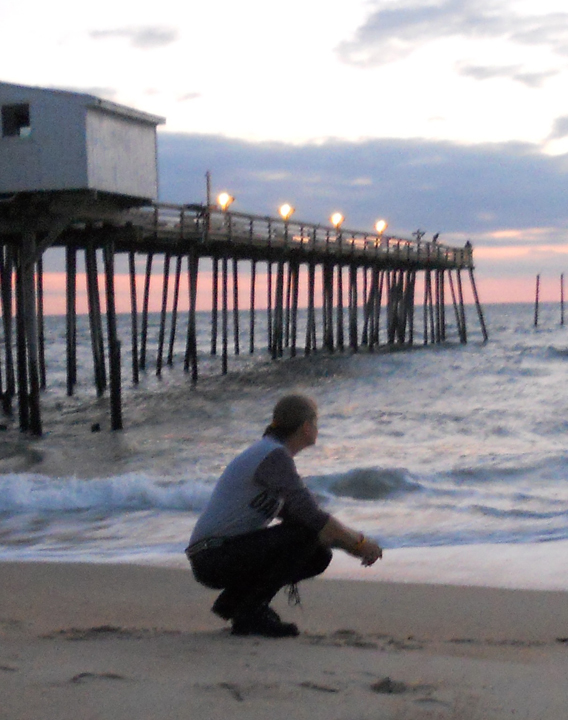 Cris's journal tells an exciting story of the mechanical and physical challenges of such an adventure, of which there were many! She was the only American woman among the 45 riders who entered the event, and the challenge of keeping a nearly century-old motorcycle running across thousands of miles of pavement proved too much for some. Eight of the riders never made it to the pier in Santa Monica, Calif., the run's final destination.
Cris's endearingly breezy and honest writing style in "The American Motorcycle Girl's Cannonball Diary"—as well as photographs from Michael Lichter, who captured the action while sitting backwards on a motorcycle for all 3,250 miles!—will make you feel like you're part of the adventure from beginning to end. And when Cris and Effie roll up onto that pier in Santa Monica, you'll understand the sense of accomplishment and connection she feels for her fellow riders and for all the daring women motorcyclists who came before her.
| | |
| --- | --- |
| Cris on the Santa Monica Pier celebrating the success of her 16-day run. | Chris after emptying her vial of water from the Atlantic Ocean into the Pacific at the completion of her ride. |
"Riding onto the Santa Monica Pier at the end of the Cannonball was the highlight of my 30 years of motorcycling," Cris says. "It was as though I were riding in honor of all the women motorcyclists who had come before me."
"The American Motorcycle Girl's Cannonball Diary" is armchair motorcycle adventure at its best. It would make a fun and inspirational read for any woman rider (or male rider, for that matter!), especially those interested in long-distance motorcycle travel or antique and vintage bikes. Signed hardcover copies are available for $36 at CannonballDiary.com.
Related Articles