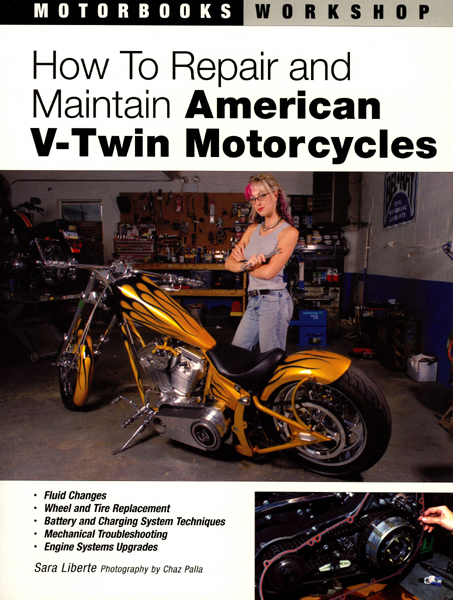 What a great time for a book like this to be published. With lots of riders owning a Harley-Davidson or custom V-twin motorcycle, there becomes a need to learn about the repair and maintenance of those bikes. Sara Liberte is one of the few female wrenches out there who really knows her stuff. Gender aside, those who have the desire to roll up their sleeves, set up a serious motorcycle garage and get some grease on their hands will have fun applying whats taught in this 160-page soft cover manual from Motorbooks.
Liberte starts with the notion that part of the pleasure of owning a motorcycle is knowing how it works and how to repair it should the need arise. Some of the book is very basic; she writes about proper riding gear, how to tell a Softail chassis from a hardtail, and how to clean your bike. She also explains what tools a home mechanic should own accompanied by good color photographs of them.
From there, the book is part informational, part know-how. The chapter on fluids explains what the motor oil, transmission fluid, brake fluid and fork oil do and then proceeds to show, step-by-step, how to change all those fluids. Even though Liberte lists the skill level for these procedures at beginner, I still hesitate to fool around with this kind of stuff on my Dyna Low Rider. Id be nervous Id screw something up. Hats off to Liberte who has no qualms about getting the job done all on her own.
Riders with some technical brainpower will appreciate the 21 project descriptions that include how to change a tire, how to install an upgraded starter, and how to install a performance exhaust. Riders like me whod rather leave it to the trained experts will still learn a thing or two from this book about the workings of their motorcycle. Its refreshing to see a woman getting down and dirty in the 250 accompanying pictures, but dont let the female factor fool you. The content is smart and serious with plenty of helpful advice learned from years of wrenching on V-twin motorcycles.
For more information or to order a copy visit www.saraliberte.com or www.motorbooks.com.