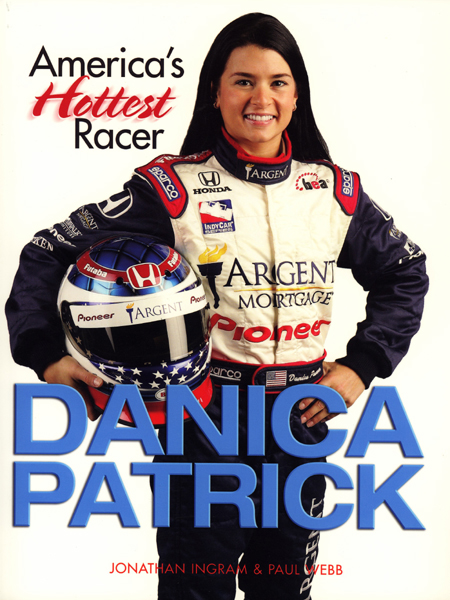 I couldnt resist getting this book about Danica Patrick written by Jonathan Ingram and Paul Webb sent to me for review as Danica is Americas newest racing sensation. At the 2005 Indianapolis 500, this rookie driver not only became the first woman to lead a lap at the Brickyard, she was in contention to win in the last few laps of the race. With auto racing being just as male dominated as motorcycle racing, I figured motorcyclists would have a lot of interest in who Danica is and where she came from.
This book does not let you down. Its 128 pages are filled with lots of color pictures from Danicas early days racing go carts up to her rookie season in the Indy Racing League in 2005. The foreward is written by Lyn St. James, the last woman to take open-wheel car racing by storm.
Chapter two entitled Bravehearts is an exciting section of the book. There are profiles of other notable women in both auto and motorcycle racing. Car racing pioneers like Shirley Muldowney and Janet Guthrie to more recent sensations like 11-year-old motorcycle road racer Elena Myers are featured in this section.
Its refreshing to read about Danica in detail as well as these other exceptional women to see what it takes to be the best in the highly competitive racing genres. When I received the book in the mail, I first flipped through the pages to read the captions under all the great photos. Later, I sat down and read the six chapters learning much about the sport of open-wheel car racing and much more about Danica, a woman of contrasts. What fascinates me the most is that Danica is so young in her early 20s with an incredible future ahead of her. In some connected way, I feel Danica is waving the flag for all women who enjoy sports and activities that are typically male dominated.
At $14.95, "Danica Patrick: Americas Hottest Racer" makes an ideal gift for a friend. Just be sure you read through the book before giving it away. Available from Motorbooks Publishing, motorbooks.com, 800.826.6600.