Im inspired by the accomplishments of many women motorcycle riders, but one stands out because of her tenacity to follow her dreams in a big way. Her name is Weronika Kwapisz and she lives in Poland.
This 30-year-old woman recently self-published an inspirational book called "Everything Starts with a Dream, the Motorcycle Diaries," chronicling her many miles of solo travel around Europe. At the time she was 25 years old and rode a 125cc motorcycle!
When I first came to know of Weronika she was traveling solo around the United States on her little Triumph Bonneville for 80 days covering nearly 10,000 miles. Heres our story on that journey.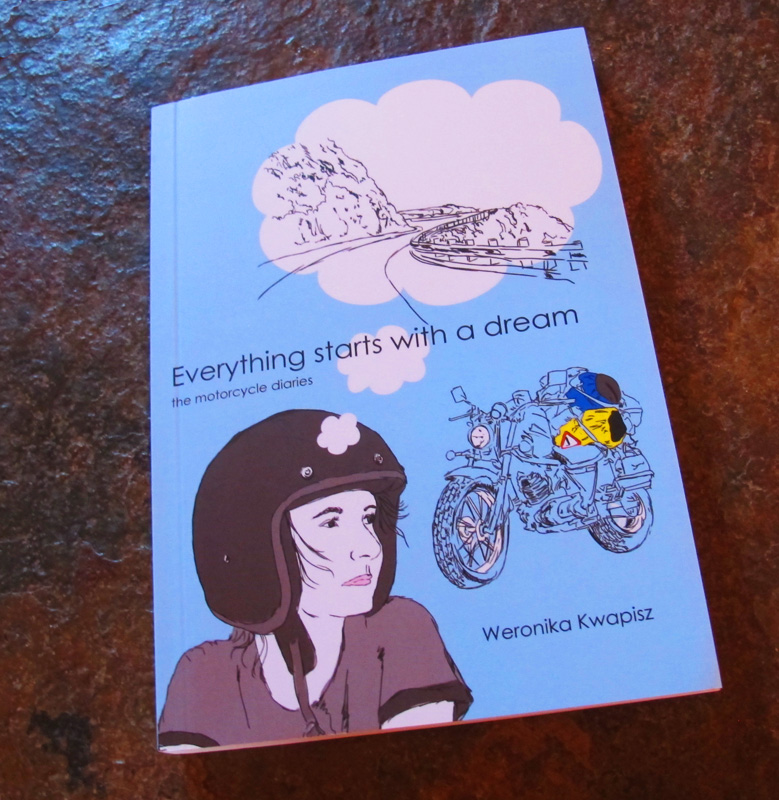 As I mentioned in my previous book preview on Grace and Grit, these days with my super busy schedule managing this website, I only have time to preview the many motorcycle books I receive instead of diving into each one cover to cover. So glancing through Weronikas book, which originally started out as an e-book, I see a detailed diary of the highlights of her multi-country trip through Europe. She shares moments that make the trip as well as her emotions, the highs and lows, along the way. She gives helpful advice that any motorcycle traveler will find useful.
As she says on the book cover, the hardest part of going on any long distance motorcycle trip is making the decision to get started. She guarantees her book will inspire you to do just that. You can order the book here on her website.She promises to sign every book. Learn more about inspiring Weronika at RidingAcross.com.
Related Articles
10 Tips to Reduce Risk to Personal Safety on a Solo Motorcycle Trip
Book Preview: Grace and Grit by William M. Murphy
Fearless! American Motorcycle Expedition by a Polish Woman
More Book Reviews on WRN