Big Bike Parts has been busy creating new products, and recently added three colorful items to the Show Chrome Accessories line to help you create that personal touch for your motorcycle.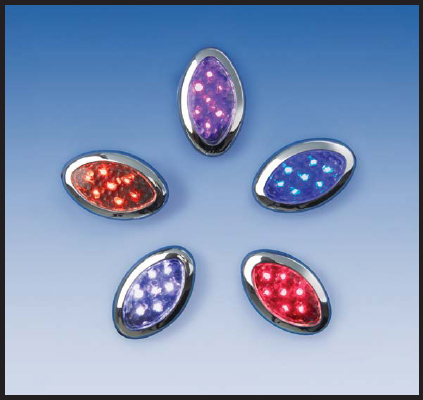 Check out the new LED Accent Lights now available in five different colors—amber, red, white, blue and purple. Create a unique look to show off your exhaust, engine, wheels, or other areas of your bike. The domed shaped accent lights attach easily with double-sided tape provided with your purchase. Your motorcycle will surely be noticed.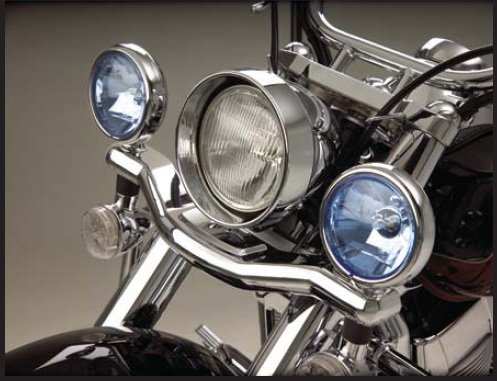 Here's another new lighting product worth checking out. The Blue Lens Contour Light Kit gives a distinct visual impact of brilliant white light for better visibility. The lenses are 4 ½ inches in diameter and come with a 55-watt halogen bulb. Also included in the kit is a light bar, a mounting plate, mounting hardware, turn signal relocation inserts, and a wire harness. Available for select Honda and Yamaha models. Check their Web site for details.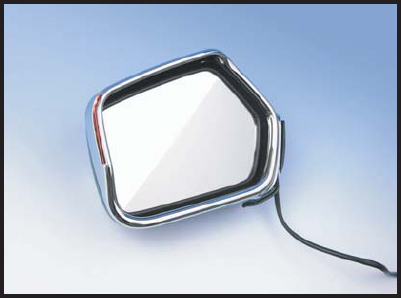 Also new in the line-up is the LED Visored Mirror Trim. The mirror trim has six red LED lights which provide a turn signal to your light. The chrome trim mounts easily with double-sided tape and plugs into your existing mirror wire harness. Fits the Honda Gold Wing GL1500.
Big Bike Parts offers a variety of products that fit assorted makes and models. Visit bigbikeparts.com to view the latest in motorcycle accessories.