With the countrys economy and political status full of uncertainty, a majority of the population is cutting back. They are cutting back on all spending, but in particular, on anything that involves gasoline. This doesnt work for me, as many of my favorite toys are powered by gasoline. It is most certainly logical to cut back on things that seem to be a luxury, but I have always considered travel to be more of a necessity than a luxury. Justify it as I do, travel is my priority. Riding my motorcycle is my therapy. Visiting every single member of my family every year is not an option, it is a necessity.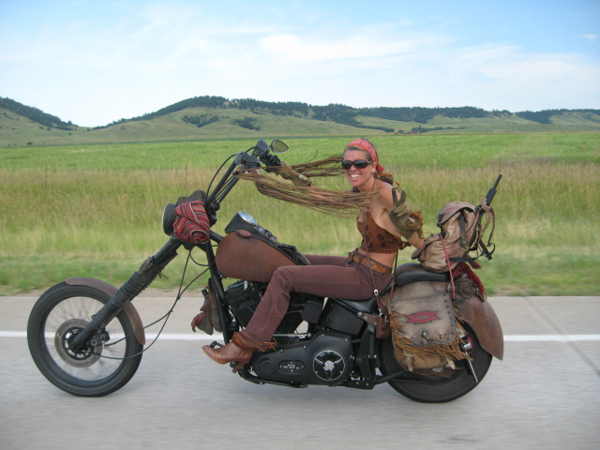 It seems like just yesterday that my nieces and I were fishing, riding horses, and floating on ponds. Now when I visit them at their home in Colorado they are too busy on their cell phones and kissing boyfriends to even care that crazy Auntie Betsy is in town for a few days. I brought along a supersized fairy color book, and nobody even wanted to color with me!
Time literally flies by. If you blink, you might miss it. I used to joke that I didnt know if going to Sturgis is why I visit my family every year, or if family is why I make it to Sturgis every year. Life boils down to precious unforgettable moments and those moments occur when we make them possible. And we make them possible or impossible with the priorities we choose for our lives.
For the first time in 20 years, I thought about not taking my annual 5,000-mile trek. With gas pushing $5 a gallon, I didnt even want to do the math! And leaving my dog alone for more than a month with only a daily visit from the sitter is always hard on him. Then there is my 78-year-old pa, who usually likes to join me for part of my journey, but his Parkinsons and back problems are making travel difficult on him. No matter how I looked at it, I wanted to be in 20 different places this summer, and there would be a price to pay. But in the years to come, would I remember the money I spent, or the time I had with the people I love?
In order to accommodate all of the elements I wanted to include, I made a decision to hitch the trailer and motorcycle to the Explorer. I left the back of the SUV wide open for my best friend Ute and the seat next to me open for my dad to ride shotgun. And on my favorite roads where my heart was heavy because my motorcycle was behind me instead of underneath me, all I had to do was look over at my dad snoozing peacefully. Or at the smile on my dogs face as he hung his head out the window, exceedingly happy to be a nomad with his Mommy!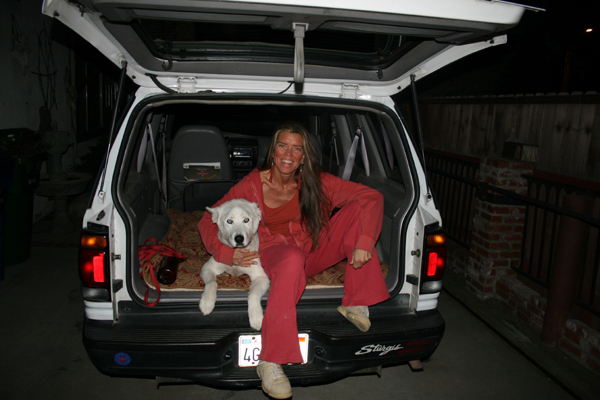 Over and over life has taught me that there is pleasure in simplicity. Yet I still have a tendency to fly past it at 100 mph, and sometimes miss that which is directly in front of me, on account of it was a blur at that speed. I live in constant hunger and continual search for the next great adventure. Knowing this about myself, I am trying to enjoy moments of simplicity, intertwined with my usual chaos. Because truly, what could be cuter than your toothless 7-year-old nephew picking you a flower the size of your little fingernail? Or the 4-year-old with his head buried in your dogs white fur? Or the both of them peeing on the side of the house? Or leisurely watching the sun go down over the mountains from a swing on the porch with your dad?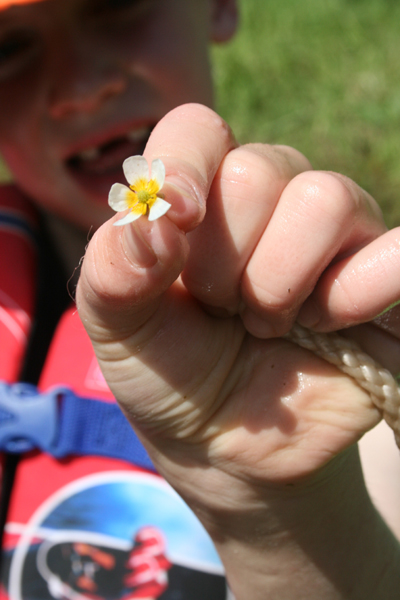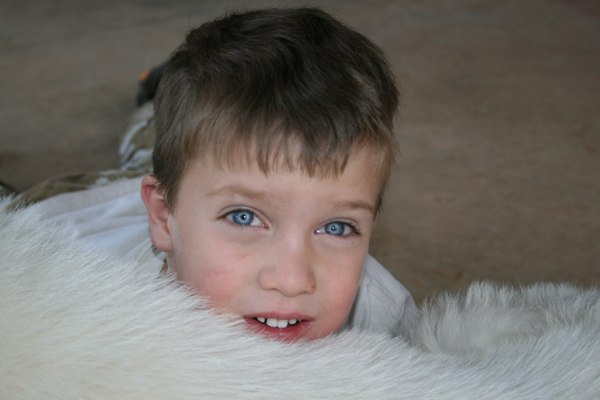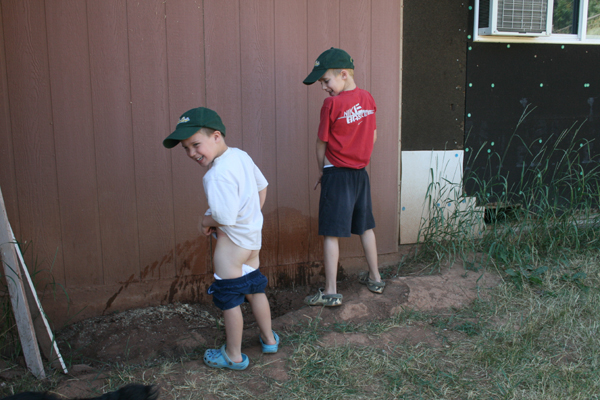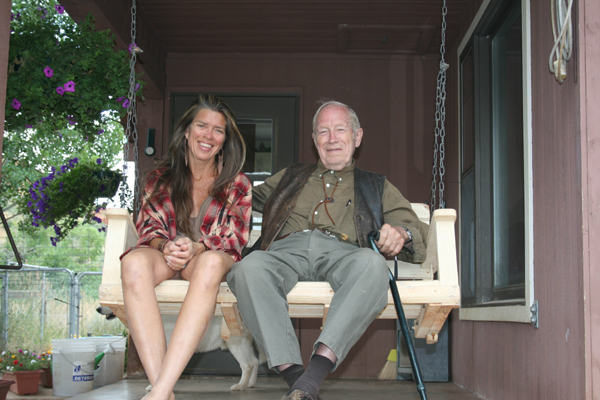 For six weeks, I zigzagged like a restless nomad back and forth across the country. I went north to Montana, and visited my best pal Genevieve Schmitt. Her whole family and I went on a horse back trek up into the mountains, and white water rafting in Yellowstone Park. How many Schmitts does it take to bury a raft in the rapids? About 12!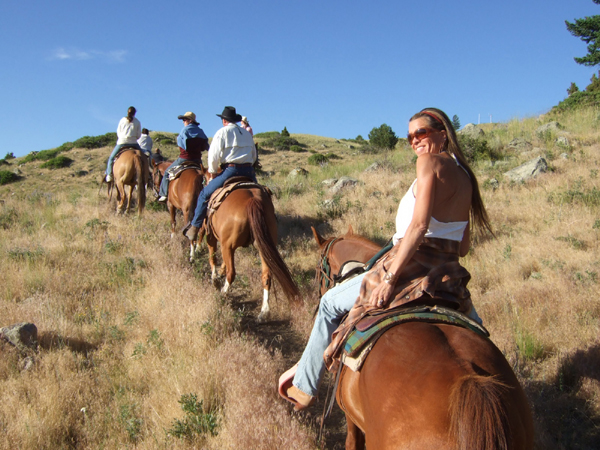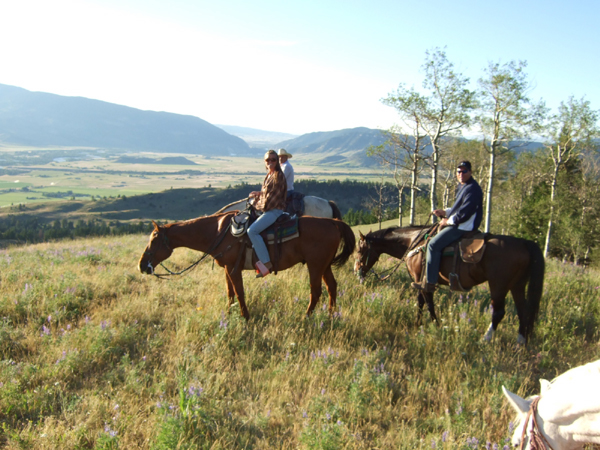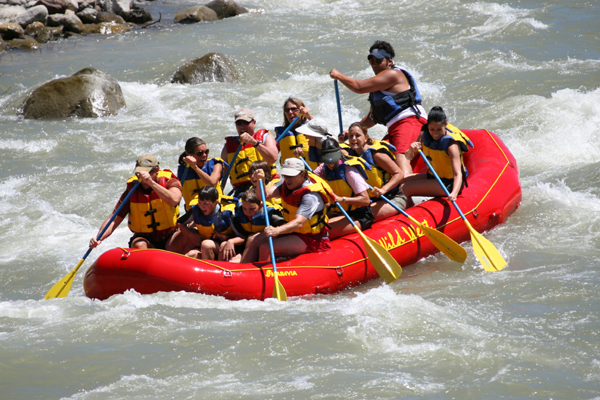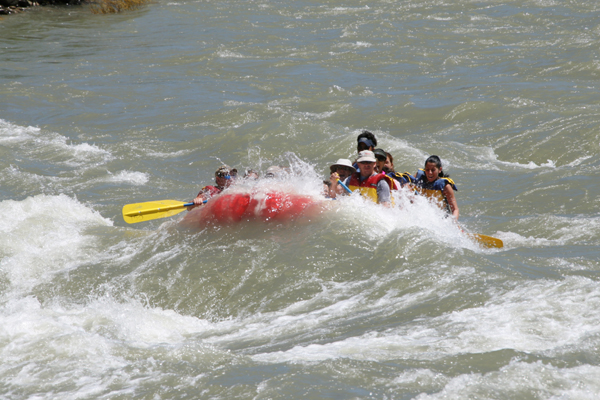 In addition to visiting Genevieve, and my family, I attended my high school class reunion, and stayed up into the wee hours talking to my old hockey and cheerleading buddies and sorority sisters. Yes thats right. A biker chick who was a cheerleader, and a Sigma Phi Kappa! We had a lot of laughs talking mostly about boys and our past bad behavior.
I headed north where my mom took me for a spin around Lake Superior in her new blue Corvette. Is it possible that my mother and I are having our mid-life crisis at the same time? She says it was the second to last thing she needed to cross off her bucket list. The last one somehow includes Omar Sharif! OK, the car really belongs to my friend James Simonelli.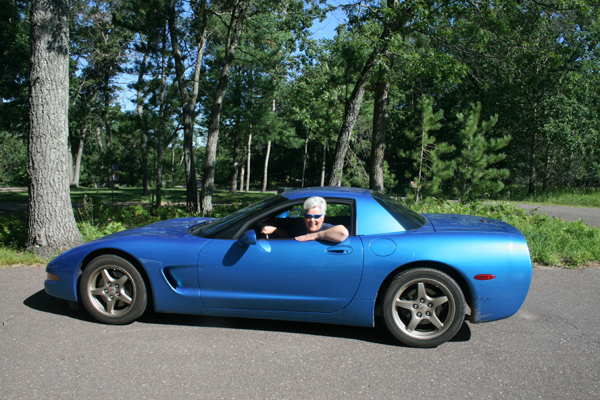 My sister and I did our annual roller skate around the lakes. My college roommate and I floated on cheap air mattresses on Lake Calhoun, and I even water skied on the Mississippi River on my birthday with James!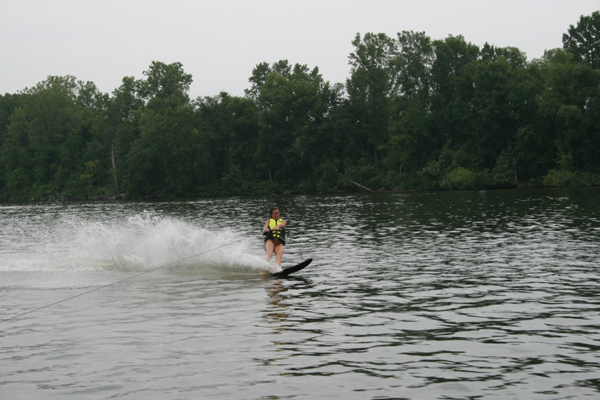 Once in Sturgis, it was obvious that this was going to be a quiet year. But what that translated into was having my favorite roads free and clear riding Deadwood and Spearfish canyons and the road out to Nemo with nobody in front of you. Wheeeee! All we did everyday was ride. I never even made it down Main Street, and I didnt even shop. Well, OK thats because I had just enough money for gas and Subway sandwiches home. But honestly, the weather was great, the roads were empty, and there was still enough going on to keep the animals entertained!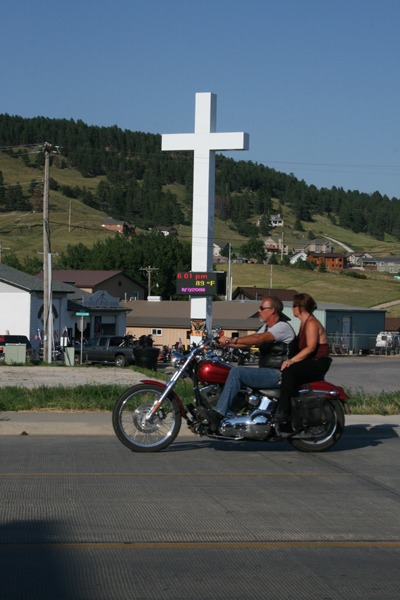 At the end of a long riding day, I would take Ute for his evening walk and sniff in the back streets of Sturgis. The only time I saw huge crowds were when every side street was backed up with people trying to get out to the Buffalo Chip to see Kid Rock or Kiss. I saw that the popular watering holes One Eyed Jacks and the Full Throttle looked busy as ever, but if the crowd was going one way, I was usually going the other.
We did go on a few organized rides, two of which started at Jay Allens new Broken Spoke on the outskirts of Sturgis. Jay added a huge pool and skateboard ramp to his growing metropolis, and hosted rides for photographer Michael Lichter and another for Cycle Source Magazine. Both rides had interesting compilations of builders and bad boys, and ended at a friends horse ranch that featured barrel riding on motorcycles, horses, or whatever you could get your ass pulled behind on a flat little mat if you didnt mind eating a little bit of dirt!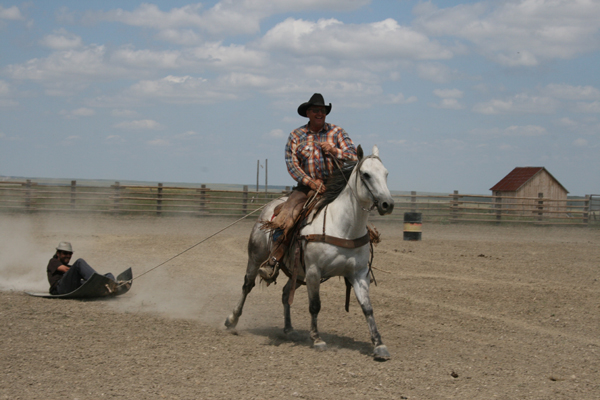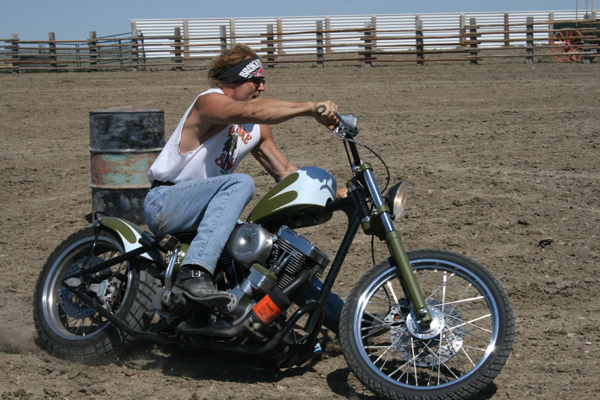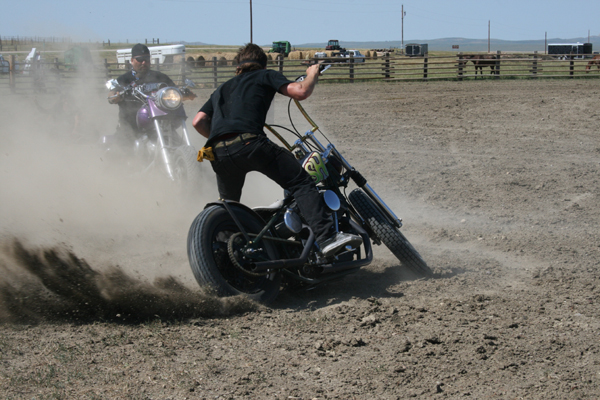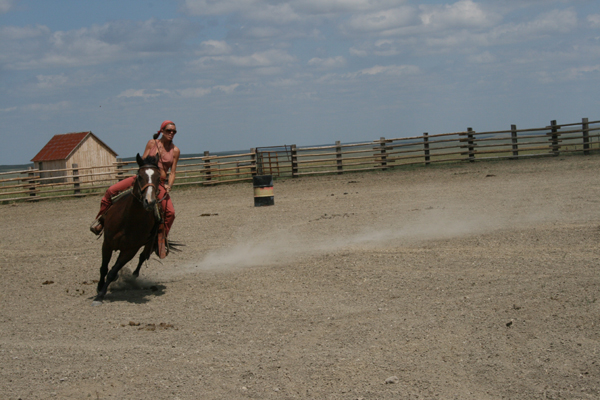 Although numbers were down, there were noticeably more female riders than ever before. There were women present as builders, and being honored and inducted into the Sturgis Hall of Fame. This year my friend Cristine Sommer-Simmons, and her friend Becky Brown were both recognized for their years of riding and journalism in the field of women and motorcycling. Only a select handful of women receive this honor, so it was a privilege to watch them accept their awards.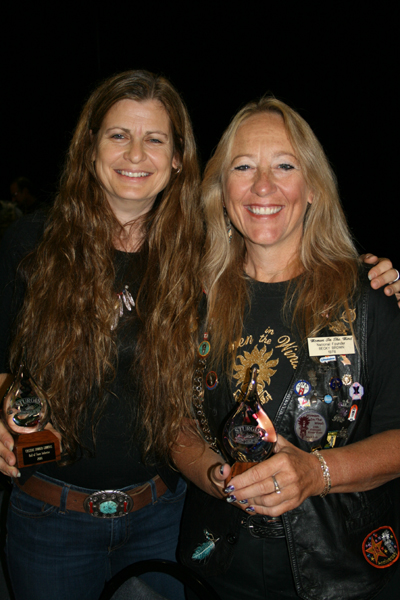 Many of my buddies also all turned out for a breast cancer ride to bring awareness to the disease. Leading the ride up front with journalist Brenda Fox was Laura Klock and Malcom Smith. Laura Klock holds the record for the fastest land speed on a bagger out at the Bonneville salt flats. And Malcom Smith was also inducted into the Hall of Fame this year for his lifetime of contributions to the sport. Malcolm is a pioneer of off-road motorcycling in the Baja 1,000, International 6-day enduro competitions, and the star of "On Any Sunday," a film about off road racing.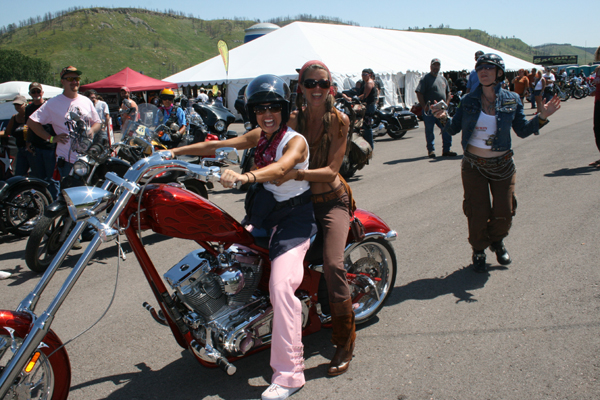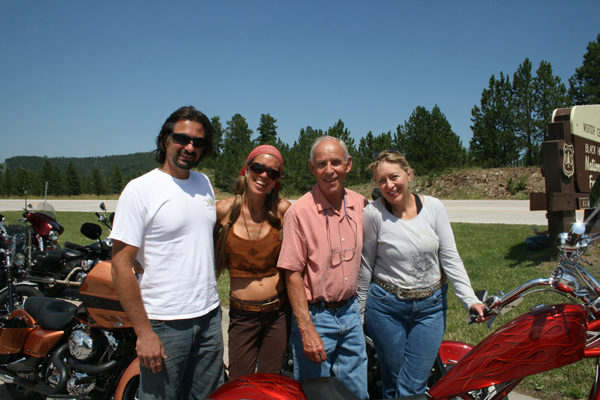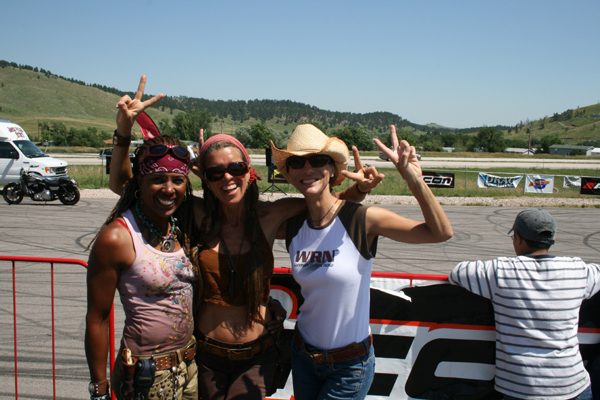 Another one of the ladies I met on the ride for breast cancer awareness that day told me she had less than a year to live, and that her last wish was for her whole family to attend the rally together. She was with her husband and three sons, and they were all riding their own bikes through the scenic back roads of the Black Hills with us. The day took us to an amazing vista at Pactola Reservoir, and it couldn't have been a more beautiful day. We stopped often just to take in the scenery, and enjoy the bond of each others company.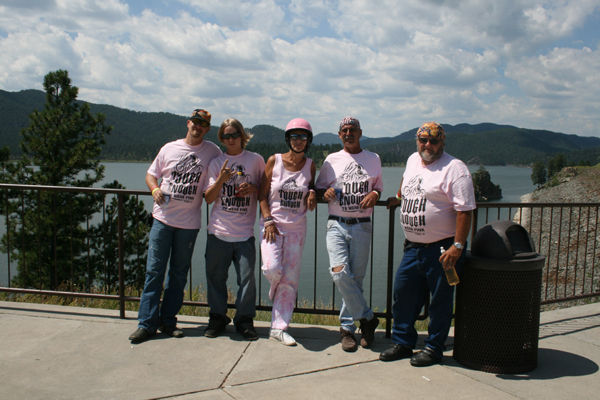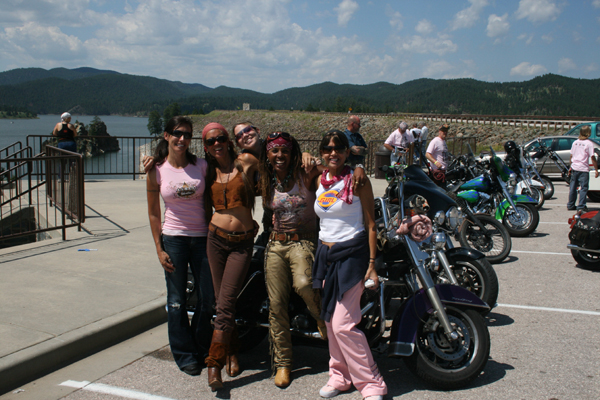 Even at night, I chose the slow road. I went to Michael Lichter's annual show of his photography work, and a few industry dinners. And I only made it out to the Broken Spoke once. Jasmine Cain is the new talent rocking the house, and she is energy charged and has an incredible vibe. But I was disappointed to have the Jimmy Van Zant band missing in action. I have a friend from Minnesota named Karl who I met dancing to "Free Bird" years ago, and every single year since, I meet him to dance to Jimmy Van Zant for every single set they play. But in particular, I like to end the week singing and dancing with Karl to the 30-minute rendition the band does of "Free Bird." It's just not quite right without it! Sturgis had no appropriate closure! So Karl and I danced to the house band until we were the only people left in the place. We shared a bucket of onion rings, said goodnight, and hoped Jimmy would be back to entertain us next August.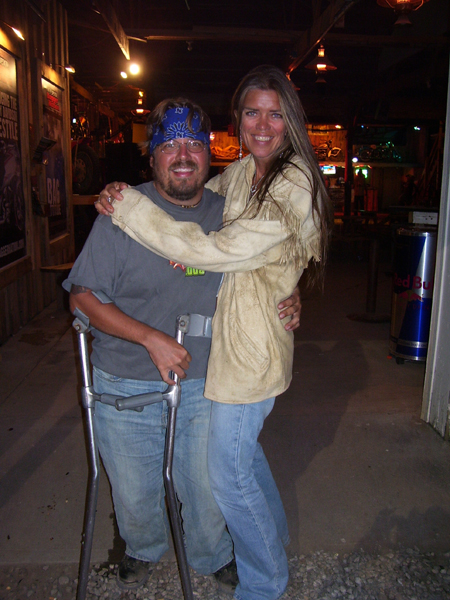 In general, a very low key Sturgis! I only sat in a cop car once — and that was for a "fix it" ticket for a bad tail light. On that same last night there, I had earlier taken my father for a walk to the waterfalls in Spearfish. There was not one other bike on the road, and no one at the falls. We shared the most delicious trout dinner at the restaurant in the middle of the canyon and talked until dark.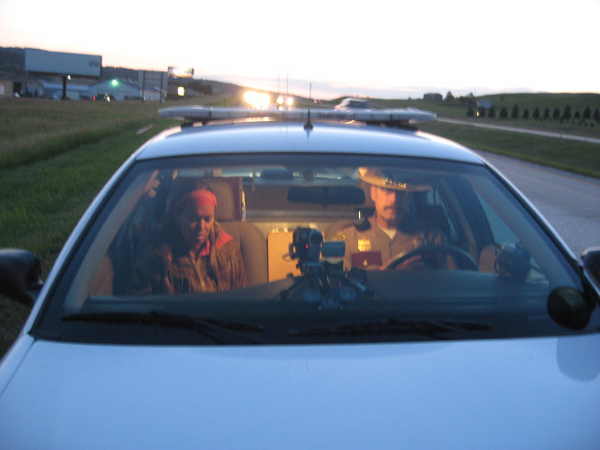 Sturgis ending is just the beginning of the adventure for my pa and me. We head west to my brother's place, who is a deputy sheriff in Lander, Wyoming. We have gotten in the habit of stopping to unwind at the hot springs in Thermopolis, and this year was no exception. Because once we get to Joe's, it's non-stop hunting for grasshoppers, woodpeckers, and alligators. It's a busy few days visiting Joe's eight acres. His boys keep us on high alert from sun up to sun down! A slightly different atmosphere than my younger brother's place with his two little girls!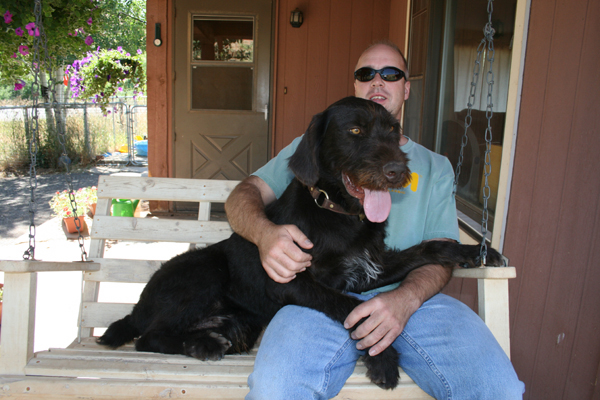 Me, Joe, Dad and Ute snuck away for an overnight trip to the Little Bighorn battlefield in eastern Montana. This is where General Custer lost his last battle and his life. There were many great warriors who fought in this battle, and gravestones are scattered over miles of plains where each of them are believed to have fell. It is quite a sight to behold, but even more interesting are the words of the great warriors that have been passed down from generation to generation.
One such account told of how Crazy Horse parted the Blue Coats like the ocean, and even in a sea of bullets, no one could hit him. And then they surrounded Custer and his men like water circling a rock. And in a cloud of dust, thousands of arrows took down every last soldier. The history of the wild, wild, west has always mesmerized and fascinated me. It keeps me coming back year after year, and in strange way makes all of us who return there every year, a continuing part of wild west history.
One early evening my dad and I were driving along when this glowing double rainbow appeared. I stopped to take a picture, but could simply not contain it's expansiveness in the frame. It was as if the ground was the pot of gold, and it radiated these glowing colors in every direction over us. I looked back at my dad, and the gold light was lighting up his face. He was just looking at the landscape and in awe with me. And Ute, well he sees rainbows every day anyway.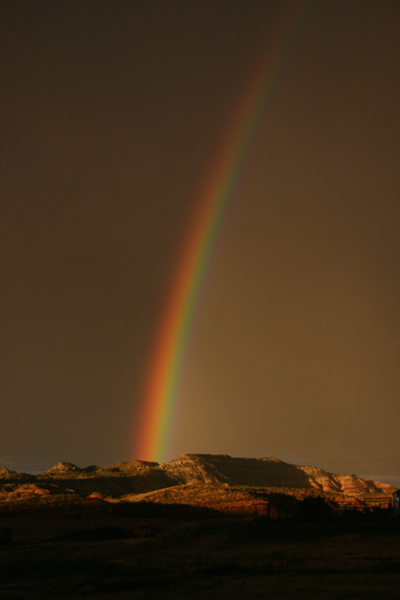 A friend of mine was texting me a lot in my hours of drive time, and we just kept asking each other new questions. One question was, "Favorite day?" The answer was "Today." My response was, "Me too. Today and everyday."
To read more about Betsy, visit her Web site at BetsyHuelskamp.com.