When my best buddy, Genevieve Schmitt, told me she was coming to L.A. to conduct a women-only "Garage Party," I was curious. If you took the boys away from Sturgis or any other motorcycle event, Im not sure it would hold the same allure. Motorcycles and boys sort of go together nicely. I have to admit, a motorcycle event without them almost seemed like an oxymoron to me. But Genevieve has been my good friend for more than a decade, and I had never seen her give a motivational speech.
The Garage party is aimed at new riders, and though Ive been riding more than 20 years, I figured its never too late to learn something new, or to get a new angle on life or a fresh dose of motivation! And it just so happened that my 77-year-old pa was visiting for Thanksgiving, so with permission he decided to be the token male. As it turned out, the event was held inside Harley-Davidson of Glendale in Glendale, California, which isnt exactly somebodys greasy old garage and the event began as the dealership was closing, so most of the employees, men and women, stuck around for the festivities. There were a handful of handsome male observers (the guys who work there) to spice up the womens only gathering.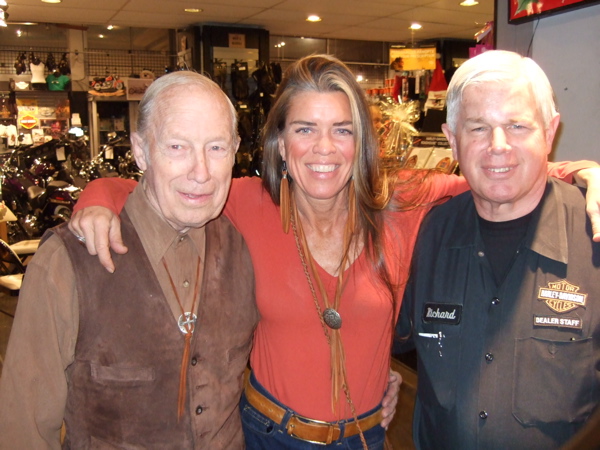 As a marketing stategy, the Garage Party is designed to give new women riders, or potential new riders, a non-intimidating platform to learn about the sport and lifestyle a place to meet other women riders, to learn, and to ask questions without feeling silly for not already knowing the answers. Having bought my first motorcycle from a friends garage sale on the spur of the moment, I never went through the process of making a decision to ride, and learning the ropes. I just gave my friend $500 for her Honda 400. She told me "one down, three up," and I away I went.
I had heard about the popular southern California biker hangout, The Rock Store, so I took the 12-year-old girl who lived next door, put her on the back of my Honda no helmets and wearing shorts on a sunny summer day, we spent a whole day in the Malibu Hills. Not exactly the poster child for safety, but we had such a great time! I took that little girl to another SoCal biker hangout, The Sagebrush Cantina, and that day marked the beginning of a whole new way of life for me. Its such a big part of who I am, that I have badgered several men, women, and even my own family into getting motorcycles.
So I was quite interested in watching the process of the formal Garage Party designed to motivate women to move to the next level, whatever that might mean for them. There was a great turnout, and great food, and of course there was shopping. But the focus of the event was Genevieves presentation basically asking the group what it was that was holding them back from reaching that next level. Some women had never been on a bike at all. Some wanted to move from the back to the front. Some were ready to buy their first bike, and some wanted to move up to their first Harley. Whatever level they were at, many of them had barriers that kept them from reaching that next level.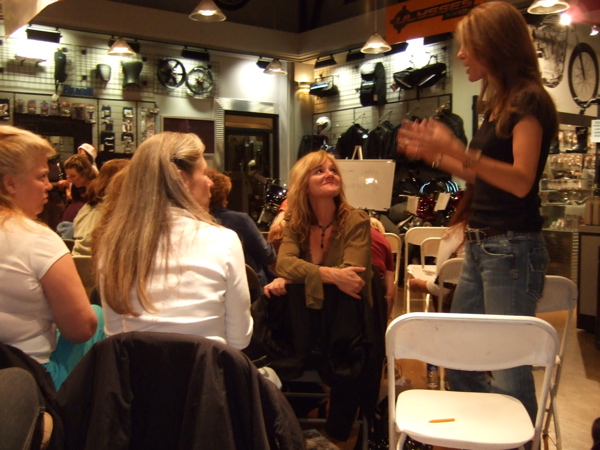 As Gens talk unfolds, she helps the audience try to understand what it is that is holding them back from reaching that next step. She then moves on by explaining how, just by realizing the barriers, you begin the process of breaking through them. Gen wrote the reasons women cited for holding them back on a dry erase board. As she effortlessly dispelled and talked away their fears and excuses, she asked a woman in the audience to come up and erase them one by one. The reasons ranged from finding the time, to finding the money, to fear of dropping the bike and hurting ones self or your new bike. Gen asked the group, "What about image? Is anyone afraid of what people will think of you for being a women who rides a motorcycle a "biker chick?" For a moment no one raised their hand, so I raised mine, and everybody laughed. So that became her last reason to dispell, and my topic for this column.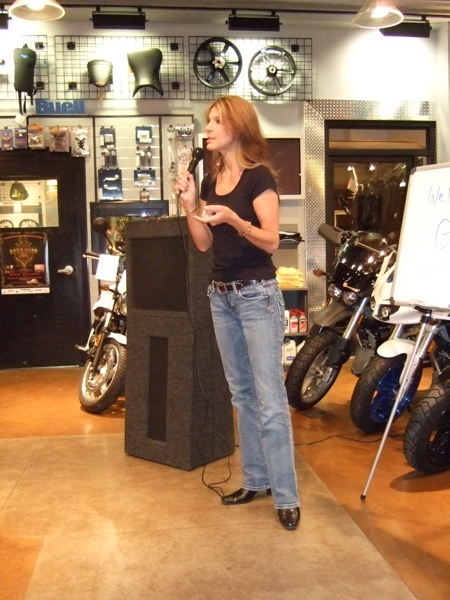 Genevieve gives a great, very motivational speech. If she comes to a "garage" near you, whether you want to learn how to ride, or have been riding forever, it is worth attending. The bottom line question being, what is holding you back from doing something anything everything your heart desires? There are many things that can and do complicate our lives. They create demands on our energy, and many women allow their needs to be put at the bottom of the list behind the needs of their husband, kids, etc.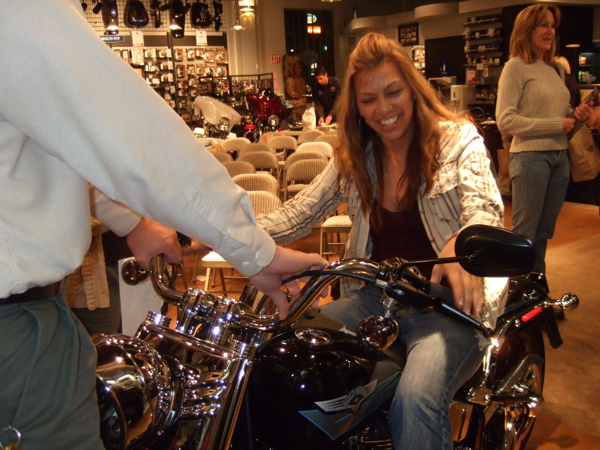 The shining message is that in order for you to be the best person, wife, mother, daughter, sister, it begins with honoring yourself. No matter what the excuse, the message kept coming back to this: It is OK to do something for yourself. As a single women with no children, I realize how much easier that is for Gen and myself. But no matter how complicated your situation is, if you are not being true to what lies within your heart, you will never find peace, nor will you be able to bring it to your children or the people around you. It is not selfish to create and take charge of your own happiness. Its your greatest gift and privilege.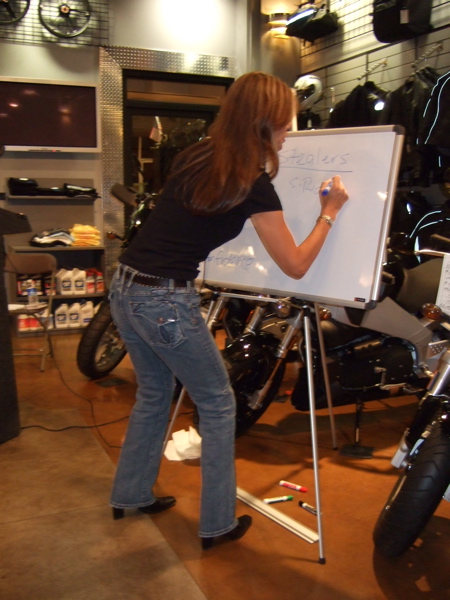 When Genevieve asked that question about worrying about what people thought, I raised my hand for a reason. I know that I am perceived as not ever caring what anyone thinks. My own sister once asked me, "How do you always act like you dont give a shit what people think?" My answer was, "Im not acting." But the truth of the matter is, we all care. If youre human, you care. And you get your feelings hurt when someone tells you youre wrong, or stupid, or insensitive, or selfish. But no matter what you do, or how well you do it, there are still going to be those who will find error in your ways. There are still going to be people who think you should not do the things you do, say the things you say, or think the things you think.
This year on Discovery Channels "Everest: Beyond the Limit" TV series and the after show called "After the Climb," my fellow biker Tim Medvetz points out all of the reasons that I am not up to his level of expectations to be on that mountain and how I have not earned his respect. Well, if my goal in life was to earn Tims respect, then perhaps this would have been of concern to me. I try to know myself and understand the mission of my soul. And when someone finds error in my ways, I dont retaliate by finding error in theirs. What purpose would that serve? I, instead, simply listen to what they have to say, and if necessary, I state my purpose or intention.
I dont feel the need to apologize or justify my behavior when I have been nothing short of being true to myself. I believe in God, and Jesus Christ, and Heaven above. I do not think that on judgment day it will be Tim Medvetz I stand before. I never do or say anything to intentionally hurt anyone, so it does make me feel badly when someone is so negatively affected by me. But I realize that some things in life are beyond my control. What I do have control over, is how I react. So I try NOT to react to negativity with negativity. Instead I try to focus on what really matters. Does it matter what anyone else thinks of what is in your heart?
When I was 43 years old, the love of my life died of a heart attack. He was 46 years old. Presently, my father is struggling with Parkinsons disease. My mother has survived both breast and skin cancer. My brother just fought his way past testicular cancer. One of my best friends from college recently had a double radical masectomy. Life is short, and precious. You may live to be 101 years old, or you may die tomorrow crossing the street. I made a decision a long time ago to live every moment as if it were my last; to do everything in my power to realize every dream that I have in my heart; to say everything when and if I think it or feel it because it may be my last chance to let someone know how much they are loved; to work on being a better person each day than I was the day before, and let peace begin within. I believe it was the Dahli Lama who said, "Be the change you want to see in the world."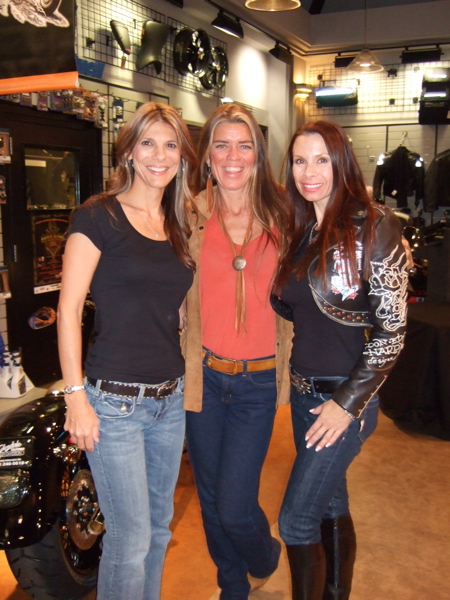 In 2008, I have one resolution. To never compromise what is in my heart. No one else has to get it, like it, or agree with it. Maybe that is a true luxury of being an American woman in 2008, but if I can wish anything for anyone anywhere, it is simple: Be true to yourself. We were given the ability to choose between right and wrong at birth. Our constitution gave us freedom of choice. Jesus Christ walked to the cross without a fight, and died for what he knew in his heart. Whether you believe he was the son of God, or just a man who once walked the earth is not the point. He is the most remembered man of all times, for his gentleness and kindness. And when he was asked to defend himself and his honor, he instead said, "Forgive them father for they know not what they do." A better example of love and honor, and standing for what you believe in, we will never know.
To read more about Betsy, visit her Web site at BetsyHuelskamp.com.