I think it is fair to say that most people who ride motorcycles love adventure and the great outdoors. After all, you cant ride your motorcycle in your living room. But when we do find ourselves on our couches in front of the TV, the Discovery Channel takes us on a lot of great adventures, which is how a lot of you came to know me through the Discovery Channels "Motorcycle Women" documentary.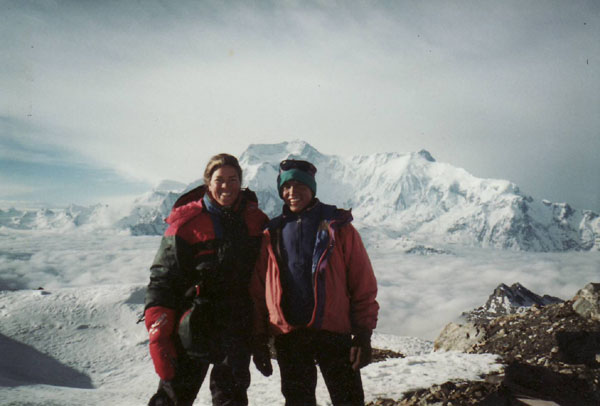 This past holiday season I was lucky enough to be under the same roof with all of my family in the wonderful winter land of Minnesota. Instead of watching Rudolph, we all watched the last episode of Discovery Channels latest hit series, "Everest: Beyond the Limit." Having been ice climbing in the Annapurna range of the Himalayas myself, my whole family takes a special interest in it. They couldnt believe I had not seen the series when it first aired or that I had never met the man who customizes Harley-Davidsons for Hollywoods rich and famous, the 6-foot 5-inch ex-Hells Angel with attitude to spare named Tim Wayne Medvetz. They thought he was the male version of me, and maybe even just a little bit cooler!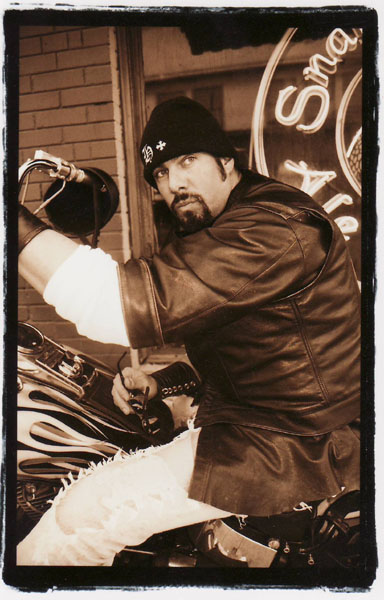 "Everest: Beyond the Limit" immediately sucks you in. You dont want to miss one minute of the journey and summit attempt made by a group of men from different countries and walks of life all dealing with their own obstacles, and sacrificing everything they own at home for the chance at standing on top of the worlds highest mountain. It is quite possibly one of the most difficult mental and physical challenges a person could make.
Tim Wayne Medvetz (pictured in the photo at right) and firefighter Brett Merrell both sold their Harleys, among other things, to raise the $40,000 needed to give just one man a chance for that view. The show is a six part series. You dont want to miss any of the episodes, and you really should watch them in order. So, when I found myself denying my nephews and nieces pony rides so I could stare at the box, I knew it was time to turn off the TV. I also knew the minute I returned home to California I would set out to finish watching the series, and to interview Tim.
Unfortunately, the first episode I watched was the last episode where Tim gets within 100 meters of the summit, but is forced to turn back because his oxygen has reached its halfway point and he only has enough to get him back to where he began. He says he was so close he could have thrown a rock and hit the summit. But by that point, he had encountered many obstacles and 100 meters could still mean several hours of climbing. He knows in his heart he could have made it to the top, but he also realizes that hed still be there, frozen solid, with an oxygen tank that read zero. So his only option was to put his dream of a summit on hold, and head on down the mountain.
Even though it was the only option, you still get to watch Tim trudging forward, at one point on his hands and knees. Over the radio he is trying to convince his team leader to give him just a little more time. Just one half hour more. As it was, he was climbing against all odds, as were several of the men on his team. Having survived a near fatal motorcycle collision, Tim has enough metal in his body to be classified a bionic man, or at the very least, tin. Lets go with Tim the tin man, because then, even though it doesnt seem likely, you certainly discover that this tin man has a huge heart.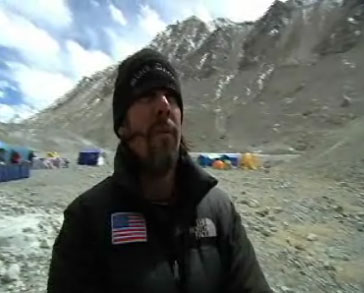 The whole journey is edge-of-your-seat material as Mark Inglis of New Zealand becomes the first double amputee to make the summit. Mogens Jensen of Denmark, who is the strongest athlete, but asthmatic, and attempting to summit without the help of oxygen, fails in the last leg of the journey when he is suddenly hit with altitude sickness and must descend. There are lost lives, lost fingers, lost toes Mark Inglis lost two more inches off of his already amputated legs to frostbite and certainly, there are the lost dreams. But among that all, we get to see the teams doctor, Terry O#8217;Connor, achieve his dream, and share his best hour. His attitude throughout the series is like a ray of sunshine on that 40-below mountain.
Team member Max Chaya becomes the first man from Lebanon to reach the summit, completing his portfolio of reaching the highest peak on every continent and both poles. It is a show about personal goals and pushing limits.
Achieving Dreams
What drives a person to endure hell, to achieve that goal, or reach that limit? Many people will live their lives without ever challenging themselves this way. Every human being has hopes and dreams in his or her heart, but so many go unfulfilled. For whatever reason or excuse, many dreams remain just that. But watching these otherwise ordinary men challenge themselves to experience life on their highest level is an inspiration for us all. Not every man can climb Everest, but you can rise to the challenge of climbing your own personal mountains, reaching your own personal limits, and becoming your own personal best.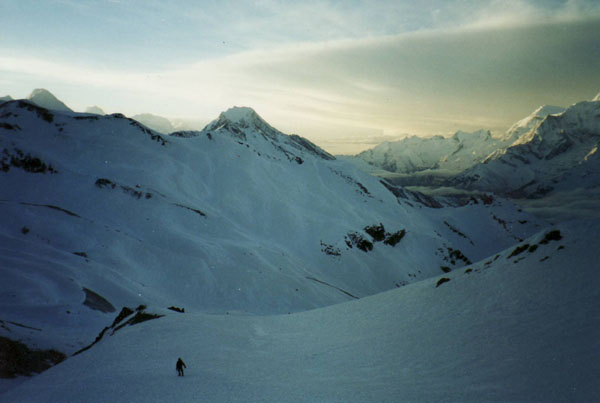 From my own experience from 10 years ago, I can tell you that ice climbing in those mountains changed who I am to the very core. I set out with a group of strong men, but before I knew it, the nearest person in front of me was a dot on the horizon, and the same behind. Lonely doesn#8217;t begin to describe the vast emptiness of that space. People call those mountains mystical, magical, and spiritual, but its more than that. You are faced with so much of yourself, that it is overwhelming. I felt alone with my thoughts, alone with my fears, and alone with continual internal conversations.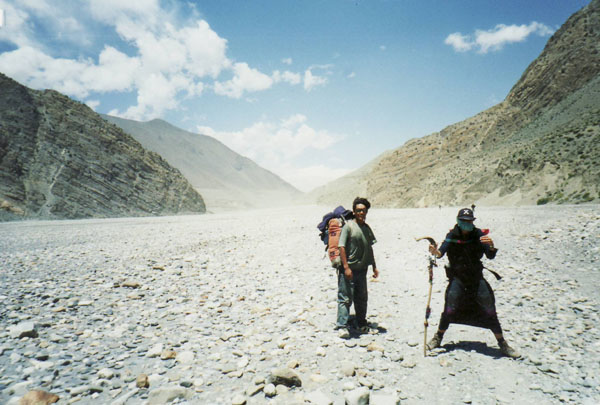 For more than a month, day after day, hour after hour my only task was putting one foot in front of the other from sun up to sun down. My bodily functions were my only concern. Walking, climbing, eating, sleeping, and going to the bathroom, thats it. Get in line with the pack animals, because youre all on the same program. Until you reach a point where a horse or a yak is smart enough to turn back, and then you just have each other. And after a month of no bathing, your comrades dont smell very good in your tent!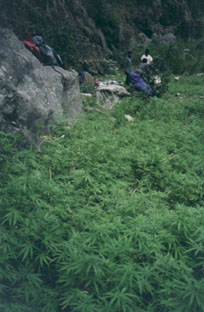 But the journey of those days is something I will never forget. I was also the only woman and I wanted to be able to hold my own. I had more time allotted for the trip than the other climbers and the team leader, so instead of flying into the 11,000 foot village where the others were to meet, I left Katmandu in a bus with 33 porters, Sherpas, and one guide, none of whom spoke much English. We spent weeks walking through rice paddies and villages, over rivers and streams, with horses, yaks and goats camping in fields of marijuana plants (see photo at right).
The local Nepali people have warm smiles, and are decorated in coral and turquoise. I was invited into many homes in the villages and traded everything in my bags for their beads and fabrics, taking hundreds of photographs. A big beautiful black dog followed me much of the way and slept in my tent. They called him King Llama and he ate whatever I was having. At night we would have a feast around the campfire, and they would play music and sing #8220;Dee Dee dance,#8221; and dance I would. Dee Dee was what they called me.
Once the others arrived, and our team leader, world renowned Everest guide Al Burgess, witnessed this, he was very pleased they were calling me Dee Dee as that meant older sister, a term of respect. Had they been calling me Shirley, it would have been a different story. But, he added, women in Nepal dont dance, just the men do. "Well," I replied, "They dance now!"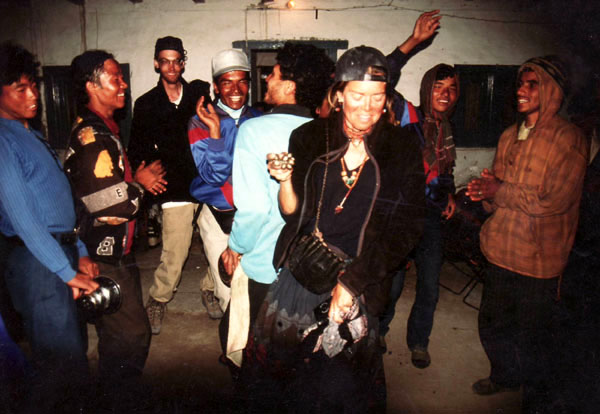 It turned out that all of the guys, with the exception of Al, became very sick upon arrival. And whether it was the plane ride, the altitude, or something they ate, it got worse the higher we went. The Annapurna mountains are much less traveled than the Everest region, so we spent a great deal of time doing what they called "breaking trail."
Considering that there was no one else in sight and the snow was so soft we would sink to our waists, a trail was a very loose term for what we were making. Once we got into our first white-out and were faced with a straight up ascent, our strongest member, a young farmer from Iowa, decided to turn back. He just looked at me and said, "I have a wife and kids that need me at home. I don't know what I'm doing." And he and one porter headed back down the mountain.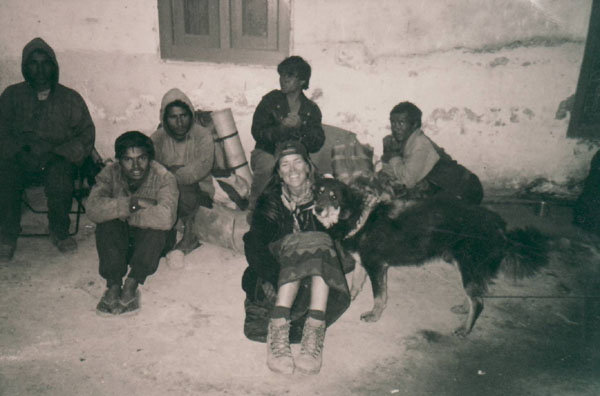 From white-outs, to jumping blindly when Al would yell, "crevasse!" every day pushed me to yet another limit I didn't think I had the strength to face. I was physically depleted beyond imagination and colder than 20 years of growing up in Minnesota ever felt. At 2:00 a.m, when the porters would wake us up to begin climbing because that is when the snow conditions are best, I was just so tired. My hands were bloody from being dry and cracked. I just couldn't think straight enough to get going. Then, in comes Lakba who helps me finish putting my crampons on my boots, puts new batteries in my burned out headlamp, then places it on my head. With a few teeth missing from his big smile he says, "Dee Dee is strong. Dee Dee can summit!"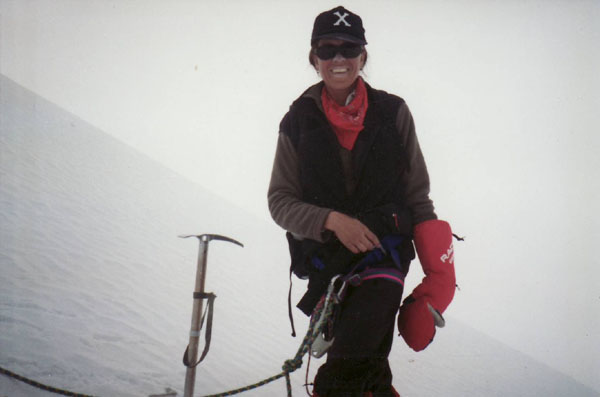 Without the Nepali and Tibetan Sherpas like Lakba, few of us would ever be able to see or experience any of this. When I took my glove off for a picture and it flew down the mountain, they retrieved it. When the wind is blowing you farther backwards than you are able to walk forward, they just wait and laugh at you. The Sherpas bring much needed humor, strength, and backbone to the mission. I trusted them all completely, and fell in love with everything about that land.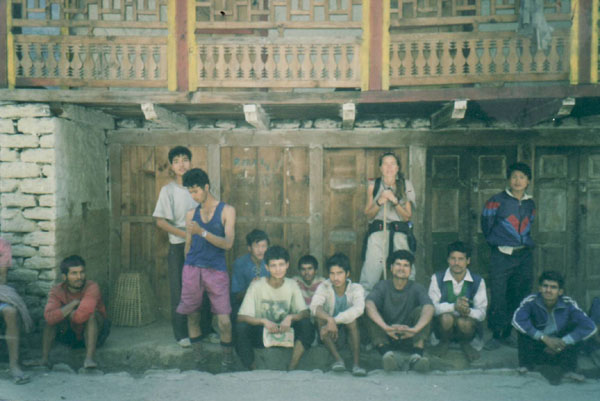 I am an educated woman, and have traveled all over the world in a variety of fashions, but there is no schooling or experience that compares to climbing those mountains on foot. I know nothing in my lifetime will ever compare. I will go back every chance I get, and I am moved to tears just remembering those places, those faces, and those moments. The greatest challenges hold the greatest rewards. And sometimes in your darkest hours you find your greatest truths and revelations.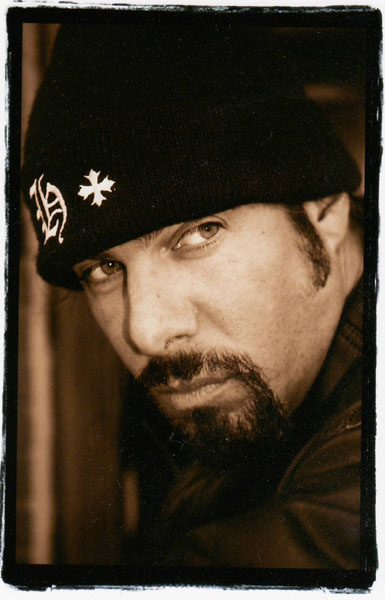 Meeting Tim Medvetz
I did meet and interview Tim, and he is extraordinary. He fears his mother, respects loyalty above all, and gets a little sensitive when he talks about "Rocky," yes, the movie. He is wickedly witty, sarcastically funny, and a living paradox on many levels. He smokes unfiltered Camels, drinks Jack Daniels, eats a lot of greasy chicken wings, and then heads to the gym for his four hours of training. He calls that the "Sherpas guide to health and fitness." He's simple and complicated. He's ambitious. The funniest line in the whole TV series is when his Sherpa says, "Tim, you are so lazy!" Under his breath, Tim mutters back, "No I am not."
He is a man of incredible inner strength, and that is what it takes to get your ass to the top of that mountain. Tim has that strength, that drive, and that desire — and now he is going to finish what he started. The Discovery Channel has decided to film six more episodes of Tim's second attempt to summit the highest mountain on earth. North Face is sponsoring him by equipping him with all his needed gear. But, he still has to raise the $42,000 needed for team leader, Russell Brice, to give him that second opportunity.
So here's your chance to help a fellow biker in need. Tim has raised $6,000, and only has two months left to raise the rest of the money. His team leaves April 1, with or without him. He needs donations, sponsors, fundraisers, advertising, and any ideas your creative minds can conjure up.
Bikers are a crafty breed. They always help a fellow biker in need. If you would like to help or learn more about Tim and his mission, log on to highwaytoeverest.com or visit the Discovery Channel Web site about "Everest: Beyond the Limit." I highly recommend the series if that wasn't already obvious. I will post Tim's interview in the months to come. He is a lot of things, but boring is not one of them. And did I mention, not exactly hard on the eyes? And look for the outcome of his second attempt next fall on the Discovery Channel. Vaya con dios, Tim!
To see more of Betsy, visit her Web site at BetsyHuelskamp.com.