There are a few days out of every year that I always look forward to, and the
Love Ride
is one of them. For 31 years now Southern California's premier one-day fundraising motorcycle ride has happened rain or shine. And over all those years, $24 million has been raised for a variety of great causes.
This year was special in that the October 25th event went back to its roots of having MDA as the sole recipient of monies raised. And there were several children with Muscular Dystrophy who attended the event and visited with the bikers. For me, it always makes a fundraising event more special when you get to see and meet the faces behind the charities.
I was fortunate to meet 9-year-old Anna Zeldin, the MDA Ambassador of this year's Love Ride. Anna has a wide smile, a sweet laugh and a positive outlook on life. I asked her if she had ever ridden on a motorcycle, and she told me she was able to go for a very short ride, but that it wasn't enough to suit her. I asked her if she wanted to go for a motorcycle ride with me sometime, and I told her we'd go for as long as she wanted to. She said, "Yes, I would love that!" I looked over her shoulder at her mother and asked, "Is it OK? Can she do that?" And her mother said absolutely! So I told Anna I would take her on the back of my chopper down PCH in Malibu for as far and as long as she wanted to go, and I sincerely hope we get to do that someday soon.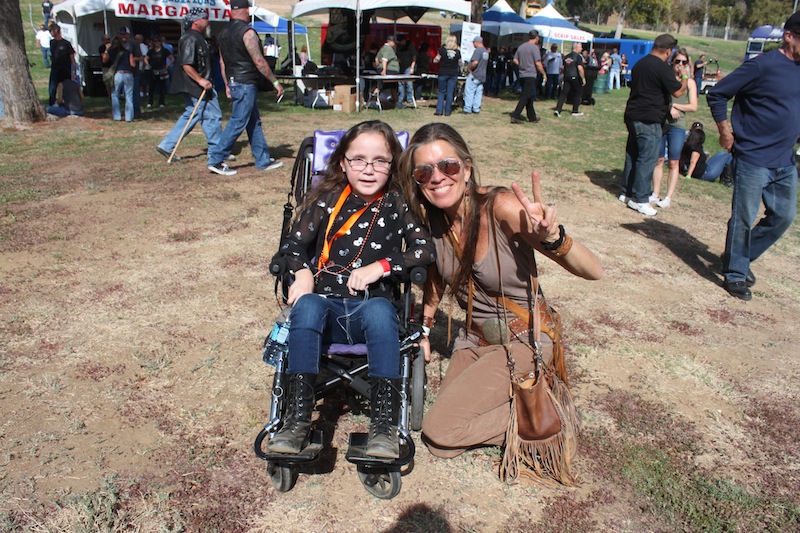 When a fundraising event allows for the interaction of the charity, it brings awareness to the charity that might not happen otherwise. You can say that the money goes to a worthy cause, but putting a face to the charity opens our eyes and our hearts to the reality behind the charity. When you meet a sweet young girl like Anna who is full of light and laughter as she is talking to you from her wheelchair, you cannot help but realize that because she was born with a degenerative muscle disease, riding a motorcycle herself will never happen.
Many of the things we take for granted can never happen for a child born with Muscular Dystrophy. But something the MDA does make happen for the kids is a very special summer camp where Anna and her friends get to experience a week of activities where having fun is the only objective. There are motorcycle rides in sidecars, horseback riding, fishing, canoeing, a huge swimming pool, a zip line, baseball, face painting, games, a dunk tank and more.
Every camper has their own counselor to help keep him or her safe. These kids look forward to camp the same way we grown up kids look forward to events like the Sturgis Rally and the Love Ride. It's a place to fit in, share interests, and develop lifelong friendships. Bikers who participate in and donate to the Love Ride help make this summer camp possible. You can catch a clip of Anna at MDA summer camp in a video that is at the end of this article.
Love Ride 31 was different than past years in that there were 25 different Harley-Davidson dealerships all around the state of California that hosted rides from their store to Castaic Lake, which is 55 miles north of Los Angeles. This made getting in and out of the event a whole lot easier.
In the morning at the start of the event at Harley-Davidson of Glendale, the host dealership, I always enjoying seeing my old friend Oliver Shokouh—who owns the dealership, and who founded the Love Ride—along with the event celebrities that roll in to show their support. Willie G. Davidson of the Harley-Davidson empire and his wife, Nancy, and their three adult children have been loyal supporters of the Love Ride, and are always gracious to the many Harley enthusiasts that crowd around them for a photo, a hand shake, or just to say hello.
| | |
| --- | --- |
| VIP guests included, left to right: Love Ride founder Oliver Shokouh, actor Lorenzo Lamas, Yadi Rivera, wife of actor Emilio Rivera to her right; actor Robert Patrick, Harley-Davidson executive Willie G. Davidson and wife, Nancy. | Me and my friend Colleen Duffner with Nancy Davidson, who I admire for her class touched with a Midwest accent! |
Four celebrities who have been longtime supporters of the Love Ride are Lorenzo Lamas of "Renegade" fame, Robert Patrick of "Terminator" fame, Emilio Rivera of "Sons of Anarchy" fame, and the always amusing and entertaining Jay Leno. Every one of these guys is a true motorcycle enthusiast that has become my friend simply because we have frequented the same motorcycle hangouts in Southern California for decades. They ride the Malibu Hills just like the rest of us, and are generous with their time and energy to both the biker community, and the many great causes that bikers support.
| | |
| --- | --- |
| Willie G. Davidson of Harley Davidson fame. | Me and the "little-bit-intimidating" Robert Patrick, who will always be remembered for his antagonist role in The Terminator. |
| | |
| --- | --- |
| Colleen stole my boyfriend … again! Here she is with Lorenzo Lamas, the guy who melted all the women's hearts in the hit motorcycle TV series, "Renegade." | Love Ride Grand Marshal Jay Leno never stops shaking hands and posing for pictures, and always has a way of being kind even when hes being his hilarious, sarcastic self. |
One thing I can always count on at the Love Ride is seeing old friends from all over the country. The Love Ride is so popular that riders even come from all over the world to participate. Meeting new riders and making friends from faraway lands is an opportunity I love. When I meet a group of new friends who have come to California to ride our roads, I stay in touch. And when a fun group of riders says, "Come to Malaysia and ride our roads with us," I hope they mean it because I'm coming!
| | |
| --- | --- |
| I met this group of riders from Malaysia last year at the Love Ride, and here they are again! | My beautiful new Malaysian girlfriends! |
| | |
| --- | --- |
| This wonderful woman has been volunteering at the Love Ride for years, and every year bakes a loaf of banana or zucchini bread for me and comes to find me in the sea of riders to deliver my loaf. How sweet is that? | I'm like the slice of cheese on the Sugarbear sandwich on Harley Twin toast. With renowned custom bike builder Sugarbear, and the "Harley Twins." |
We were fortunate, as the Love Ride usually is, to have a spectacular sunny and warm California day. Castaic Lake is a perfect setting for the multitude of activities that go on each year. Some of the day's activities were tried and true old favorites like the Victor Mclaglen Motor Corps, a group of riders that always wows the crowd with its motorcycle stunts. But some were new and breathtaking!
Freddy Nock is a world-renowned daredevil who walked above everything going on at the Love Ride on a thin high wire with no safety net. You didn't want to take your eyes off of him—or make a sound—until he finished! It was nothing short of amazing to see his show in person. Then when he came down, he tested the love and trust of his wife by putting her against the wall of the main stage, and shooting an apple off of her head with a spear gun!
This lovely, calm young woman stood there with her eyes gently closed, knowing that if he missed, it would be because he shot the arrow a little too high! I can only hope to trust a man like her some day!
| | |
| --- | --- |
| Freddy Nock walking the high wire above the crowd. | No safety net or line. Now that's believing in yourself! |
| | |
| --- | --- |
| Freddy testing the love and trust of his wife. | Mrs. Nock trusting her man in a way I truly envy! |
As always there was a car show, a bike show, and many of my all-time favorite vendors! I didn't go to the bike show because I am still pissed off that they never let me win. I think it's rigged. OK, maybe it's not. But try as I might, I have still not won the ticket to Jay's Garage, and I try over and over again! But there were classic beauties to satisfy every connoisseur, art for the collectors, and shopping to satisfy nearly all of your motorcycle needs.
Colleen and me pose by one of the
classic vehicles in the car show.

The talented and handsome motorcycle artist David Uhl flew out from Denver to show off his paintings. David is doing a huge display on women in motorcycling for this year's Sturgis 75th, by the way, that should not be missed!
I did say that there were classic beauties to satisfy every connoisseur—and satisfy all of your motorcycle needs—so I did not overlook the needs of any of my friends! Here's a little eye candy for the boys.
| | |
| --- | --- |
| The Budweiser girls kept the boys smiling. | And for the mature men… the ladies of the Red Hat Society! They made me an honorary member and let me keep this fantastic red hat. It rode home safely in my saddlebag, and I wear it late at night when I eat popcorn and watch chick flicks. |
So all of my girlfriends are sitting out there thinking, what about us? Where's our entertainment? Patience. I'll get there! The Love Ride always delivers with great musical talents that take the stage, and this year was no exception. My musical knowledge is stuck somewhere in between the 60s and the 70s, so when I heard that Buckcherry was playing, I thought, "Do I know who that is?"
I absolutely know who Robby Krieger is, and was excited to see him play with his band Jam Kitchen as the warmup act. Anyone who rocked the stage with Jim Morrison and the Doors is a legend for all time. Being able to get up front and close to photograph these talents every year is an absolute privilege. There isn't a Doors song that I can't sing word for word, backwards and forwards. I read the book about their lives 72 times. So I think we all have the highest respect for Robby Krieger, yes?
Robby Krieger, formerly of the Doors, took the stage with his new band,
Jam Kitchen.

Always glad to see that Jesus is present and accounted for, and that
he loves us too!

Here's the young military girl who stole the show with the national anthem this year and last.
I haven't forgotten you girls. So I didn't know who Buckcherry was before the Love Ride, but I sure do now. I am never disappointed by the magnitude of the rock stars that have hit the stage of the Love Ride. Buckcherry was incredible! An absolute incredible talent. Every now and then I get to be in the presence of these people where I am simply in awe and exclaim from behind my camera lens, "Now that's a frickin' rock star. Josh Todd, the lead singer of Buckcherry, is a frickin' rock star. Every member of the band was extraordinary, and I didn't lower my camera until the last note was played. Why do bad boys look so darn good?
| | |
| --- | --- |
| Buckcherry lead singer and guitar player Josh Todd. | Guitarist Stevie Dacanay. |
| Drummer Xavier Muriel. | Guitarist Keith Nelson. |
And so the Love Ride continues to be one of my favorite days of the year. Absolutely! And as always, people-watching my way through the crowd provides me with endless smiles and fabulous images.
| | |
| --- | --- |
| Biker dog! | My favorite kickin'-back-enjoying-the-day photo … with her furry friend. |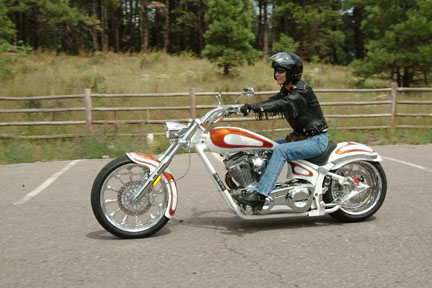 It was a perfect day of sun, friends, motorcycles and fun, but most importantly the event helped raise money and awareness for MDA.
If you would like to learn more about Love Rides of the past or future, go to
LoveRide.org
. Here's the video I told you about above on the MDA Summer Camp.
Related Articles