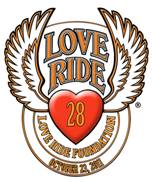 After riding a motorcycle for 20 some years, I can honestly say I still love to ride. I love to ride, I love to love, and I love to live. Love Ride 28 took place this past October in Glendale Calif., and I think I have missed the event only twice in all these years. After the 2011 event, I have such sad and mixed feelings. Ive ridden nearly every road this side of the Mississippi, and I still wave to every single biker I pass by when I am traveling. I believe all riders share a very basic love of experiencing the great outdoors and the freedom that doing it on a motorcycle gives you.
The Love Ride used to be the largest one-day charity ride in the US. In years past, there have been as many as 20,000 riders in attendance. In 2011, 3,000 riders made the journey. Over the years, the Love Ride has raised more than $13 million for its many charities, most of which benefit children's causes. The most recent event raised $375,000 in pre-expense revenue, which will go to an organization called Autism Speaks. Autism is a challenging neurological disorder that now affects one in 110 children (and one in 70 boys). To learn more about autism, go to AutismSpeaks.org.
The Love Ride begins with a ride on Interstate 5 from Glendale Harley-Davidson to Castaic Lake, a 55-mile jaunt. During this ride, I was directly behind a rider who went down. I could see that traffic ahead had come to a stand-still, so I was already slowing down when bikes started locking up all around us and smoke started rising. You could hear crashing noises and see parts flying, and then bikes started colliding and sliding and bodies were rolling. I remember thinking that the man I could see rolling in front of me was tucked very tightly—he almost looked like a stunt man, he rolled so well.
There wasnt a moment where I wondered whether I should pull over or not. Your brothers and sisters are lying on the road—pull over! I went running back to the scene and could see that, amazingly, in all of these bikes, only two had gone down. There could have been so many more. Both bikes had couples on them, and the two women passengers were up and standing. One of the guys on the ground sat up and said, "Hey, I know you!" I told him that was a good thing but asked if he knew his own name. "Yes, yes, Im fine," he told me, and he got up and went limping off despite an arm full of road rash. He seemed more worried about his bike than himself.
The other man was still on the ground, and several of us gathered around him to try and help. We were near the very front of the parade of bikes, so Jay Leno and Oliver Shokouh, founder of the Love Ride and owner of Glendale Harley-Davidson, were also on the scene. The man was conscious and able to speak to the paramedics as they took control of the situation. Paramedics told all of us who had stopped to get back on our bikes, as the 5 freeway was now backed up for miles.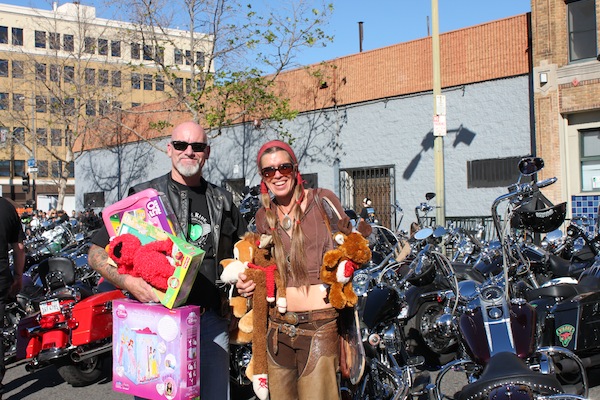 We would not learn until after the event that, farther behind us, other riders were in trouble. When a big-rig truck slowed and swerved, its back end ran over and killed two riders. They were both pronounced dead at the scene. Oliver Shokouh issued this statement on behalf of Glendale Harley-Davidson and the Love Ride Foundation: "We, along with our family of riders, mourn the loss of our friends, Romarino Zeri and his passenger, Julie Cameron. Our heartfelt condolences and sympathies go out to their families and friends. We will keep you posted as we learn more information. Together we will honor our fallen."
After the accident, as we went to get back on our bikes and continue on to Castaic Lake, my friend Reg said, "Thats it. Im done. Im going home to spend the day with my son." And he did just that. I had driven in from western Colorado for the Love Ride. My friends Masyn Moyer and Duane had driven in from Boulder, Colo. Beanre rode in from Louisiana, and Sasha Mullins flew in from Nashville. Sasha even wrote a song for the Love Ride and was hoping to take the stage to talk about it. But standing on the side of the 5 freeway after the accident, my friends and I just looked at one another in sadness.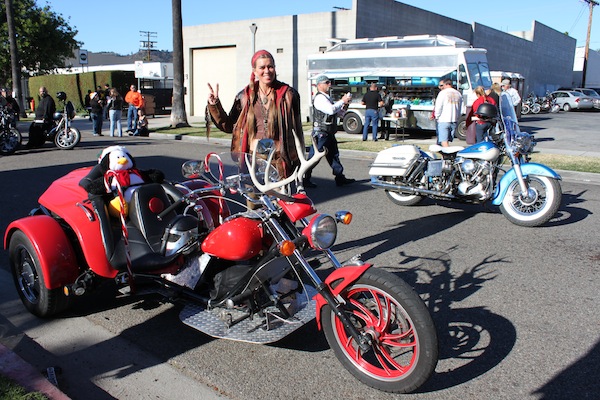 | | |
| --- | --- |
| My friends from Boulder, Colo. (left to right): Masyn, Duane and Reg. | Friends Sasha Mullins, the infamous Beanre, and the beautiful Jennifer Santolucito. |
The Love Ride didnt turn out the way it should have, and I cant imagine telling the story any other way. Jay Leno, the events Grand Marshall, didnt even make it out to the lake to take the stage. Instead, he stayed by the side of the injured man in the ambulance and at the hospital. I cant think of anybody that I would rather have next to me on my worst day in a hospital room, a time when you could really use a laugh.
The weekend of the Love Ride started out as a great one. The day before the event, a group of us did a beach and mountain ride that reminded me why so many people move to California. It is one beautiful state! We started off at the Venice Vintage Motorcycle Show in Venice Beach, featuring great old cars and bikes. My friends Kiwi and Carolyn Thomas from Kiwi Indian were there with their newest bike, which won first place in its category, as always!
| | | |
| --- | --- | --- |
| Kiwi Mike, of Kiwi Indian, and his classic build. | My favorite bike of the day. | Me and my longtime riding pal Tommy Malone. |
(Story continued on next page)[page break](Story continued) From there, we headed on up the coast to Neptune's Net and had us some peel-and-eat shrimp plates—yum! We had a big group of friends there, old and new. Some of us had never ridden together before and had only communicated on Facebook. Its always great to meet and ride with bikers from all over the world. We split into two groups from there, and Tommy, Shawn, a friend nicknamed "the Russian Butcher" and me rode our favorite old road called Deer Creek, then swung by the Rock Store and made it home just after the sun went down.
| | |
| --- | --- |
| Group picture! Pictured (left to right) is the Russian Butcher; Qian and her beau, Ray; me; Tommy Malone; Shawn Donavon Dwyer; Keira Molter, who we met in Sturgis this year; and Keiras friends Tad and O.D., both from Israel. | The Russian Butcher, me and Qian. Im trying to prevent them from flipping me off in every picture! |
The next morning, the day of the Love Ride, started out with my friend Qians bike having a dead battery from riding the day before, so I had to bid adieu to my buddy, wearing her bathrobe and helmet, in her driveway.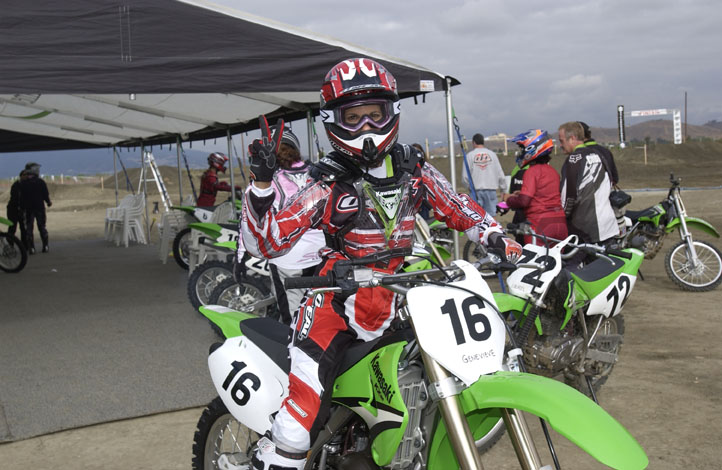 It was a warm Indian summer day that started off picture perfect. By the time we got to Glendale Harley-Davidson, the starting point of the ride, the place was already buzzing. Seeing old friends is always the main highlight for me, but meeting new friends at the Love Ride is always an added bonus! The first guy that walked over to us as we drove in was Danny Trejo of the TV show "Sons of Anarchy," who I have long admired for his bad-boy skills in knife throwing and weaponry in movies like "Desperado" and "Machete."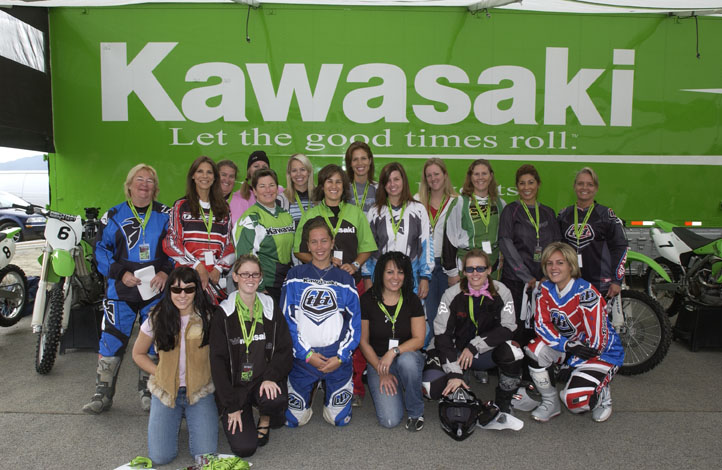 Fellow "Sons of Anarchy" cast member Emilio Rivera and his wife were there again, graciously taking pictures with everyone, and the two stars of country music duo Montgomery Gentry were on hand to perform later in the day. Jay Leno and Oliver Shokouh took turns introducing the celebrities as they came onstage to say hello to the crowd. But both the crowd and celebrities went silent when an 11-year-old boy with autism named Hunter Brown took the stage to perform a song called "Everybody Wants to be Heard," spreading the message that all people have something valid to say and a voice that needs to be heard.
| | | |
| --- | --- | --- |
| Emilio Rivera and his beautiful wife. | Me with Eddie Montgomery and Troy Gentry. | Eleven-year-old Hunter Brown performing "Everybody Wants to be Heard." |
Hunter was also supposed to sing the national anthem at Castaic Lake, but because of traffic, he did not make it in time. So in his place, an autistic boy named Andrew Hain stepped in and did the honors. He brought the crowd to their feet, and we all joined in as he sang the song perfectly. How many of us would be brave enough to take the stage with almost no notice and sing that song without missing a beat? Andrew's father is the western regional director for Autism Speaks, and he proudly watched his son from the side of the stage.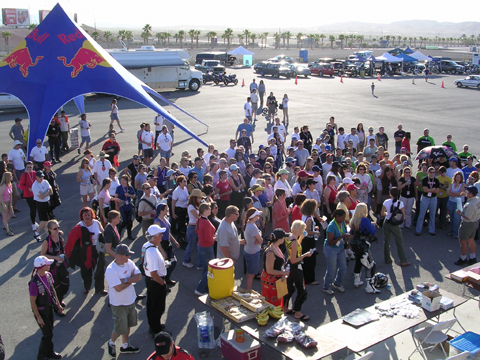 Sadly, it was plain to see that the number of bikes and people that once filled the large meadow bording Castaic Lake was a fraction of what it used to be. Nonetheless, it made those of us who were there feel a little more connected. Ticket prices went down from last year's price of $100 to $65 this year in hopes of getting people to come back out to the event despite the weak economy. The lower price did not include the usual barbeque meal. Instead, you could purchase tickets that were good for a variety of different vendors. Most people quickly figured out what they wanted, got a cool drink and searched out the shade of a big tree to get out of the unusually hot.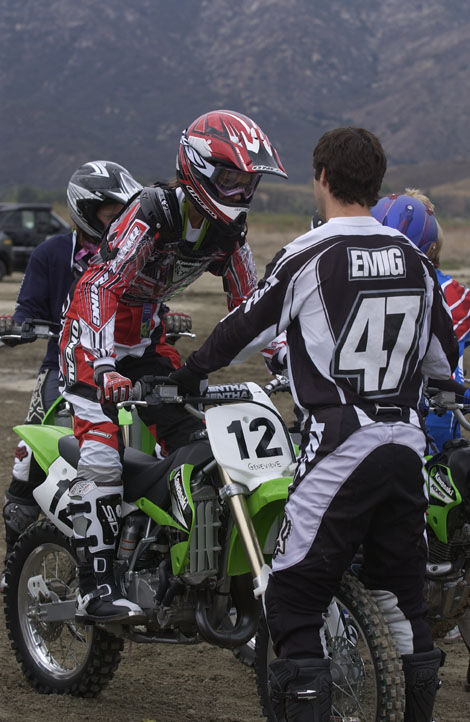 (Story continued on next page)
[page break]
(Story continues)
One of the highlights I have always enjoyed at the Love Ride is watching members of Victor McLaglen Drill Team do their incredible stunts. This year I was able to get up close for some great pictures, and I had a chance to talk to the riders (some of whom are in their 70s!) when they were finished. The crowd was amazed by the stunts these riders have perfected and can perform on uneven grass in a small, closed-in area. Later, the music of Montgomery Gentry provided a relaxing country environment that the whole crowd seemed to enjoy.
| | |
| --- | --- |
| The Victor McLaglen Motor Corps in a pyramid. | The woman out front has been riding with them for a few years and exhibits grace, beauty and a lot of trust! |
| | | |
| --- | --- | --- |
| Oliver Shokouh alongside me and Chad Greulach of Lorenzo Cycles. | We tackled actor Bryan Cranston, the star of the hit cable show "Breaking Bad," and convinced him to take a photo with us. Pictured (left to right) is Kathy Hurwitz, Masyn, Bryan, me, and Duane. Sasha is the woman in front singing the Love Ride song, which she wrote. | My longtime riding buddy Gevin Fax and her partner, Cathy Tangum, were busy judging the bike contest. |
After the Love Ride, a group of us jammed over to the Sagebrush Cantina in nearby Calabasa to have dinner with more friends before our weekend was complete. Our photographer friend Bart Mitchell, who had snapped some awesome riding shots of us, came along. I definitely packed as much riding, fresh air and good friends as one can fit into 48 short hours.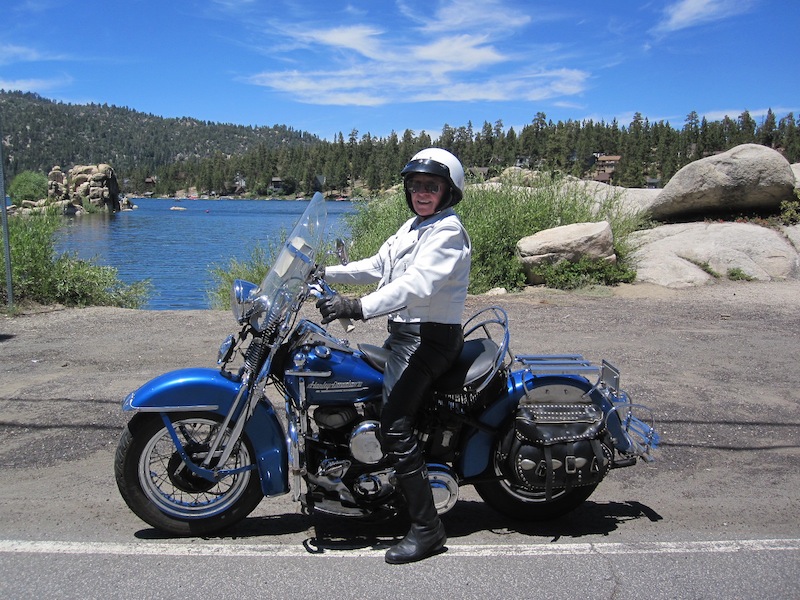 | | | |
| --- | --- | --- |
| My beautiful riding friend Dani Kelly got her equally beautiful mother to meet us for dinner. Guess which one is which? Dani is on the left. My friends have moms younger than me! Ugh! | Our friend and motorcycle photographer Bart Alan. | Many thanks to my "hostess with the mostess," Qian Ma, who put up not only with me, Masyn and Duane, but also with my dog, Yukon (seen here on the floor), and Masyn's big ole doggie, Otis (who, as you can see, knows not his size!). |
The Love Ride had the makings of a beautiful day. Unfortunately, all the good was overshadowed by the tragic loss of two fellow riders who simply set off to enjoy the day. But to lose the Love Ride, which has done so much for so many, would also be a tragedy. This event has suffered greatly in numbers due to our failing economy, and with the added burden of this tragedy, is now in trouble.
After leaving California, I sat still with my thoughts for weeks before writing. I have read many other articles and blogs concerning the accidents and the event. So is the Love Ride unsafe? That seems to be the question. And the only answer seems to be, "Of course it is." Riding a motorcycle on the freeways in Los Angeles is dangerous any day of the week. Riding in large crowds is dangerous anywhere you go. Riding a motorcycle at all must be dangerous if lawmakers can take away our freedom of choice and make us wear a helmet to protect us from ourselves. Is there a way to have huge numbers of motorcycles on the road at the same time and never have an accident?
On my way out of Lake Castaic after the Love Ride, I stopped to say hello to Frankie, who was sitting in a golf cart in the cool shade. Frankie has Down's Syndrome and was holding a Three Stooges tape. I asked him which Stooge was his favorite, and he told me, "Not Mo, not Curly …", so Larry was his favorite. And then we talked for quite a while about why. And as I was walking away, it seemed clear to me that the Love Ride was created as a means of giving back—a way for bikers with big hearts to do something for those who are less fortunate than we are. As riders in this country, we get to decide for ourselves what is safe or unsafe. We get to ride our motorcycles whether they are safe or unsafe. We get to make all of our own choices. Not all children get to grow old doing that. Showing up to support them and their causes can only be a good thing, and I can only hope the Love Ride can find a way to continue on for many years.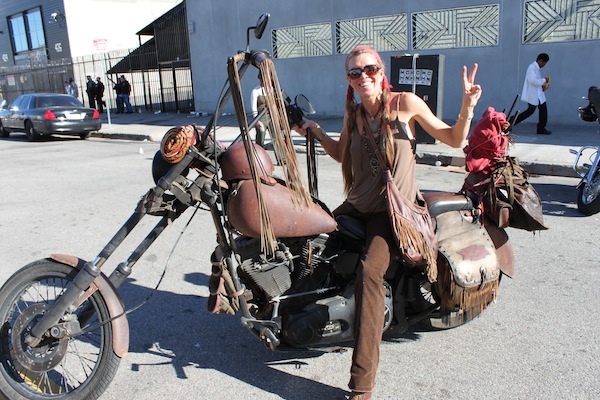 My heart and prayers go out to the families and friends of Romarino Zeri and Julie Cameron. And for my friends who ride all over the world, drive safely and defensively at all times!

To learn more about Betsy, visit her Web site at BetsyHuelskamp.com.
Related Articles
Backroads With Betsy: Love Ride 26-1/2
Backroads With Betsy: Learning to Love Change
Backroads With Betsy: Love Ride 23