Update 6/20/07: Betsy is back home in Southern California safe and sound. She did not attempt to summit Mt. Everest because the tour leader did not allow her to do so based on how he thinks she performed during the acclimatization phase of the expedition. Betsy reluctantly accepted this decision. She has much to say about her two-and-a-half months spent at base camp and advanced base camp. She is still recuperating from being away for so long, so well post a new column in August.
Editors Note: For those keeping up with Betsys Mt. Everest excursion, you may be aware that a reporter from Discovery.com has been following her and the teams every move in a series of dispatches.
Through that and subesequent emails Betsy sent to me when she arrived back at Base Camp, I learned that she is not making an ascent to the summit of Everest. She failed to pass the acclimatization test required of climbers on Russell Brices team. Betsy conveyed to me that while she was disappointed Russell would not allow her to make an attempt at the summit, she believes that decision was Gods way of protecting her. Who knows what will happen to someone when he or she gets in the "death zone" on their way to the summit. From reading the various Everest news blogs (URLs posted at the bottom of Betsys previous column), you learn that even the best climbers have their limits. The problem lies in not knowing when that limit will hit with potentially deadly consequences. I am extremely proud of Betsy for making it as far as she did. Shes a winner in my book because she recognized her limits and has ventured where few in this world have ever gone literally and figuratively.
Below is a column Betsy wrote on the plane ride to Kathmandu on her way to Everest back in April. Knowing shed be gone for two-and-a-half months, she wrote this column in advance. Enjoy her wonderful writing!
Interviewing fellow biker and climber Tim Medvetz in late January was enough to inspire me to want to be a part of this years expedition team to attempt the Mount Everest summit. I then had just two months to raise the money and prepare myself for the biggest adventure of my life. In a frenzied mode as I glanced at my rusted old chopper in the garage each day, I kept thinking I needed to get the girls together for one last ride before I left. But it was February, rainy and chilly. In Southern California, a cold day here is a perfect day in Minnesota #8211; the state from which I hail.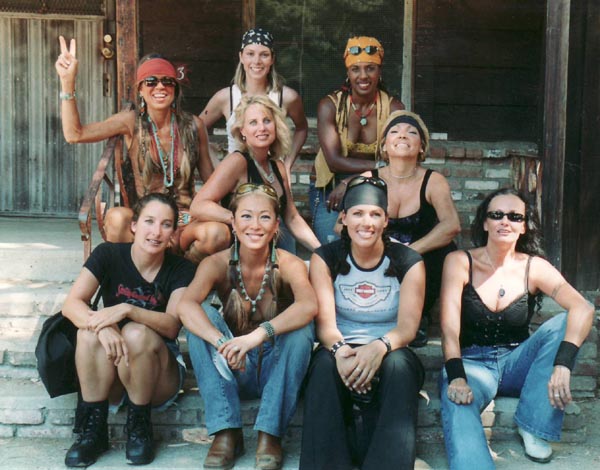 When a group of friends gather to ride, you can really feel the strength of the union on the road. Here in Malibu, I always find a group of many of my riding friends, old and new. We spend a day riding the loop and stopping for a group photo at the Rock Store.
Nonetheless, I had a hard time rounding up the posse when the sun was on holiday. Ive been lucky enough to have several great riding pals through the years, but we are all busy women, and it is hard enough to get our schedules to meet up in the sunny summertime. So on a brisk, cloudy morning, I looked out at my lonely motorcycle thinking I might not get another chance. And when you really feel the need to clear the cobwebs and be alone with your thoughts, there is nothing like a lone motorcycle ride down your favorite old roads.
Ive lived in Southern California my entire adult life. Ive ridden the Malibu Hills so many times I dont even think about the turns. The bike, the roads, and each turn are my old friends. They wind around, and go up and down, and in their own quiet calm way they offer up answers. So I went for one long afternoon ride through the hills to all of my favorite hangouts. It was a week day, so the Rock Store, and Neptunes Net, popular Southern California biker hangouts, were deserted except for a few surfers at the Net. But the ride provided a day of clear thought, and brought back memories of all of the great friends I have been down those roads with. I have had every member of my family, except my mom, on the back of my bike, and each of my siblings has had his or her own motorcycle as well. I even sported my dad on the back of my bike down Main Street in Sturgis one year. He wore my cowboy hat and waved to the smiling faces. It is a great bonding element sharing the open road with a pal.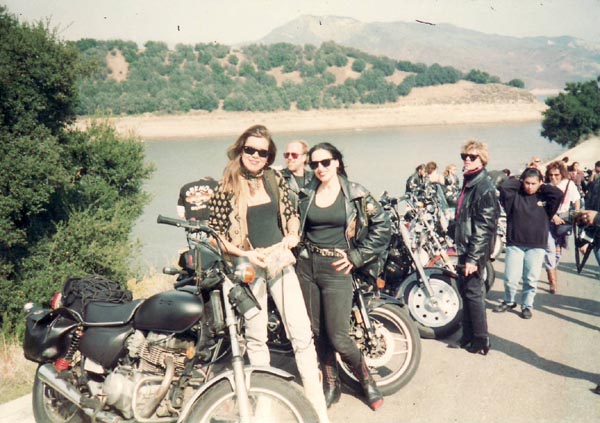 It was back in the mid-1980s when my college roommate, Edith Speed, needed some quick cash and sold her Honda 400 to me. She taught me how to ride and was my first riding buddy. Shes not exactly the most athletic woman in the world, but man, shes fearless! She was a dot on the horizon, and showed me no mercy in my lessons. I went "Hells Bells" after her trusting that if she could lean a bike like that, then so could I! I could not have asked for a better mentor.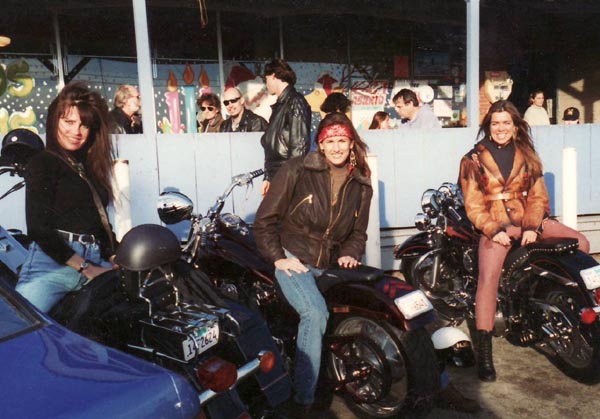 I met Priscilla on the scene. She was my first girlfriend with a Harley. Meeting and riding with her planted that seed that one day soon I would have to retire the Honda.
Back home in Minnesota my best friend from high school, Mary Flaa, was starting to ride, so we decided to hook up for my first time in Sturgis. That was 20 years ago, and I havent missed a Sturgis rally since!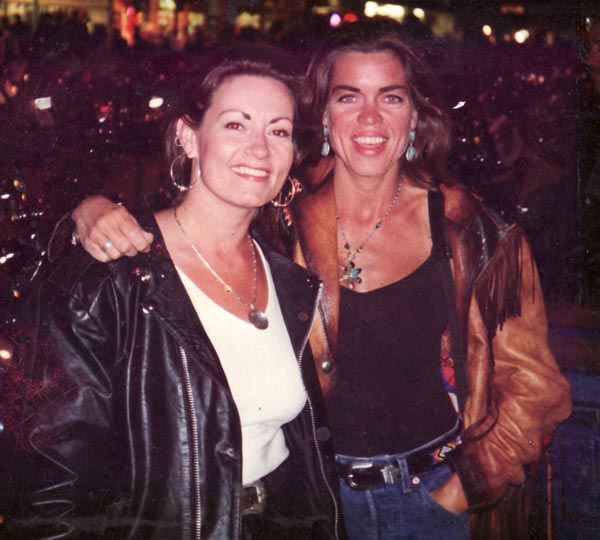 Then one year I was in southern Minnesota for my little brother Joes wedding. It was a brisk afternoon and I needed to buy a sweatshirt. My sister and I had a hotel room across the street from a Harley dealership, so we popped in there. Half an hour later I had talked my sister into buying a customized Harley right off the showroom floor. She taught herself to ride the thing; funny, our riding style is exactly the same bold and aggressive. I look forward to the two of us growing old in the desert somewhere as old haggered biker chicks! My mother stills blames me for forcing my sister into the lifestyle and causing her to dress the way she does.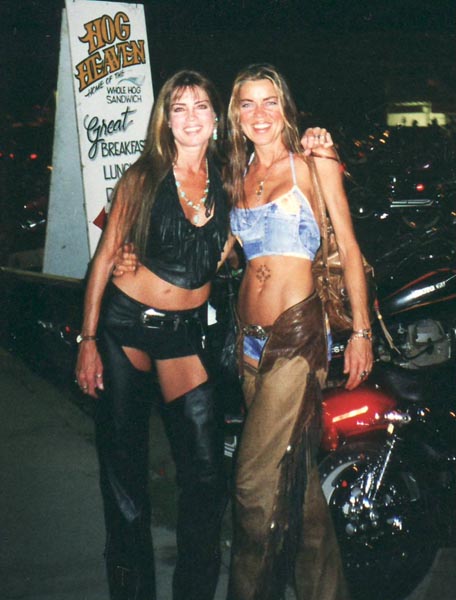 For several years, Joe, who is now a sheriff in Wyoming, has come over to the rally, and we rented him a Fat Boy to ride. My youngest brother, Jon, has ridden with me in Minnesota, but Ive not gotten him out to the rally in Sturgis yet.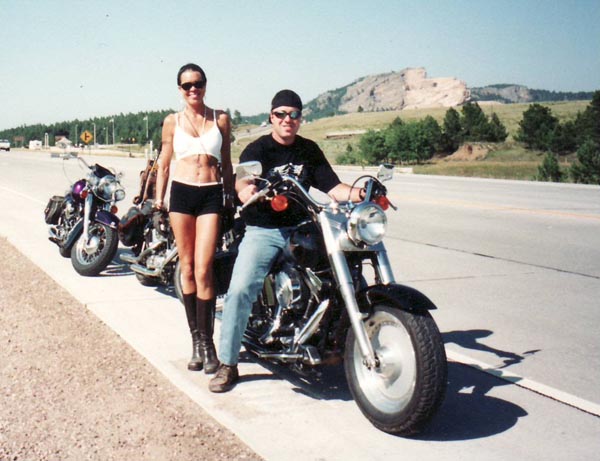 My friendship with WRN editor Genevieve Schmitt began at a bike night at Bobs Big Boy in Burbank, but it was actually a great summer together in Sturgis that sealed our friendship for life. She and I have hit nearly every road between the California coast and the Mississippi together. We were young, single, had money, and Harleys. And that was a great recipe for a fun friendship! Genevieves quest for harmony took her north to Livingston, Montana, but our friendship still goes strong. The bond of those long hours and days on empty backroads is a unique and special one.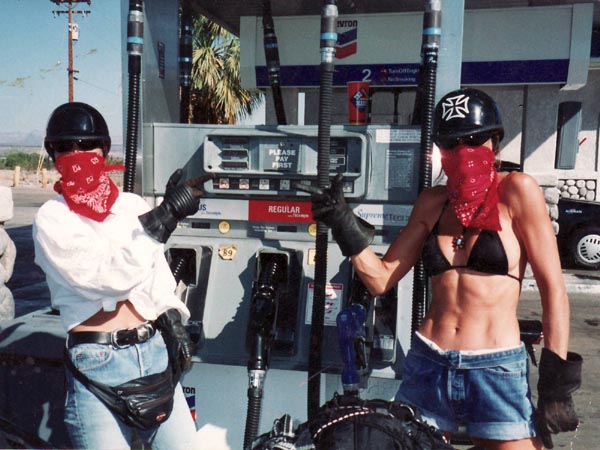 I have met many wild and crazy people at rallies and events. Tracy Fitzer was one of the funnest! In her exaggerated southern drawl she approached me saying, "Hey, I like your chaps." We were in the ladies room at the Pyramid Bar in Sturgis, and looking at each other in the mirror we recognized we were both tall, skinny brunettes with long hair. She was telling me about the babe she just hooked up with, and she wanted me to meet him. Turned out I already knew him…very well. Less than a year later she called me from Memphis to tell me about her new musician boyfriend, and guess what? I already knew him, too…very well. Small world.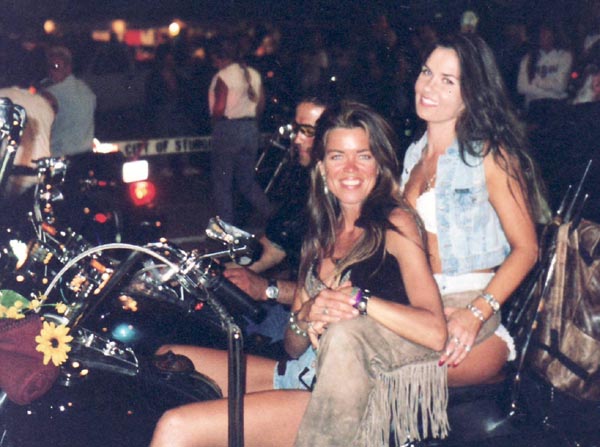 In the past five years, I have gotten to be a part of several motorcycle related documentaries which have brought together beautiful rides and forever friends. The first of these was Discovery Channels "Motorcycle Women." It featured six strong women who were very different, but all shared the love of the road. It was an experience I will never forget. As we rode across the west we had long warm days, awesome sunsets, and memories to last a lifetime. I I still see and ride with each of those women.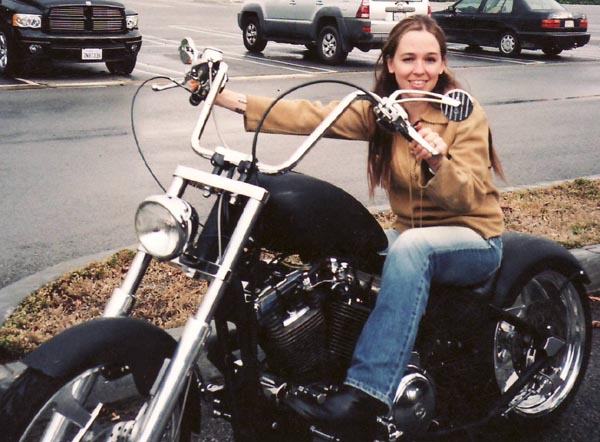 A year later TLC shot a documentary of me and my friend Qian (pronounced Chin) transforming a shy librarian from Chicago into a biker chick. Lori lived at my house for the month of January. Even though it was a cold and rainy month, she and I went out riding in it every day. She became like a little sister to me, and being a part of her transformation to a free spirited biker woman was a privilege. Lori had amazing untapped inner strength. I hope to ride with her again someday.
And in Sturgis, my ride entails sharing a day at the horse ranch in the little town of Nemo with my very best friends. We're like the colors of Benneton, representing all nations. My sister Kath, best friends, Qian and Gevin, and best of the best, Anthony.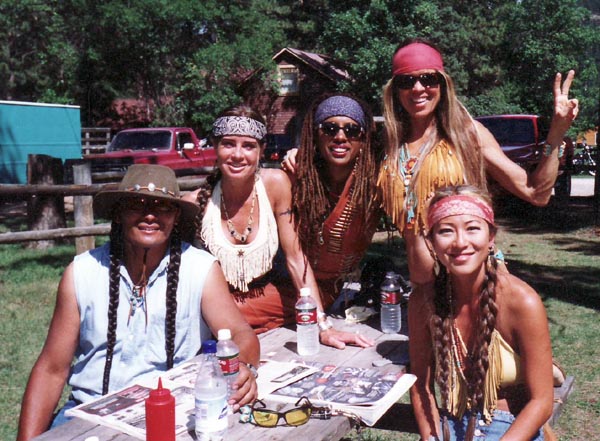 Qian and Gevin are my present pals with whom I share the road in California. Gevin and I have been riding together for many years, and the girl is as good as it gets. I badgered Qian into getting a Harley, and two weeks later she was asked to join me on "Motorcycle Women" as the newbie. She's been an incredibly fun friend to ride bikes across the country with, as well as the backroads of a dozen third world countries. Our ability to get into trouble up to our necks, and with one look laugh uncontrollably through it has been a blessing. She continues to bring much light and laughter into my life.
Remembering all of these friends warms my heart and brings a huge smile to my face. I may not ever have a dime in the bank, but I am a very wealthy woman. So thanks for joining me down memory road. See you all in Sturgis this summer.
To learn more about Betsy, visit her Web site at BetsyHuelskamp.com.