Editor's Note: This is part two of the story on Grace McKean. To read part one, click here.
Grace McKean, whom I call "Amazing Grace," is 76 years old and still kick-starts the vintage Harley-Davidson 45 Flathead she bought at the tender age of 17 using all the savings she earned as a Walgreens waitress. Many readers have written to me in response to the first part of my story, asking how Grace as a young woman found the strength and courage to do what she did at a time when a woman on a motorcycle was less than respected.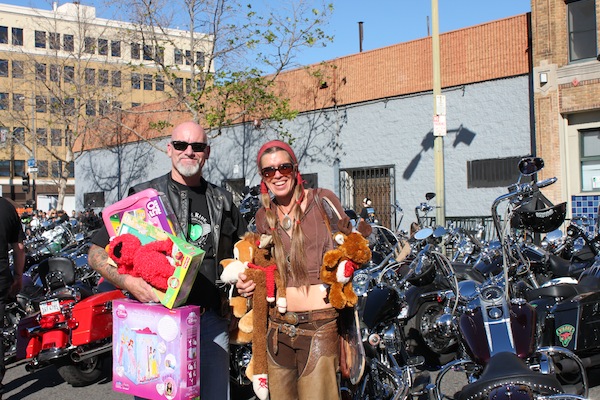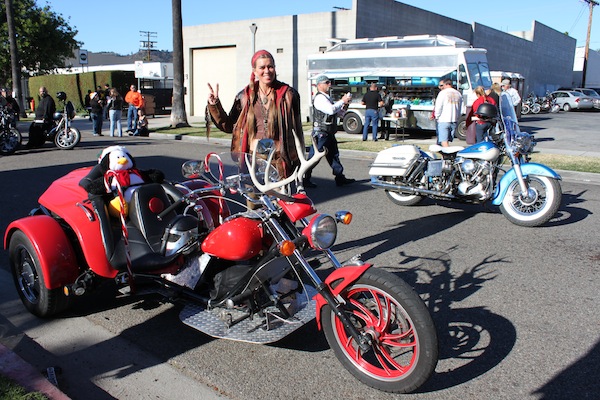 Sitting at the kitchen table listening to Grace's stories reminded me of the times I spent at my grandmother's house in Austin, Minn. I felt immediately comfortable with Grace, so much so that I didn't want our time together to end. I went in with a list of questions at every meeting I had with Grace, but I never got to my second question. I'd ask her one question, and hours later I'd heard many amazing and inspiring stories. I may never have gotten answers to my actual questions, but does that matter?
| | |
| --- | --- |
| Grace in her kitchen warming up pulled pork, macaroni and cheese, and a side of coleslaw—a classic biker meal. | The wallpaper in Graces house, which was once occupied by ministers who ran a day camp, looks like it could be straight out of "That 70s Show." Grace says she knows its a little dated but wouldn't dream of changing it. |
What I love most about Grace's stories is that there is a message in every story she shares. If you sit with her long enough—by that, I mean about five minutes—all roads lead to the same place and connect with the same common thread: Jesus Christ. You are not going to have a conversation with Grace or glean her wisdom without hearing that message. It is not going to come at you in an overbearing way that makes you want to run away or change the subject. In her gentle fashion, she will ask you questions about your own faith and beliefs in a way that will leave you wanting to know what she knows and feel what she feels.
| | |
| --- | --- |
| "Easy Rider," the sequel! Graces grandchildren—Bobby, 8, and Madison, 6—riding their Christmas presents from Grandma. | Grace in 2004 on her 1947 Indian Chief next to the lake in front of her Running Springs, Calif., cottage. |
When I'm in her presence, it's overwhelming to feel her unwavering faith. Religion has always been a part of everyday life for Grace. Her family prayed at the dinner table and on their knees before going to bed. She has been playing the organ at church throughout her life. When her family suffered tragedies, like a house fire that burned down the family home and took the lives of two small neighbor children who happened to be sleeping over that night, it was their strong belief in God and the power of prayer that got them through those hard times.
| | |
| --- | --- |
| My favorite framed picture on the wall of the Roadhouse Biker Church, where Grace took me. | Grace playing the piano with her mother many moons ago. |
As a young girl, Grace suffered from a stuttering problem and never quite felt like she was as smart as her sister. She even recalls a teacher telling her she would never amount to anything. She became insufferably shy and had few friends outside her family, where she was the youngest of five siblings. When she took that first ride on her brother's Harley-Davidson 125, she developed a relationship with riding that filled a void in her life. When she pulled up to her house on her brand-new Harley-Davidson and all of the boys in the neighborhood suddenly crowded around to look at it and talk to her, Grace felt a sense of pride and independence that set her apart from the rest. It also gave her confidence beyond what she had ever known. Riding provided her the strength to explore and seek a life for herself outside that small town in Illinois, eventually leading her down Route 66 to a new life in Southern California.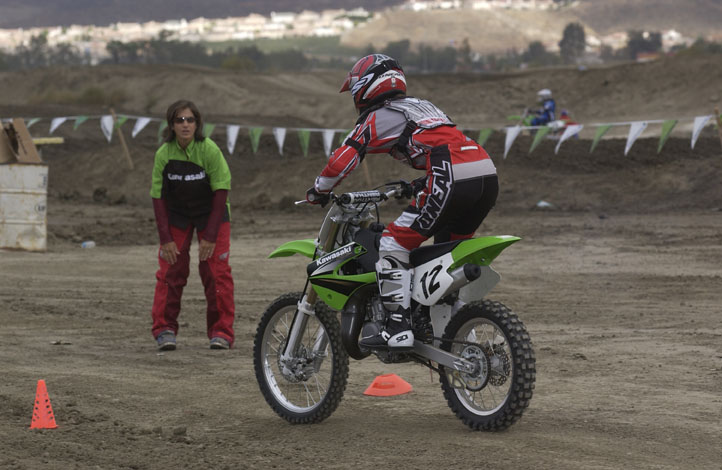 Once she was rooted in California, Grace immediately sought out the nearest Harley-Davidson dealership and became friends with the owner, Hutch. Through Hutch she joined the local Harley Riders Club, which led to all sorts of fun camping excursions. Hutch always brought along his wife and kids on these trips, and Grace enjoyed the whole family. They took excursions to Yosemite, Sequoia, and Graces favorite, Death Valley. Also through Hutch, Grace learned about the Motor Maids and ended up becoming the youngest rider in her chapter. Because of her membership in the Motor Maids, Grace was asked to ride in several parades and was chosen to lead and carry the American flag for the opening ceremony at one of them. Through the Motor Maids she was even asked to make appearances on a Jack Linkletter show and a program called "On the Go."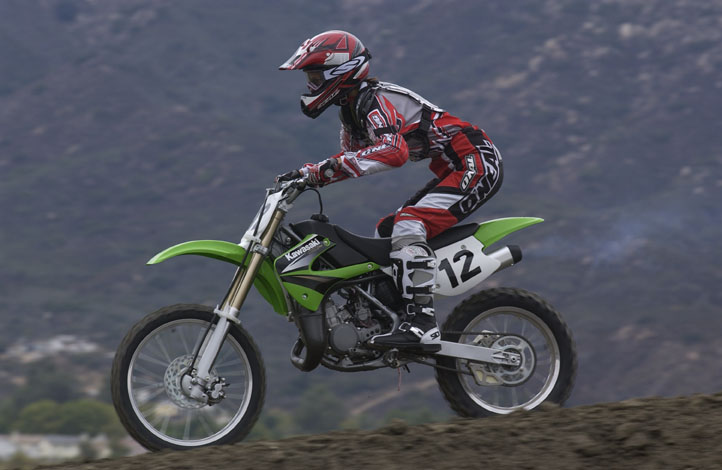 | | |
| --- | --- |
| Grace at the Sturgis Hall of Fame breakfast in 2010 standing between two Motor Maid friends, Margaret Wilson (left) and Gloria Struck (right), both of whom were inducted into the Sturgis Hall of Fame this year. | At the Sturgis Hall of Fame breakfast in summer 2010 from left to right: Karen Davidson (of Harley-Davidson), Lori Struck DeSilva (Glorias daughter), author and HOF inductee Cris Sommer Simmons, Gloria Struck, me, Grace McKean, and WRN editor Genevieve Schmitt. |
By 1960, Graces parents had also moved to California, and Grace moved in with them. Her life changed when her father passed away shortly after relocating, leaving a void in her life like she had never known. Graces father was a native of Switzerland and spoke seven languages. He'd fled Russia in 1917 during the Bolshevik Revolution by following the railroad track through Siberia and into Hong Kong. He'd worked as a structural and electrical engineer in Switzerland, Russia and China. Her dad's travels and her mothers relatives' experiences as missionaries in foreign countries fueled fascinating dinner table conversations about foreign travel that Grace remembers well.
Feeling a void in her life beyond what her motorcycle could remedy, Grace started pondering traveling to faraway lands. That meant putting her nose back to the grindstone and saving up for these expensive plans. Grace also had a fear of flying. One day she visited a travel agent to see about taking a ship across the Atlantic to visit Switzerland, and she walked out that day holding tickets for an around-the-world cruise. Soon enough, Grace found herself aboard the S.S. Orsova, departing from Long Beach, Calif., and heading to the Far East. She was so excited about this trip of a lifetime that she signed the pink slip to her bike and gave it to her sister Annette in case she needed to wire home for more money.
The very first morning on the ship, over breakfast, Grace met a Scottish man named John with an accent so thick that she wasnt sure he was speaking English. But she knew she liked him—and that accent. John had been in the Merchant Marines for five years and worked on the ship.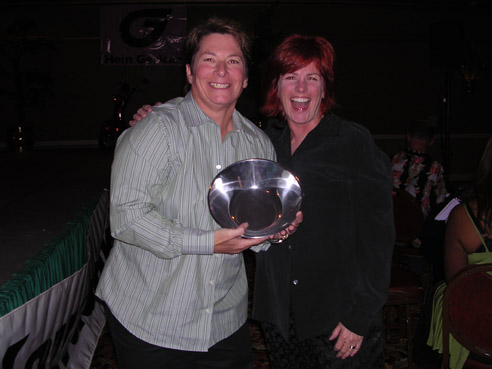 In Hong Kong, John had his first day off. It was also his first date with Grace, and there were many more at other ports. After sightseeing in Japan, touring India, and riding camels in Egypt, Graces relationship with John was getting serious. Grace told John all about her motorcycle and her love of the sport. She told him it was one thing she would not get rid of. He said he understood, although motorcycles didnt really interest him. They bid each other adieu in London, her cruise ship's final destination, and made arrangements to correspond during her European tour. Grace visited Naples, the Swiss Alps, the Matterhorn, St. Moritz, and Berne, her father's birthplace. Everything was just as beautiful as he'd described. Every place Grace visited, she received a letter from John. When she arrived home, she had just $3 left to her name. That is what I would call a successful trip!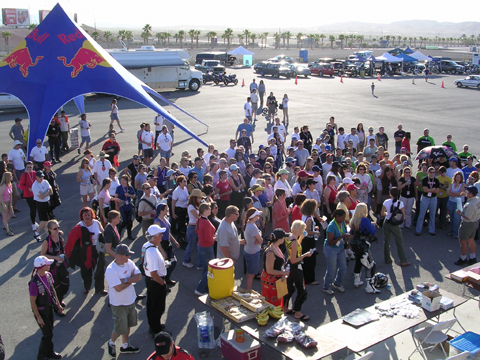 When she got back to the United States, Grace says she was looking forward to American coffee and a hamburger. Second on her agenda was getting her name off of that motorcycle's pink slip and going out for a ride. Most of all, though, Grace was preoccupied with making future plans with John. Though he had to finish out his service on the S.S. Orsova, John was able to visit Grace in California a number of times. As soon as his commitment to the ship was over, John came to America to become a permanent resident and marry Grace. Once John arrived, Grace parked her motorcycle in the corner of the garage and covered it with a blanket.
Wedding plans and church activities kept the young couple very busy. Six months after the couple wed, they were already planning a family. Grace enjoyed every minute of raising her daughter and son—the ballet classes, the piano lessons and the scout meetings suited her just fine. During that time, she felt that her place was in the home and that it was OK to put her love of motorcycles on hold. Grace didn't so much as start up that bike between 1962 and 1979. Then, one afternoon while her teenage children were off in high school, she got the itch to ride. She hauled the motorcycle off to her old friend Hutch, who threw in a new battery and got her running again. Grace would take many secret afternoon rides in the years to come. She didn't want her children to know about her guilty pleasure. She was afraid they might take an interest in motorcycles, and she couldn't bear the thought of them being in an accident.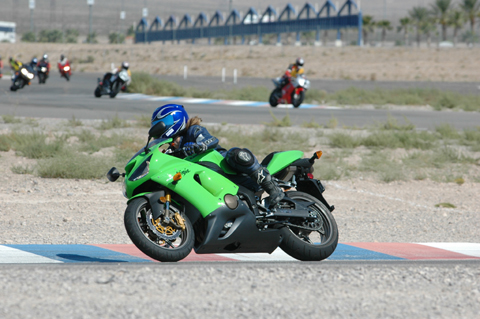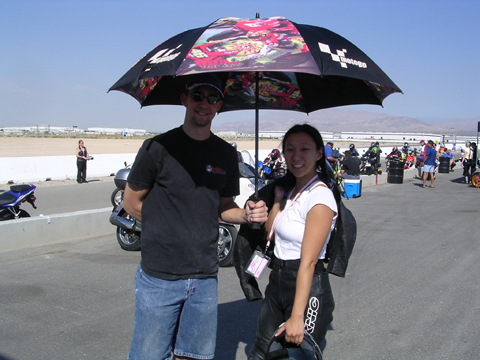 John had a heart attack at age 52, so Grace had to keep things afloat for quite a while. She had a good job with the gas company. Working hard had always come easily to Grace. But her husband's failing health and her children's experiences as teenagers filled her with worry, and Grace sought solace on her secret afternoon rides. She credits her motorcycle with helping her maintain her sanity. It calmed her down and helped her to escape her worries and find of a sense of peace and serenity.
In 2001, John died of lung cancer at age 73. The kids had finished with school and were starting their own families, and Grace suddenly found herself alone. Short rides were no longer enough—it was time to rekindle that old friendship and uncover the bike for good. Grace found harmony in the open road once again. She added a few more bikes to her collection and came to enjoy riding each for a different reason.
She soon realized that negative attitudes toward women on motorcycles were fading, and people started taking notice of the little lady on the classic bikes. She has since appeared in several publications and almost always has a line of people waiting to ask her questions. Luckily, Grace loves talking about the things she is passionate about!
| | | |
| --- | --- | --- |
| Grace featured in "Nostalgia Cycle." | Grace featured in "American Motorcyclist." | Grace featured in an MSF publication in 2005. |
Amazing Grace, how sweet the sound,
that saved a wretch like me.
I once was lost, but now am found,
was blind, but now I see.

"Amazing Grace." How perfect a name for a classy and elegant woman who raised and supported a family, traveled the world, rode her motorcycles all over the country, and feels most comfortable in a biker church where the motto is "sinners welcome."
When I asked Grace why she likes going to the Roadhouse Biker Church, she said, "I just feel at home here. I feel respected for who I am." Grace has lived a life that would be admired and respected by any group of people. She is an inspiration to everyone she passes. Many women of her generation admire her because she had the courage to do what they did not. The women of today look up to her because she paved the way for us to proudly ride our motorcycles—or, for that matter, to do just about anything we dream of. And men of all ages can't help but admire a woman half their size and twice their age who can kick-start a classic motorcycle.
The motorcycle community is where Grace feels most at home. She knows what it's like to be judged negatively for doing something you love to do. In the company of those who share her passion, she sees a human element. Motorcycle enthusiasts have long had a reputation for excess—drinking, smoking, drugs. But it is in recognizing our own imperfections that we as a group are perhaps able to accept one another for the less-than-perfect, unique individuals that we are.
| | | |
| --- | --- | --- |
| Classic Grace McKean, jumping into the air to kick-start her 1947 Indian Chief. | Motorcyclists arrive for biker church service in a warehouse in San Bernardino. Calif., on a Tuesday night. | Grace outside of the Roadhouse Biker Church, where all sinners are welcome. |
Whether I am talking to this adorable little grandma in her mountain cottage or meeting her at biker church, it's hard to believe that she has ever sinned or made any real mistakes. Those are the kinds of questions I asked Grace—what were her mistakes, and does she have any regrets? "We're all human! We are born in sin," she said. "We all make mistakes, and we keep on making mistakes. The best we can do is try to live more in His likeness."

Grace feels guilty for not always being, in her eyes, a perfect mother, and she still worries about her children and grandchildren. It is especially hard when you have a certain faith in God that lives in your heart and you want to share that faith with the people you love, especially your children. Yet each of us has our own path to walk to get to that place. Accepting that her children needed to find their own way to their faith was hard on Grace.
I watched my own father struggle with that same worry. It was hard for him, a teacher, to realize that you can't teach faith and you can't give it away, even when you want to. All you can do is live in faith and hope that your example is a bright enough light to help those who are ready to see it. I saw the light in Grace even when she passed me by going 60 mph.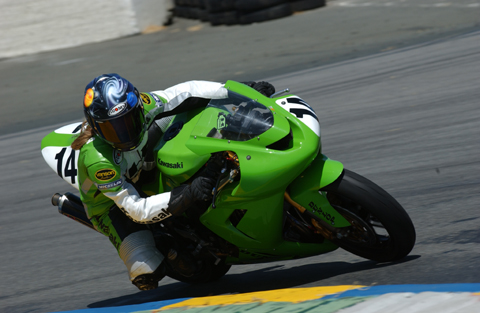 | | |
| --- | --- |
| Notice the pictures of antique motorcycles on the walls of the church. | There are some who might find the mixing of motorcycles and faith an oxymoron, but when you are at this biker church, it's obvious you're in a room full of love. |
Joining Grace at the Roadhouse Biker Church was one of the most meaningful experiences I've had. The place is filled with ex-addicts, current addicts, bikers, and people in wheelchairs. Children and grandmas come to listen to Pastor Denver Cooley, and I can tell you that he makes more sense to me than anyone I have ever heard speak about the life and love of Jesus Christ. His knowledge and experience allow him to explain, in words simple enough for anyone to comprehend, that the love of the Lord, your Lord—whatever that means to you—lives inside of you. You know it already; it's the way children know the difference between right and wrong. Which one is going to direct your path today—the path toward the light, or the path toward darkness?
The fight between good and evil exists within us all. Indian legend calls this struggle "two wolves," with the evil wolf representing anger, greed, and ego and the good wolf representing kindness, compassion, and truth. Which wolf wins? The one you feed. It is your choice each and every day.
| | | |
| --- | --- | --- |
| Me with the president of the Black Sheep Motorcycle Club, a group of bikers that helps run the church. | The president of the Black Sheep might look a little intimidating if you saw him outside his role as usher at the Roadhouse Biker Church. | Me and Grace in the Roadhouse Biker Church. |
I have been to the Roadhouse Biker Church with Grace twice now, and both times I listened to Pastor Denver in the same way I listen every day for direction and lessons in life. The topic of his last sermon I heard was how to share the love of your Lord. As much as I have a strong faith that has grown stronger with every hardship and loss, it's a relationship I value on a personal level. I talk to God about everything each and every day, but religion is one of those controversial topics that we all avoid, much like politics. We all want to be politically correct, live and let live.
I knew I was going to be writing a story about Grace, the little lady who rides cool classic bikes. But even though her faith is a hugely important part of who she is, I didn't know if I should make it a part of her story. But there stood Pastor Denver saying that if you do not acknowledge the Lord in your life, how can you expect him to acknowledge you when you arrive at the gates of heaven? If you want the Lord to know and recognize you, then know, recognize and acknowledge him. Do not be ashamed or embarrassed of having and feeling faith. Grace will acknowledge out loud her love and belief in the Lord every chance she gets. Is it possible to share your love of the Lord, your beliefs, and your faith, without implying that your way of thinking is the only answer? Faith isn't an answer or something you can see or prove. It's just something you feel in your heart. Grace's faith is as important a part of her story as the motorcycle that paved her way to independence. The motorcycle may have given her a sense of strength and self-respect, but her faith is what makes her the extraordinary human being that she is. Plain and simple, Grace is just a good person.
| | | |
| --- | --- | --- |
| Pastor Denver Cooley. Sometimes the best messages are hidden in unexpected packages. Be careful about judging a book by its cover. | Grace with Pastor Denver Cooley. | Pastor Denver Cooley showing me some of the interesting motorcycle memorabilia in the church. That is a Denver Chopper frame hanging from the ceiling. |
What happened as I learned the story of a fascinating little lady who rides really cool classic bikes is that I made an amazing friend who is having an incredible impact on my life. What a nomad like me looks for along the path of life are sources of truth, hope, love and inspiration. Grace was like a beacon of light that rode past me that first day in LaCrosse, Wisc. I didn't know why, but I just knew I had to go in search of Grace. And I am so glad I did!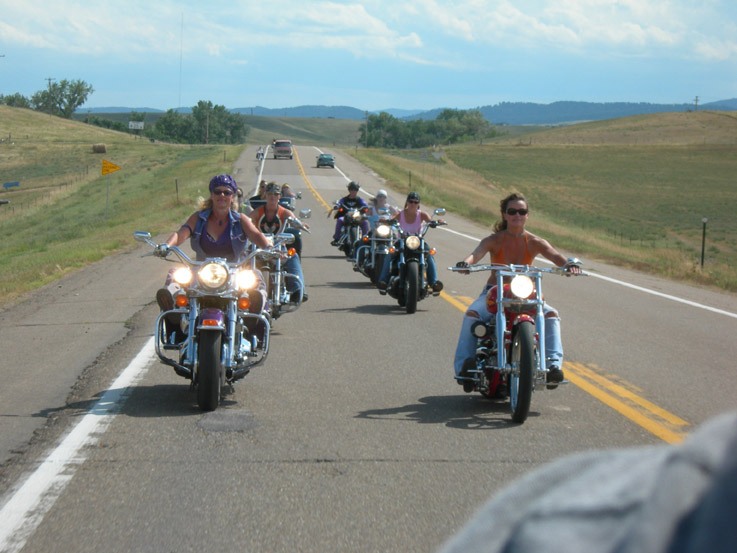 I most recently ran into Grace at this year's Big Bear Choppers "Ride the Mountain" event in June. As always, her smile, warmth and sincerity lit up everything around her. During our chairlift ride up the mountain, Grace explained that she is a little afraid of heights and so she just wasn't going to look down. Grace is not afraid to try anything, talks to everyone, and laughs the whole way through. Her old 1951 Harley-Davidson 45 Flathead was down at the bike show, and she missed hearing her name being called for her first-place trophy because we were all up enjoying the view.
| | | |
| --- | --- | --- |
| Motorcycling personality Bean're took quite a liking to Grace during this year's Big Bear Choppers "Ride the Mountain" event. He knows the good stuff when he sees it! | Bean're, me, Grace and Mona Alsop of Big Bear Choppers sharing a 10-foot Subway sandwich and pizza in the VIP room. | We talked Grace into taking her first-ever ride on a chairlift to the top of the mountain overlooking Big Bear Lake. |
| | |
| --- | --- |
| Kevin Alsop, owner of Big Bear Choppers, presented Grace with her first-place trophy in the VIP room. | Grace, always making new friends wherever she goes. |
If you ever see Grace riding down the back roads and have a chance to talk to her, take it! She never runs out of stories to tell and has so much wisdom to share. I tried to fit 76 years of living, loving and learning into one—OK, two—articles, but there is so much more to this amazing Grace. I hope you enjoyed reading about my time shared with her as much as I enjoyed living and telling it.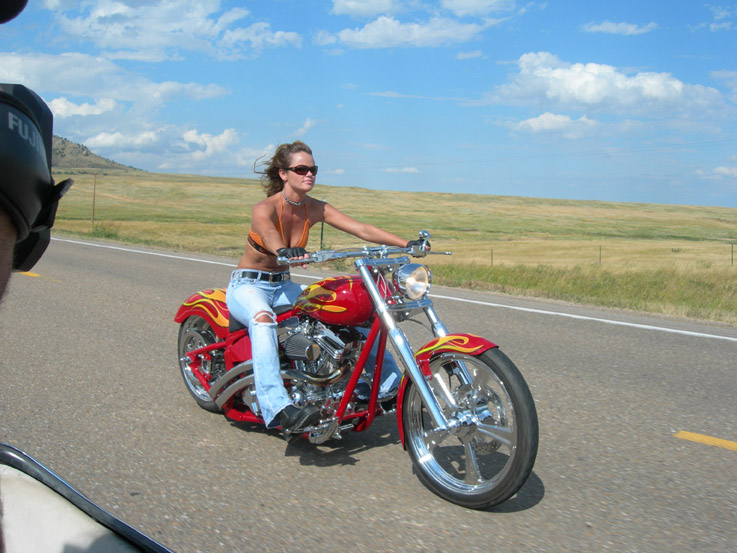 If you are ever in San Bernardino, Calif., and would like to visit the Roadhouse Biker Church, well, all sinners are welcome! To learn more, visit RoadhouseBikerChurch.org.
And to learn more about me, visit BetsyHuelskamp.com. See you on the back roads!

Related Articles
Backroads With Betsy: Amazing Grace, Part One