Have you ever had somebody pass you by who left you thinking, "I need to know that person"? For me, that woman was Grace – the amazing Grace McKean. I was in LaCrosse, Wisc., for the Samp;S Cycle 50th anniversary party. It was a sunny summer day, and as I was headed to the event, a woman passed me by going the opposite direction on a classic old white Indian motorcycle. She was wearing black leather pants and boots and a white leather jacket that matched her motorcycle and beautiful hair tied up in a perfect French twist.
When I got to the event, I was talking to my pal Jesse James and telling him I needed to find this amazing woman. When I described her, he said, "That's Grace! She's amazing! You have to meet her."
Later that day, I was at the Samp;S factory telling the same story. The guys working in the garage said the same thing to me. In fact, they told me Grace was in having her bike worked on. My friend Kiwi Mike Tomas, who owns an Indian motorcycle restoration business, was at the event, and Kiwi knows all things Indian related. I headed to his booth to ask if he knew Grace, and who do I see standing there among a crowd of people? The amazing Grace!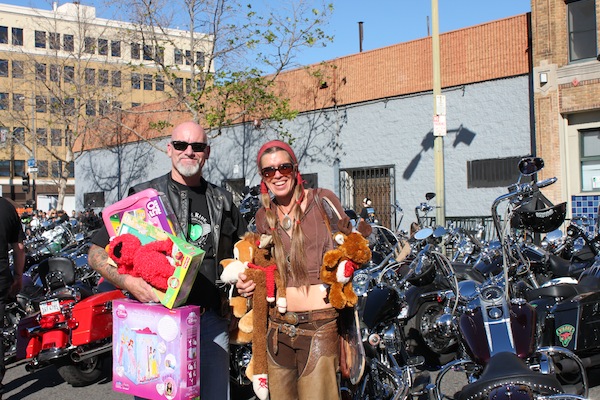 So what makes Grace so amazing? Lot of things, the least of which is that Grace is 76 years old, stands 5 feet 3 inches and kick-starts her bike before riding it across the country – alone! Not to mention that the Indian is just one of four motorcycles parked in her garage in the mountain cottage she calls home, located inRunning Springs, near Big Bear, Calif. The fact that Grace owns such a beautiful vintage Indian classic is only fitting considering she's a vintage classic herself. She bought her first bike, a brand-new 1951 Harley-Davidson 45 Flathead, for approximately $600, and she still rides it to this day.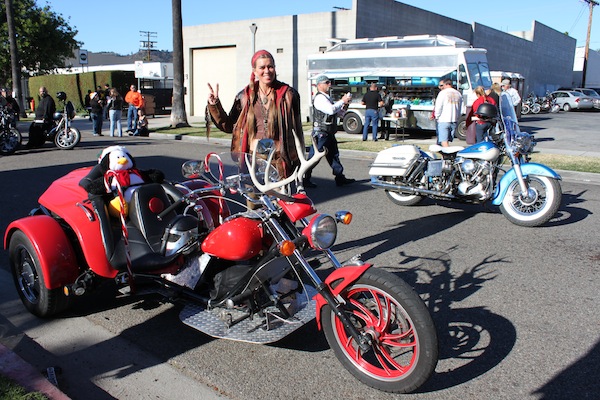 I waited in line to speak to her and introduced myself. I told her I wasn't sure how we'd been separated, but I was pretty sure she was my long-lost mother. I also told her that my friend Jesse James thought she was amazing. She looked at me and asked, "Who is Jesse James? Is he someone I know?" When I explained that he was a pretty cool guy on a TV show about motorcycles and cars, she said, "I don't watch much TV." As she was talking, she backed into an engine that Kiwi had on display. She turned around and looked at it with a puzzled expression. "I am not sure what the heck that thing is, but I'll bet it has something to do with making a motorcycle run!" she laughed. "I just like to ride my motorcycles. I don't really concern myself with the other stuff."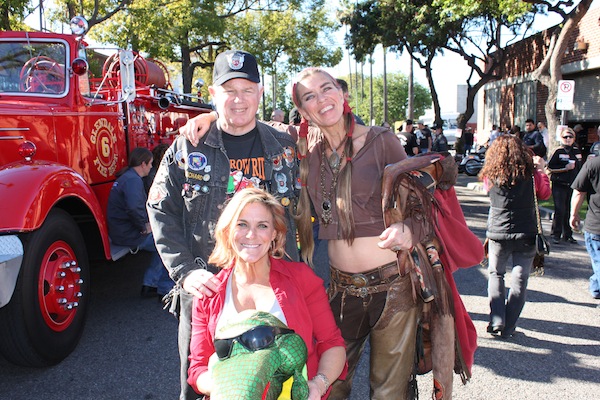 Every single thing that came out of Grace's mouth that day left me wanting to know her more. Her smile and laugh are infectious. Everything about her is unique and genuine, and she is as humble as the day is long. She truly does not understand what the fuss is all about or why all of these people want to talk to her. "Gosh," she says, "back when I started riding, it wasn't really something a woman could be proud of. People looked down at you, as if you were trash." She was even evicted from an apartment because her landlord found out she had a motorcycle. From that point on, she hid her dirty pleasure from the people she worked with. And for all the years she had a husband and children, she kept the bike covered in the corner of the garage and didn't pull it out again (except for a few secret rides when everyone was off and busy) until the children were all grown up and her husband had passed away.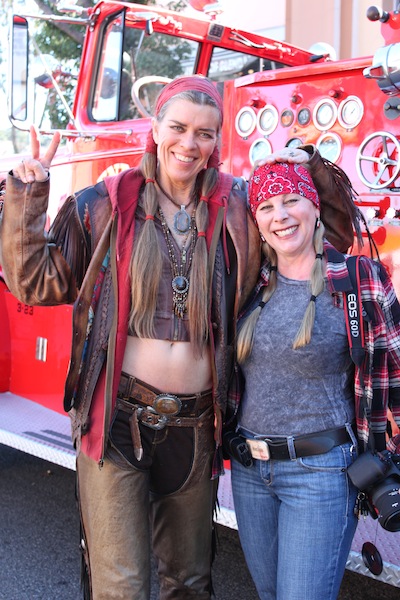 I told her she was an inspiration and that I wanted to know more. We exchanged information, and she agreed to tell me her story. She said she had told her story more than 20 years ago to my friend Cris Sommer Simmons for a 1989 edition of the magazine Harley Women, but a lot had transpired since that time.
When Grace mentioned her world travels, I told her that I was a woman who had traveled the world and overcome many obstacles as well. I told her I was in constant search for knowledge and inspiration and that what I really wanted to talk about was where she turned to for inspiration. When you have extinguished traditional outlets for inspiration and turned over many stones, where can you look for higher wisdom and advice? Whenever I meet someone who truly inspires me, especially someone older and obviously wiser, I like to ask him or her this question. Grace looked me straight in the eyes and said without hesitation, "The only place to find truth, answers and inspiration is in Jesus Christ. Do you know that?" And I told her that I truly did.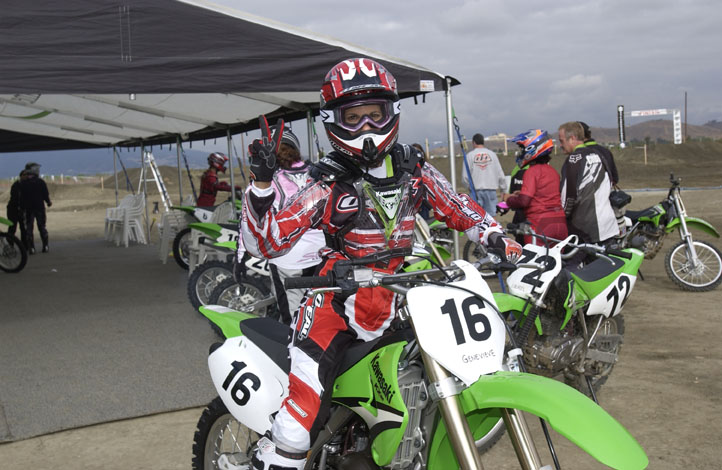 Grace assured me that if you trust in Jesus Christ, you needn't look any further. He will put in your heart the answers to your questions. All you have to do is listen to your own higher knowledge, to hear him, to know him, and to find answers. I told her that I have been able to live my life without fear because of my faith. She took a few pamphlets out of her purse and handed them to me. One asked, "What to do to get to hell?" The answer was absolutely nothing. Another was titled "The Road to a Full Life," which talked about being with God on the highway of true freedom. It is a direction with meaning and purpose, a beautiful journey. And with Christ by your side, there is no danger of getting lost. He will be with you all the way – destination assured!
Grace asked me if I wanted to join her sometime at her biker church called The Roadhouse. I replied that I would. I knew I had much to learn from talking with Grace. Sometimes in life it seems quite clear that we are meant to experience something that's placed directly in our path, and I'll take this opportunity to thank God for putting "amazing Grace" in mine.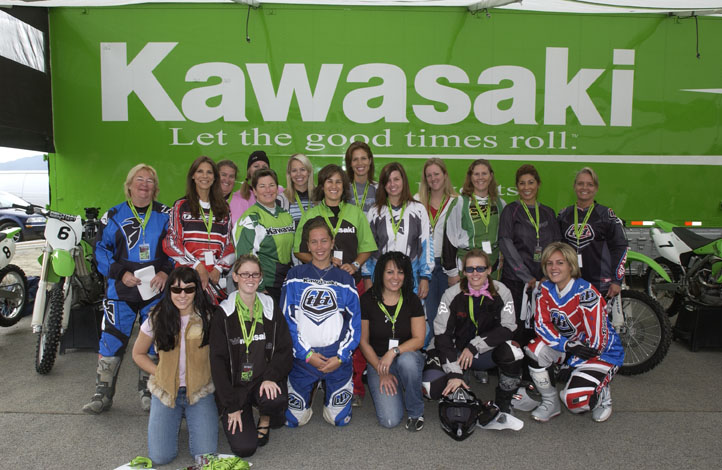 After meeting Grace in LaCrosse we tried to get together several times in California, where we both lived at the time, but her bikes were down at Kiwi Mike's garage being worked on all winter. When spring finally arrived, Kiwi told me that he and Grace would be attending a ride down to Borrego Springs with the Antique Motorcycle Club of America (AMCA). Every year the group honored one member for his or her outstanding life in the world of motorcycles. This year, they would be honoring Grace.
Kiwi invited me to join, and I knew it was a great honor to be included in this group of very prestigious and seasoned riders. I didn't understand the magnitude of that statement until I rode six hours through the hills in 30-degree pre-spring weather to try and find these elusive motorcycle connoisseurs. Even though I left at the crack of dawn and rode at warp speed, I nearly missed the group preparing to leave for the day's ride. I got there just in time to catch Grace pulling out of the parking lot. Once we were on the road, I was blown away watching these antique bikes and their owners setting out to ride some of the best hairpin roads in the country. Considering that many of the riders had a good 20 to 30 years on me, watching them ride those old classics like the wind was outstanding!
| | |
| --- | --- |
| Grace pulling out for a ride with the AMCA. | Even in this circle of riders, everybody stops to watch when Grace rides by. |
| Just some of the cool bikes and cars in the lot! | Have you ever seen anything quite so perfect? |
| This was the epitome of a spectacular bike because of its nearly perfect original condition and its rare marquee. | I was in awe watching these antique-motorcycle lovers talk shop and kick the tires. |
I didn't want to infringe upon Grace's special day with her friends, so Kiwi Mike and I stayed in the back of the pack on the ride. But waiting for Kiwi to get everyone's bike on the road taught me that keeping an old classic operational is a tricky endeavor. And Kiwi is the kind of guy who never passes by a motorcyclist in need, so we had a few courtesy stops throughout the day.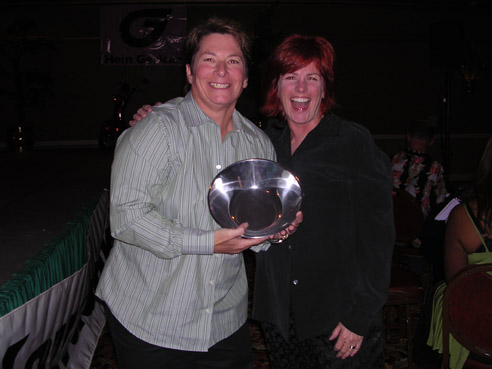 | | | |
| --- | --- | --- |
| Kiwi helping a rider get his bike running. | Finally, all bikes are ready to go… | …until another one needs some assistance. |
The day's ride was filled with empty mountain and desert roads, plus plenty of those hideaway dives that we bikers crave. A group of us stopped at the Lazy Lizard for a soda or two to keep mirages at bay!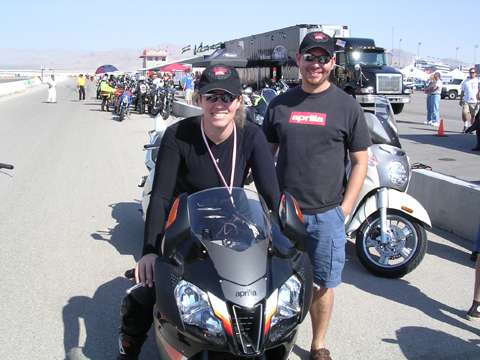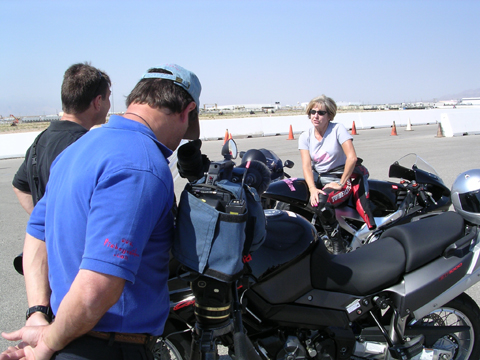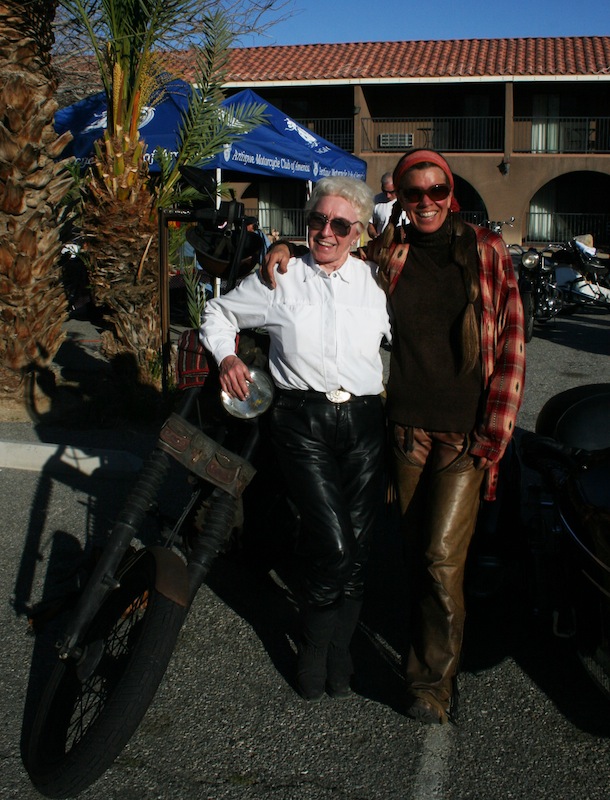 After the day's ride, we all sat down for dinner and a banquet, where Grace's friends took turns telling their favorite stories about riding with her over the years. Grace sat upfront under a picture of Marilyn Monroe with Grace's head superimposed. There was a lot of laughter and many heartfelt tributes to this woman who has touched so many people over the years with her grace, humor, determination and love of the sport. In her trademark humble style, Grace seemed awestruck that anyone had even noticed her.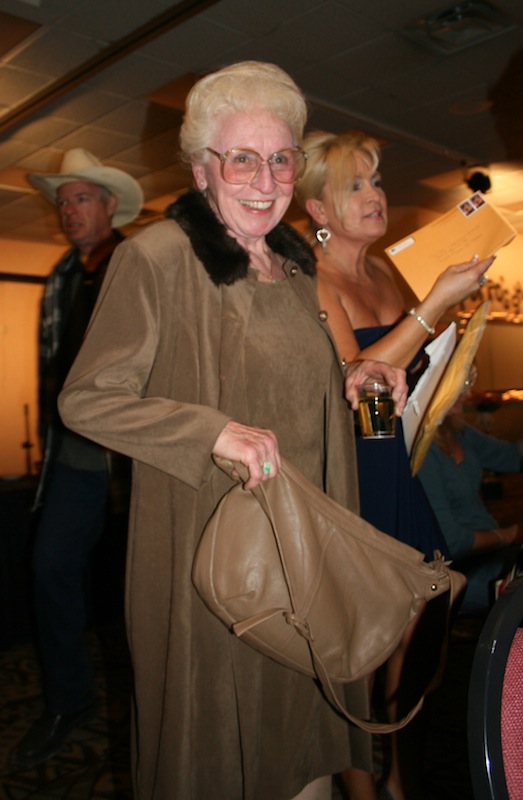 | | |
| --- | --- |
| Me (far right) posing with some of the AMCA riders. Kiwi Mike is to my right. | Grace kept the pictures from the banquet and has them on display in her garage alongside newspaper clippings of her many years of riding. |
It was impossible to talk with Grace at the AMCA event for more than a minute because everybody wanted her attention. So we agreed to get together for a ride and a chat sometime in the near future.
A lot of time passed before I had a chance to meet up with this fine woman again. I'd heard through the grapevine that Grace would be attending Big Bear Choppers' Ride the Mountain event, which the custom motorcycle manufacturer puts on every June. So I saddled up and went in search of Grace. I found her in the corner of the VIP room chatting with a friend. She was surrounded by the cast of "Sons of Anarchy," though I don't think Grace even noticed despite how wildly popular they are. Mona Alsop, co-owner of Big Bear Choppers, told me Grace often visited the shop to have her bikes worked on and promised she'd help me nail down Grace for a day of riding, talking and photo ops. I needed some quality time with her to hear her story, which I'd been anxiously awaiting since our first meeting at the S&S Cycle event.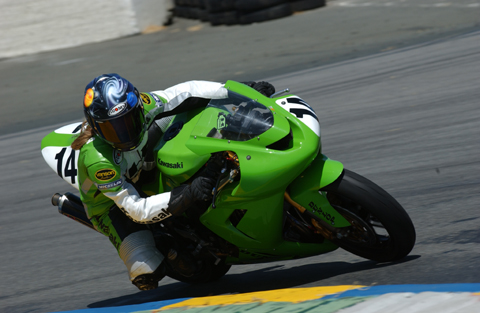 | | |
| --- | --- |
| Kevin Alsop (third from left), owner of Big Bear Choppers, with the cast of "Sons of Anarchy." | The cast of "Sons of Anarchy" in the VIP room. That's local artist Jeannie Houston Antes in the middle with one of her mosaic tile artworks behind her. |
Mona came through on her promise and set up a date with Grace that next week. I met Grace in the parking lot of Big Bear Choppers, took some fun riding pictures of her, and got a tour of Big Bear Choppers' impressive manufacturing area and showroom. After that, Grace and I took a scenic ride around Big Bear Lake and then headed to her mountain cottage in Running Springs for lunch and a little conversation.
| | |
| --- | --- |
| The showroom floor inside Big Bear Choppers. | Grace effortlessly riding her vintage Harley-Davidson 45 Flathead. |
| Grace, me, and Mona Alsop in front of Big Bear Choppers. | Grace posing in front of Big Bear Lake. |
Just walking through Grace's garage and hallway took me over an hour. I wanted to stop and look at every picture and piece of memorabilia telling the story of this incredible woman. Grace's place was previously owned by ministers who ran a youth camp. It was delightfully decorated like something out of "That '70s Show" and overlooked a beautiful little lake. While warming up some barbequed pulled pork, Grace fed the squirrels that waited just outside her door.
| | |
| --- | --- |
| Grace in front of her mountain cottage. | Grace feeding her friendly squirrels. |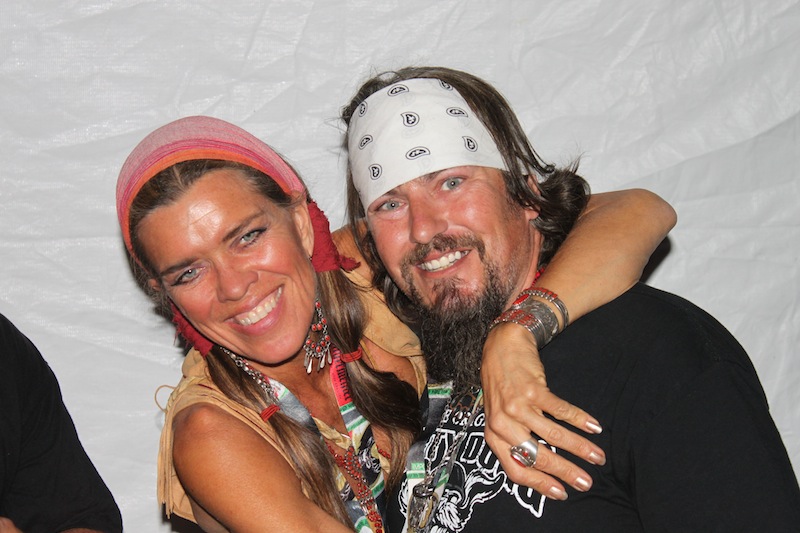 Grace rides a motorcycle like she is every bit as excited as the day she first rode one back in 1948 in Ringwood, Ill., population 196. Grace fell in love with her first bike at age 13, a 1947 Bonneville Chief owned by the guy who married her oldest sister. She never got to go for a ride on that one, but she really wanted to. Shortly after, her brother came home with a 125cc Harley-Davidson. After much begging, he finally gave in and allowed Grace to take the motorcycle out by herself.
Grace remembers sailing down the blacktop road and going over the state highway for the first time. She clearly recalls the freedom and independence she felt on that bike, knowing this would be her ticket out of that little farm town. Grace had a stutter when she was younger, which caused her to be painfully shy and have few friends. She still hasn't forgotten a third-grade teacher comparing her to her sister, telling Grace she would never amount to anything. Being on that motorcycle made her feel like she didn't have a care in the world. When her brother sold that 125, Grace knew it was only a matter of time before she would figure out a way to be on her own bike, steering her own destiny.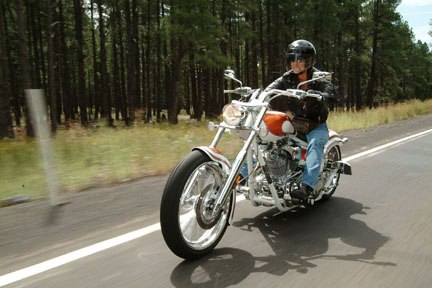 Grace started taking college courses at age 15. One afternoon she headed to Walgreens to look for a full-time summer job, telling them she was already 16 in order to get the position. Within three months, she was promoted to assistant manager of the soda fountain area at Walgreens. She saved every penny she earned, eventually opening up a savings account to save for a Harley-Davidson motorcycle.
At 16, she officially finished high school and promptly took another full-time job. She realized then that she was a workaholic. She put in 80 hours a week during the three summer months, sleeping an average of just four to five hours a night. All she did was eat, sleep, work and think about the Harley she would someday own.
On August 4, 1951, her 17th birthday, Grace requested a partial day off from work to buy her first motorcycle. She closed her bank account with a balance of approximately $400. She brought her older sister, Annette, to sign the sales contract, as Annette had just turned 18. Annette was not only her sister, she was Grace's best friend, and the two shared a love and enthusiasm for motorcycles.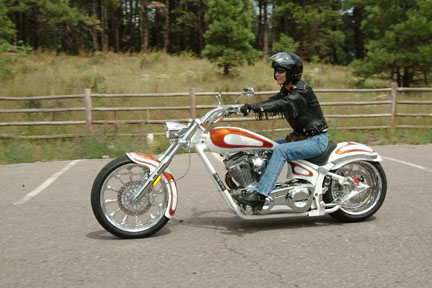 With her cash down payment and her sister's signature on the contract, the payments for Grace's brand-new Harley-Davidson 45 Flathead would be $31.41 for 12 months. Just like that, the bike was hers. Grace's dream had come true, and the world was hers to explore.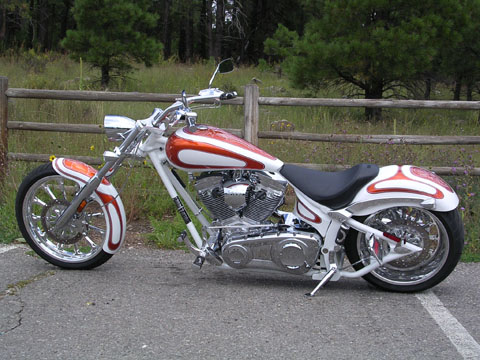 Grace was anxious to ride her new motorcycle, but she had to get back to her job as a waitress. So Annette rode the new Harley back home to Wheaton while Grace took a friend's car to work. That afternoon, while Grace was making sodas, she saw her sister ride past the restaurant's huge glass windows several times. Grace remembers thinking, "Please don't scratch my new bike!" She says the second time Annette rode past, she had a female passenger on the back that Grace recognized from school. Grace recalls being disappointed that her sister was already sharing the experience with someone else.
The third time Annette rolled by, she was riding solo next to a handsome guy on a 1950 Harley-Davidson '74 Hydra Glide. The female passenger had moved to the backseat behind a guy on another bike. Grace says she and Annette had talked for years of the day they'd ride motorcycles side by side and how they would eventually head to California together. That afternoon, Grace began to fear things would not go as planned. And she was right.
Annette married Carl, the handsome guy on that Hydra Glide, and the years that followed saw Grace riding with them and friends who were mostly couples. Grace felt like the odd woman out, but she didn't know of any clubs in the area. She never even saw another woman rider. But she enjoyed riding the roads of Wisconsin around Lake Geneva and Lake Michigan.
Eventually, in 1952, Annette and Carl did move to California, and it wasn't long before Grace followed. In 1956, she loaded up a new Chevy Bel Air she'd bought with savings earned as a secretary and had a tow bar rigged up for the bike. She drove out to California alone along Route 66, stopping at the Grand Canyon and the Petrified Forest along the way.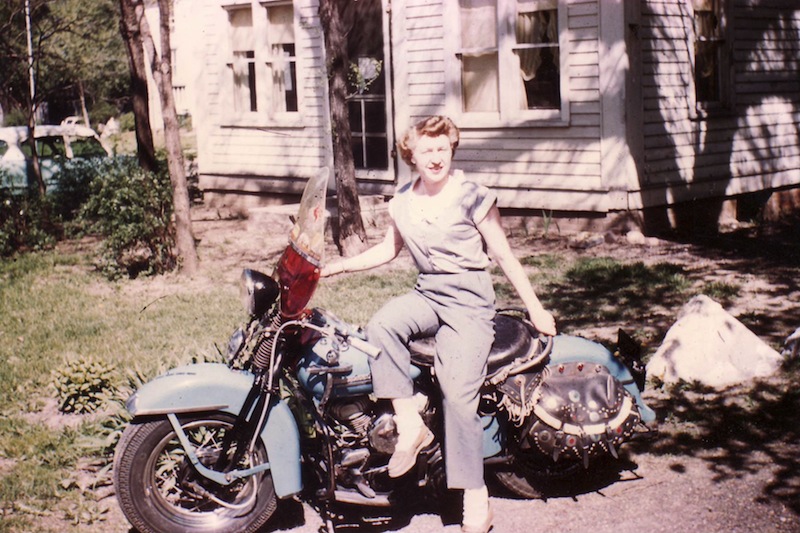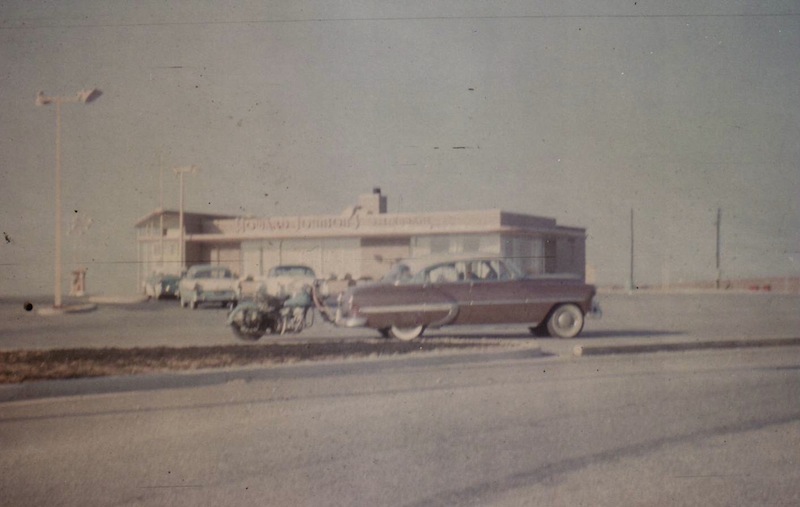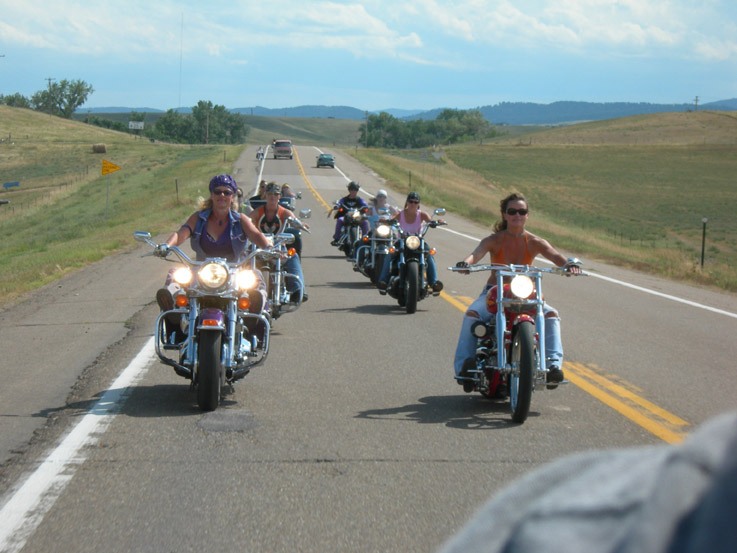 The story of this multidimensional 76-year-old woman continues, and I will share the rest in part two, which will appear in one month on WRN. I can tell you that there is not enough space to share all the stories I've heard from this incredible woman. Grace has lived, loved, laughed and cried. She has traveled the world and raised a family. She has been a motorcycle enthusiast as long as most of us have been on the planet, most of it during a time when riding was less than admirable for a woman.
Through the years and through all her road-born experiences, Grace has gathered much wisdom. She certainly has enough of it to know and enjoy simplicity. She recognizes her own sins and imperfections and strives to be a better person each day. She acknowledges that it is not possible to live a life without sin—that we were made to experience good and evil and have the ability to discern the difference. "You can't hide your thoughts or actions from God any more than you can hide them from yourself," she says. I asked her why she likes going to the Roadhouse biker church, and she told me she feels comfortable there and accepted for who she is.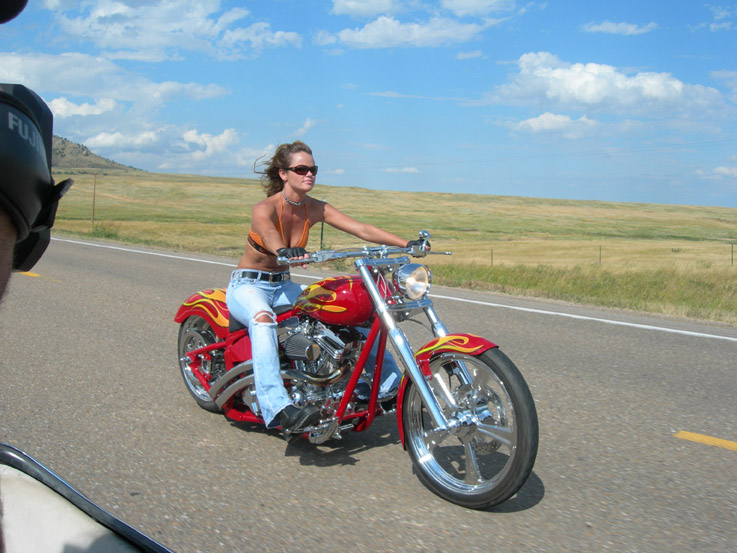 Tune in next month as I share the story of Grace's move to California, her world travels, her husband and children, and more on her motorcycles and the Roadhouse biker church.