If you set out to attempt something monumental lets say climbing Mount Everest but make itonlyto 24,000 feet, is your effort a failure? If you fall in love with someone and hope to grow old with that person, but they pass away, what happens to that dream? What happens when your dreams are not actualized the way you had them in your head?
Not everything in life goes exactly the way we plan or hope. If you have strong faith, you believe everything happens for a reason, so you take the good and look for the lesson, and leave the rest to blow away in the wind because there are some things in life you cannot change. You simply must find a place to put them. It is our ability to not only accept, but to work with what we are given, that ultimately defines who we are.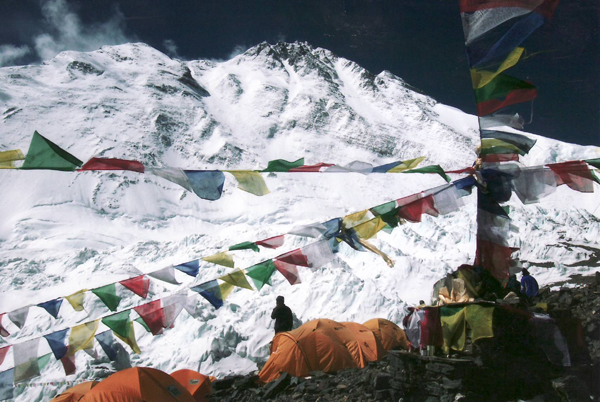 I did attempt to climb Mount Everest, and was having a difficult moment somewhere around 24,000 feet during the acclimatization process. I was hiking up between whats called the North Col and Camp 2 when I was asked by a member of Discovery Channels camera crew chronicling this expediton if this was the hardest thing I had ever done. I knew in three hours I would be eating dinner back at Advanced Base Camp (ABC) and feeling fine. I knew it would be another cold night in my tent extraordinaire, and I knew my freeze dried packaged dinner would make for a good snack at North Col on the way back. Freeze dried dinners might sound about as interesting as tree bark, but they taste damn good when youre famished. I had a strong appetite, I slept like a baby, and I never had a cough or nausea. Among the sea of climbers who were sick, sleepless, and losing weight at a rapid pace, I felt lucky to feel so good.
The climb from Advanced Base Camp up to North Col was extremely exhausting, but I managed to do it three separate times. The first time you tag North Col and go right back to ABC. The second time you spend a cold and windy night there. The third time you spend the night, and then continue on to Camp 2 the next day this is all part of the process of getting your body used to extremely high altitude. It was between these two camps where I just felt like I needed a good nap. So about every five feet, I took one. I just dropped to my knees, and then slumped down in the snow baking by the piercing hot sun. Quite often in the Himalayan vastness, there is no one in sight, so I figured a little catnap couldnt hurt. Apparently some people never wake up from these high altitude sickness induced naps on Everest, so its not such a smart idea to give into one.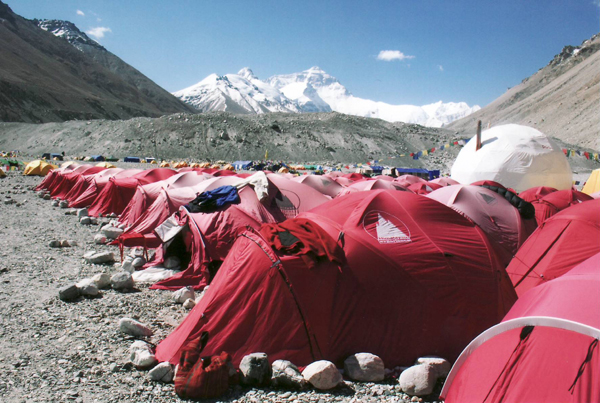 Heatwave at 24,000 Feet
It was an incredibly hot day, and the rule leaving North Col is to wear your one-piece down suit. Weather can change in a moments notice at that high an altitude, so to be caught not wearing the proper gear is not good. I had heard stories of sudden blasts of wind and cold that can happen in this section, so I was wearing three layers of clothes under my down suit. Being the skinny California girl I am, frostbite was my biggest fear. I met a lot of people with missing parts on that mountain, and it seems too high a price to pay for a mountaintop view. As it is, I am still upset about losing my big toenail. Its grown back halfway, but its lumpy and ugly. I tried to hide it under pink polish; even my new Payless sandals dont help. On top of that, my face was so sunburned from my treks up the North Col that my lips and nose were scabby sore. So, I had a complete hood over my face, and goggles to try and keep the blinding sun off of me as my best sun block just wasnt enough protection against the extreme rays.
I started the morning off in the food tent and almost passed out from the propane heating our food and water. Clad in my heavy, thick down suit, I started my way up that lonely slope to Camp 2. I swear to God, I thought I would be the first person to ever die on Everest from heat exhaustion. I had been praying for two months for global warming to reach the slopes of Everest, but this was ridiculous! Now I was praying for a cloud. Just one stinking cloud, or a tree, or a rock! I felt like a little piece of bacon in the worlds largest frying pan.
During one of my moments lying in the snow, I spoke these words aloud. "Lord, I feel like you have guided me here for a reason. I know you will not abandon me now. But I need your help. Can you not see that I need your help, and hear my prayers?" I closed my eyes harder as if concentrating could help my message be heard. Then I sighed. "And if for reasons I do not understand, it is your desire that I do not continue up this mountain, then have Russell [team leader, Russell Brice] take away my possibility to do so because I will not stop trying to go up this mountain."
A few moments later, mountain guide Dean and a cameraman came upon my delirious nap and prayer session. Dean suggested I return to ABC saying at my pace it would be another five hours before I reached Camp 2, totaling 10 hours of climbing. I told him I didnt want to turn back if it meant I would be giving up my summit chance. My time would be twice what Russell requires of his team members, but few climbers that day made the climb in five hours.
I hesitated, fearing this might be the end for me before turning around to start my descent to North Col, and then back to ABC. Going down is just plain fun compared to going up. A Sherpa named Phurba came upon me refusing to let me stumble down alone, so we literally ran down to North Col together. Within three hours I was myself again, and eating yak meat and cauliflower.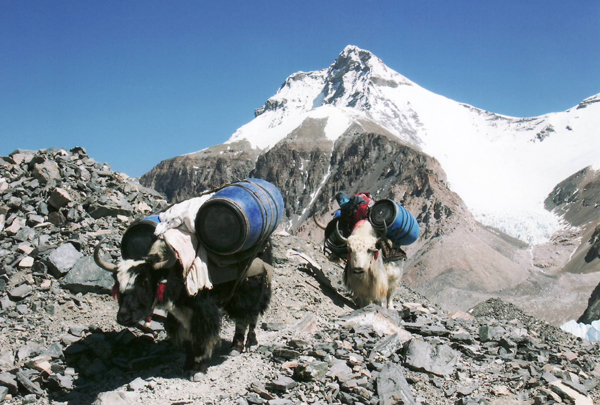 So is this the hardest thing I have ever done? In three hours I felt back to normal. How do you measure lifes hardest moments? Three years after the love of my life, Anthony, passed away, there is still a hole in my soul.
Previous Climbing Experience
A decade ago, Alan Burgess, owner of Camp 5 Expeditions, pushed me through more trying moments as he led me and my team members to lesser summits in the nearby Annapurna range. We left our tents many nights at 2:00 a.m. The snow was deep and soft. There were no trails so we broke our own sinking up to our waists in snow then kicking our way out. It was exhausting, but we laughed our way through it. I had no experience when I embarked on that expedition, but Alan took small groups, and along with his Sherpas, provided hands-on training. He even used a picture of me learning to use the ropes in his Camp 5 catalog for the next five years. I had such an amazing journey with Alan; I thought my expedition with Russell Brice would be just as rewarding.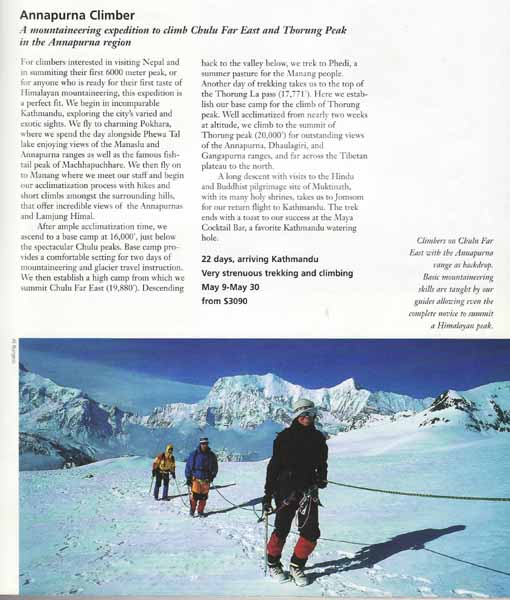 Alan appeared to truly love what he was doing. Russell Brice, on the other hand, has allowed his operation to grow so out of control that I dont think he sleeps or enjoys himself at all. In addition to overseeing the crew that filmed our expedition for the Discovery Channels "Everest: Beyond the Limit" series, he was also in charge of another Everest expedition being chronicled by Atlantic Films, this one about Mallory and Irvine, early climbers who attempted Everest. Our expedition included about a dozen climbers including myself attempting to summit Everest, and four groups of trekkers hiking to other parts of the mountain. There were more than 40 Sherpas, porters, kitchen help, and guides easily more than 100 people to watch over rendering him understandably frazzled. Russell wasnt even up at ABC or North Col while we were acclimatizing. He relied on his guides to report how things were shaping up above. Interest in his own patrons seemed minimal to me.
From the moment I asked to be a part of this expedition, my inspirational fellow biker, Tim Medvetz, never spoke to me again. I first met Tim when I interviewed him for an article for my "Backroads With Betsy" column on WRN. His determination in the first Discovery Channel Everest series that aired in the fall of 2006 inspired me to pursue my own dream of climbing Mt. Everest. When we arrived on the mountain Tim uttered just two sentences in my direction during the entire two months we were there. "Summit or go home!" and "If any bitch ties up the ropes in front of me, I'll just cut her off the line with my buck knife."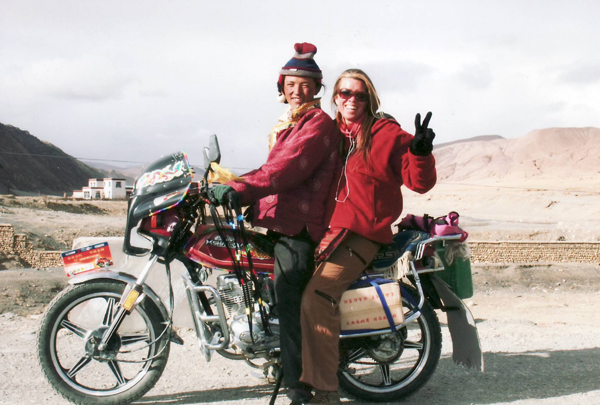 When I landed in Katmandu at the start of the trip, I could sense the guides had something against me. These people don't know me (nor did they want to), so I tried not to take it personally. One afternoon at Base Camp I found myself in the awkward position of walking by Bill Krause, one of the guides, on my way to the toilet. He was taking a whiz behind a small wall. I said apologetically, "Whoops, sorry Bill. I'm not looking!" He responded, "I don't give a fuck what you do." Honestly, I didn't know what to do with all of the love coming my way, so I just kept my mouth shut, and didn't do anything at all. I figured I would just try to do my best, and mind my own business.
I wasn't the fastest person on that mountain, but I also wasn't the slowest. People passed me, but I passed a few as well — people who were allowed to attempt and eventually make the summit. Feeling like I wanted to take a nap didn't scare me because I knew I wouldn't freeze to death. It just didn't occur to me that I wouldn't wake up from high altitude sickness. During last year's expedition, I observed Tim on the Discovery Channel documentary making a slow acclimatization climb and falling asleep in the snow. I figured I was just "pulling a Medvetz" when I dropped to my knees to snooze, and that I would be reprimanded. I honestly did not think it would cost me my summit attempt.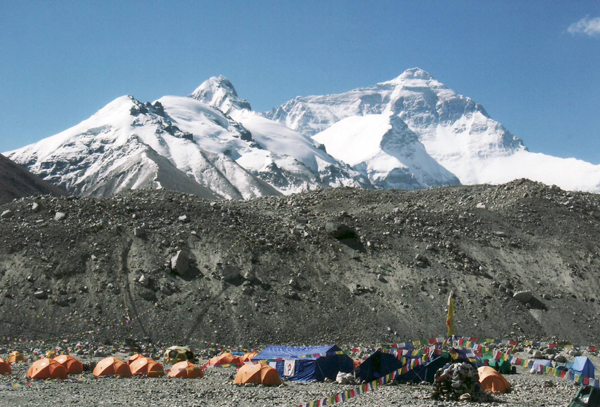 Dreams Thwarted
When Russell summoned for me to talk in his tent set up at Base Camp (with three video cameras in my face), he simply stated that I was too slow during my test climbs and that I was off the team. My heart dropped. My insides were churning. This felt so unfair. I still had so much fight left inside me. I hadn't even come close to reaching my "personal summit" yet. As Russell sat there giving me no choice in the matter, I sat stoicly silent looking back at him thinking of my conversation with God. I had prayed those words, "If it is your desire I do not continue, let Russell take my opportunity away." I could deny that prayer and argue with Russell on his decision, but would I be arguing with Russell or with God? If I did state my case and speak up like I am notoriously known for, and convinced Russell to let me attempt the summit, and then during my climb I lost all of my fingers and toes like Gerard did last year, I would have no one to blame but myself for my own pride, stubbornness, and stupidity.
Of course I wanted to summit! At least I wanted to try. Early on in the expedition, Russell accused me on camera of misrepresenting myself after I needed help with my harness and crampons. It had been a decade since I'd seen this equipment, and yes, I needed help getting it right the first time. So what? In the first paragraph of my letter to Russell Brice asking if I could be on the 2007 team, I opened with my lack of experience.
That paragraph reads: "Hello Russell. I do not know if my experience level will meet your qualifications. I've been to Chulu Far East, and Thorong Peak in the Annapurnas with Al Burgess of Camp 5. You may know him as it would seem you have a lot in common. I have worked on both pro and national ski patrol for more than 10 years, so I have a considerable amount of advanced first aid on the mountain. I have done loads of trekking all over the world — Milford Sound in New Zealand, and Machu Pichu in Peru — but I believe the highest Al took us was around 20,000 feet. I have been a serious athlete my whole life, and have worked as a personal trainer most of my adult years. I am a first degree black belt in Kung Fu San Soo, and I've been diving in nearly every ocean. My mental strength supersedes my physical strength, and at 46, I am in the best shape of my life. I won't bore you with my life story. I just don't want to waste your time if I wouldn't meet the qualifications you look for on this particular expedition."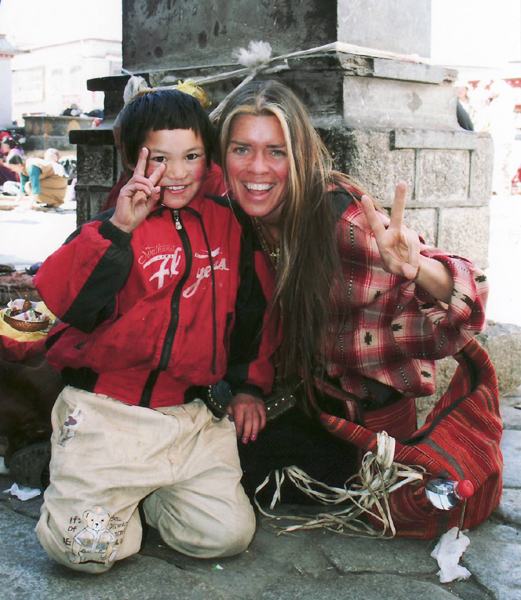 Russell Brice usually requires that a climber has seen a summit of at least 24,000 feet. He knew I had been on one climbing expedition in my life. He knew it was a decade prior, and he personally knows Al Burgess, so he could have contacted him regarding my skills. But he wrote me back immediately, and visited America and met me a week later. He concluded our meeting by saying if I could come up with the $42,000 needed to be on the team, I was in. When I couldn't come up with the 42 grand and the deadline was looming just over two weeks away, Russell dropped his price to $22,000 to help me make it happen. And I did. So where did I misrepresent myself? I do not drink, smoke, or do drugs. I don't lie, cheat or steal. I didn't and don't misrepresent myself. In fact, I choose my words very carefully. If my lack of experience was so unacceptable for this man, then why had he taken my money, and welcomed me to the team?
So, there I was facing this man telling me I'm off the team. There's no discussion. His face is without compassion. I am feeling ganged up on and defeated. This is a once in a lifetime opportunity for me, and with such ease he is taking it away from me. If it is possible that he cared about any of this, he never showed it. My bottom lip was shaking, and my eyes were welling with tears. I told him I respected his opinion, then turned around and ran back to my tent to cry like the girl that I am.
Russell told me I could go back up to ABC, and stay until the end of the expedition, since it was paid for. No shit. But when a porter named DoGee came to my tent and offered to help me carry my things back up, Russell had a temper tantrum and threw my bag across the ground. He accused me of expecting his porters to do everything for nothing. DoGee became my good friend the first day I arrived at base camp. He came to my tent every single day with a huge smile on his face that made me remember why I come back to Nepal and Tibet time and time again. Every day he would ask me if I needed anything. He also offered to keep me warm each night, too, but I graciously declined. He learned early on with every visit he would either inherit something out of my tent, or if he helped me I would slip him $20. It got to the point where a few other porters would try to beat him to the punch, because they all could use the money. In addition, I left nearly $10,000 worth of brand new mountaineering gear between a few of the Sherpas. After having a difficult time raising $42,000, I guess Russell assumed I would be cheap. He could have a taken a kinder, more gentler approach with me before assuming the worst and throwing my things and insulting me, but he didn't. I never even received a handshake or goodbye from him the day we all left Base Camp on the last day of the expedition.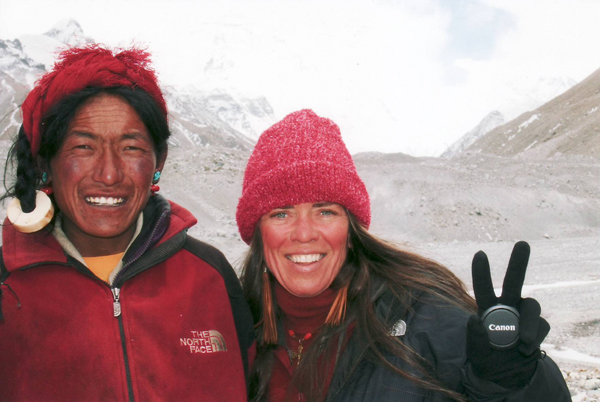 So, that's my Everest story. Not the story I thought I would have, but the story I ended up with. I never feel that God abandons me when I don't get my way. And I never abandon my faith even when I feel most lost. I know it is at those moments that I have the greatest opportunity for growth. You can't always get what you want. But, if you try sometime, you just might find you get what you need. Was it Einstein who said that? OK, it was Mick Jagger. I AM trying. Good Lord, I promise you I am trying to see what I was supposed to learn from that experience. I know there are a lot of people who feel a person who attempts to climb Everest should have more experience than I do — that I hadn't paid my dues. But a blind man, a double amputee, a 71-year-old man, and a 17-year-old high school girl from Long Beach have seen the summit of Mount Everest. I felt strong enough to try, and Russell Brice let me on his team knowing my experience.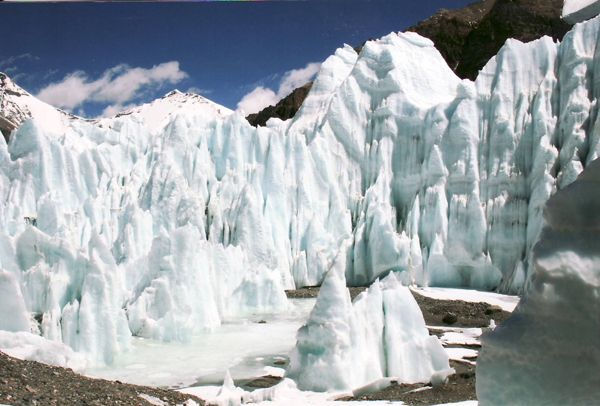 If there is a dream in my heart, I just do it. If I want to learn how to swim, I jump in the deep end. When I bought my first motorcycle, my friend said one down, three up, and I was off. Would it be safer to take the motorcycle training classes first? Absolutely. I bought a new computer this week, and just dumped it out of the box and started hooking things up. Could I have saved some time and frustration by reading the manual? Absolutely. I don't always do things the way people think I should — and I do make a lot of mistakes, but I learn from my mistakes, and I try again. Or, I get side tracked and I'm off trying something else.
I worry there might not be enough time for me to try all of the things I want even if I live to be 120. I might not do everything "right," and I might not succeed in the manner in which success is interpreted, but I can tell you this. I will march to the beat of my own little drum. Why would I want to march to anybody else's? I will have tried to the best of my abilities to actualize every dream in my heart.
So What Matters Most?
Does it matter to me that I didn't see the summit, or that those guys were mean to me? I actually felt worse for my friend Josette, who was also part of our team. She's a mountain guide from Switzerland who deserved to see Everest's summit and wanted it so much more than me. When she returned to camp after her failed attempt between Camps 2 and 3, I asked her what went wrong. Through tearful eyes, she conveyed in a thick accent that she lost her chance to summit because of a communication breakdown between her and Russell over the two-way radios Russell requires his climbers to wear when attempting the summit. Her words to me were, "I've been lost in translation," referencing the title of the DVD movie we all just watched at Base Camp the week before. I could feel her heavy heart all the way back to Katmandu.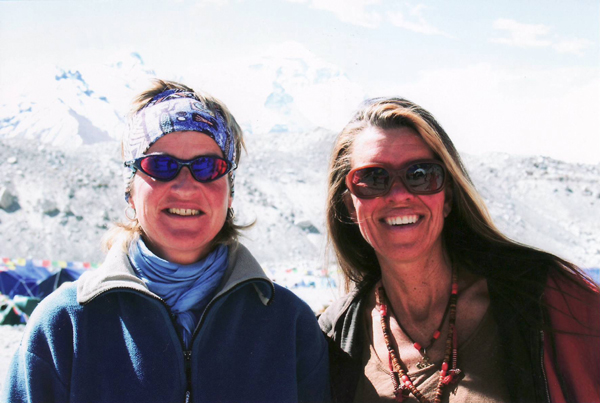 If I could change the course of things and have only one of us make that summit attempt, I would gladly give the opportunity to Josette. What matters to me is lying at my feet right now. It is July 4th, and my blue-eyed, white Siberian Husky named Ute is sleeping on top of my 10 toes, and nine and a half toenails. I am writing this article with my 10 happy fingers. It's a perfect California day, and I've got plants that need attention in the yard. I've got exactly three weeks before I leave for the Sturgis rally, and perhaps the Hollister rally next weekend. I am anxious to get to the Midwest to see all of my family and friends. My thanks go out to Linda, John, and Paul Sharp, whom I met on the mountain at the beginning of this journey, for their strength and inspiration. My journey began with them reminding me that I already have what I thought I was looking for. They helped me realize what matters most — that there is no place like home. It's not what you look at that matters most, it's what you see.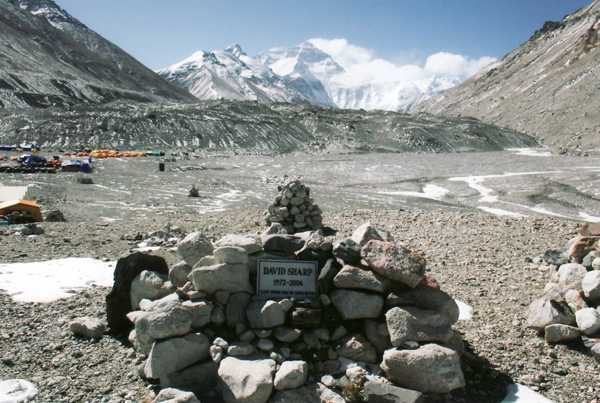 Of course, a most special thanks to everyone who rushed to help me make this dream come true. You know who you are. From the big financial contributions to the overwhelming emotional and spiritual support, I thank you from the bottom of my heart. I appreciate it more than mere words can express, and do not, for one minute, take for granted how lucky I am to have so many people who believe in me.
To learn more about Betsy, visit her Web site at BetsyHuelskamp.com.