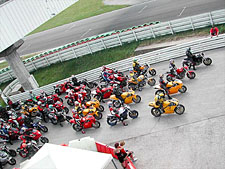 Ducati Northwest, an exciting motorcycling event in the Pacific Northwest, returns in early August. The weekend-long motorcycle extravaganza, sponsored by Ducati and Motorcorsa (a Ducati dealership in Portland, Oregon) will begin on Friday, August 10 and run through Sunday, August 12 at Portland International Raceway.
The event is expected to draw thousands of riders and will incorporate track time, food, music and more. DNW2007 offers something for everyone. Friday features a Ducati-only Track Day at Portland International Raceway. Saturday, the fun continues at PIR with the DNW2007 main event food, drink, fun and games and thousands of motorcycles. Sunday, several Sport Turismo rides launch from the city of Portland in every direction.
Throughout the weekend, Ducati AMA and World Superbike Champion, Doug Polen will be on hand to sign autographs and exchange racing tips. Also, there will be an opportunity to meet long distance riding record holder Gary Eagan and Ducati North Americas CEO, Michael Lock.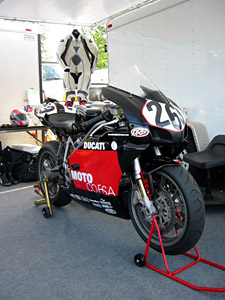 The DNW2007 Industry Expo will be also be a big attraction of this years event featuring many high-end Ducati partner vendors. The entire range of Ducati Performance accessories and apparel will be available for purchase along with commemorative DNW2007 souvenirs. Enthusiasts will have opportunities to win several prizes, including a chance to ride in a Ferrari around PIR and, the grand prize, a trip for two to the 2008 U.S. Moto GP event of choice.
Whether youre a dedicated Ducatisti or just a fan of motorcycles in general, Ducati Northwest 2007 is a three-day celebration of motorcycling where riders from across the country can experience and celebrate the passion of Ducati. For more information, please visit DNW2007.com or DucatiUSA.com.