Renowned licensed Harley-Davidson artist David Uhl presents his latest work "In Tune" representing Elvis Presley kicked back enjoying a glorious Memphis spring morning. This artwork captures Elvis outside his new home Graceland tuning his original Gibson J200, (before its re-configuration). Behind him stands another embodied passion, the legendary 1957 Harley-Davidson Panhead.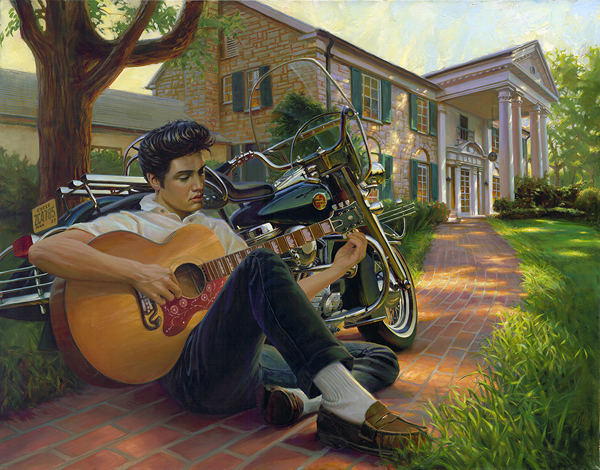 This is the first depiction combining two of Americas most important icons in one painting. Endorsed by both Harley-Davidson and Elvis Presley Enterprises, the historical magnitude of this project suggests that a series of limited edition reproductions be created. In order to accommodate the immense potential interest generated by this image, the following edition specifications will be offered.
A large edition (24″x30″) will number 350 with 50 artist proofs. Price is $1,850 framed. An exclusive overized edition numbering 50 will be added, which duplicate the actual size of original (36″x46″) along with 25 artist proofs. That price is $4,500 framed. All print editions will be reproduced in the finest quality giclee on canvas and arrive beautifully framed with seamless miter joints. The oversized edition will be outfitted with a special custom hand-gilded frame.
All prints will also be hand signed and numbered and accompanied with a certificate of authenticity. A decorative brass plaque displayed on the front center of the piece will be inscribed with the name of the painting and release date. All prints will be sold through Graceland Harley-Davidson and be official licensed products of The Motor Company and Elvis Presley Enterprises. The original is 36″x46″ oil on linen and framed with a two-piece composite hand-gilded moulding.
As with all David Uhl releases, prints are sold on a first-come first-serve basis and prices will be raised on the prints as the editions are depleted, so interested parties are encouraged to act quickly. Contact A.R.T. Inc., 303.948.1088, 866.985.9989, ext. 3; art-inc.biz