Renowed Harley-Davidson artist David Uhl is releasing his newest piece, "Playin Around." Uhl Studios designs the T-shirts for the Muscular Dystrophy Association that are sold at the Harley-Davidson dealer conventions each year. This particular image was featured on the shirts for this summers meeting in Nashville and its become the most successful selling shirt ever at a Harley convention.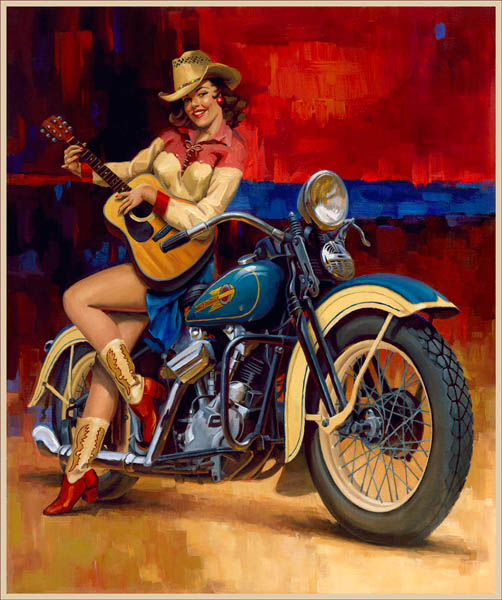 This is the first of a series of these "pin-up" types of pieces. It will be a very limited offering according to Uhl Studios, so those who are interested in purchasing a print are encouraged to respond quickly.
David has been creating fine art Harley-Davidson paintings for almost two decades. Many of his prints have gone on to become collectors items commanding much more than the original price. Many of his paintings feature women and women riders. David is currently working on a new image to add to his women rider series of paintings.
"Playin Around" is being offered total of 35 canvas prints, all signed, numbered with a Certificate of Authenticity. The approximate image size 20 inches x 24 inches, with a price of $1,250 framed, plus shipping
For more information visit UhlStudios.com or call 303.948.1088, or 866.985.9989, ext. 3 and speak with Greg Rhodes. greg@uhlstudios.com