Robert Pandya, responsible for the Aprilia brand sponsoring Femmoto (www.femmoto.com), an all-womens track and demo day, is being promoted to product manager for the companys new off-road products. Robert worked as Aprilia and Moto Guzzi public relations manager for the last six years and is credited for spearheading the effort to have Aprilia sponsor and provide demo motorcycles at the 6-year-old Femmoto event starting in 2002. Robert is a strong believer in the growth and impact of the women's market. By having Aprilia motorcycles at Femmoto, hundreds of new women riders were exposed to the Italian-made motorcycles.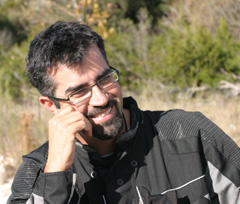 Roberts new responsibilities include working the sales area of the Aprilias new off-road division. He says he will continue working in the marketing side, but his main focus will be on the 45.2 motor series as seen in the Aprilia SXV and RXV motorcycles. "I have only been riding off-road for the past three years, however my first ride set the hook deep, and I very much look forward to being focused in this one area."
Public relations for Aprilia street and scooter products will be handled by Mike Kull formerly of Ford Motor Company and Harley-Davidson. Mike will be working out of the Piaggio Corporate office in New York City. Responsibilities for the MotoGuzzi product has been transferred to Federico Musi who many know for his work with Vespa.
Best of luck Robert in your new endeavor. Well miss working with you. To read more about Aprilias off-road division, visit www.aprilia-offroad.com.