New sponsors have signed on and registrations are pouring in for the AMA Women amp; Motorcycling conference to be held June 30 to July 3, 2006, in Athens, Georgia.
Women Riders Now signed on as a featured sponsor of the conference. "We are very excited to be part of this upcoming womens event," said Genevieve Schmitt, president of Women Riders Now, a marketing and consulting company that focuses on women and motorcycling, and publisher of WomenRidersNow.com. "Our online magazine is all about women riders; its just smart business to sponsor the AMA Women amp; Motorcycling conference, an event that caters directly to female motorcyclists."
Another new sponsor is Nationwide Mutual Insurance who signed on at the platinum sponsorship level recently.
Schmitt will be on the panel entitled "Inspire Me," one of more than 10 panels/seminars being held throughout the course of the 4-day conference. "Inspire Me" focuses on women whove made a career out of motorcycling.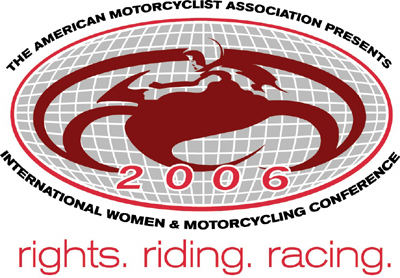 The emcee of the "Inspire Me" panel is Jenny Lefferts, founder of MAD Maps, a motorcycle map-making company. Lefferts is leading a group of riders from San Francisco to Athens for the conference with the ride commencing on June 23, 2006. Lefferts says there will be a chase vehicle to carry luggage. She and her group plan to arrive in Athens on June 30th. Anyone wishing to join this west coast group either at the start or somewhere along the way, can contact Lefferts at jenny@madmaps.com. You can read more about Lefferts and MAD Maps on the Company Profiles section of this online magazine.
Were told the conference is now accepting one-day registrations for those who do not wish to attend all three days. Visit www.womenandmotorcycling.com for more information on the conference.14