It came as no surprise to me when I called Greg Hart, Riveras producer of 20 years, that I would once again hear an emphatic, "Sure, well help." There was no doubt Id once again stumbled onto more "really nice guys." My miracle men expanded faster than "Hot Flashes from Heaven" to include Greg and Geraldo and then, finally, CdAs Kootenai County Prosecuting Attorney, Bill Douglas. "Sure, Ill help," was his delighted reply when I told him I needed him to phony up a reason for a press conference to get Steve and Shasta in front of Riveras live cameras for the surprise custom motorcycle reveal.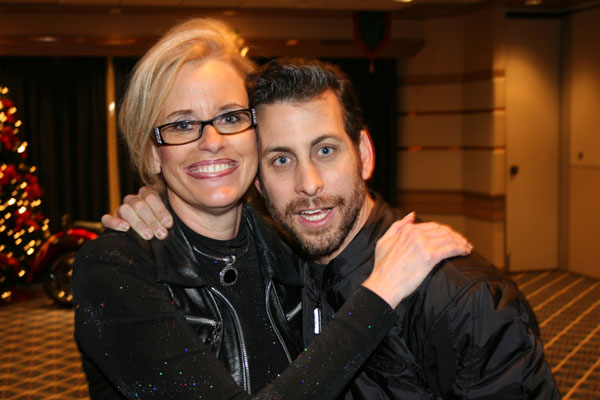 The DA, who has become a close personal friend of the Groenes, proved to be you guessed it "a really nice guy" and yet even a really nice lawyer has his limits. Douglas declined to out-right lie to the Groenes. In turn, he merely told them they needed to be present at the press conference for a "surprise announcement."
How appropriate that the wildly-painted Latus Motors trailer bearing the Perewitz custom would stealth-fully sneak into the five-star Coeur dAlene Resort Hotels back parking lot in the ultimate season of giving. It was Christmas and time for my miracle men to unwrap their package.
Steve and Shasta stood beside the DA between two of the Resorts Christmas trees as the local media, whom Id just sworn to secrecy in a private press debriefing, recorded Harts every move. His fingers counted down as Rivera, via live feed to New York City, prepared to play Santa Claus. Douglas began by saying he had "something special…"
"Something special." Those were the code words Id waited nearly a year and a half to hear. At those words, I threw open a double door and signaled Perewitz to start his engine. The roar of the pipes reverberated down the halls of the five-star hotel, which had given us special permission to hide the bike in one of their closets and rev it to life on their posh carpets.
"Wait, whats that noise?" hollered Rivera above the noise acting like he didnt know what was going on. Steve and Shasta looked on in shock as the electric red, yellow, orange, purple and pink Harley in all its chopped, dropped, flamed, raked, chromed and altered glory, roared into the press conference with Perewitz driving and Latus and Maida walking right behind him. As they passed me, Latus and Maida scooped me up in their arms to join them, like conjoined triplets, behind the bike. The raw emotion, the joy of generosity unleashed, rippled between the three of us and sprung like geysers out our eyes and smiles.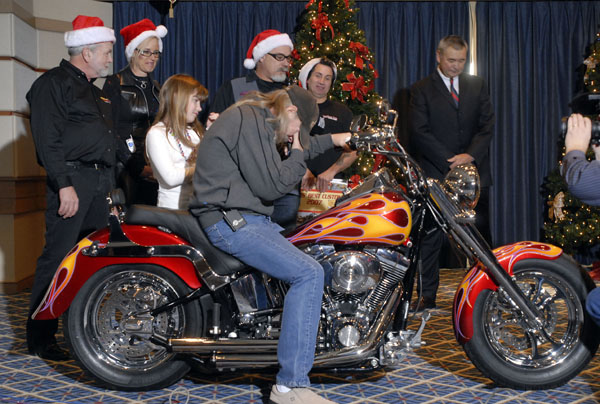 Perewitz kept his cool as he looked straight at the speechless Groenes and explained who he was and what on earth we were all doing there. Before he could finish, Steve buried his face in Douglas massive chest, his tears hidden by the back-length greying hair hed sported for decades. "The gift of a lifetime," Steve would call it and even the mechanical sound of the electronic voice box couldnt rob him of the emotion in his words as little Shasta climbed on board the bike all by herself and, with instructions from Perewitz, revved the pipes to the rafters.
Less than two months later, Groene would loose every shaft of that hair to yet another round of chemo as he continues his battle with the cancer. But he says that when hes feeling his worst, all he has to do is go to the garage the bike is stored in and turn on the lights. "This spring, I plan to take the bike and visit my boys," he recently told me referring to his sons final resting places.
Shasta said the bike has special meaning to her as well. "I'm just glad to see my dad happy," the now 10-year-old told me with insights of someone much older. Trust me; theres definitely a reason that the Bible says its more blessed to give than to receive. The joy of giving was palpable in the room this past holiday season, making it a Christmas like no other for all of us. And I was the greatest beneficiary of all. Steve and Shasta might have gotten the bike of a lifetime; but I got the front row seat to watch "My Miracle Men" do what they do best. Heres to the power of motorcycle moguls with mega hearts!
Interested In Steve Groenes Reward Bike?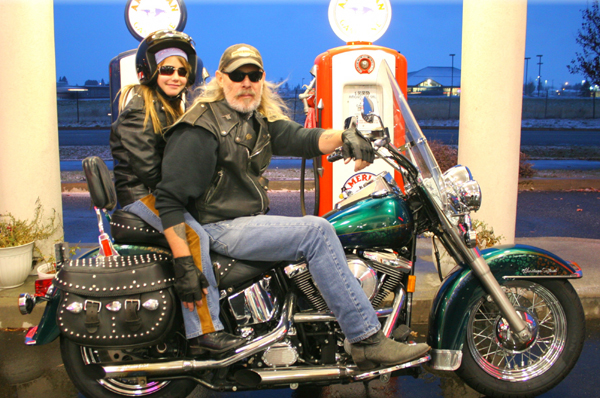 Email groenebikeraffle@hotmail.com for more information on how you can get a chance at Steves 97 Heritage Softail H-D which hell be raffling or selling this spring to disperse the funds as a reward.
Want To Help
Donations to help Shasta and Steve Groene, who is still unable to work due to cancer, may be made to:
Windemere Foundation
1000 Northwest Blvd.
Coeur dAlene, ID 83814
Local realtor Midge Smock from Coeur dAlene Realty is working on getting the Groenes a home of their own. For ways in which you can help, contact her at midge@cdareality.com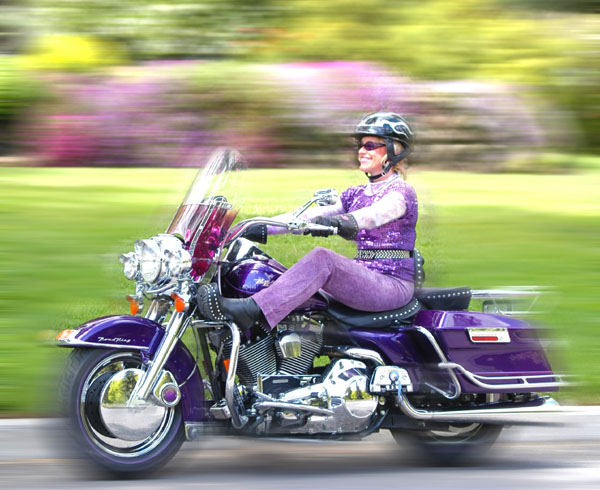 Ronna Snyder is a freelance writer whos work has appeared in Todays Christian Woman, Hog Tales, and Woman Rider. She just completed her first book, "Hot flashes from Heaven" (published in Jan. 2008 by Harvest House Publishers), which features midlife insights, many of which she received while riding her Harley-Davidson Road King. In addition to freelance writing, Ronna has led Bible studies at churches and homeless shelters using her purple "King" as a stereotype-busting conversation-starter. She may be reached at jcleaveronahog@gmail.com.