I was not alone those seemingly endless days in May of 2005. The poignant plea captured a nation, headlining everything from national newscasts to Geraldo Rivera. Like others, my heart broke as I watched Steve Groene, a Coeur dAlene, Idaho, father, pleading desperately for the safe return of his two children, 8-year-old Shasta and 9-year-old Dylan. As a fellow biker, I couldnt ignore the motorcycle ball cap he wore each time he was on TV.
The Amber Alert had sounded across the country as horrified viewers heard the grizzly details. Someone had broken into the rural North Idaho home of Groenes ex-wife, Brenda Matthews Groene. the perpetrator had zip-tied, Duct-Taped and bludgeoned her, her fiancé, Mark McKenzie, and the two childrens 13-year-old brother, Slade Steves other son to death. Slades body had been found lying poignantly at the feet of his mother.
A tsunami of blood mapped out the courageous fight the three had made trying to stay alive. But there would be no clues as to what had happened to the two remaining children; no iota of evidence that would point police to the person or persons who could commit such a heinous crime in the bucolic meadows outside the sleepy lakeside town of Coeur dAlene (CdA).
And so, like any distraught father would do, Steve, called a press conference. Again, he wore the ball cap as he announced that, in return for information that would return his two children alive, he would give his 97 Harley-Davidson Heritage Softail as a reward.
Even a non-biker could read between the lines of his offering by the pain in the mans voice; the ache etched on his face. This motorcycle had to be the most valuable thing the man owned. But fellow motorcyclists like me instantly understood the even deeper ramification of what that particular reward represented. What Steve Groene was willing to give away to get his children back: Anything. And everything. As a mother, I understood.
As a neighboring North Idaho biker, I thought to myself, "Not if I can help it." I made a decision then and there, that should the Groene children be returned alive and should Steve have to give up his bike as a reward, I'd do whatever I could to get the poor guy back on two wheels. Little did I know it would be I who would receive the greatest gift of all.
Wheels in Motion
Six weeks later, convicted pedophile Joseph Duncan appeared in a late night CdA Dennys restaurant with Shasta. (Shasta would later tell police that Duncan had murdered her brother Dylan in front of her at his hidden campsite in the remote Montana mountains where hed repeatedly violated the children.) Four bystanders two restaurant customers and two restaurant employees recognized the little girl from the extensive publicity and called police. They would lay claim to the substantial monetary reward (a little over $100,000) offered by federal and local law enforcement agencies soon after Groene had publicly offered up his bike.
It was time to start "working the phones" to fulfill the promise Id made to myself. Time for me to begin networking "moto-moguls" I would soon dub "My Miracle Men," each leaders in their own little corner of the motorcycle world, and each, I would quickly find out, with hearts fully-chromed in solid gold.
A chance assignment for a regional motorcycle newspaper covering a Groene biker fundraiser would introduce me personally to the grieving father and his gutsy daughter, Shasta. A friendship of sorts resulted. Id find out that Shastas passion for pink rivaled my own pre-occupation with purple. Together, she and I would tease about her someday riding my grape-colored Road King. Neither she nor her dad had any idea that, at the time, I was already working on getting them a replacement motorcycle for the one he was offering up as a reward.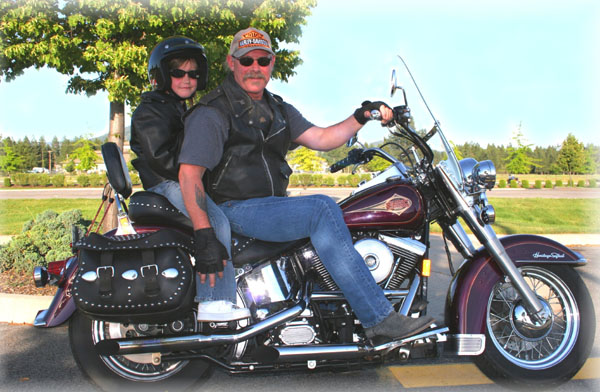 A phone call to another connection, my friend WomenRidersNow.com publisher and editor Genevieve Schmitt, opened the door. Genevieve knows just about everyone in the motorcycle biz and two sentences of hers quickly got the ball rolling. "Call Chris Maida," she said. "He's a really nice guy." It wouldnt be the only time Id hear that last sentence spoken about the editor of American Iron magazine. It would become a common denominator among each one of my miracle men who would breathe reality into the cliche that when a fellow biker is down and out, others rally to help.
Groene was about as down and out as it gets. Within weeks, he was diagnosed with cancer of the larynx, then lost his job due to the many chemo treatments over the following months.
"Sure, Ill help," was Maidas no-hesitation reply when I told him the story of the Groene tragedy. Maida soon speed-dialed Massachusetts premiere custom bike builder, Dave Perewitz. "Call him," he said, repeating Genevieves phrase-ology, "Hes a really nice guy." One mogul down. Another one to go.
What happened when Ronna phoned Dave Perewitz? Click here to read Part 2 of "A Motorcycle Miracle."