Justice is on its Way
If youve been following the tragic motorcycle accident that happened in Phoenix two weeks ago, and that I blogged about in last months blog entry, youll be happy to read this press release I just received from the AMA.
AMA Press Release: Sanitation truck driver charged in Phoenix motorcycle tragedy
The sanitation truck driver who ran into the back of a group of motorcyclists stopped at a stoplight in Phoenix on March 25 killing four of them and injuring five others has been arrested on suspicion of being under the influence of methamphetamine at the time of the crash, the American Motorcyclist Association (AMA) reports. Police arrested truck driver Michael Jakscht, 46, on April 6 and booked him on four counts of manslaughter, five counts of aggravated assault and seven counts of endangerment. Initial toxicology tests on blood drawn from Jakscht on the day of the crash show he had the illegal drug methamphetamine in his system, according to police. He could face an additional charge of impaired driving, police said.
Motorcyclists who died as a result of the crash were Daniel Butler, 35; Clyde Nachand, 67; Stephen Punch, 52; and Dale Downs-Totonchi, 47. Another motorcyclist, Phoenix Fire Capt. Ernie Lizarraga, 52, remains hospitalized suffering from injuries sustained in the crash. "We commend the Phoenix Police Department for its diligence in pursuing this case, and for getting the initial toxicology results as quickly as possible," said Ed Moreland, AMA vice president for government relations. "We understand that toxicology results normally take about six weeks to process, and the police were able to get initial results in this case in just two weeks.
"We again express our condolences on behalf of the AMA and its members to the families of those killed, and hope for a full recovery for those injured," Moreland said. "We will continue to watch this case closely."
Posted 4/5/10
Be A Harley-Davidson Model! Casting for MotorClothes Catalog This Saturday
Harley-Davidson is casting for models, real riders types, to be in its next MotorClothes catalog. Click on the image of the casting call poster below for all the details.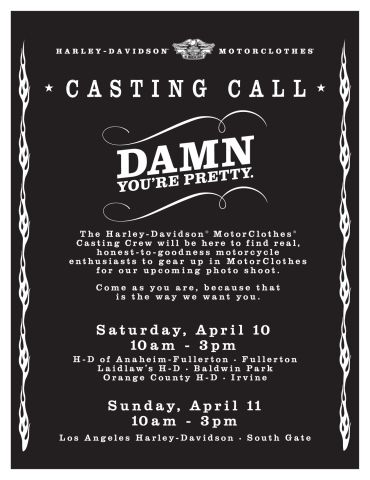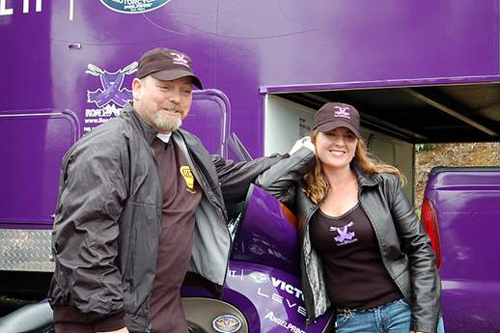 One Man, One Motorcycle and 42,000 Miles On the Road 2 A Cure for Pancreatic Cancer
OK, its not news about women and motorcycling, but a woman is right there by this guys side. As a 6-year pancreatic cancer survivor, Chris Calaprice is fed up with hearing that pancreatic cancer is a death sentence. He is a survivor, and there are others, but there should be more. Actor Patrick Swayze should still be here. Renowned lecturer Randy Pausch should still be here too. Pancreatic cancer, the fourth leading cause of cancer deaths, receives less than 2 percent of the National Cancer Institutes annual budget. This statistic was so appalling to Chris that he is staging a 9-month-long awareness motorcycle tour and receiving his chemo treatments on the road. Yes, you read that correctly. Chriss doctor, leading oncologist and pancreatic cancer specialist Dr. William Isacoff of Los Angeles, will fly out to meet Chris on the road every 8 weeks to administer his chemo treatments throughout the course of this grueling 42,000-plus-mile motorcycle tour through all 50 of the United States. Here is at right with his wife, Jennifer.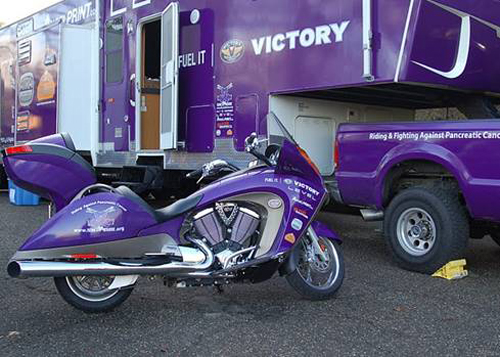 So why 42,000+ miles? "I am riding one mile for each person in the U.S. who will be diagnosed with pancreatic cancer this year alone," says Chris. "You know that old saying knowledge is power? Well, knowing you have pancreatic cancer early and finding a specialist gives you the power to act quickly so you dont die, quite frankly." Hooray to Victory Motorcycles for sponsoring the loan of a 2010 Victory Vision ABS for Chris ride. Visit Road2ACure.org to learn more including how to donate, and where Chris and Jennifer will show up next. If you cant donate financially, you could reach out with a home cooked meal if theyre coming your way.
Interesting Motorcycle Related Reading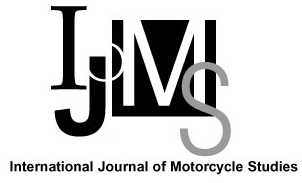 The Spring 2010 issue of the only peer-reviewed journal devoted to motorcycling is now available for reading at http://ijms.nova.edu.. This special issue is dedicated to speed and acceleration, and how these concepts are expressed in the culture of motorcycling, particularly in the American 1950s. Guest editors Gerd Hurm and Steven Alford have gathered selected essays from a series of events held in Trier, Germany, in the summer of 2009, including an exhibition that combined motorcycle-related art works with lectures, films and musical performances.
Journal editors also invite you to the first-ever IJMS-sponsored conference, June 3-6, 2010. In keeping with the journals international and open approach, editors encourage readers, writers and riders from around the globe to join them in beautiful Colorado Springs, Colorado, in the heart of the American Rocky Mountains. Go to the IJMS site (link above) for further details.