Though the AMA International Women and Motorcycling Conference ended three weeks ago, women motorcyclists are still talking about it on Facebook, sharing photos and connecting with new friends online.The four-day celebration of women riders, held July 26-29 under warm and dry blue skies in Carson City, Nev., was structured much like previous years' events in that there were ample opportunities to meet new friends, reconnect with old ones and learn about various aspects of motorcycling.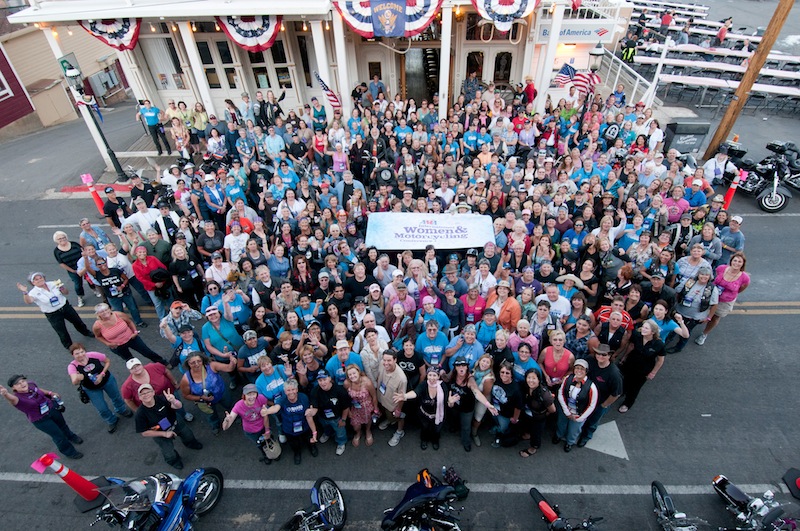 "The seminars, along with all the wonderful women I met, provided me with the tools and motivation to do more than just what feels comfortable," said Lonnie Mercer, who traveled to the conference from the Denver area with her twin sister, also a rider.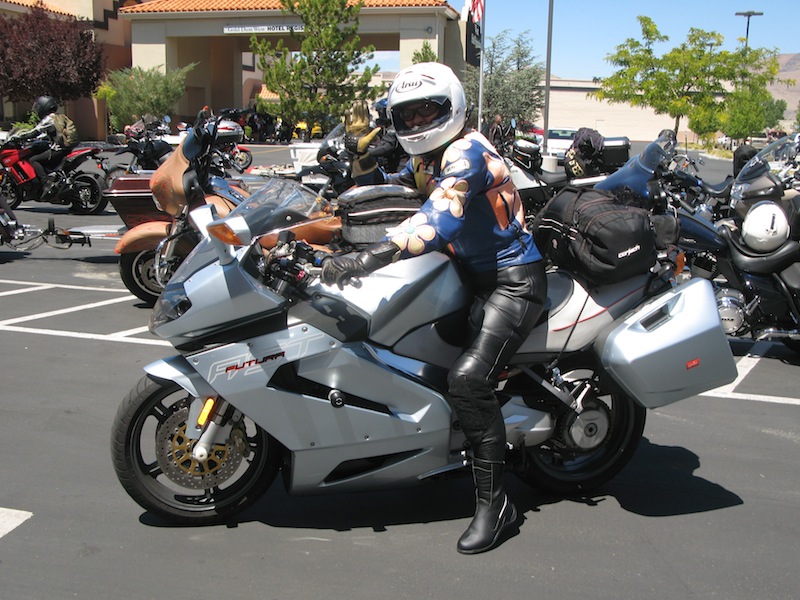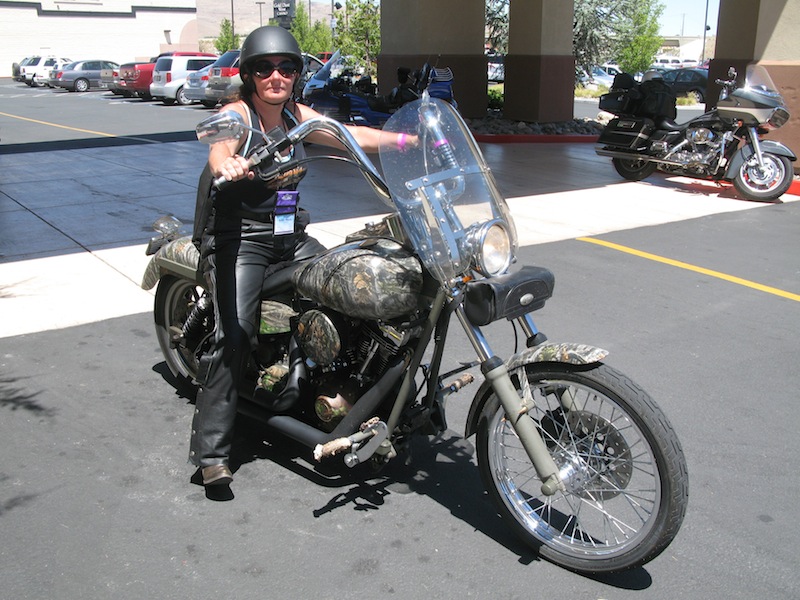 "I always enjoy coming to the conference to see the many women rider friends I've made south of the border. It's kind of a reunion of sorts," said Liz Jansen, a rider and author from Ontario, Canada, who was there promoting her book, "Women, Motorcycles, and Road to Empowerment."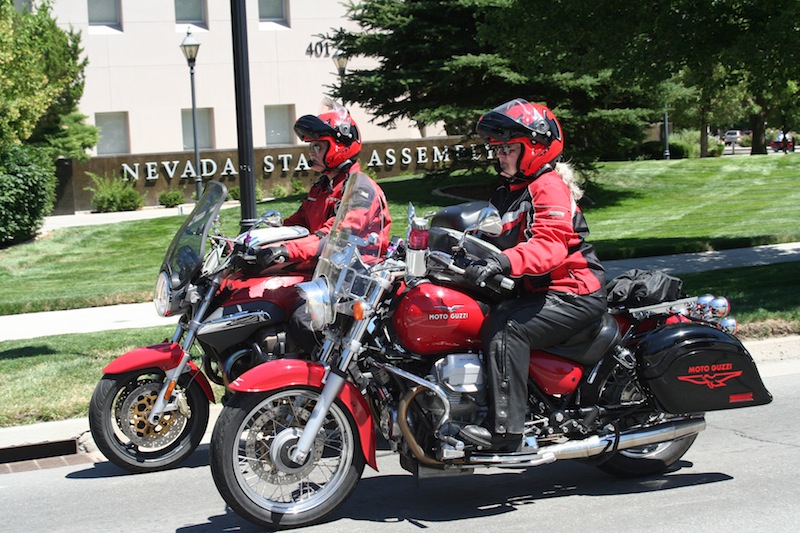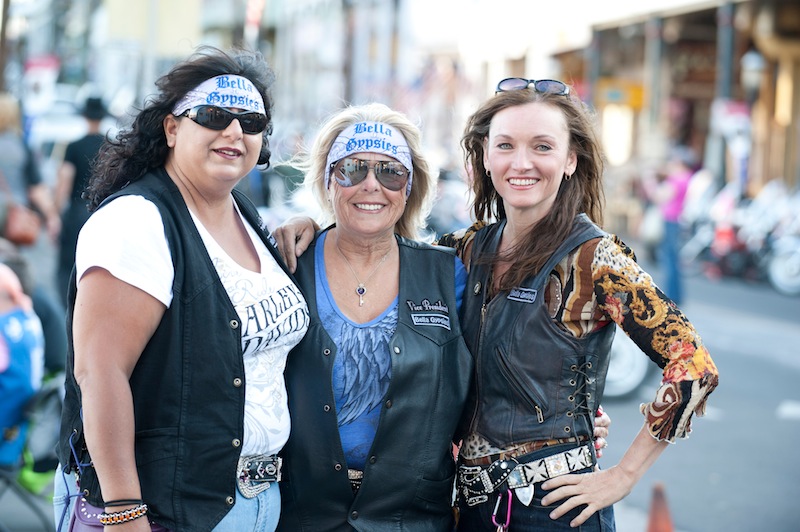 Women rode in from all over the United States and Canada—some solo, some in groups of all women, and some with their male significant others—to scenic Carson City in western Nevada, situated near Lake Tahoe with the Sierra Nevada mountains forming a beautiful backdrop. International women riders were in attendance as well, with the FIM Commission for Women in Motorcycling represented by riders from Switzerland, Poland and France.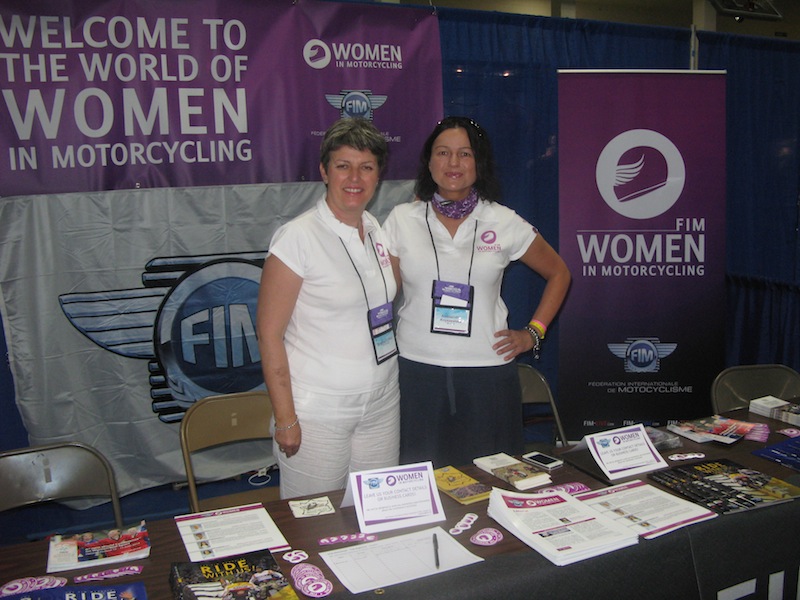 | | |
| --- | --- |
| Christine Firehock, owner of New-York-based Christine's KickSTART Motorcycle Training Series, brought her 11-year-old daughter, Amber, to the conference. Amber is a fifth-generation woman rider in the Firehock family. | Here's Amber perched behind her mom, Christine, on the Ducati Diavel that they rode from Southern California to the conference. |
The 2012 conference was the sixth large-scale women's event that the AMA has organized in the last 13 years, and hundreds of women attended this year's special celebration that is part conference, part rally, and part trade show.
"It always amazes me when I'm around groups of female riders—the energy and enthusiasm for the sport are so tangible," said Tricia Szulewski, a journalist who attended on behalf of RoadBike magazine. To mark its commitment to recognizing women riders as a viable market segment, the AMA introduced a special "Woman Rider" version of its membership card, which new AMA members picked up at the conference.
"This was another fantastic gathering of women motorcyclists," said AMA Board of Directors Vice Chairwoman Maggie McNally. "I am awestruck by these women and their inspiring stories. They represent the most exciting development in motorcycling over the last decade."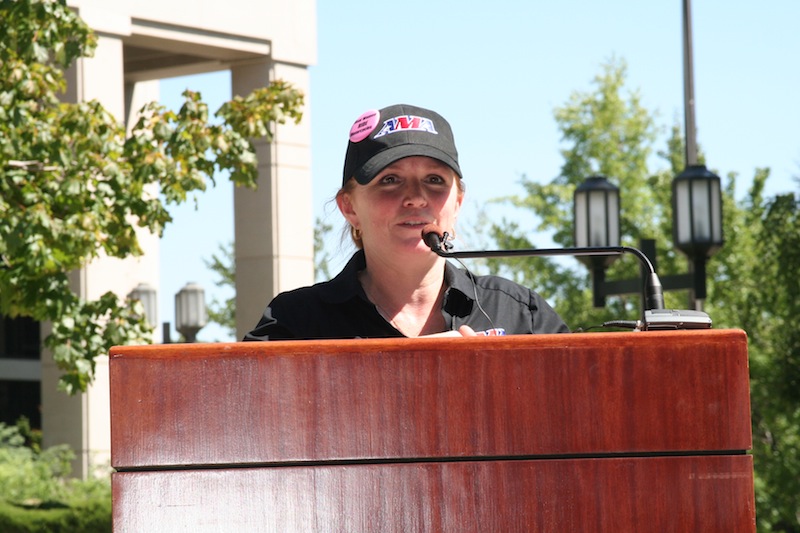 Carson City rolled out the red carpet for conference attendees, with room discounts from its hotels and discount coupons from restaurants and merchants in the welcome bag.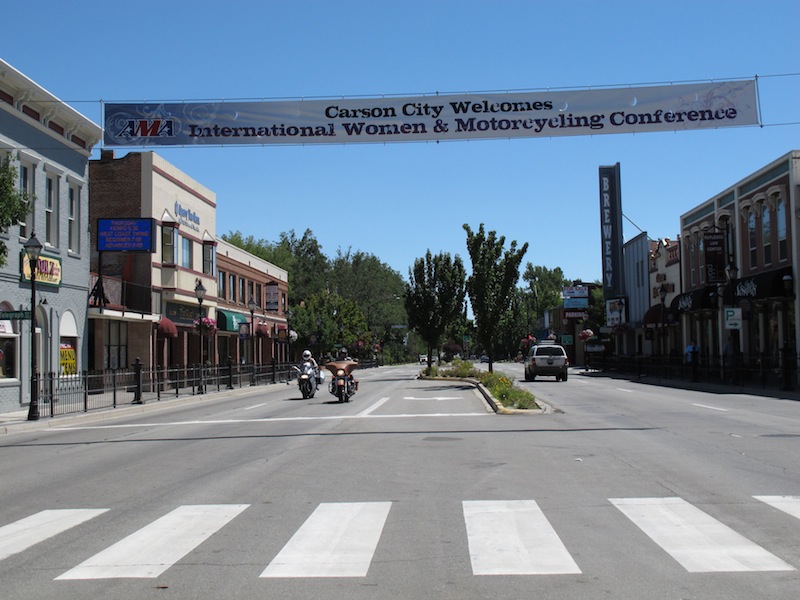 Women remain the fastest growing segment of motorcycle riders, with one in four riders today being female. Click through the photos below to make them larger to see the rest of the story in pictures. Also, wed love your feedback on the conference. You can post a comment at the end of this story, but if youd like to be involved in a conversation about it, visit the WRN Forum and post your comment there. If youre new to the WRN Forum, youll need to register. Its easy to do.
| | | |
| --- | --- | --- |
| Conference emcee Jessica Prokup greeted attendees and kicked off the opening ceremonies on the first day of the conference. | At the opening ceremony, Carson City Mayor Robert Crowell proclaimed the week of July 23-29, 2012, as AMA International Women Motorcycling Week. A sign language interpreter was provided at all the major speaking events to translate for the two deaf riders in attendance. | Riders pose for a photo with the conference banner, which was later signed by attendees. |
| | | |
| --- | --- | --- |
| Before the opening ceremonies, a police escort led a parade of riders through the streets of Carson City. | Riders were all smiles during the parade. | |
| Cruiser motorcycles, usually the dominant style of bike at women rider events, represented about half of the motorcycles at the conference. | Sport touring motorcycles and sportbikes represented the other half of bikes ridden by women at the conference. | Members of the Motor Maids carried the flags for their countries. |
| Kymco was one of five manufacturers showing its commitment to women riders by hauling out its fleet of motorcycles and scooters for women to test ride. The other manufacturers in attendance were Harley-Davidson, Kawasaki, Star Motorcycles and Victory. | The Harley-Davidson Tri Glide, part of the Motor Company's demo-ride fleet, was the touring trike most purchased by women in 2011. | Women take a couple of Victory baggers out for a demo ride. |
| Motorcycles line the main drag of historic Virginia City, an old mining town in the hills of western Nevada. The woman on crutches in the road is Larraine Best, who injured her back in a diving accident. She rode her trike solo from New York City to Nevada for the conference. | Lining up for the buffet dinner in Virginia City with some local color mixed in. | A rider poses for a picture with land speed racer Erin Hunter (center) on the streets of Virginia City. Erin participated in the "Women in Competition" seminar. |
| Cris Sommer Simmons presented a slideshow for her seminar, "History of Women Riders." She also shared her experiences riding in the 2010 Motorcycle Cannonball Run. | Journalist and adventure rider Carla King's seminar focused on how misadventures can be turned into life-changing experiences, with tips taken from her years of solo motorcycle travel around the world. | Holly Ralph, who hails from Canada, has been riding for 50 years and logs many of her miles solo. Here she is teaching her seminar, "Riding Past Your Limitations." |
| Kathy Tolleson (in blue), owner of ROAR Motorcycles, was meeting and greeting conference attendees in the DesignWraps booth. | The Conference Bookstore was a new addition to the conference this year, giving female motorcycle book authors a place to convene and sign and sell their books. | There were some non-motorcycle-related vendors on hand to take advantage of the opportunity to sell to an all-female crowd. |
| Michele Carter (left) was busy selling sets of her Adventuress skin-care line, which includes her unique sunscreen wipes that were much-needed in the blazing hot desert sun. | Not everyone in the vendor area was selling something. Dariyoosh Hariri from e-Tint was introducing his companys innovative helmet visor tinting device that eliminates the need for an extra visor or sunglasses under a full-face helmet. | Sarah Schilke from Schuberth was excited to share with the mostly full-face-helmet-wearing crowd the benefits of Schuberths helmets, including the women-specific C3W. Sarah is part of the executive council that helped organize the conference. |
| Visitors at the Women Riders Now booth signed up to enter an Icon jacket giveaway. | WRN Editor Genevieve Schmitt (right) with two fellow motorcycle journalists, Tricia Szulewski (left) and Cris Sommer Simmons (center). Cris just took over the American Iron magazine column that Genevieve wrote for the last seven years. | The Moto Action Center provided hands-on workshops in the outside parking lot. Thanks to the Women's Motorcyclist Foundation for facilitating those workshops. |
| Conference attendees enjoyed a dinner at the Saturday night celebration under a pavilion at a park in Carson City. | Emcee Jessica Prokup (right) interviewed Sue Fish onstage during the dinner. Sue is being inducted into the 2012 AMA Hall of Fame in November because of her early days as a motocross racer and champion. | Mary McGhee, who at 75 years old is still racing vintage motorcycles off-road, was the special guest speaker on Saturday night. |
| | |
| --- | --- |
| With the event she'd been working on for the last few years finally underway, conference organizer Tigra Tsujikawa was all smiles. "Simply put, we could not have done this without the support of Rob Dingman and the AMA, all of our sponsors and vendors, the companies who provided demo rides, and those who rode, in some cases, thousands of miles to be here," she later said. | Last but not least, Karen Derby, a rider from Seattle, was the official photographer for the conference. No one else was taking her picture, so we did! |
Related Articles
2009 AMA Women amp; Motorcycling Conference Wraps Up in Keystone
Photos from the 2009 AMA Women amp; Motorcycling Conference