Editor's Note: Moksha is the first Indian woman professional in motorcycling. Based in the small Indian mountain town of Manali, she is the owner of Back-n-Beyond Travels, an outfitter that runs motorcycle travel and adventure trips through the western Himalayan region. The story below is a chronicle of her two-week solo ride to the Pangi Valley via the Sach Pass, a high and narrow pass in the Himalayas. By completing the ride, Moksha became the first Indian woman to make this journey by motorcycle.
When I look back, I really didnt think I could do it alone. But then, things just happen in life, without any planning or expectations.
I wanted to tour Pangi Valley so that I could design a different itinerary for my clients. I had heard that it was a beautiful, very challenging and adventurous route. I normally prefer to take a mechanic with me when I am touring unknown territory, especially high mountain regions, but this time it wasn't meant to be like that. I did talk with my mechanic and he agreed to go along, but he wanted me to postpone the tour until the end of September. However, it so happened that I had two clients from Israel who were about to set out on a motorcycling tour to Leh. They were taking along a mechanic and backup vehicle to tour Rohtang Pass, which was supposed to be very tough, with deep mud for more than six miles. I decided to set out with them for the first part of my ride, and we left together in the early morning on September 7.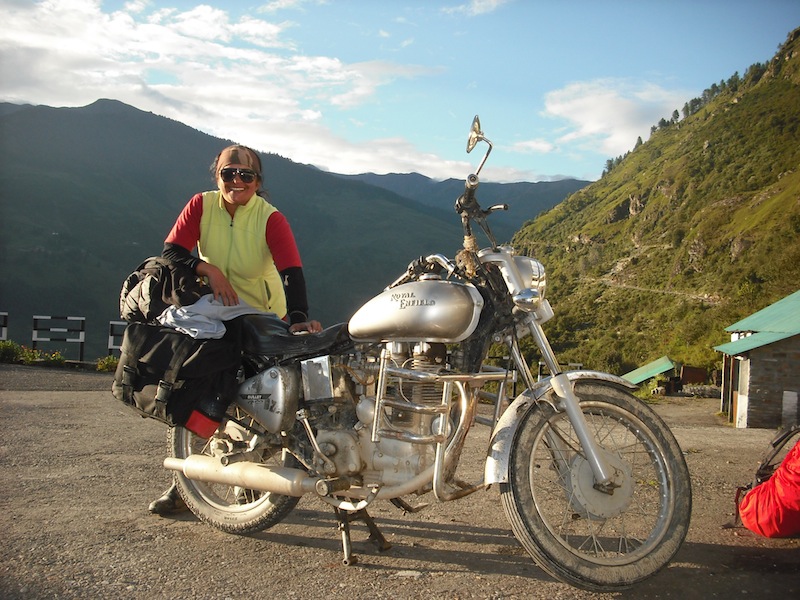 Rohtang Pass was indeed a big pain, and it took us three hours to cross it. From there, we all went together to Tandi, which is nearly 65 miles from Manali. Tandi had the first and only gas station in the entire area. I filled up my bike and two five-liter cans, and from there I set out alone on my 350cc Electra motorcycle toward Udaipur, which was 27 miles farther. The road was good but single track all the way, with many beautiful streams and waterfalls. The valley was very deep and steep, with the Chandrabhaga River flowing along. I couldn't get much information about this route. I knew only that it was going to be a hard trip.
I reached Udaipur at 7:30 in the evening, and it was already dark. I was tired by this time, and I located a PWD guest house (a lodging house owned and operated by the Indian government). The guest house was huge, and the rooms were comfortable and properly maintained. There was no provision for food, but there were two young guys staying in the guest house who were going to check out a nearby restaurant. I requested that they get some food for me, and they were happy to do so. Later we sat together and had a good dinner and a lot of discussions.
My next destination was Killar, a comparatively big town. Tindi and Shorewere the other towns along the way. The road to Killar was all gravel and dust, with a lot of waterfalls to cross. One particular waterfall was too deep to pass, with a lot of small stones. Luckily there were a few young boys nearby, and one of them helped me push my bike out of that waterfall. I had lunch along the way, and everywhere I went people were amazed to see me, a woman riding alone in the high mountains. I was stopped by a young woman near Shore who thought I was a man riding a bike. She asked me for a lift, and when she realized I was a woman, she laughed a lot. She was very sweet and offered me two fresh apples that she was carrying. Later, a young Nepali boy stopped me for a lift. He was very nice, and when we approached Killar (the main town was more than a mile from the main road), he guided me straight to a PWD rest house. The thing I like most about traveling is getting a chance to meet wonderful and different people.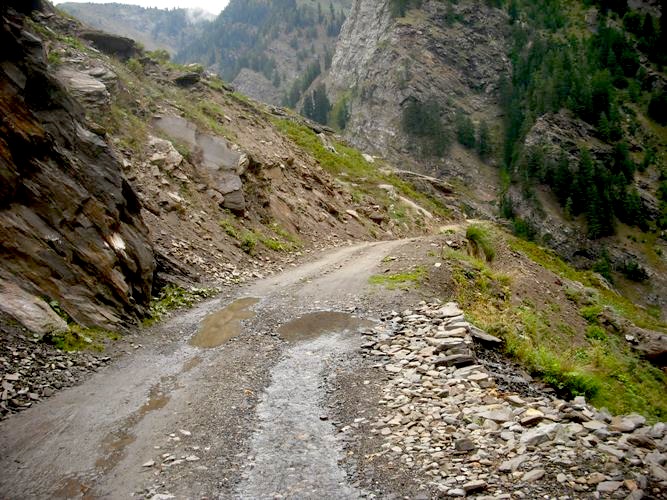 Killar was a beautiful place with nature all around. The local people were very helpful and interesting. I had plans to stay for just a night, but the weather wasn't clear the next morning, so I decided to spend another day. I rode around the city in search of a mechanic shop, but there was none. My bike was full of mud, so I did the washing myself, and I also checked the engine oil, put more gas in the tank and cleaned the plug to make my bike ready for the next day's tough ride.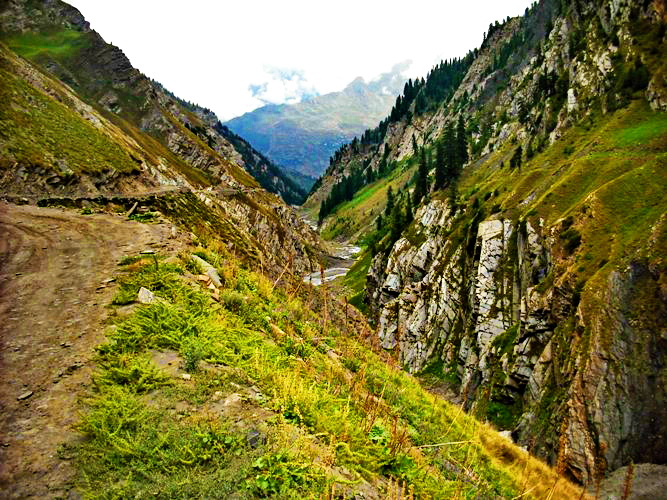 I started early the next morning toward Sach Pass, which was around 30 miles away. I just can't put into words how difficult the ride was—practically no road, big stones, deep gorges, thick forests, snow-peaked mountains, massive waterfalls, everything offering mammoth challenges. Riding in that area was more like a spiritual experience.
Before this trip, I had traveled everywhere on my 350cc bike, always carrying my bags on it, and I'd never had any problem. But on this ride, I felt that riding a 500cc might have been a better idea, as there was a point where my bike got stuck on big stones going uphill and I was not able to push it. I could see a few laborers' tents at a distance, so I blew the horn and a man came out of a tent and pushed my bike. Later I stopped near their tents and they offered me tea, which was extremely good. Looking around, I realized that the laborers' tents were in very depleted conditions.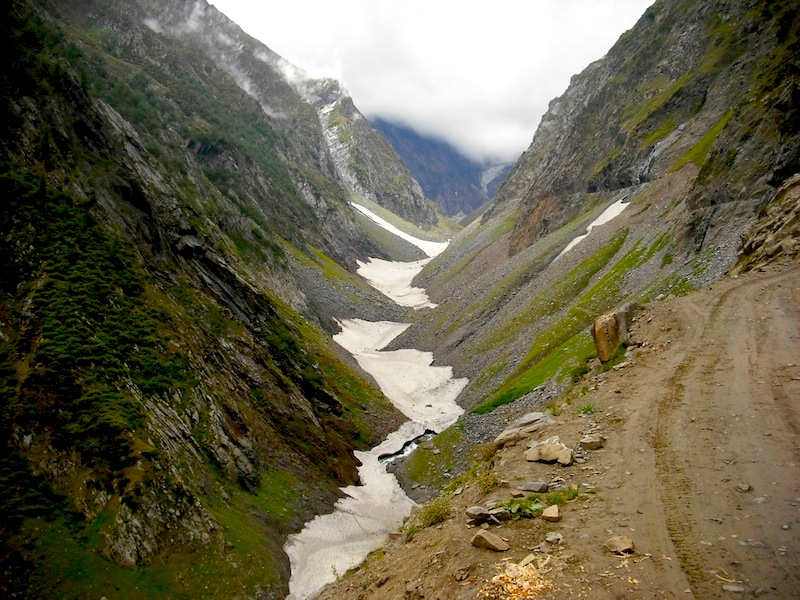 Before Sach Pass, there was a check post. When I stopped there, a young guy walked toward me and started talking in broken English. I smiled and asked him in Hindi if he thought I was a foreigner. He was so surprised that he was speechless for some time. There was a big tent and inside it was the check post, where I was asked to show my identification. There were 10 or 12 men there, and one of them commented that he was happy to see an Indian woman doing something different.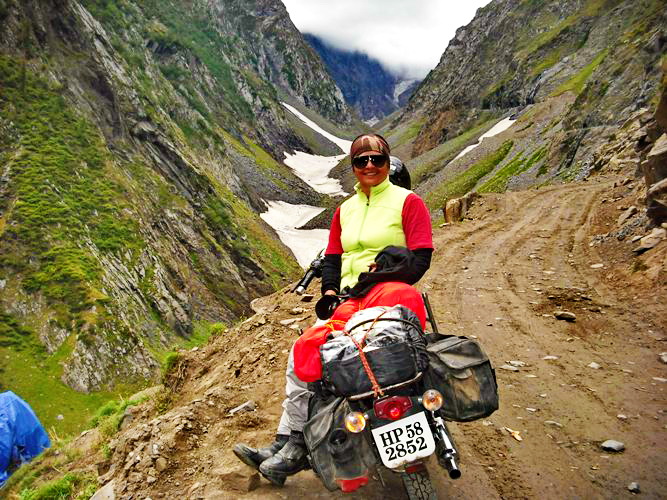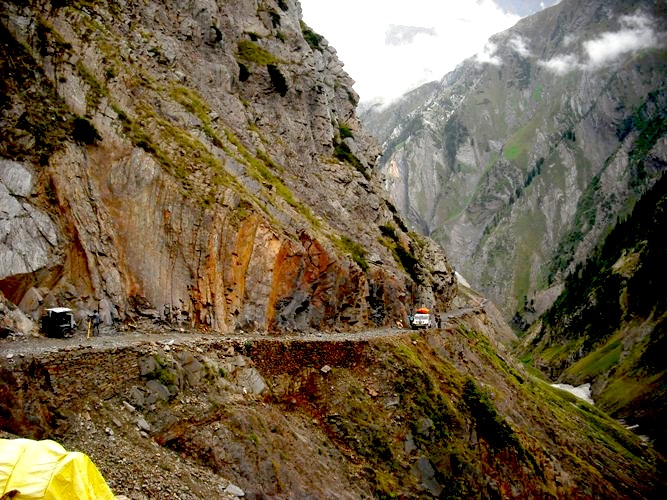 I had a cup of tea there, and by the time I started my journey again, it had started raining. The road was all muddy, but somehow I managed to control my bike. I had to ride my bike in first gear all the way to Sach Pass. There had been a landslide there, and I could see a few vehicles stranded. I could have made my way through, but a bus and jeep were parked in such a way that even a bike couldn't pass, so I had to stop and wait for a machine to come and clear the road. That took two hours, and by the time I got back on my bike, the rain was heavy and I got fully drenched even though I was wearing my rain gear. I was feeling very cold and just wanted to stop someplace where I could at least warm up my hands, which were freezing and making me uncomfortable.
The ride from Sach Pass to the next check post was extremely tough in the heavy rain. The road was sloping down, and it was very steep with sharp curves. Fortunately it stopped raining when I reached the next check post. There was very strict security there, and a policeman was taking pictures of each and every vehicle and traveler. I got the same reaction from all of the guards—big surprise at a woman on a motorcycle riding alone.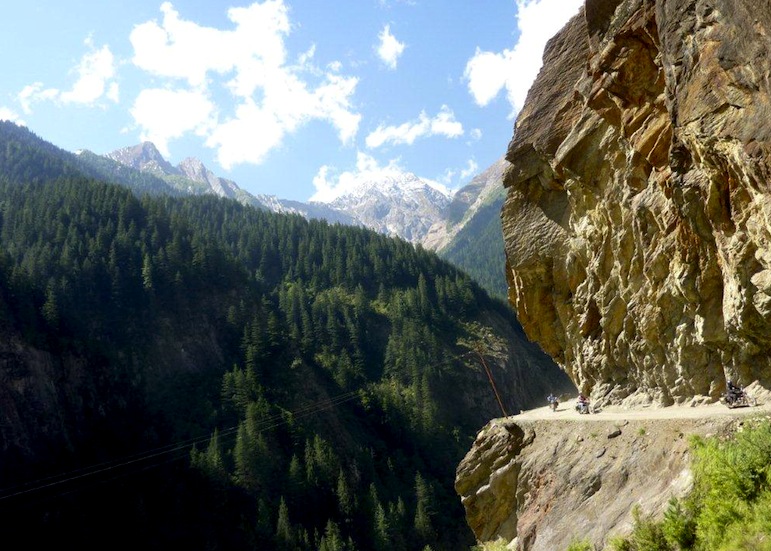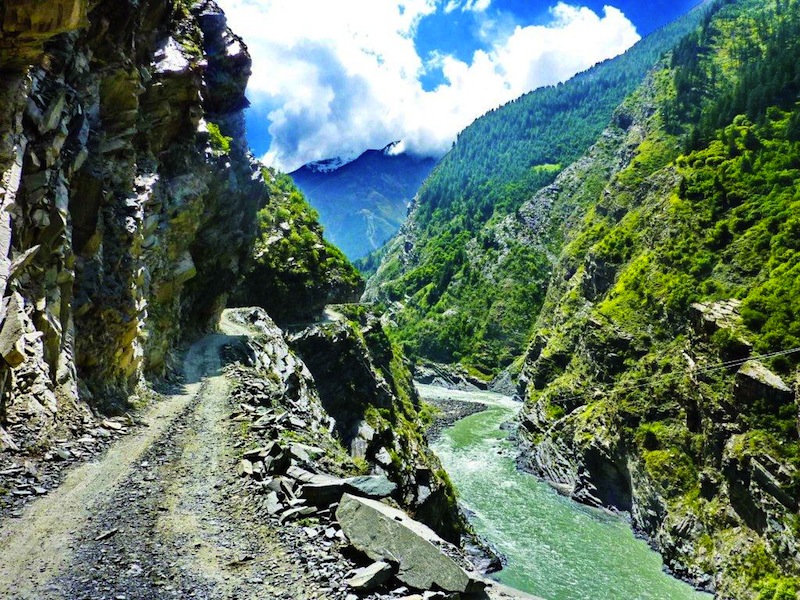 Past the check point, I got down from my bike and entered a nearby tea shop, taking off my wet gloves. My hands were so cold that I asked a young police person to rub them. The head of this post informed me that I was the first woman in the world to cross Sach Pass alone on a motorycle. I was delighted to know that and said, "That's a record now."
I ran the rest of my route by the guards and started off again. To my amazement, less than half a mile from this post were massive waterfalls on the road. The scene was breathtaking, but I could see the force of water and big stones on the road. I wasn't sure I could cross it without help. Slowly, I tried to control the balance of my bike, making my way in this waterfall. I finally had to stop my bike in the middle of it and wait for some help to come by, but I couldn't see anybody coming left or right.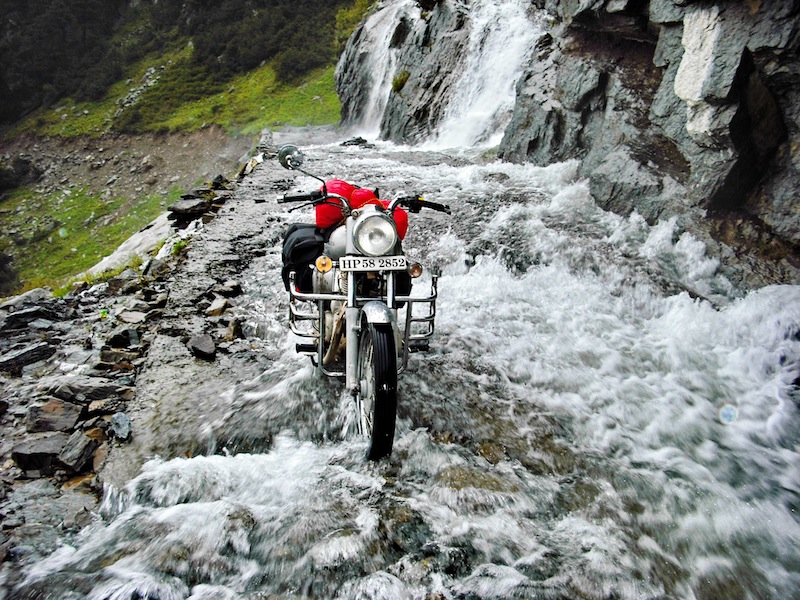 I cleared a few stones ahead of my bike and loudly asked God to help me, because if I were to lose my balance and have the bike go down in the water with all its baggage, then I wouldn't be able to lift it. I started my bike again, putting both my feet firmly on the ground, lightly holding my front wheel brake and slowly pushing my bike ahead. I gave a big sigh of relief when I came out of that waterfall. By then, the sun was out and my wet clothes were not bothering me much. The next few miles were very beautiful—a lush green valley in which clouds were moving like white feathers in the air.
I stopped at the small village of Bairagarh, where I had a good stay at a beautiful PWD rest house and a delicious meal at a small restaurant run by an incredible local lady. The next day I started toward the big city of Chamba, which was more than 60 miles away but took only four hours to reach thanks to the tarmac single road. It was another 250 miles from Chamba back to my return destination, Manali. So the next day I set out from Chamba and rode my bike for 12 hours, straight to Manalia via Jot, Nurpur, Palampur, Mandi and Kullu.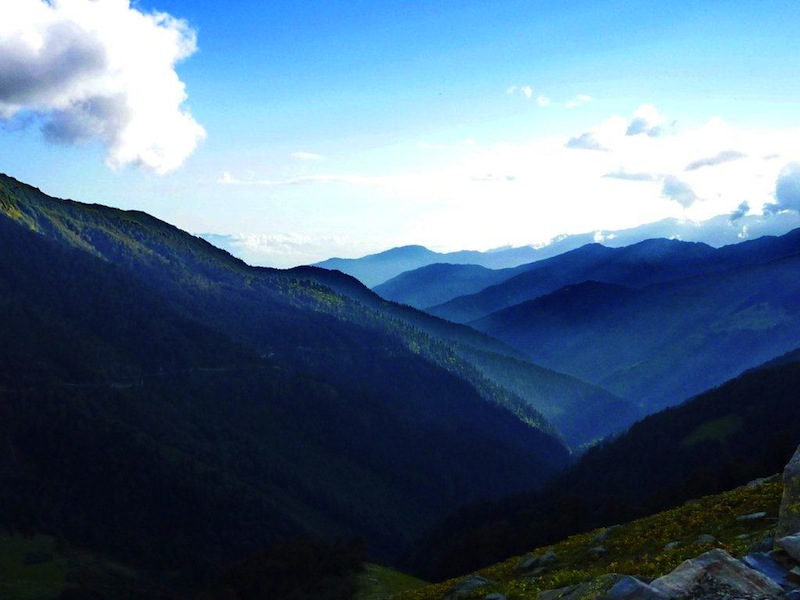 The trip was wonderful—the experience of a lifetime for me. Thanks to my dearest bike, which didn't fail me anywhere, and of course God was always with me and sent me help when it was needed. Yes, it felt just incredible.
As owner of Back-n-Beyond Travels, Moksha has led groups of motorcyclists through Nepal, Tibet, and the Lahuaul-Spiti, Ladakh, Kashmir, and Himachal Pradesh regions of India. To learn more about her motorcycle adventure trips, visit
Back-n-Beyond.com.
Related Articles