The cover came off the first production motorcycle in history built specifically for women at an official unveiling at ROAR Motorcycles headquarters in Daytona Beach on Saturday, March 7. The WildKaT is the first purpose built motorcycle designed from the ground up for women riders. "This bike is making history," said ROAR Motorcycles president and CEO, Kathy Tolleson, the builder of the motorcycle. "We are challenging the industry with the WildKaT."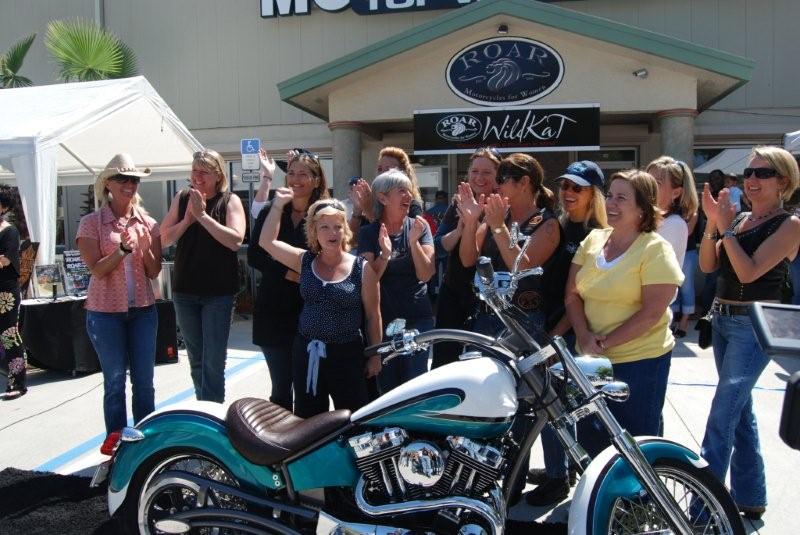 The WildKaT is the culmination of many hours of hard work. WRNs Genevieve Schmitt visited with the ROAR team at Daytona Bike Week in 2008 when the proprietary motorcycle was just taking shape. A year later during Daytona Bike Week 2009, local media and a group of women riders watched as the WildKaT was introduced. "We will begin manufacturing the WildKaT in the spring of 09 and we have nothing but high hopes and aspirations that women riders across the land will take notice of this truly unique product," said Tolleson. "It has a unique look that I would call vintage modern and is the best handling bike that I have ever ridden."
The bike features a 1200cc Harley-Davidson motor sitting in a proprietary chassis thats able to accomodate both short and tall women. The frame suspension and design can be adjusted from a petite 23.5 inch seat height to a taller 29.5 inch height with no fender gap providing women a more custom fit and safer ride.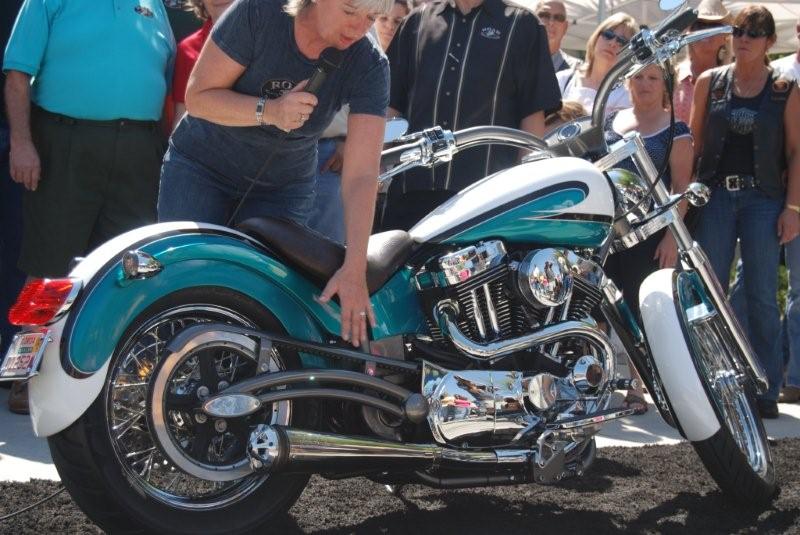 Tolleson says most bikes are designed for mens stronger upper bodies and longer limbs. The WildKaT has been ergonomically designed for a woman with a narrow tank to create a narrow profile, handlebars that are adjustible, an easy-pull clutch, and floorboards that are within reach. Other features include Chrome Ride Wright wheels with billet hubs and polished stainless steel spokes (that include a lifetime warranty), Hawg Halters four piston dual action brake calipers, Daytona Twin-Tec EFI fuel management system (thats fuel injection), LED lighting and Dakota Digital multi-function instrumentation, Super Trapp exhaust pipes, Works Performance shocks, just to name a few. The bike retails for $22,970. To watch a video of Tolleson talking about the bike on YouTube click here.
Reservations for the WildKaT are now being taken. Tolleson reports that the first 25 reservations flew out the door and were gone before the end of the day Saturday. Those bike will be ready for delivery in six to nine months and will be numbered and signed. ROAR is running a special for the next 25 WildKaTs. They will be offered at a $1,000 discount and will be available in eight to 10 months. Call 386.255.7527, toll free 866.621.ROAR, or visit RoarMotorcycles.com for more information.
The WildKaT is a precursor to an entire family of ROAR motorcycles that will include a sportbike called the StreetKaT, and a touring bike called the Lioness.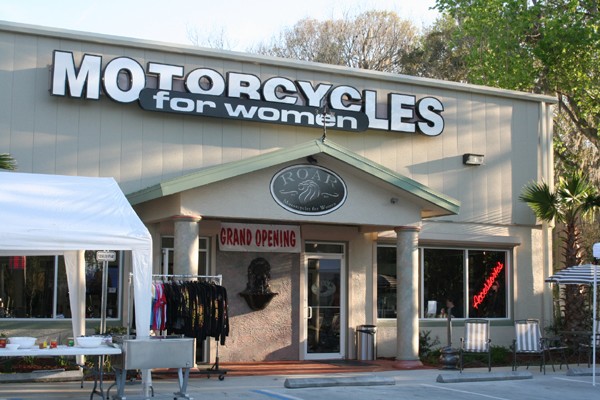 Since its grand opening during Daytona Bike Week 2008, ROAR has been dedicated to customizing motorcycles to make them more female-friendly. By lowering the seat, a woman can use her legs and hips when picking the bike off the stand and can put her feet firmly on the ground when stopping. The handlebars and foot controls are also adjusted so the rider does not have to stretch but can ride comfortably. If you have a motorcycle youd like ROAR to customize to fit you better, contact them. Their Web site is RoarMotorcycles.com.