I ride a lot of different types of motorcycles for my work. Once in awhile, though, a bike comes along that really gets my attention – the kind of attention that has me thinking of owning this bike.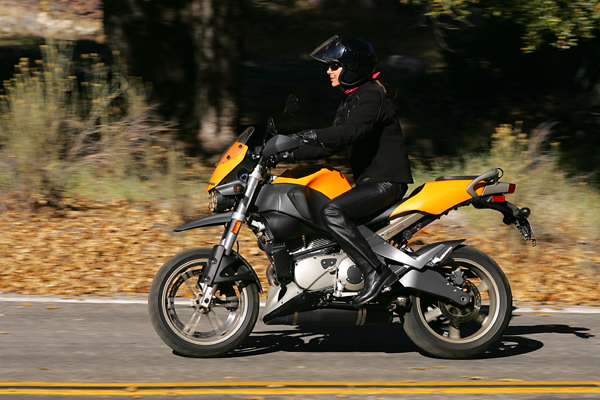 The Buell Ulysses XB12X is that bike. Thats right. Me, Miss Cruiser Gal has fallen in love with a tall, aggressive-tired adventure sportbike. No, Im not getting soft on ya; I just see all the possibilities that come with owning a Ulysses. The fact that this motorcycle excels on hard-packed dirt and gravel is a huge thumbs-up for me.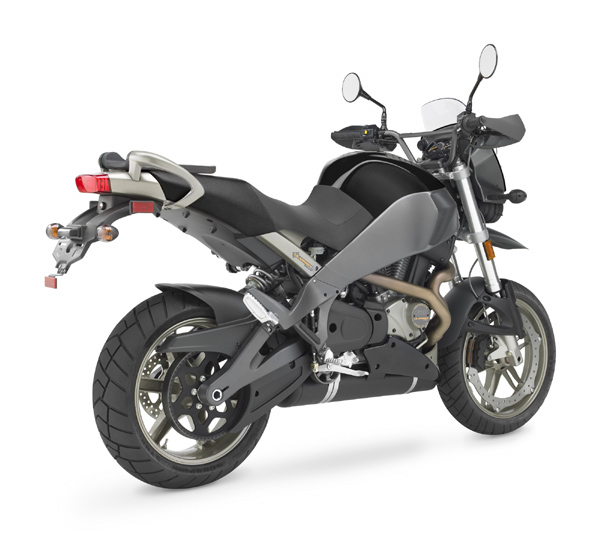 I live in Montana where there are more gravel roads than paved ones. As I explore the many miles of paved roads of this scenically wondrous state, once in awhile I come upon a gravel road begging to be explored. Since I dont want to deal with a bumpy ride and flying rocks on my Low Rider I turn my head away dolefully wondering what marvels I would have found down that unbeaten path. If I was riding the Ulysses, I would be able to find out.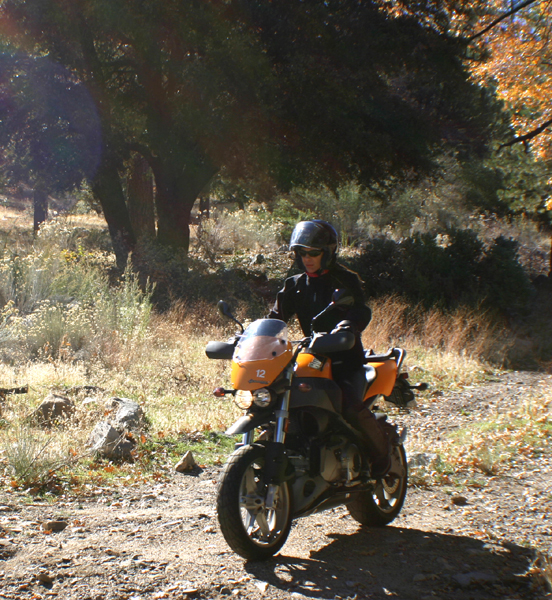 I test rode the Ulysses through smooth mountain twisty roads and found it to be stable and sturdy. I thought a bike with this high of a suspension travel (6.4 inches in the front; 6.5 inches in the rear) might feel top heavy as I flicked through the turns. It did not. The Ulysses low center of gravity comes from Buells innovative technology of putting the fuel in the frame and the oil in the swingarm. I felt like I was riding a sport-touring bike thats right at home on the twisties.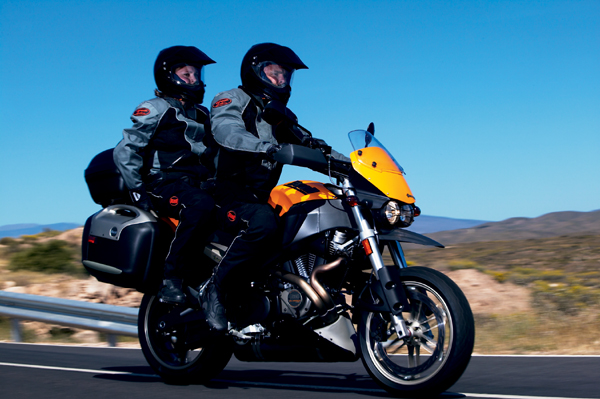 The Ulysses handled solidly on a 70 mph highway with the fuel injected Buell Thunderstorm 1203cc V-Twin engine providing plenty of get-up-and-go right from the start and holding strong throughout the 5-speed powerband. Twist the throttle and the engine starts off with a low grunt of sorts reminding you this is a Harley-Davidson-inspired motor. Its mighty powerful delivering an impressive 103 peak horsepower and a decent 84 foot-pounds of torque at 6800 rpm. I was expecting a narrow and light (435 pounds) machine like this to be less powerful, and was waiting for vibration to hit around 80 mph. It never did. The Ulysses plowed along with the smoothness of a motorcycle meant to go that fast.
A good suspension set-up is key on bikes meant to handle the gravel. Buell uses high performance Showa shocks in both the front and rear and both are adjustable. The 43mm inverted forks have adjustable compression damping, rebound damping and spring preload. You will need tools to change those settings.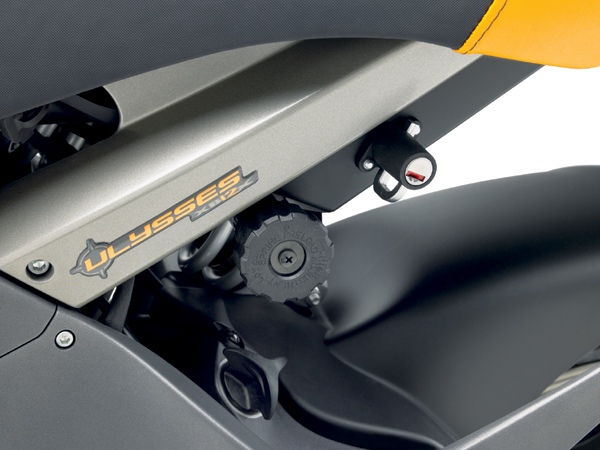 Ergonomically, the Ulysses is comfortable if you enjoy sitting straight up on a motorcycle. Those not used to this riding position will have to get use to the feeling of sitting on top of the bike as opposed to into the bike. Handlebars are right in front of you. No need to lean over to reach them. Your feet are perched right below you.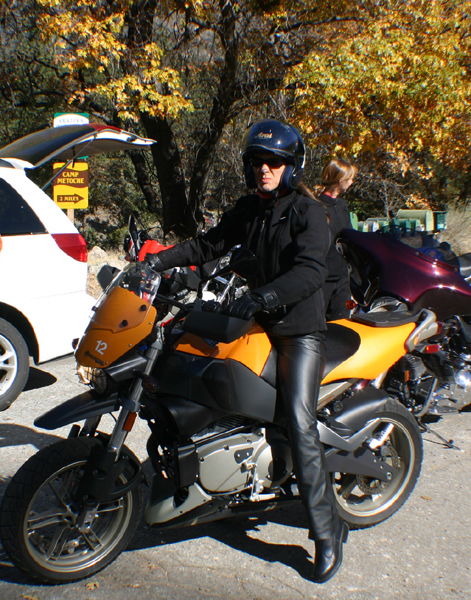 Seat height on the 2006 model I tested is on the high side for most women – 33.1 inches. Buell realized the high seat on this first year model was a bit of an issue, even for some men, so for 2007 the stock seat was dropped nearly an inch and half to 31.8 inches and is narrower at the front to improve your position when stopped. The surface is now textured so the rider stays planted in the saddle. Buell offers an aftermarket saddle putting seat height at 31.6 inches. It comes with a gel insert for added comfort.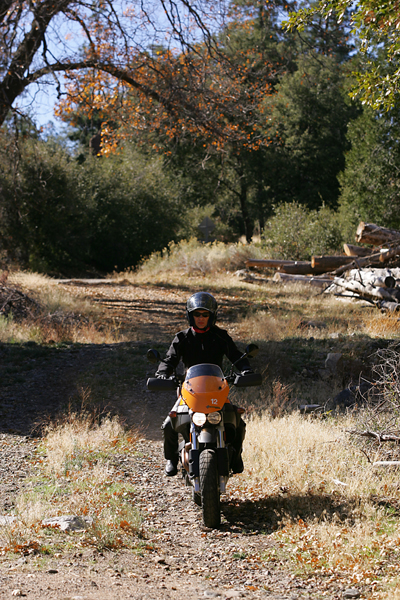 At first glance, the Ulysses might look like a simple, no frills machine. Look closer and it has many features to make your ride more pleasant. First, it has a windshield, albeit small, but enough to redirect some wind so youre not getting a gigantic blast of air. Its hard to tell if motorcycles with these small windshields really make a difference or not. It is removable with a quick-release switch if dont like the look of it. The handgrips have deflectors on them, something youd see on a dirtbike to protect your hands from branches and debris. Here they helped with protecting hands from the wind. The headlights have a metal grill over them to protect from flying rocks.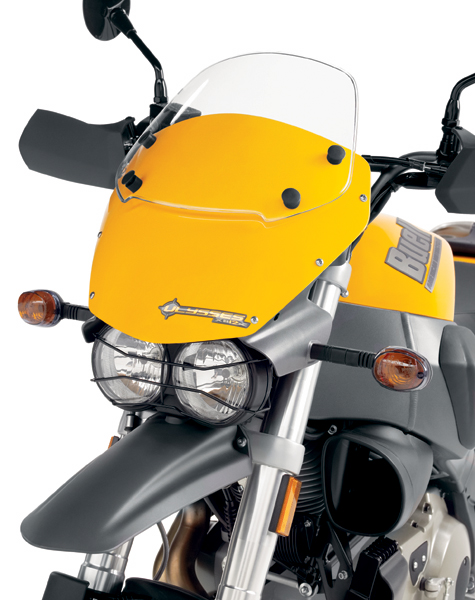 The most innovative feature on the Ulysses is the Triple Tail a three-position hard-rubberized device that works as a passenger backrest when upright, a luggage rack when folded open towards the rear, and another luggage rack when fold down on the rear seat. There are even nooks for tie-down hooks.
Conveniences comes in the form of a storage compartment under the seat. Not sure how big it is, as I didnt know about it on my ride. Buell press materials indicate its "generous." Theres a place to lock your helmet and two 12-volt accessory power outlets – one on the dash and one under the seat. Fuel capacity is decent with a 4.4-gallon holding.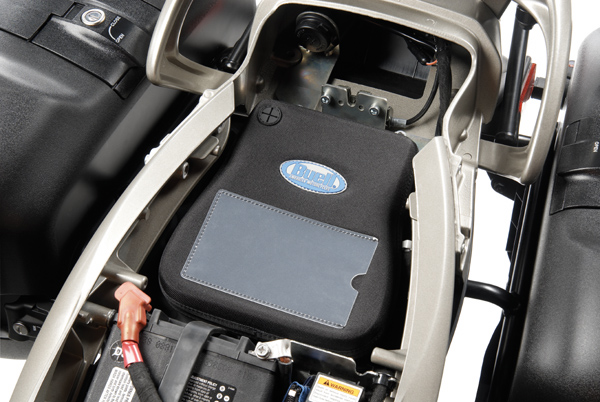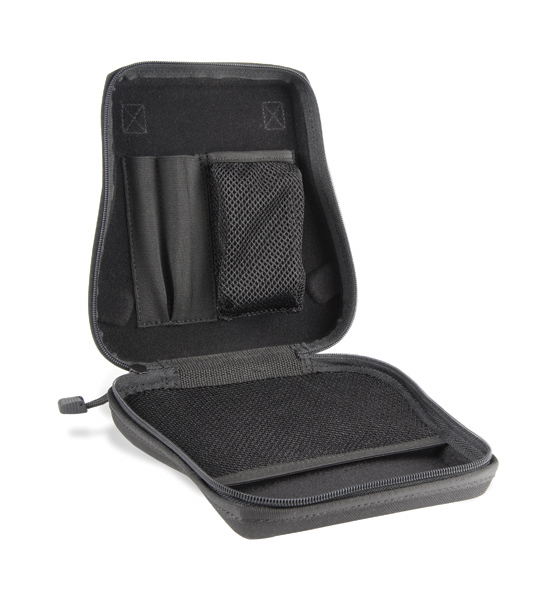 I would love to put more miles on this bike to provide an in-depth review. Only then could I really get a feel for all the nuances of this motorcycle. Im real curious to see how the Ulysses handles on the gravel as my test time off the pavement was limited.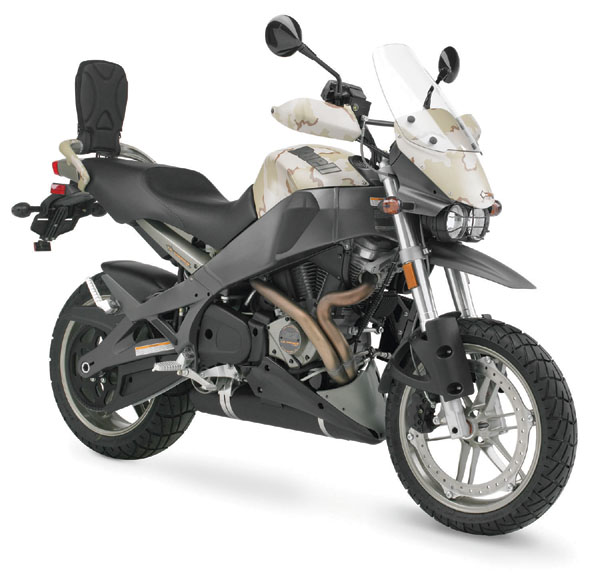 For now, I hoped Ive teased you enough to want to take one for demo ride yourself and see what all the hype is about. For more information, visit Buell.com.
Specs at a Glance
Buell Ulysses XB12X
Displacement: 1203cc
Seat Height: 2006 33.1 inches; 2007 31.8 inches
Fuel Capacity: 4.4 gallons
Dry Weight: 425 pounds
Colors: Barricade Orange, Black
Price: $11,495
WRN Recommendation
The Ulysses is the ideal motorcycle for riders seeking to expand their horizons. Sure, there are other brands that do the same thing, but if youre a fan of Harley-Davidson and want to keep your motorcycles "all in the family," the Ulysses from Buell is the bike to buy. Go for the 2007 model. Improved suspension, better tires and lower seat make it that much more friendly.