Happy New Year! Let#8217;s get right to the good stuff.
I had a successful and fun time at the Progressive International Motorcycle Show in Long Beach the weekend before Christmas. The International Motorcycle Show is a multi-city tour that showcases a range of motorcycle-related vendors, seminars and entertainment. A big thank you to Sue Slate and Gin Shear of the Women#8217;s Motorcyclist Foundation for spearheading the efforts to get a women-specific area as part of the show for the last three years. There are still seven cities left on the tour as of this writing where you can check out the Women Ride area. Visit the link at the end of this story to see the rest of the stops.
| | |
| --- | --- |
| A female-focused placard greets visitors as they enter the show. | The Women Ride area before the show opened. |
The show#8217;s women-specific section is the biggest yet in terms of space, but it was put together in limited time, so there are only a few companies showcasing their goods when there could be so many more. Thank you to Olympia Moto Sports, Helmet House, Rebel Girl and Harley-Davidson for sponsoring the women#8217;s area. Show promoters are looking for more sponsors so if youre interested get in touch with me.
| | |
| --- | --- |
| Jackets were on display for trying on. Veteran riders like Gin Shear (at right) were on hand to advise on proper fitting. | A Fat Boy was on display that women could sit on when trying on jackets. |
| | |
| --- | --- |
| At my WRN display, people were signing up to win a pink battery tender, courtesy of GearUpHelmets.com. Congratulations to Kathryn Whitaker for being the winner! | Of course, men could sign up too. |
| | |
| --- | --- |
| A professional-looking placard promotes the seminars going on all day long at the women's area. Presentations are for all riders, not just women. | Joanne Donn of GearChic.com speaks about proper gear fitting. |
| | |
| --- | --- |
| My seminar is titled "Getting What You Want and Need in Motorcycling." | The topics I focused on were helmet fit and motorcycle accessories and information. |
| | |
| --- | --- |
| Sue Slate talks about riding the twisties. | By far the most popular seminar, judging by the huge crowd, was the Female Racer panel. |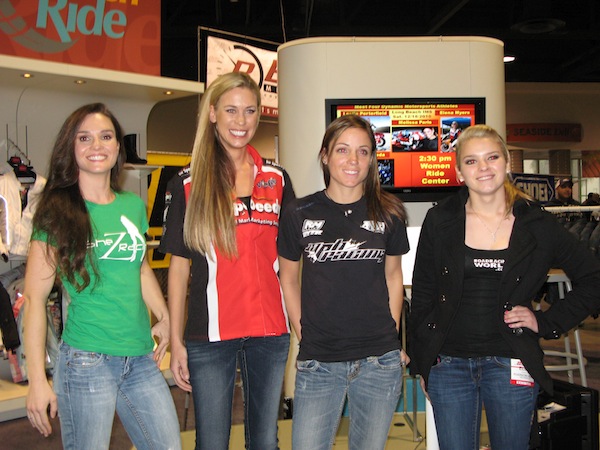 For more information on the history-making gathering of female racers pictured above, visit my story in the WRN Feature Articles section later this week.
To learn more about the show and to purchase discounted tickets, visit the Progressive International Motorcycle Show Web siteand use code WRN when ordering tickets online.
Exclusive News on Women#8217;s Motorcycling Events for 2011
Daytona MDA Women#8217;s Ride
The MDA Women#8217;s Ride that Harley-Davidson has organized for the last few years during Daytona Bike Week is happening again this year. You never know in this tight economy, and with last year#8217;s rain putting a damper on attendance, many were wondering if Harley would can it this year. But morning charity ride is happening. More details are available at
MDARides.org
and of course here on WRN as they become available. To read about previous years#8217; rides,
visit our story
in the WRN Feature Articles section.
May is Women Riders Month
I also found out that Harley-Davidson will not be holding its Celebrate Women Riders event in Milwaukee this year. Harley-Davidson held this event in May of last year in honor of Women Riders month. This year, it will instead focus on promoting Women Riders month at the dealer level. So keep an eye out for female-focused activities going on at Harley dealers in May.
AMA Women amp; Motorcycling Conference in 2012?
Still waiting to hear from the AMA about whether there will be another AMA Women amp; Motorcycling Conference in 2012. Since 2001, the nationwide women-focused rally/conference/tradeshow extravaganza has been held every three years, but the AMA never officially commits to the next one at the close of each event. My inside sources tell me that the event is most likely going to happen in 2012, but the AMA won#8217;t officially confirm it yet. As soon as I know, I#8217;ll post it on WRN so we can start planning for what is one of the most exciting women and motorcycling events out there.
Here#8217;s my story
on the last one held in Keystone, Colorado, in August 2009.
Sturgis Women#8217;s Ride in the Works
Plans are underway for an all-women motorcycle ride during the Sturgis Rally this August, and the woman behind this endeavor is Meg McDonough. Meg is an enthusiastic rider, go-getter and salesperson working at Cowboy Harley-Davidson in Austin, Texas. She used to live in Deadwood just a few years ago, so she has a lot of connections and knows the Black Hills well. Meg#8217;s plan for the ride has it happening on Wednesday, August 10, right after the Sturgis Motorcycle Museum#8217;s Hall of Fame induction ceremony breakfast at the Rapid City Civic Center. The ride would leave from there and end up at the Buffalo Chip. The owner of the Chip, Rod Woodruff, is a friend of Meg#8217;s, so she has his support.
Meg is working to get the ride to stop at Mount Rushmore for a group photo and have a police escort along the way. She#8217;d like to have vendors and will be seeking sponsors. From one who has seen women#8217;s rides come and go at Sturgis with little success, I think Meg has just the right knowledge and connections to make a women#8217;s ride a success in Sturgis, with success defined as a ride that attracts at least 100 riders as well as a lot of buzz.
She plans to make this a charity ride benefiting the Sturgis Motorcycle Museum and Hall of Fame, so entrants would have to earn their spot in the ride. Meg also hopes this ride will bring women who have never been to Sturgis out for the first time to take part. I will keep you posted on details as they become available.