Shes young, shes bright and shes on the fast track. The very fast track. Shes Elena Myers, the 13-year-old roadracing sensation from Discovery Bay, California, whos turning heads and burning treads at big tracks on the West Coast. Competitive and driven, she not only holds her own, she often holds a top spot at the head of the pack and a podium spot at the end of nearly every race. Yes, she likes to go fast. And yes, she likes to win.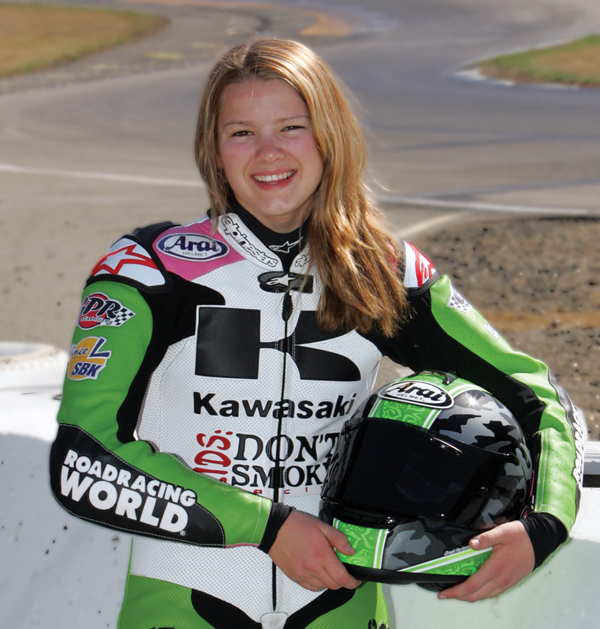 Elenas been racing for five years, and loves the racing world. "All the people are so nice," she says. "Its just a great community." Although much younger than most of her peers, Elena feels shes always been accepted. "Im not as much of a novelty as I used to be. They kind of respect me more." While Elena races against men and women, shes mostly racing against men in their late teens and early 20s.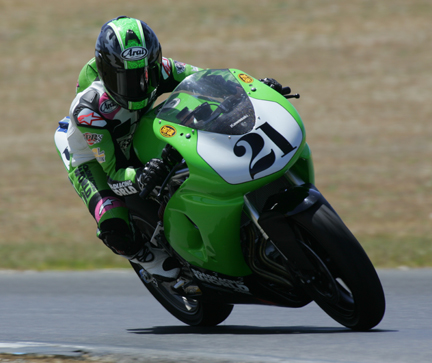 This year, Kawasaki Team Green agreed to sponsor Elena on a brand new pair of Kawasaki Ninja 650R sportbikes, which she will ride in selected events this season. Elena already landed one second-place podium finish for Team Green in the WERA West Roadracing series in May at California Speedway where she ran in the Formula Two and Lightweight Superbike classes. Shes also a regular competitor in the USGPRU where she rides her Honda RS125 in the 125 and 250 GP.
Starting Early
Elena started riding a 50cc dirtbike when she was 7, but switched to the asphalt on a pocket bike. She mastered throttle control running Go-Ped Go-Quads at a track near her Northern California home. In 2003, she learned to shift on a Kawasaki KX60 dirtbike, and was soon dragging a knee and sliding, too. By the end of the season, Elena was riding Supermoto (dirtbikes with road tires on pavement, with some dirt and jumps) on a modified Suzuki RM85, lowered 4 inches so she could reach the ground. In 2004, she claimed an endurance race win, three club racing championships and the distinction of being the youngest female roadracer in U.S. history to hold an 80cc expert title. By 2005, Elena was off the dirt completely and on to big track racing with a pink Honda RS125, then sponsored by Umbrella Girls USA.
That year, at age 11, Elena won her first 125cc roadrace at the Portland International Raceway against adult experts and became OMRRAs youngest expert license holder ever. In 2006, RoadRacingWorld.com snagged Elena for "Kids Don't Smoke!" a sponsorship ad campaign founded in 1996 with then teen racer Chris Ulrich. She later caught the eye of AMA Hall of Famer Brad Lackey, the pioneering motocross champion of the 70s and 80s, who approached Elena with a sponsorship offer through his Fast Girl apparel line.
Hitting the Big Time
Elenas track record, talent and top-notch attitude helped her gain attention and sponsorship by the well-respected Kawasaki Team Green, for whom she rides with professional road racers Jessica Zalusky and Misti Hurst. Working with Team Green is "awesome," according to Elena. "They have brought up so many talented riders. Its really cool to get the same chance that they had."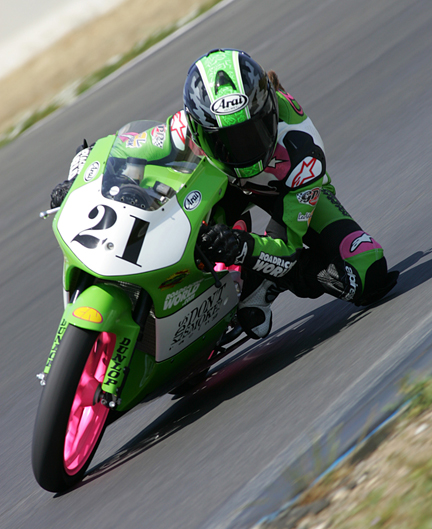 This season Elena faces new challenges. The competition is tougher, she says. "There are a lot more fast people in the 125." In June, Elena missed the podium finish and settled for fourth, losing third to newcomer Melissa Paris at Miller Motorsports Park. Portlands hometown favorite, Nobi Iso, barely kept Elena off his tail throughout the 125 race at Portland International Raceway in July, but Elena did not have the horsepower to overtake Isos Aprilia for first place. "I still ran the 125 in 3/10 off the track record!" she says. Even with monster cornering speed in the 250 run, "they kept boxing me out in the straights."
Elena took second place for Team Green at California Speedway in May, when she rode Kawasakis Ninja 650 in the Lightweight Twins Expert Class, finishing behind Stephen Foreman on his Ducati 1000. But dont expect Elena to settle for second best after she settles in with her new ride. She's a goal setter, a goal getter, and shes set on mastering the Ninja.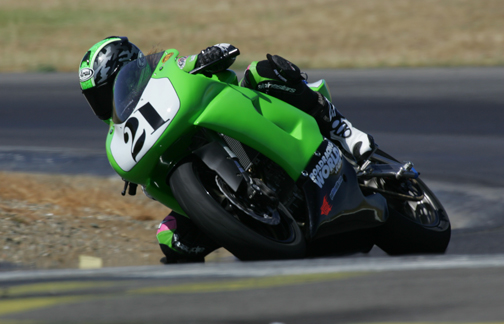 At roughly 230 pounds heavier than her 170-pound Honda, the Ninja has not required any modifications to fit Elenas 5-foot 2-inch frame. "Im working on getting my strength built up, and on my endurance," she says with the determination and smarts of someone wise beyond her years. Race weekends mean "lots of proteins and carbs, and cutting way back on the sugar."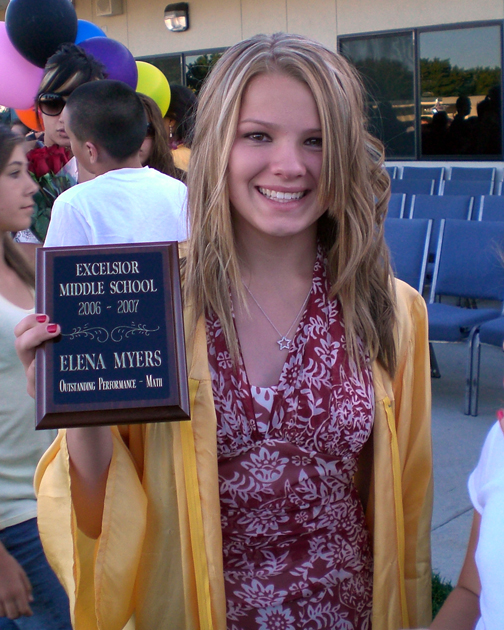 But Elena does not cut back on her schoolwork, where shes equally competitive and received straight As last year. Elena begins ninth grade at an alternative school that caters to students individual needs. "Education is really important to me," she says. Like other teens with big-time real-life pursuits outside of school, Elena does much of her schoolwork independently. "I go to school three hours a week. Its the same curriculum as a regular high school, just done at home."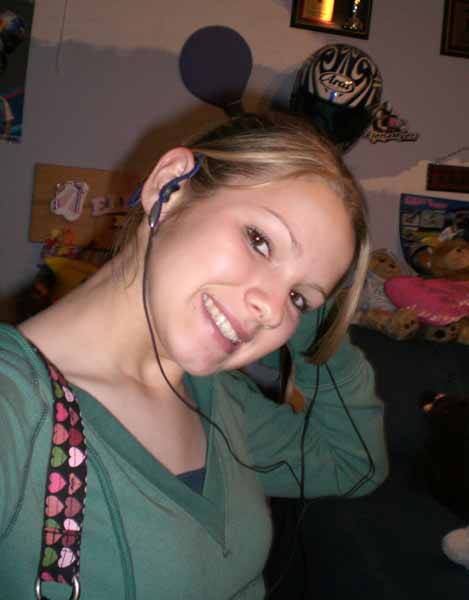 She plans to graduate one year early, and wants to race professionally. While Elena cant compete in AMA Professional roadracing events until she turns 16, the legal driving age in most states, dont expect to see her riding around town even then. "I dont want to ride a motorcycle on the street," she says. "Its kind of dangerous. Id rather ride on the track in sixth gear."
Susan Rzepka Orion is a certified MSF RiderCoach and Rider's Edge Instructor who loves to ride, write, and help others who want to do the same. You can find her on the road on her Yamaha VStar 1100 Custom or on the web at WritingWays.com.