Do you have a story to share? Please send it to us, but read these submission guidelines first.
The Internet can be a wonderful thing. I started riding my own motorcycle in 1998; a 1990 Harley-Davidson FXR Low Rider. I put more than 50,000 miles on that bike. But this story isn't about me. It's about four women who became "sistas."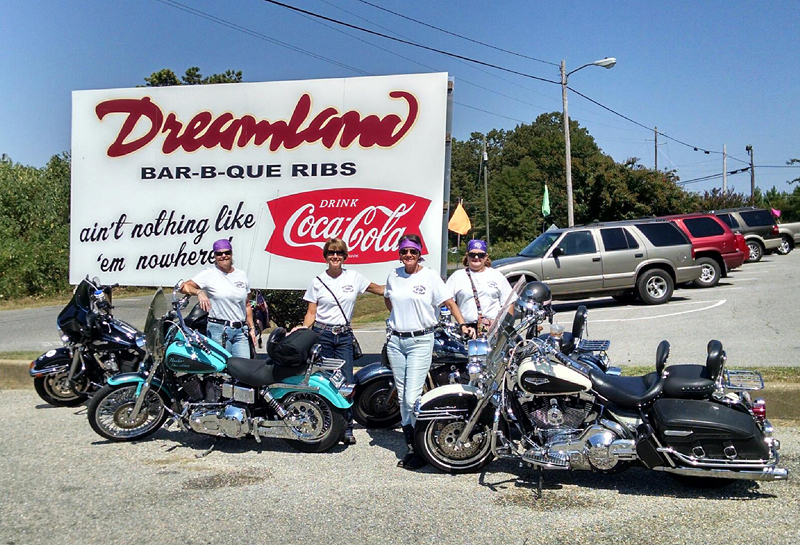 After I began riding my own Harley, I joined an Internet forum for bikers. How nice it was to talk with people who enjoyed riding as much as me. On that forum I met Kaye Crothers (aka, "Harley Darling" or "Mo Chrome") and we instantly became close friends. We both had one child and had other things in common as well. In 2001, the forum site held a meeting in Alma, Arkansas. My husband and I rode the more than 600 miles from our home in Pensacola, Florida, to meet other people we had only conversed with online. Kaye and her hubby went too. It was a wonderful weekend. We rode some fabulous roads and made awesome friendships.
Meeting Kaye from Tennessee was the highlight of the trip. Little did we know what that meeting would mean to us. For the next couple years, we'd visit each other's houses and ride many miles together. During this time we became aware of another forum for women riders and began to make new friends. In the spring of 2004, some local girls decided to do a "Meet in the Middle" about 250 miles from my home. Kaye brought a couple of her friends from Tennessee. I think on that first trip we had about 10 girls. What fun we had in the two days we were together. Stopping to get gas, people would just stare at so many girls riding together.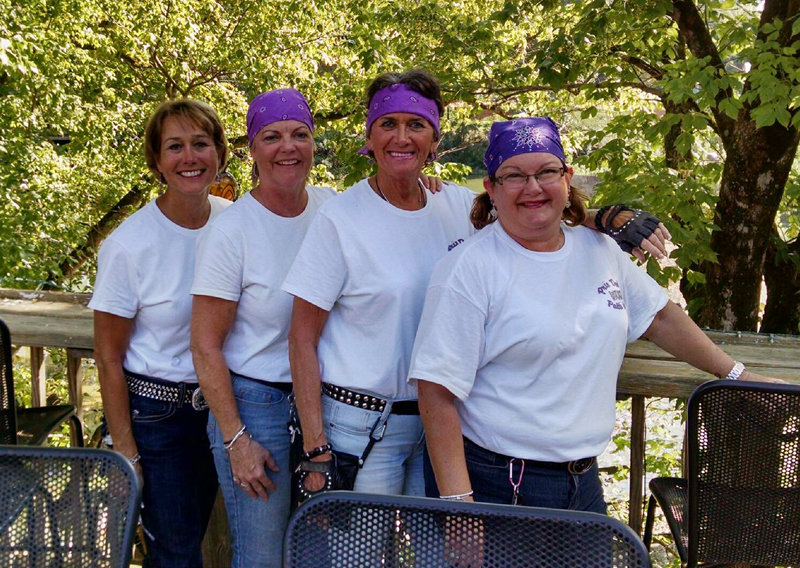 Two or three months later, we decided to do it again. But this time not as many girls were able to make the trip. On that trip, we decided that we'd try to meet up three or four times a year. If it's too cold in January, we drive our cars, but the rest of the year we're on bikes.
We always visit Heart of Dixie Harley-Davidson in Pelham, Alabama. It's just up the hill from the hotel. There's also a dealer in Trussville, Alabama, Riders Harley-Davidson, where we hit the sales rack. The salespeople in these two stores have gotten to know us and look forward to each time we come. We always leave with lots of stuff.
Of course, no visit is complete without one or two visits to the Walmart. I bring a blender, and we buy snacks and stuff to make margaritas in our hotel room.
On one trip, we decided to get tattoos on a whim. Kaye drew up the design, then we got a recommendation for a tattoo artist from a Heart of Dixie salesman, and the rest is history. At dinner that night we showed them off to everyone who would listen.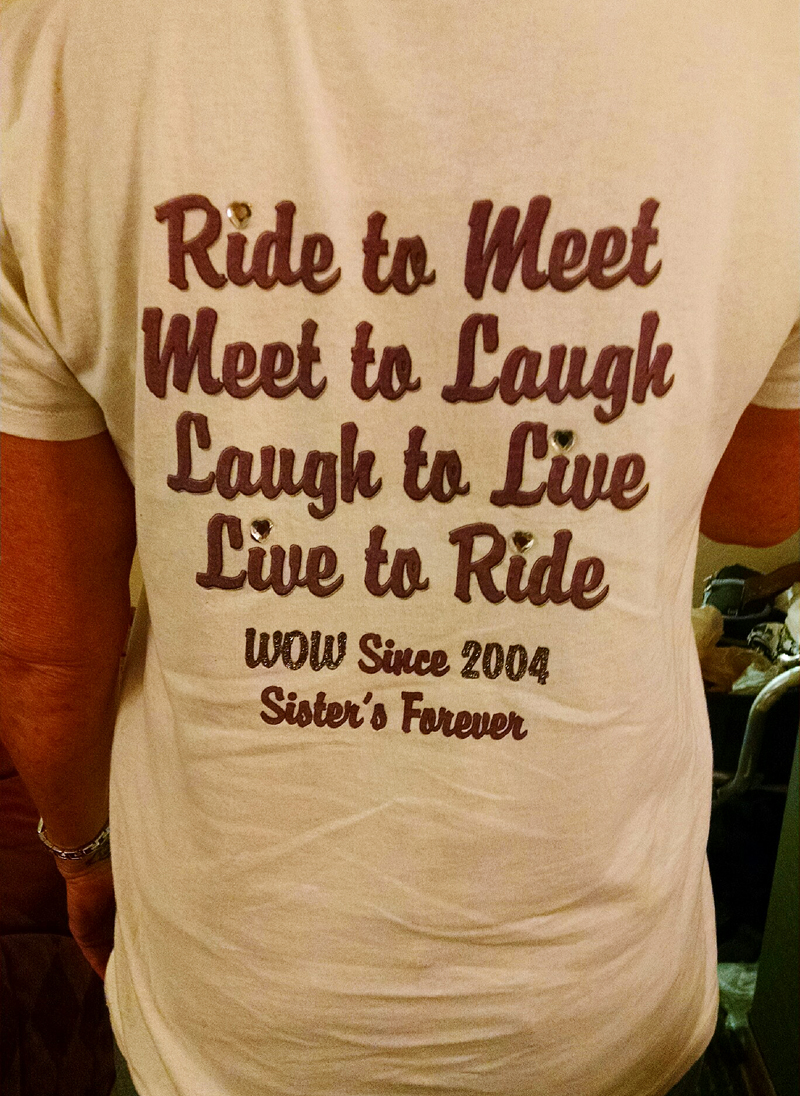 The weekends always involve lots of catching up and, of course, riding. Somehow, I got assigned to be the designated road captain. We all pick a destination (or not) and I plan the route. We've ridden to state parks and to little towns to shop (a girl can never have too much stuff.) Yes, we've gotten lost several times, but somehow always find our way. We've found some pretty cool roads because of that. We always try to find little out-of-the-way places to eat. During our last ride, we ate wonderful fried green tomatoes at The Irondale Café, in Irondale, Alabama. And we often visit the "Charming Charlie" store for some bling.
Feel free to share or pin this inspirational quote.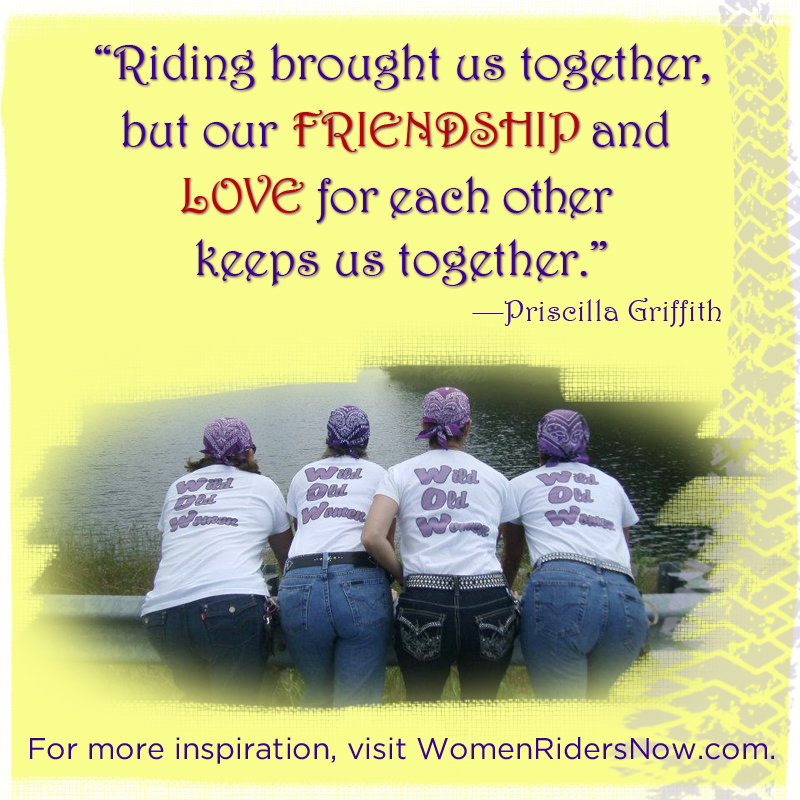 The four of us all share one room. It's amazing how fast we can trash the room once we unload the bikes. The best part of the weekend for me, is lying in bed and talking about our day, our troubles, or days gone by. Well, maybe the best time is the frozen drinks.
We've had mishaps together. The covered bridge story is for another time, and 'till this day Kaye won't go down a road that says "covered bridge." We've pushed bikes in parking lots because of dead batteries. We've fixed issues with electrical tape. None of us are mechanics, but husbands are only a phone call away. Every trip has a special memory.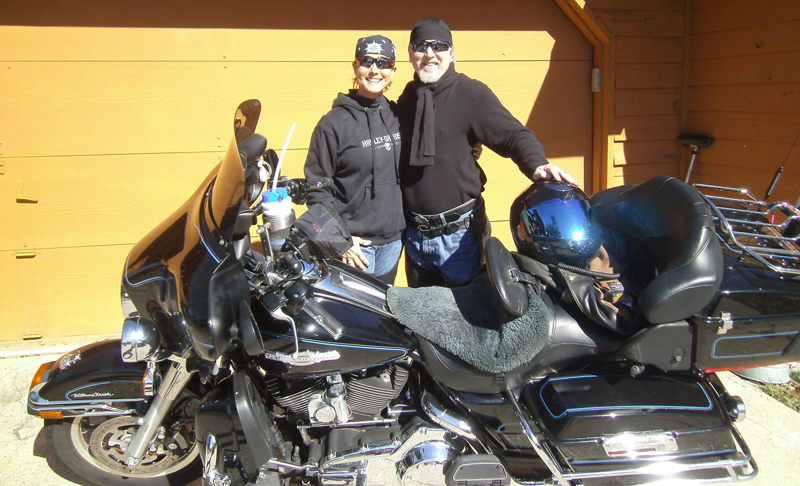 In our 10 years, we have survived losing parents, spouses, and divorces. We have cried together, laughed together and shared our most private thoughts together.
The rest of the year, when we arent together, we talk on the phone or email each other. It's amazing that no matter how long we've been apart we pick right up once we're together.Motorcycle riding brought us together, but our friendship and love for each other keeps us together.And it all wouldn't have happened if Kaye and I hadn't met on an Internet forum.
Do you have a story to share?Please send it to us, but read these submission guidelines first.

Related Articles
Join the WRN Forum
List of Womens Riding Clubs
Club Profile: Guilty Girlz Riding Club Invades Michigan