The amount you spend on race equipment varies depending on what kind of motorcycle you get and how much maintenance is required to keep it in good reliable condition, however, the racing sundries needed at the track every weekend are very similar.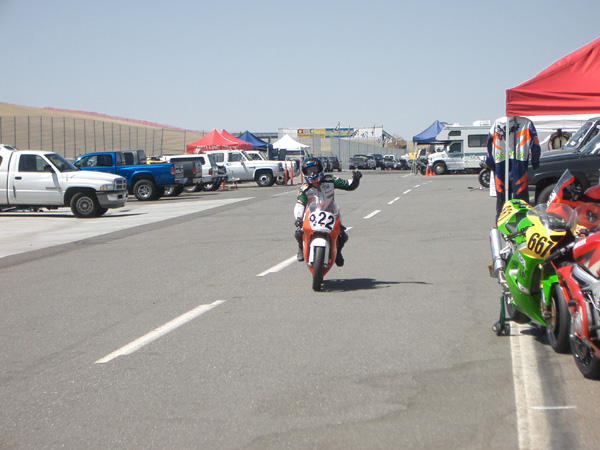 >Tools: any European or Japanese motorcycle will require metric wrenches and sockets. If you race Harley-Davidson or a Buell, standard wrenches and sockets are needed. Don't forget safety wiring pliers.
>A rear wheel stand: since you will not be able to keep your side stand on the race bike you will need a stand. If you plan to have tire warmers, you will need front stand, too.
>Tire warmers: they're like electric blankets for your tires. The purpose is to keep heat in the tires so when you enter the racetrack you're not on cold tires. Cold = slippery; warm = grippy…and grippy is good.
>Generator: unless you select a pit that has a live electrical outlet, you'll need a generator to plug in your tire warmers
Its good to be self-sufficient so you dont get yourself in a jam when you need something…or have to beg, borrow or steal from someone else.
>EZ-Up tent or tarp: to protect you from the elements
>Fire extinguisher: you'll want one on hand in your pit
>Consumables: chain lube, spray polish, contact cleaner, WD-40, duct tape in a couple of different colors, zip ties, safety wire, a razor blade, rags or paper towels, an extension cord
>A small work table and chairs, numbers and number plates for your motorcycle
>Fuel: I recommend keeping it simple at the beginning and using pump fuel, or you can buy specific, higher octane race fuel at the track. However, if you decide on racing a two-stroke you'll need specific gas.
>Tires: the bike you get will dictate the amount you spend. The bigger the bike, the more expensive the tires. The more horsepower the bike has, the more tires you'll go through, therefore, a Suzuki GSX-R1000 will go through more tires then a Kawasaki EX500.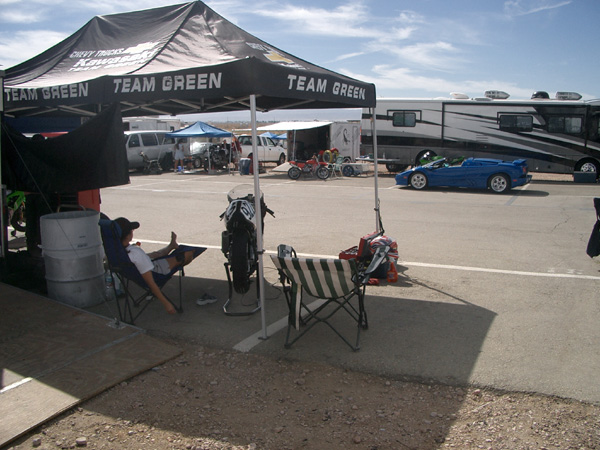 Don't forget:
>Track entrance fee
>Race registration fee
>Lodging: will you camp at the track or get a hotel room for the weekend?
>Fuel: you'll need some for your vehicle to get to and from the races
>Meals: there's usually food for purchase at the track, but it isn't the healthiest, so pack a cooler and a grill perhaps, and bring some food with you.
>Water: stay hydrated! Bring plenty of water and sport drink of your choice. Its very easy to get dehydrated while racing and not know it until its too late.
To race my Honda RS125, a single cylinder, liquid cooled two-stroke, I expect to spend between $900 and $1,500 per race weekend.
Debra's Last Bit of Advice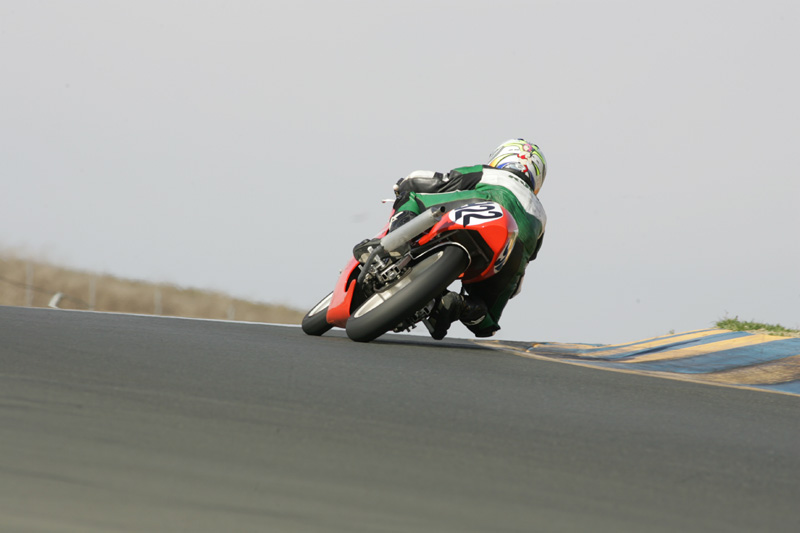 I am a big fan of safety and I like to plan on unexpected things. When you go racing its good to bring someone with you; better yet bring a whole fan club for yourself! Support is good for morale and you will appreciate extra hands around the pit. If you crash and get transported to the hospital there will be someone there to look after your things and drive you home.
When you start racing you will be surprised at all you discover about the fundamental operation of your motorcycle. The same holds true for discoveries about yourself. The confidence you gain as a rider will spill into other areas of your life. You'll be surprised at how many people will want to help you. Soon a cornucopia of information will be coming at you from all directions. Proceed with caution, though. Opinions are like shoes…everybody has a pair.
As with everything you've done up to this point, research suggestions that people give you by checking with a couple of other sources. Try to understand as much as you can before you or somebody else makes changes to your race bike especially with suspension. Suspension is very easy to screw up and it takes time to develop a trusting relationship with someone. The difference between a good suspension set up and a bad one is worth at least three seconds off your lap times.
Find someone you trust, to bounce ideas off of, someone you respect, someone you can ask questions and get real answers from. This will be very useful for you and is highly recommended. Once you have some racing experience, enroll in a advanced race school. The learning will just keep on coming!