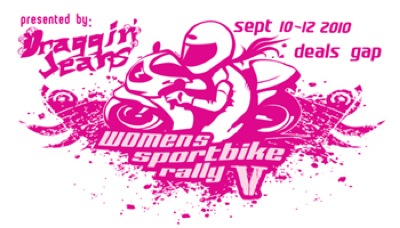 An impressive list of sponsors are coming on board in support of the fifth annual Women#8217;s Sportbike Rally taking place in the Great Smoky Mountains September 10-12. Women Riders Now recently signed on as an affiliate level sponsor for the second time, while Draggin#8217; Jeans has signed on as presenting sponsor for the third year in a row. The Women#8217;s Sportbike Rally brings together women riders and their guests from all over the country who share the passion for sportbike riding. This 5th annual event takes place in Deals Gap, a perfect setting in the Great Smoky Mountains providing some of the best motorcycling friendly roads on the east coast.
This marks the third year that Draggin Jeans has signed on to be the presenting sponsor and fourth year in total. Killboy.com returns to sponsor the Friday evening, Sportbike Night reception, the annual group photo with bikes, Fiddies 4 Life 50cc racing entertainment, as well as the always entertaining Sportbike Challenge and T-shirt toss. The Sportbike Night presented by Killboy.com festivities will take place at the Deals Gap Motorcycle Resort.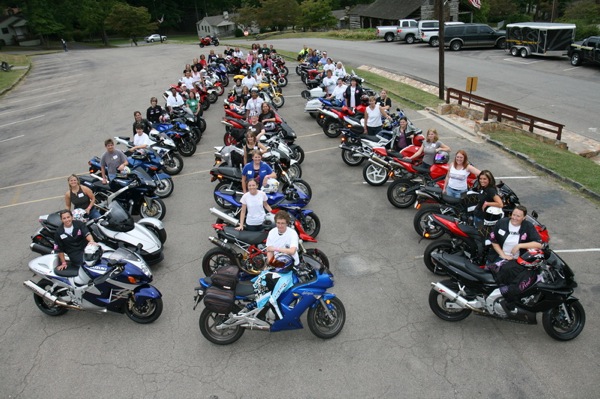 After a day full of riding, Saturday evening guests can enjoy the annual Sportbikegirl Luau presented by PJs Parts. PJ#8217;s Parts returns for its fourth year of sponsorship. Taking place at the rally headquarters of Fontana Village Resort, the luau will feature music, libations, door prizes, and delicious desserts to put a cap on the day.
In addition to the presenting sponsors, the list of Premier and Affiliate sponsors is growing. Premier Level sponsors are: Kawasaki Motor Corp., Yamaha Motor Corp., Kobe Leathers, Sena , Superbike School, Bridgestone Tires, Competition Accessories, Condor Lifts, Kamp;N Filters, Wow Motorcycles, Zan Headgear, Bobster, Avon Tyres, Tech Niche Intl
Affiliate Level sponsors are: American Honda, Cycle City Powersports, Marshmallowhead Designs, New Enough, Dunlop Tires, Held Biker Fashions,, Motorcycle Girl Wear, Boyesen Engineering, Women Riders Now, Canyon Dancer, Riders Hill, Hotbodies Racing, Raci Babi, Hearos, RoadRUNNER Magazine, Fox Creek Leather, Ride Like a Girl Racing
Registration to participate is $35. More details and a schedule will be posted here as they become available: WomensSportbikeRally.com
Premier and Affiliate sponsorships are still available from monetary to product support. For more information email info@womenssportbikerally.com, call 404.375.3855.
About the Women#8217;s Sportbike Rally
Established in 2006, the Women#8217;s Sportbike Rally was created to bring riders from across the country an opportunity to connect with others who identify themselves as a sportbikegirl. Held annually in the Great Smoky Mountains, the event welcomes all female sportbike riding groups, individual sportbike riding women and their guests of all riding levels to participate in a weekend geared towards the fun of being a sportbike rider. All net proceeds collected from the rally are donated to the Tiffany Weirbach #8220;Sportbikegirl#8221; Melanoma Foundation in support of the original #8220;Sportbikegirl#8221; who lost her life to the disease in 2001. To date, $7,000 has been donated to the Foundation.
Related Articles