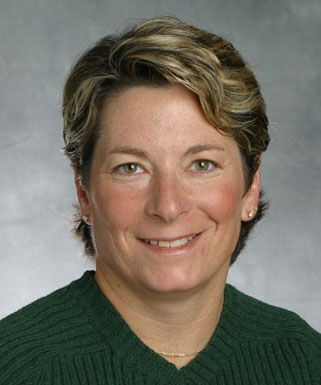 A motorsports enthusiast to the core, Kawasaki Public Relations Manager Jan Plessner is actively leading the way for women and motorsports utilizing 17 years of industry experience. She is instrumental in helping raise awareness for women in motorcycling by supporting positive role models such as Pro Kawasaki AMA Racer Jessica Zalusky, gathering 30 female motorcycle journalists for a press event, educating Kawasaki dealers about female motorcycle customers, and supporting the Womens Motocross Association. Presently, Jan is the only female in a public relations managerial position at the four major Japanese motorcycle companies.
In 2005, Jan received the WIMA (Womens International Motorcycle Association) Image Award. This award is presented to women who are dedicated to the sport of motorcycling and help pave the way for future generations with their positive attitudes.
Another one of Jans passions is riding and enjoying all types of motorized activities from water to land. On the weekends youll find her wakeboarding, pounding berms on her KX250F, or sneaking out of town for some snowboarding. Jan holds a Bachelor of Arts Degree in Communications from California State University, Fullerton.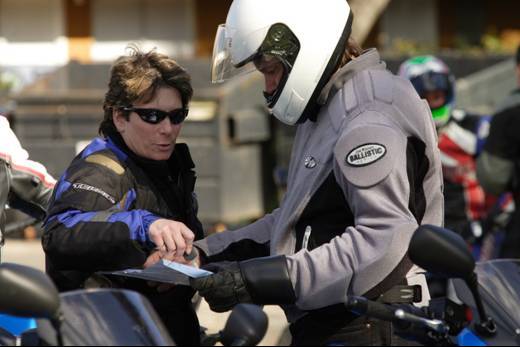 What does your job entail?
As public relations manager, it is my job to direct all of Kawasakis national PR activities including new product press introductions for our street motorcycles, dirt bikes, JET SKI watercraft, all-terrain vehicles, MULE utility vehicles, accessories and racing. I also oversee our racing PR efforts, dealer communications and media relations. Our PR team spends a lot of time working with the "enthusiast" media and launching as many as a dozen new models each year.
How did you get involved in the motorcycling industry?
As a kid and young adult, I sneaked a few laps on the neighbors mini bikes and enduros without permission from my parents. We were pretty much a non-motorcycle family, but that didn't stop my dad from taking all of us to see "On Any Sunday," and I remember loving it. I also remember begging for a moped when I was 15, but that didnt go anywhere.
My degree is in pubic relations. I did PR for my dads fund-raising firm during and after college. A couple years after graduation, I purchased two used stand-up Kawasaki JET SKI watercraft. My dad tells a different version of the story, but at some point, he encouraged me to look into working for the company that made those things. I think he saw just how passionate I was for my newfound sport. I took his advice. I think I sent my resume to Kawasaki, Yamaha, Suzuki and Bombardier. It just so happened that Kawasaki was looking for someone in public affairs, and thats where I started. I enjoyed working for Kawasaki for almost 10 years, left for two years and worked for the Motorcycle Industry Council, then returned almost four years ago to the position I have now.
What would you say have been some of your biggest career challenges?
Career challenges? Mmmm…I think in the very beginning I felt like I wasnt taken seriously as a true motorcycle enthusiast. I can remember my own brother asking me when I was "going to grow up and get a real job." And my Dad had a huge problem every time I arrived on two wheels for a family function. He's cool with it now and Im not too worried anymore about what other people think. I love to ride just about everything we make. Kawasaki is a great company to work for. We are like a big family and I love what I do.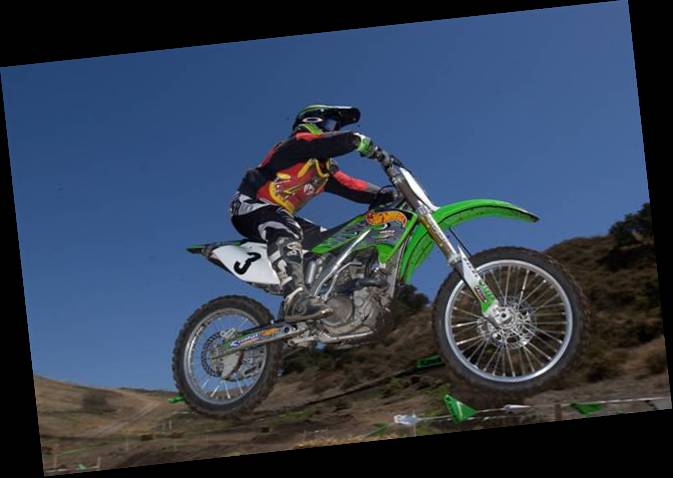 What changes have you seen at the manufacturer level with regards to the women and motorcycling market, and what changes/shifts do you see in the future?
Ive certainly seen a lot of changes. It used to be rare to see more than one female enthusiast company rep or magazine writer in one place at one time. Now, there are quite a few women who ride. And mostly everyone within the motorcycling industry acknowledges that a lot of women are serious about riding. In the past, it was more of an anomaly if you rode aggressively on say, a high-performance sportbike, motocross bike or a larger sport-tourer. And now, it's commonplace to see women participating at track days, going on dual-sport rides or heading out to ride in the desert just for fun. Down the road, it's my hope that the women's segment just continues to grow, and women continue to make up a more significant portion of new motorcycle buyers. And I think it will.
What is your favorite motorcycle to ride?
My favorite bike to ride in the dirt is the KX250F. Im only 5-feet 3-inches and I can barely touch on both sides at the same time. But hey, once you're going you really dont need to touch the ground a whole lot. I love to desert ride and I'm getting a little better on the local motocross tracks. I don't catch huge air its important that I go back to work on Monday morning in one piece but I definitely love the KX250F four-stroke. Its the same bike that a lot of our professional racers are winning on. Its a purpose-built machine. Its fast and super forgiving.
For the street, Im kind of partial right now to the new Vulcan 900 Custom. Its our latest greatest cruiser and we just introduced it last November in Austin, Texas. I love how you feel when you sit on the motorcycle. The controls are forward and it has a drag-style bar. Im a nice person generally, but when I get on that bike I just feel sort of like "Hey, watch out…here comes Ms. Attitude!"
I owned a sport bike (Kawasaki ZX-9R) for three years a while back and I still love any of our Ninjas, especially the Ninja 650R, new 6R, 10R, Ninja ZX-14 … wait, thats most of them.
What is the one thing that you would like people to know about what you do or the segment of the industry in which you work?
I dont think most people realize how much time and energy goes into making a great Kawasaki motorcycle. Even today, the amount of planning, coordination of efforts, the hundreds and hundreds of hours of testing, and the entire production process still blows me away. I've toured our manufacturing plant in Japan, as well as the one in Lincoln, Nebraska. They are both absolutely unreal.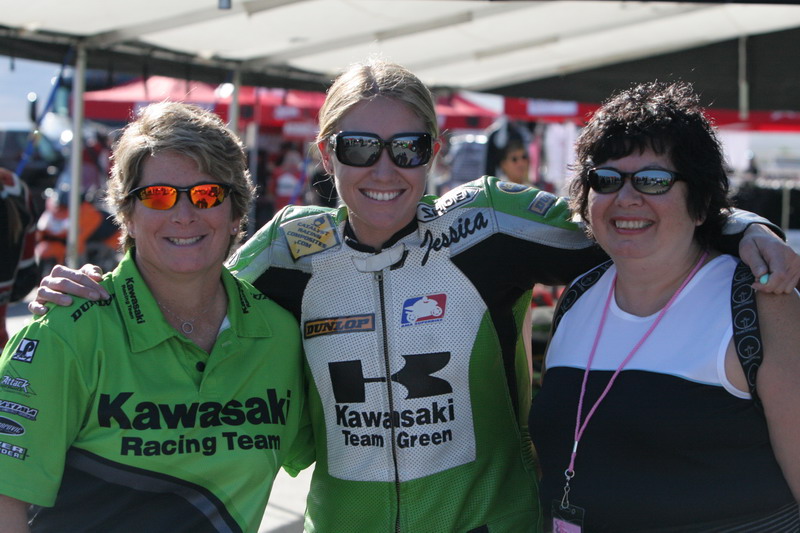 What are you working on now that will have a direct impact on the women and motorcycling market, either current riders, or helping attract new riders to the sport?
We will continue to support special programs, like Femmoto and the Womens Motocross Association, and some special female role models. We just signed on a very special and incredibly fast female road racer. Her name is Elena Myers and she is 13-years-old and one of our newest Kawasaki Team Green riders. A lot of people have ridden with her weve been to track days with her and from everything Ive heard, she is no different from the top AMA riders when they were 13. She may progress through the ranks and eventually be the Danica Patrick of the sport bike racing world. You never know!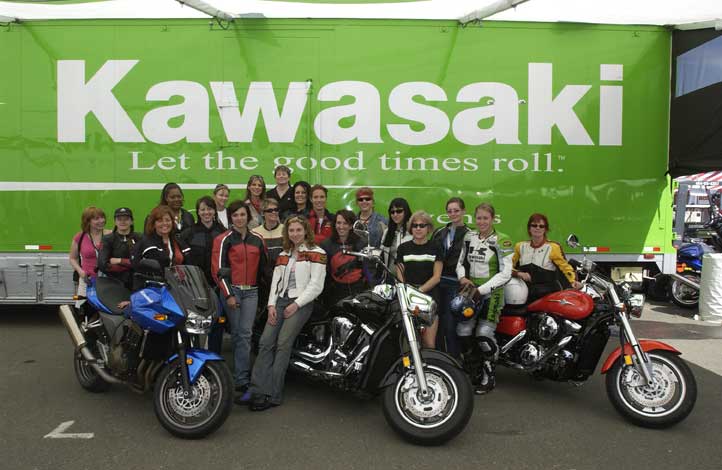 What one or two things would you like to see improve for women in motorcycling?
It might be nice to see more female bylines in the motorcycle magazines, but thats starting to change. Once in a while I hear about the old-fashioned dealer that didnt take the female shopper seriously, but I think things are better than ever for women in motorcycling. There are womens apparel ads in all the magazines now and the choices are really great. Its a super exciting time to be a rider.
For more information on Kawasaki, visit Kawasaki.com.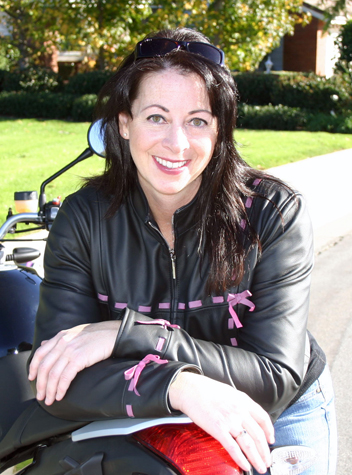 Teri Conrad is a freelance writer and photographer based in Southern California. Some of her publishing credits include: Iron Horse, Ride Texas, Women Riders Now, Biker Ally, Friction Zone, Adventure Sports Outdoors, Portrait of Achievement, and Accelerate magazines. She can be reached at celebritywriter@cox.net.