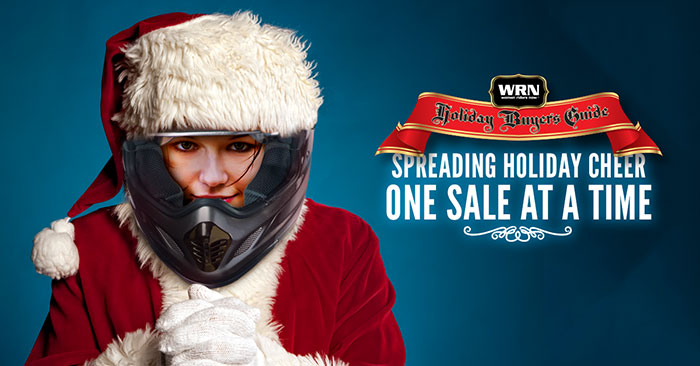 Tis the season to spread holiday motorcycle cheer, and let women riders know about your gear!Whether you've got stocking stuffers, garage stuffers, women's stuff, guy's stuff or kid's stuff…we want to help you put your product/service in front of thousands of gift-giving riders! We're even giving you a bit of extra time to get in on this great holiday opportunity. Reserve your ad space by October 25 (art due by November 7) to be a part of our November 11 Holiday Buyers Guide launch!
Special Holiday Pricing – Save $450!
This edition is available to all advertisers for only $300! Take advantage of this amazing offer and put more stuff under your own tree!
Get Connected All Year Long
At least three times a year, we send a "Top Deals" Buyers Guide to our 25,000+ newsletter subscribers, 135,000 monthly website visitors, and our 218,000+ reach social media channels. Not just once, but for at least three months. Advertisers can offer exclusive discounts on motorcycle riding gear, gadgets, biker-inspired clothing, accessories—even motorcycles and other offers.
Guide is active until the next edition goes out—at least three months
Your product/service is promoted again in our monthly newsletter during the run of your chosen edition
During the months your edition is active, advertisers are promoted individually once per month on our social media channels, and grouped with other noncompetitive advertisers at other times
It's Easy to Sign Up
Just make your reservation by the 15th of the month prior to a new edition.
All you need is to give us a photo of your product/service (minimum 300px x 169px), 60 or fewer words, discount and code you want to offer (recommended), and your logo (vector format preferred, minimum 300px wide if raster). It's that easy! Don't worry… you'll receive a proof of your ad before it goes live. Reservations are due the 15th of the month, while final copy, photos and logo are due on the 22nd.
Current Advertiser Pricing
1 edition……………. $300
2 editions, per…….. $250
3 editions, per…….. $225
Non-Advertiser Pricing
1 edition……………. $750
2 editions, per…….. $700
3 editions, per…….. $650
Need to see a sample? Check out our latest Top Deals and Sales Buyers Guide.
For questions or to get your ad rolling, please contact Brittany Morrow or Tammy Huoni. They'll help connect you with WRN women and the men who ride with them.
Women Riders Now E-Newsletter
Stay up-to-date on all things motorcycle! Latest gear, bikes, and product reviews. Travel ideas, great product giveaways, and more.