Old Bags On Bikes (Thats not our line, its theirs)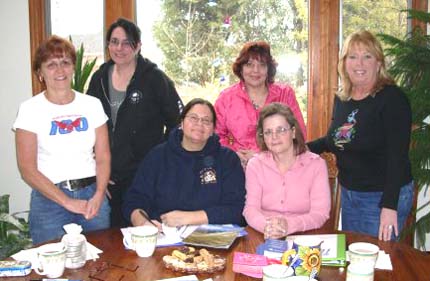 What started as an idea while on an airplane high above the earth has blossomed into what could become a history-making motorcycle journey across the continent by six female friends. They hooked up with the editor of Iron Works magazine and next thing you know, theyve got sponsors pouring in giving them riding apparel, tires and accessories to test along the way. They plan on riding for 31 days in 31 states, six different and diverse women, yet alike in their passion for motorcycling. Theyre taking off on Sunday June 25. You can follow their progress at oldbagsonbikes.com. Where are the TV cameras, thats what we want to know!23
Her Solo Cross-Country Ride For Women
UPDATE: Robin kicked off her ride on June 10th with a big send-off provided by Seattle Harley-Davidson. She even got some TV coverage. Way to go, Robin! See what one woman can do with a motorcycle, and its all for a good cause.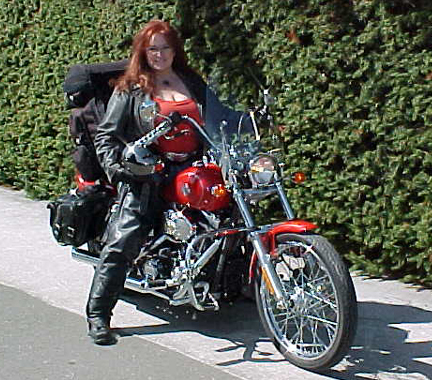 May 5, 2006: At 54, Robin Mahaffey of Seattle took a long, hard look at her life and decided to make some changes… changes to get back on the road to happiness. Since riding her motorcycle truly makes her happy, she quit her job as a graphic designer and is hitting the road on a cross-country motorcycle adventure she hopes will raise awareness of a womans need to take control of her life. Shes named her journey "Robins Ride for Women 2006: Overcoming Fear of Life and Helmet Hair," and shell depart sometime between June 10 and 20, 2006. Robin says, "Robins Ride is dedicated to helping women take control of theirs lives: to fight fear, doubt and indecision and follow their dreams." She hopes to raise money for two charities, Women Build Habitat for Humanity and Grounds for Health.
Robin says, "When you get really truthful with yourself, you might find that there are only a few things that really make you happy. Its usually not the things you thought would do it. Riding my motorcycle made me happy. I found that I craved the feeling of freedom it gave me when I needed it. I also love adventure and meeting new people, so meeting women from different walks of life, sharing stories and learning from each other would make me happy. Taking this ride and making it count for something would make me happy. So why not just do it." Well said Robin. Keep us posted on your travels.
Pro MX-er Katie McGuire Picks Up Sponsor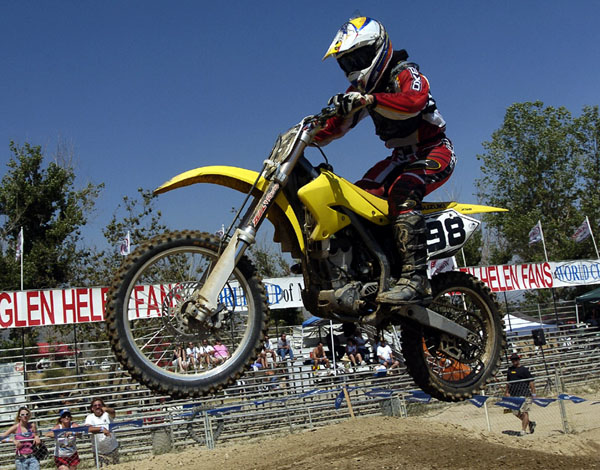 Katie McGuire, a pro-racer with the Womens Motocross Association adds Girlyz Clothing Co. to her list of sponsors. Girlyz has followed Katie in her amateur years and believes Katie will be a wonderful spokesperson for Girlyz and an inspiration to all girls looking to start a career as a womens motocross racer. Girlyz sales manager, Vickie Speed, says, "Katie is a delightful young woman with so much drive and passion for the sport of motocross. I am inspired by her every time I see her ride!"
Katie says, "Now that Im on Team Girlyz, the world of womens motocross will be a better place." Katies hard work and dedication to the sport of womens motocross has led her to where she is today at the young age of 16. The 2006 race season is Katies first year racing for the WMA National Motocross Championship. Her father, Kirk McGuire, doubles as her number one fan and mechanic at the track. You can catch her at all six rounds of the WMA National Motocross Championship series. Girlyz Clothing Co. is dedicated to bringing high quality fashion to the motocross and powersports industry. Visit www.girlyz.com.